Briefing / Global
Defence
Briefing
New subs for Taiwan, the Egyptian navy's spending spree, and Greece and North Macedonia make up.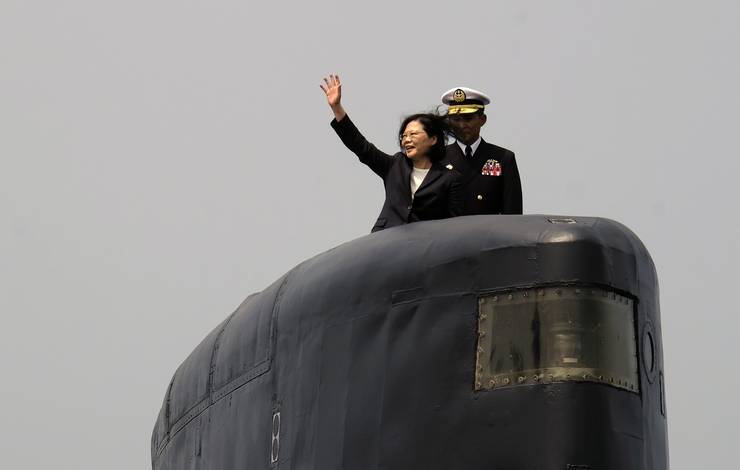 Up periscope
Taiwan —
Navy 
Spare a thought for Taiwan's beleaguered submariners: with just four submarines, they must stall any amphibious assault from the mainland. The two newest boats were laid down 37 years ago; the others, built in 1943, are the oldest in international service.
So the announcement by Taiwan's defence minister, Yen Teh-fa, that the design of the country's first indigenous submarine has been completed was greeted with relief. A prototype should be ready within five years.
There are only a handful of shipyards around the world with the skills to manufacture the vessel's hulls, specialist combat-management and propulsion systems, sensors and weapons. Taiwan has tried for decades to acquire new submarines but, by the 1990s, there were only a few yards manufacturing diesel-electric models. Nuclear-powered boats were beyond the navy's requirement and strategically and tactically unsuitable – not to mention too expensive. With Chinese and Russian yards out of the running for obvious reasons, the only options left were in Europe. However, even George W Bush's promise to acquire submarines for Taiwan could not secure European assistance. In 2015, Taiwan decided to go it alone.
Successfully building a new submarine design is a stretch for any shipyard but Spain's experienced Navantia plans to deliver its first s-80 in 2021, based on an order from 2003. Yet doing so in short order with zero experience is nigh on impossible. As such, Taiwan's claimed progress has raised eyebrows in the international naval community and caused speculation about clandestine international assistance. Such suggestions receive a frosty reception from Taipei, who insist that the programme is entirely indigenous.
Taiwan has allocated TWD49bn (€1.4bn) for the programme over a seven-year period and intends to build eight submarines in two batches of four.
---
Border merrier
Greece —
NATO
"The silly behaviour now stops." Many exasperated observers of the three-decade row between Greece and Macedonia over the name of the latter country might wish that a Greek prime minister had expressed this sentiment earlier. But with the dispute now resolved – by the addition of the prefix "North" – Alexis Tsipras has lost no time in visiting his (North) Macedonian counterpart, Zoran Zaev, to pledge undying friendship – even to the point of reaching an agreement for Greece's Hellenic Air Force to police North Macedonian airspace.
"It's more symbolic [than strategic]," says Dr Angelos Chryssogelos, associate fellow with the Europe Programme at Chatham House. "It showcases an immediate positive aspect of North Macedonia entering Nato and having its security guaranteed by its new allies. It also allows Tsipras to show that the deal helps Greece become a security provider in the Balkans and so raise its international profile."
---
Fleets of fancy
egypt —
procurement
Egypt's navy is on a spending spree. In April the German Bundestag's budget committee approved the €2.3bn sale of six new frigates to the North African country, to be built by ThyssenKrupp Marine Systems.
For decades Egypt had an eccentric mix of US, UK, Chinese, Polish, Russian/Soviet and Turkish vessels but the new acquisitions have a western European flavour. France's Naval Group shipyard – formerly dcns – is halfway through a project to deliver four new Gowind corvettes and in 2015 transferred what was originally to be the French navy's second fremm frigate into Egyptian hands. Then, in 2016, the company delivered two Mistral-class helicopter-carrying assault ships to Egypt, conferring a power-projection capability unmatched in Africa.
However, the navy can't resist a bargain and happily accepted a pair of orphaned corvettes – a Russian Molniya and a South Korean Pohang – in 2015 and 2017, so the fleet isn't yet fully streamlined.
Shelling out
in the basket 03 
Who's cutting the smartest deals in the defence market? We keep you up to date with the latest moves.
In the basket: Cobra mortars
Who's buying: Switzerland
Who's selling: Swiss state-owned defence company ruag.
Price: chf404m (€355m)
Delivery date: 2018-2022
ruag's 120mm Cobra mortar is a turntable-mounted system, that will be fitted to gdels-Mowag Piranha armoured vehicles. The Swiss army already has the 81mm and 155mm mortar but the new Cobras will fill a gap in its indirect short-range fire support. While weapons purchases by famously neutral Switzerland seem counterintuitive, the country is a great believer in peace through strength.