Hotel / Antwerp
Hallowed ground
Designed by Vincent Van Duysen, the August hotel is a sanctuary worth seeking out.
When Belgian hotelier Mouche Van Hool visited a crumbling, 120-year-old Augustinian convent in Antwerp's Groen Kwartier five years ago, she knew it had potential. "I have a soft spot for ancient and abandoned buildings so immediately I started to dream about how the convent would look once restored to its former glory," says Van Hool.
For more than 100 years this former military hospital complex was only made accessible to nuns and patients. Today it's a leafy, car-free neighbourhood that's attracting residents and businesses such as Nick Bril's restaurant The Jane, hidden in a former chapel, and Pakt, a centre for entrepreneurs with a rooftop garden where locals grow herbs and vegetables.
Having founded Antwerp's Hotel Julien in 2004, Van Hool understood the importance of getting like-minded partners on board for her new venture, the August hotel. That's why she approached chef Bril from the next-door restaurant and Antwerp-based architect Vincent Van Duysen. Until then, Van Duysen had refused all hotel projects. However, the opportunity to create an urban refuge in his own city was something he couldn't resist.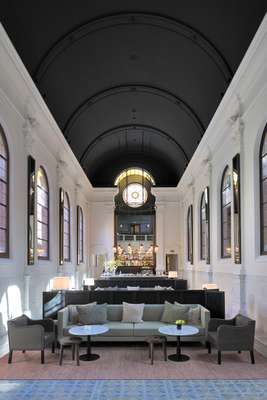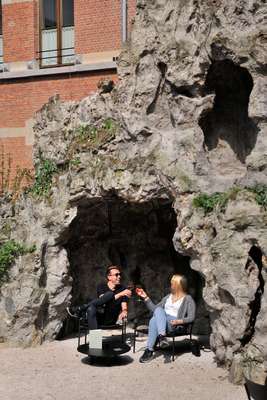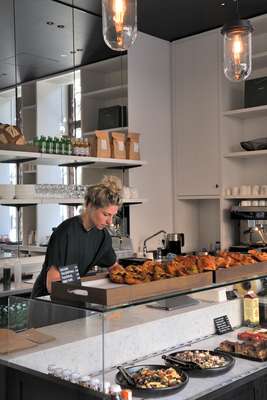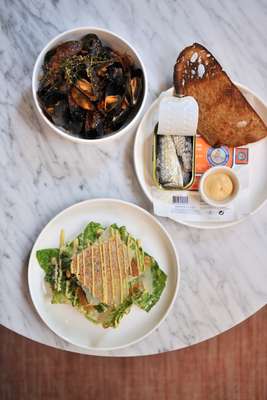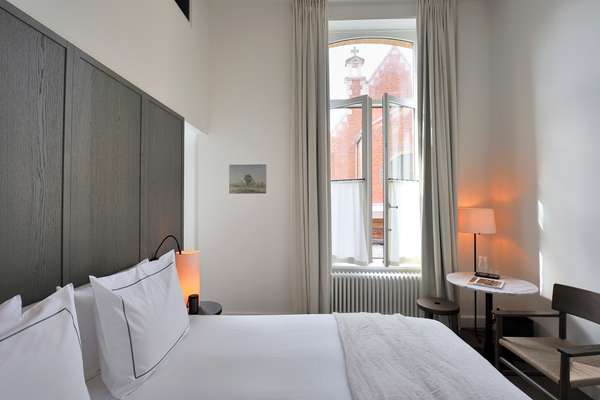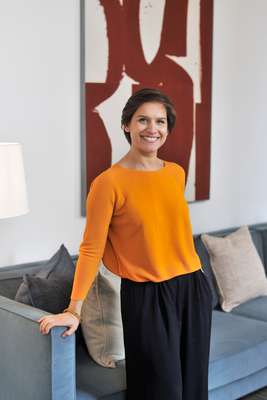 "To give a second life to an abandoned historic site means you have to figure out how the spaces will be connected and flow into one another, and how the hierarchy will work," says Van Duysen. "What atmosphere you want to create from arrival to going to the bedrooms, always keeping in mind the authenticity of the place." Van Duysen collaborated with Callebaut Architecten – a specialist in cultural and historical projects – to do the building justice.
Tiles, raw brick walls and vintage bubble-glass windows ape those of the old chapel, combined with modern elements such as the concrete-and-steel entrance leading into the hotel from a pleasant courtyard. Upon entering you're greeted by staff in sharp uniforms put together by Antwerp-based fashion designer Christian Wijnants. The natural fabrics and neutral tones of the pared-back outfits match the understated interiors.
"August has been completely renovated but with as much invisible intervention as possible," says Van Duysen. "The site already had so much going on, especially the exterior in a neo-renaissance and neo-baroque style. Therefore we filled in the blanks in a very restrained way: staying neutral, almost sacral, with comfortable furniture custom-made by Molteni&C and designed specifically to create a homely feel." A number of pieces reference the convent in their design, including the woven-rush chairs and benches, as well as the black steel-and-glass lanterns that were custom-made by Flos and are reminiscent of the candle-lit bell jars once used by the nuns.
All of the 44 rooms and suites spread across the five buildings are different. Some still have the petite size of the old nuns' quarters, while those below the dark wooden ceiling on the top floor are more spacious and let you hide away from the world, huddled in soft Egyptian cotton sheets. The serenity of the bedrooms gives way to a livelier and buzzy atmosphere downstairs, as and when the mood takes you.
Chef Bril's brief was to open an accessible, uncomplicated brasserie. "I wanted to create a menu that would lure outsiders in and be exciting enough to tempt hotel guests to grab a bite or have a drink throughout the day, from a crisp Caesar salad with a glass of Austrian rosé to a hearty dinner of Txogitxu beef a la brasa," says Bril. Even on the ceramic plates (each one custom-designed by Van Duysen in collaboration with Belgian homeware brand Serax) the philosophy of hotel August is evident.
And so, finally, Antwerp has an urban retreat for the modern-day, international traveller that will put Groen Kwartier on the map.
august-antwerp.com
Coffee: Caffènation: This popular coffee roastery and bar is located in Pakt, serving coffee and cakes all day.
caffenation.be
Eat: Ciro's: French-Belgian cuisine served by elegantly dressed staff in a dining room that has remained unchanged since the 1960s. The signature Steak Ciro's is famous throughout the city and the tomate crevette with hand-cut fries is a must-try.
ciros.be
Drink: De Smaaknatie: Chef and owner Dirk Baeken is a one-man show, always zipping between the counter and the loyal patrons who pop in for a glass of wine.
smaaknatie.be
Shop: Ruys: This jeweller has kept the Diamond City's tradition alive since 1854 with its refined assortment of exclusive gems displayed in a gorgeous art nouveau shop window.
ruys.be
Service: Café Costume: A bespoke tailoring boutique for the perfect suit, owned by the youngest generation of the Belgian Van Gils fashion label.
cafecostume.com