Residence / Tokyo
Into the woods
One of Tokyo's leafiest neighbourhoods is the setting for a charming house that's been carefully renovated and kitted out by the furniture maker and designer who owns it.
Rikiya Burioka spent years searching Tokyo for a place to build a house that would match the charm and character of the wooden furniture made by his company Mobley Works. He was ready to throw in the towel and settle for a new-build when, as is often the case in house-hunting, opportunity struck amid what seemed like a disaster. Burioka had just cancelled a holiday to the US due to his furniture factory catching fire when he received a call about a 1940s property going for a song. "It was meant to be," he says.
Today the furniture maker and interior designer speaks of that time with more levity. Mobley Works has gone on to do good things, becoming globally coveted for its refined Japanese interpretation of US country-style furniture. And, as Burioka and wife Kazuko welcome us to their residence-cum-showroom in Tokyo's Machida city on a crisp day, it's clear that the property hunt panned out well too. "I grew up near here; it's got the greatest concentration of greenery around Tokyo," says Burioka, pointing towards Oyamada Ryokuchi Park across the street. Machida city is a leafy suburb of Tokyo that is just under an hour away from central Shinjuku by train but offers a rare sense of countryside-living within the Japanese capital. "It's great living here. We can go for a run and also birdwatch; there are woodpeckers, owls and hawks around here," says Burioka.
Situated on a hilly site laden with bamboo plants, the structure that the couple acquired in 2013 was old and odd. It was built in 1945 but had been renovated four times, which explains the multiple layers of roofs. "Properties like this are so cheap [in Tokyo] because no agency is interested, as you can't build something new," says Burioka, noting that under the city's construction laws the owner could only renovate this house and not knock it down to rebuild. "You have to have a clear renovation idea – and guts – to buy something like this."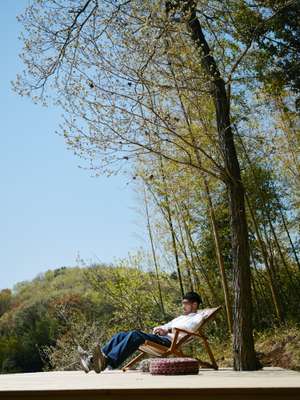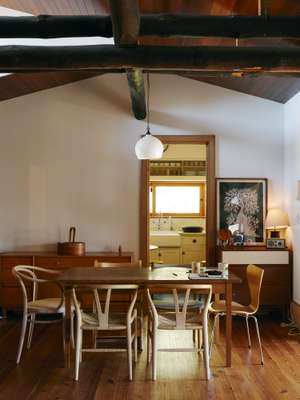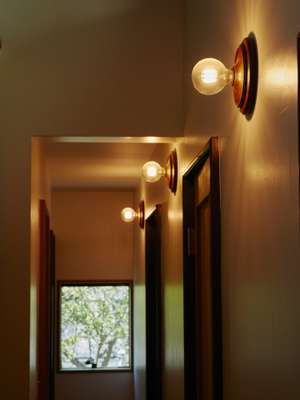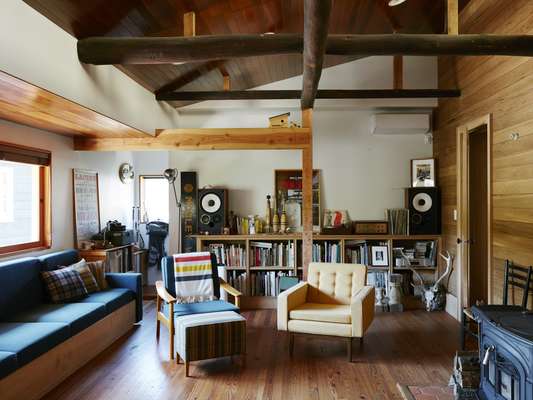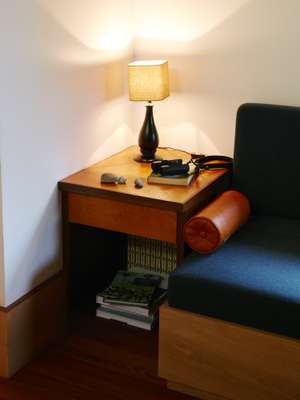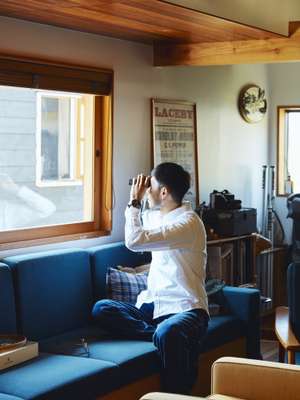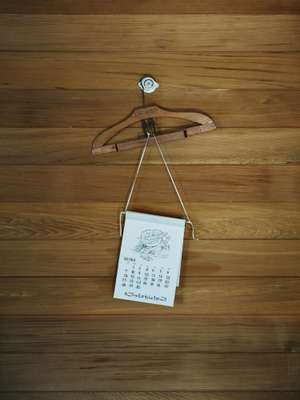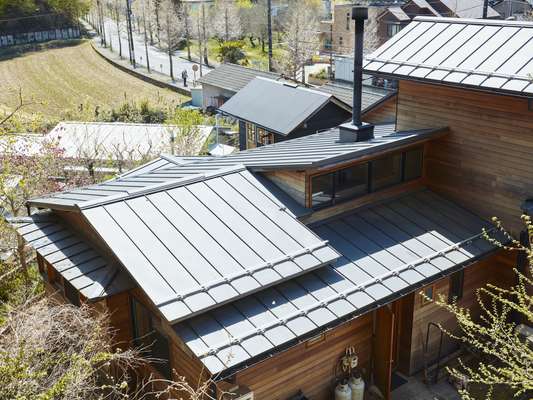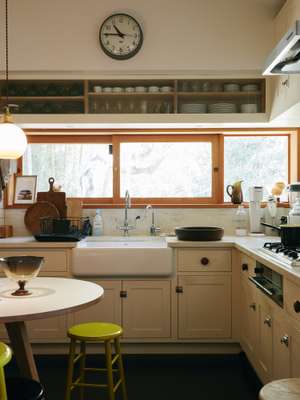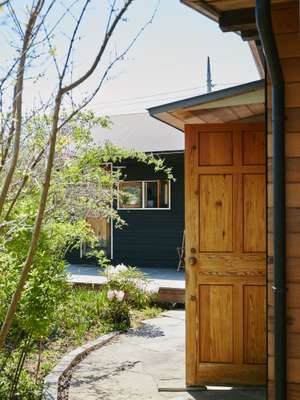 Thankfully, in the hands of this furniture-maker-cum-interior designer (behind some of our favourite Tokyo spots, including Paddlers Coffee and independent furniture shop Bullpen), the renovation was always going to be tasteful. He commissioned an architect friend to help reshuffle the layout and worked with a traditional father-and-son carpentry duo on the internal timber trimmings.
During the overhaul the old engawa terrace [a feature of traditional Japanese houses] was removed to enlarge the living area, making room for the sunlit sofa that now sits underneath the window. "There was a Japanese-style room here and we found an irori [sunken hearth] under the tatami mats," he says of a feature that showed the history of the structure. In the process of removing the original low ceilings, sturdy timber beams resurfaced too, which now have a pronounced presence throughout the house.
In terms of new additions, Burioka inserted a line of small windows across the north wall to bring in more sunlight. He also varnished the pitched red-cedar ceiling to bounce more natural light into the room. "It is an old-fashioned varnish applied in the US military houses. You'd also find it in classic hotels such as the Nara Hotel and the Fujiya Hotel," he says. He shows us a treasured book, Dependents Housing, that was published in 1948 and documents in detail the architectural and engineering plans for US military houses built in postwar Japan.
Burioka made almost everything that went into the house, including the sofas, chairs, doors and wall lamps. The exterior walls are clad with red cedar, which has weathered to a pleasing grey since the couple moved in four years ago. Inside, the floorboards are made from an old American pitch pine.
The height of the kitchen counter has been optimised for Burioka's wife Kazuko, who operates a pastry business from home. A small hut in front of the main building has been kitted out with an oven for baking, doubling as a mini shop when the time comes for summer bake sales.
But it's in the kitchen where this family of three come together and at its centre sits a beautiful round Mobley Works table. "It's my thing to have breakfast in the kitchen," says Burioka. Recently though, with the warmer weather, the family has been breakfasting alfresco on the wooden deck that Burioka built behind the house. It's not without its dangers: "When you have breakfast here on a sunny day like this, you cannot go to work afterwards."
Four years on, the house has a lived-in feel to it. Burioka has a few things to tweak but knows exactly what he wants; he favours an understated aesthetic. "My ideal house is one where people struggle to point a finger at any single outstanding feature," he says. "But when they leave they think to themselves, 'That was a great house.'"