Regeneration / Global
Rework it
Renovation can be a delicate balancing act between modern comforts and maintaining historical charm. We visit three European cities where carefully considered restorations are bringing buildings back to their former glory.
1.
Keeping the spirit alive
Milan
"It looks old but I did it two weeks ago," says Mauro Orlandelli, the enterprising Italian behind a unique mixed-use Milan development called Six. He's pointing out the purposely aged look of some terrazzo flooring at Six's newest addition, the Sister Hotel. Here at Via Scaldasole in the south of Milan, a remarkable example of how a bombed-out building can be repurposed into a place of multi-layered beauty (and functioning economy), is blossoming.
"It was completely ruined when I found it but I saw something fashionable and charming here," says Orlandelli, referring to Six's past. The building has had many uses since the 16th century – when it housed a monastery – and later fell victim to bombs during the Second World War. Its last occupier was a television studio in the 1980s but the site had only ever been partially revamped.
Today the much-improved space has numerous functions. These include Six Gallery – one of Milan's best design galleries – and an industrial-style space for architecture and design studio Quincoces-Drago & Partners, as well as a lively bistro and a communal courtyard.
Before the summer ends Orlandelli will add a nine-bedroom boutique hotel, still under construction, into the Six mix. "The spirit has to be original," he says, noting that old features such as terracotta fireplaces and tiling have remained on site. "But we also want to show our own skills in here."
These skills are realised across the two newly completed suites at Sister Hotel, which Orlandelli describes as a "completely collaborative" project. Quincoces-Drago & Partners designed this project and have tastefully reappropriated the formerly derelict space.
Today modern blown-glass lamps from Murano's Yali contrast with timber window frames made as exact replicas of the originals found on site. "Creating something that looks very old is a technical process," says Orlandelli, whose company Forest Design, a supplier of Italian materials and bespoke furnishings, has been the source of some of the hotel's most remarkable features.
Trimmings of particular popularity to visitors previewing the site are the hotel's custom porcelain light switches. They were commissioned to an artisanal family business in Modena and offer the user a satisfying "click" – and design appreciators an absolutely beautiful fitting to behold. "They are going to become famous because everybody that comes through here asks about them," says Orlandelli. "I think I might have to buy that company now."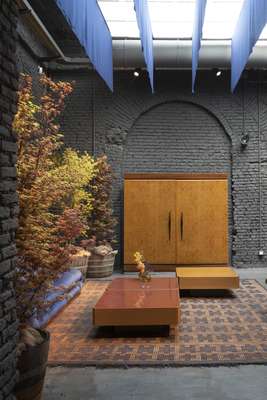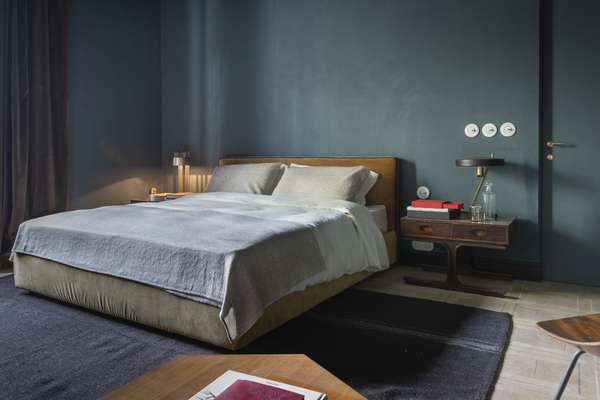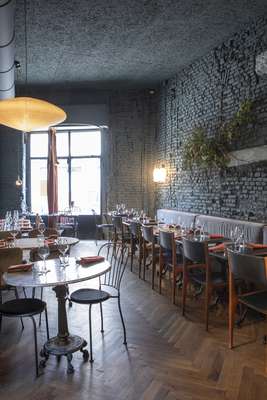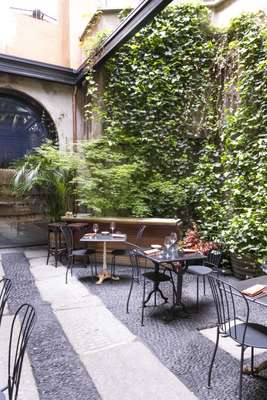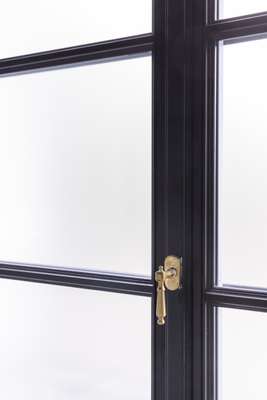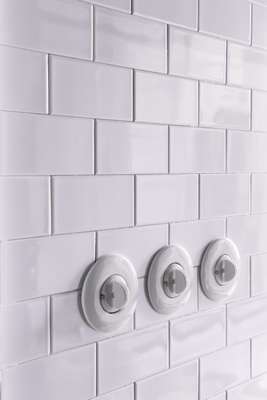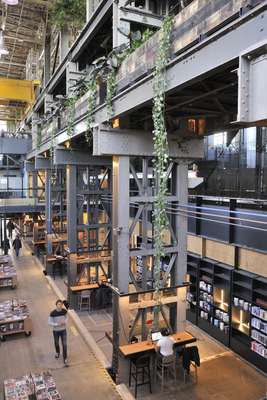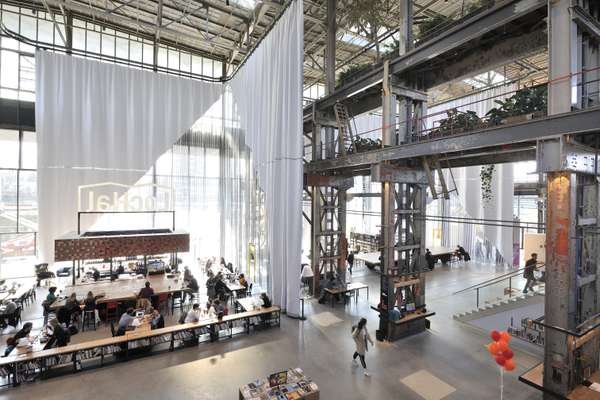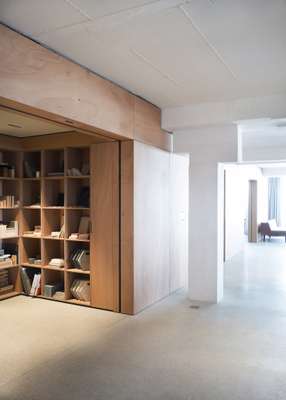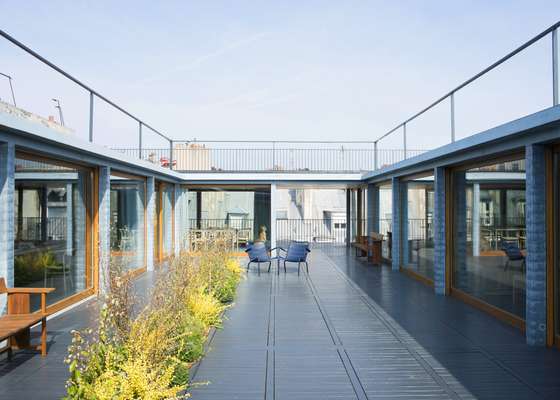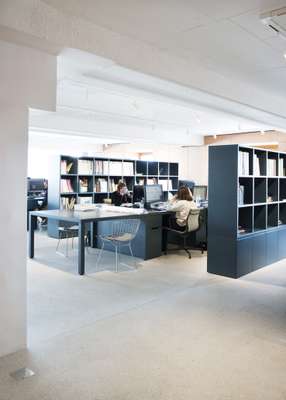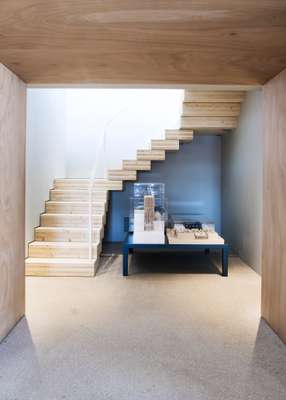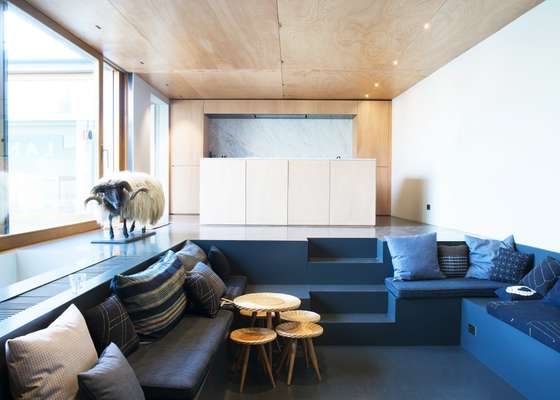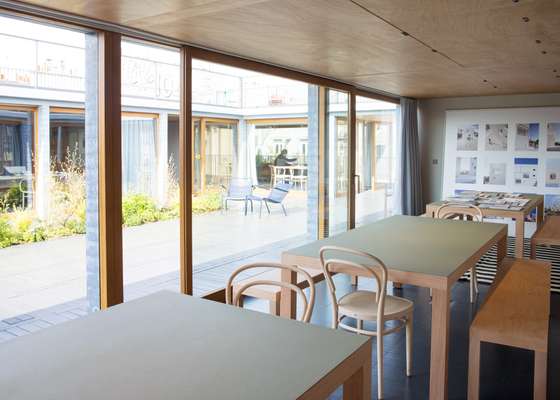 While the new hotel will only be appreciated by paying guests, most of Six's floorspace is open to the neighbourhood. Tourists wander up from the nearby Navigli canal district to visit Six Gallery. With its mix of classics from the likes of Gio Ponti and new wares from Quincoces-Drago & Partners, it has risen quickly in the ranks of Europe's best destinations for collectible design. The adjoined courtyard, which has been left purposefully exposed with vines clambering up its semi-ruined walls and palm trees popping out from the earth, is packed every evening with locals taking aperitivo. On warm nights, conversation stirs the space alongside bells from the church and the sounds of activity from a nearby community garden.
"We have done a lot of work for the area," says Orlandelli, noting that Six's central location means gentrification is inevitable as Milan develops. "I have known this area since I was a child and I think this neighbourhood will always keep its spirit, even as it changes."
---
2.
Captain of industry
Tilburg
In the small Dutch city of Tilburg, next to its main railway station, a former loco-motive workshop has been transformed into LocHal, home to a public library, shared workspace and café. In the few months since this building reopened it has become one of the city's most talked about destinations – and with good reason.
The success of this renovation is apparent not so much in what has been added but what the architects allowed to remain. "LocHal is a contemporary reinterpretation of a 1930s industrial building with a railway theme," says Jan Lebbink of Amsterdam's Civic Architects, the lead firm on the project, assisted by Delft's Mecanoo on interior design. "Our solution uses the possibilities offered by the existing structure to the greatest extent possible, only making additions where absolutely necessary. Much of the colossal steel framing has been preserved – rust and paint splatters included."
The frame, so loved by Lebbink, has been the key factor in promoting an immediate – and almost overwhelming – sense of openness as visitors enter the space. The starkness of the former workshop has been offset by the addition of softer elements, including textile "walls" that hang from the rafters. Designed by Amsterdam studio Inside Outside-Petra Blaisse, they act as space separators and also help manage acoustics.
The theme of adaptability continues throughout. A landscaped concrete-and-timber staircase offers seating for up to 1,000 people and also provides a pathway to the library's more private upper spaces. During events, the main atrium's massive moveable tables (cleverly installed on old train wheels) can be pushed together to form a stage or catwalk. The surrounding steps provide amphitheatre-like seating.
These stairs are also the best spot to gaze up at the final feature that has brought this building back to life: nature. The steel, concrete and glass have been softened by ivy and other greenery spilling from the girders. Deep planter boxes placed in the frame have even enabled the installation of trees on what would otherwise have been dead space. Due to the building's all-glass exterior, this enlivened destination is lit naturally during the day. After dusk it becomes a glowing glass beacon beckoning in visitors from the nearby station – and city beyond.
---
"This was a garage built in 1935," says Umberto Napolitano, reclined on a bentwood armchair in the corner of a rooftop meeting room in his practice's new office on Rue Popincourt. Today there's not a drop of engine oil in sight within this calm building conversion in Paris's 11th arrondissement. "This roof had just a wall around the side, a ramp and a place to park cars," he adds, taking Monocle through one of the city's best recent examples of adaptive reuse architecture.
Napolitano (who, as his name suggests, hails from Naples) says that most people are unaware that Paris is the most population-dense city in Europe. And for years (since co-founding Lan Architecture in 2002 with Benoît Jallon) he has worked on improving the city's architecture stock within tight confines of concrete, stone, brick and glass. The results are flexible compact buildings that often draw upon sustainable materials such as timber.
This new office for about 50 staff exemplifies Lan's sensitive approach. "Everything is about how to use the original structure, how to be light in the construction so that, apart from one concrete frame, everything's in wood and everything is prefabricated," says Napolitano. He adds that to match the colour of the zinc rooftops beyond the site, the office's concrete support pillars were dyed a blue-grey using an indigo imported especially from Japan.
Beyond its seamless integration into Paris, the design set out to reimagine the way architects could work. Lan is currently developing several large projects (including a scheme that will transform Paris's famous Grand Palais in time for the 2024 Olympics and a masterplan for the Breton city of Nantes) and the new digs give staff novel ways to think – away from traditional desks. "The top floor is a bit like a home," says Napolitano, looking out across the terrace towards employees sitting on vintage C-chairs by French designer Michel Gascoin. "The idea was to bring domesticity to the work space. We have created a house."
In contrast, on the floor below, rows of architects sit in front of large screens on Vitra task chairs in something of an engine room (albeit a smart one, lined with African hardwood panels). "The idea is that now there is the floor downstairs where people work with computers and upstairs is totally free. It's a house with the equipment of an office." Additionally the overall rooftop setting, with offices gathered around a Mediterranean-style courtyard, provides a bonus architectural resource: views that stretch from Sacré-Coeur to the Pantheon.
Napolitano's eyes are set on changing preconceived notions of what a space can be. He says that Lan's modern buildings, which include housing developments, a prison and a new theatre for Strasbourg, are designed to be dexterous. "When we do a project I ask myself, 'How much can I push the idea of durability?'" he says. "What are the qualities that I have to give to this construction for it to stay, to remain, to be reinvented and reused – even in a context that I can't control?"
Q&A
Eduardo Souto de Moura
Architect
Founded in 2005 in a magnificent 18th-century building, Lisbon's Bairro Alto Hotel will reopen its doors this month after a two-year expansion and renovation project. Heading up the overhaul that has seen the hotel extend into three neighbouring buildings from the same period was Pritzker prize-winner Eduardo Souto de Moura. The Porto-based architect was tasked with maintaining the historical feel of the site while paying attention to the unique characteristics of one of Lisbon's most famous squares.
This hotel is between bohemian Bairro Alto and the elegant Chiado area. How did the character of these neighbourhoods influence your vision for the project?
I worked with the architect Álvaro Siza in the past, and he was the one who recovered Chiado after the fire in 1988. This time I wasn't working with him but we discussed solutions and details. The recovery of Chiado became a rule: it was the first big recovery and restoration in modern Lisbon. It was criticised at the time but today it's looked up to. Then, architects said it was a unique opportunity to make modern architecture rather than to recover buildings in ruins – and Siza insisted that it was an opportunity to recover what was established in the city's architecture and design. It turned out well: before the fire it was out of date but now it has become the centre of Lisbon. For this project I slept in the Bairro Alto Hotel so that I knew it with my own hands. It was practically my home so I was familiar with this building.
Why did you decide to make the expansion in the same style as the original buildings?
Buildings are like grandmothers who have gone through many phases. We see photos of them when they got married and they were beautiful, and later they become small, weathered and old. But they haven't stopped being beautiful – and buildings are the same. There are many theories about restoration. You are more radical when you are younger; not only in architecture but also in politics and other fields, and there is a tendency to want to make yourself different: I am new and that is old. In older buildings this is not apparent in such a radical way; the different styles are made of layers, collages that are softened. With time I think I learned that and also softened myself to forms and imperfections that have their charm. I thought I needed to do the new part of the hotel like the old part. If I crash a Volkswagen and a headlight goes, I will buy a new one from Volkswagen. I am a modern architect but I still prefer the grandmothers who wear Chanel tailleur rather than jeans.
Did you have any doubts?
Many. I am scared of doing old architecture today, what they call pastiche. When an old building is badly done, people notice.
With these centuries-old buildings, how do you choose which part of their story to keep when renovating?
This is something that happens a lot – in monasteries for instance, which are made of layer after layer since the Romans. When you dig a hole to see the water and sewage systems you find a pavement made in the ninth century and the pavement from a Roman church. You can't give in to emotion; we have to create with respect to history. For me the different periods in history aren't good or bad but I have to use what is of interest to me today.
Were there technical challenges with this building?
I didn't want people to notice the building had been expanded. And it's not easy to find the Pedra de Lisboa stone, nor the people who know how to work on it. We managed but you can still tell the old from the new. After we treat it and with a few years of rain and pollution, it will become the same. Pollution democratises architecture.