Bicycles / Toronto
The big spoke
Toronto, against all the odds, is very much a cycling city. We meet the independent bike makers and painters who are keeping the town in the saddle.
Unlike freewheeling Amsterdam and Copenhagen, Toronto is not an obvious cycling paradise. Winters are frigid, the bike-sharing scheme has so far failed to turn a profit and the cycling-lane network is in its infancy. So it's perhaps testament to just how crucial the humble bicycle has become for urban mobility that even here there is a burgeoning cycling industry.
Fewer people are electing to have a car, instead investing in a way of getting around that is healthier, better for the environment and even potentially enjoyable. And increasingly, these cyclists don't just want any old bike from China. As Toronto's explosion of boutique bike makers shows, there's real appetite for something homegrown and well made. As summer gets underway, we pay a visit to three of our favourites.
---
1.
Mariposa
Bicycle frame-builder
Frame by frame
"Cycling, for him, was an escape," says daughter in law Deirdre Barry, who runs Mariposa with her husband, Michael Jr (pictured, top left), since Mike died last December. "A lot of frame-builders tend to focus on building one or two types of bikes; they might build track bikes or touring bikes, or road bikes, but they don't really cross over a lot," says Deirdre. "One thing that's always been unique about Mariposa is that we've always crossed over into most disciplines."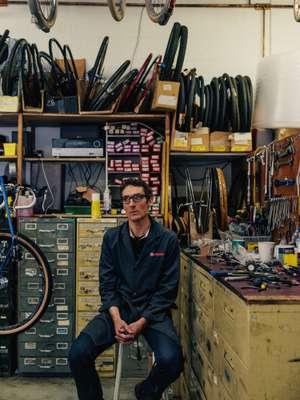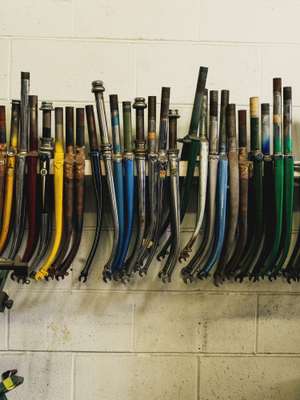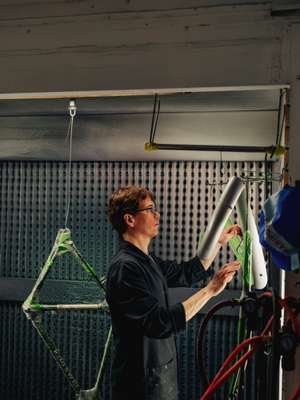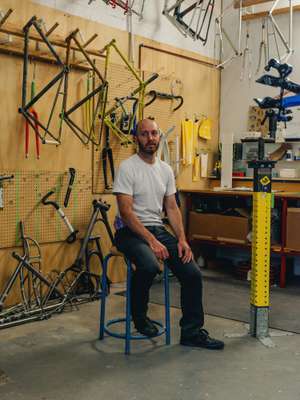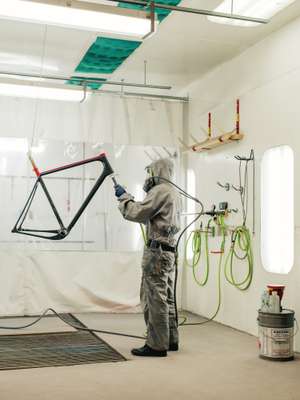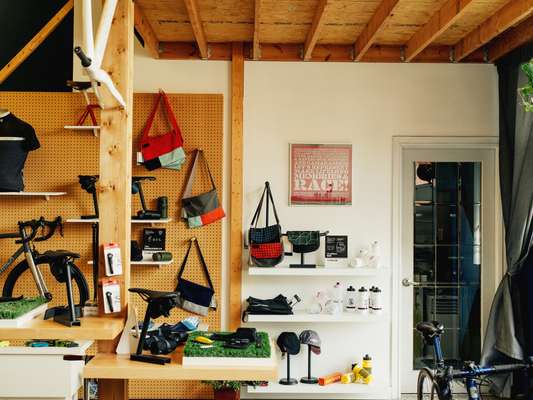 The company had a seven-year hiatus following Barry's retirement, until Deirdre and her husband decided to revive the business in 2016. It was their next step after successful careers as professional cycle racers (Deirdre won silver at the Olympic Games in Athens in 2004). Mariposa now produces some 50 bikes a year and each one is unique, says Deirdre. They could make more, but they enjoy taking their time and not rushing the process. "We've kept the brand true to what it always was in terms of the bike-building – and that requires a lot of one-on-one attention with the customer."
Address book:
Mariposa Bicycles45 Cranfield Road #6, Toronto+1 (416) 423 0456mariposabicycles.ca

Schön StudioB871, Garibaldi Highlands, British Columbiaschonstudio.com

VéloColour191 Weston Road, Toronto+1 (416) 766 8356velocolour.com
2.
Schön Studio
Bike-making and repair
Be-spoking the wheel
After four years of working on IT strategy at a Fortune 500 company, Danielle Schön was missing the creativity of her fine-arts education. She channelled that energy into night-time welding classes before she turned the hobby into a full-time job in 2014, with the launch of bespoke framemaker Schön Studio.
"There's almost been a rebellion against big-box brands," says Schön. "The vast majority are made overseas and there are quality concerns. People want to know where their bikes are coming from and support small-scale makers." Her focus on the customer is key. "What comes off the shelf doesn't fit most people so having the client be a part of the design process is a huge thing for me."
Schön Studio moved out of the city to British Columbia earlier this year but it remains an essential Toronto business that's hugely popular with locals. She now also revives rides worn down by time and Canadian winters. "People develop an emotional connection with their bikes. Giving something new life while diverting unnecessary waste really resonates with a lot of people in Toronto." 
---
3.
VéloColour
Paint shop
Primping your ride
Pope Francis's preferred mode of transport might be the four-wheeled Popemobile but he does, in fact, own a bicycle. The holy bike, which was given to him on a visit to Philadelphia in 2015, is cream and gold with a delicately painted dove on its top tube. It was made by Californian brand Breezer but the paint job was done in Toronto at one of North America's best custom bicycle paint shops: VéloColour.
"It was never part of my plan to become a bicycle painter," says Noah Rosen, an art-school graduate who founded the company in 2008. "But it seemed like a good way to make a living as an artist." Initially VéloColour restored vintage UK, Italian and French rides to their former glory but today its four-strong team creates modern designs for sleek carbon and titanium bikes too. "We don't do flames or skulls," says Rosen. "We keep it clean and refined."
VéloColour expanded into cycling accessories in 2016 and one storey above its Junction-based spray shop, designer and co-owner Suzanne Carlsen sews a line of cycling bags. "Local manufacturing isn't always easy but our customers respect the quality of every stitch and detail," says Rosen.
While he loves his job, Rosen's favourite part of the day remains the ride home. "It clears your head and keeps you moving," he says.
Toronto cycling in numbers:
Total length of bike lanes: 619km
Bike lanes built in 2018: 17.4km
Extra bike lanes planned: 560km (a small fraction already built)
Torontonians who are cyclists (2016 census): 2.7 per cent
Neighbourhood with most cyclists: Cabbagetown (34 per cent)