Urban planning / Global
50 steps to improving your city
Elevating the urban environment needn't call for grand blueprints from city planners, nor sweeping regeneration. Small projects and individual details can make a difference. Here are a few starters from our editors.
01.
Seaside smorgasbords
Gothenburg
Though farm-to-table is thought to be the ideal in fresh food, sea-to-table surely knocks it off its perch. Gothenburg's beautiful 19th-century Feskekörka fish market, overlooking the Rosenlund Canal, comes by its name honestly: feskekorka means "fish church". In its open, airy hall, stalls serve sole and oysters, among other fishy delights, so fresh they're practically still swimming. On a sunny day, snag a picnic table outside and tuck into an open-faced sandwich piled high with prawns.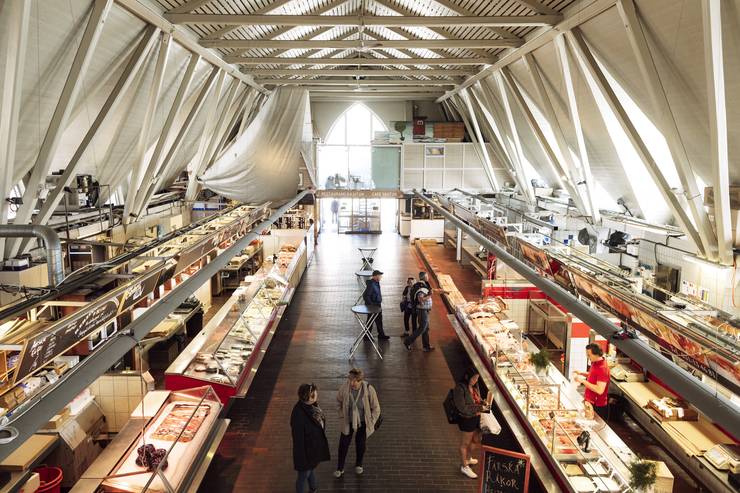 02.
Wild parklands
Vancouver
To walk from a bustling downtown into an untamed natural landscape is a surreal experience. By bringing the wild and the urban together, spaces such as Vancouver's Stanley Park connect us with nature, allowing a brief escape from the metropolis without having to venture far from home or office. It's truly magnificent to walk among towering fir trees and red oaks on your lunch break before picking up a latte and heading to that two o'clock.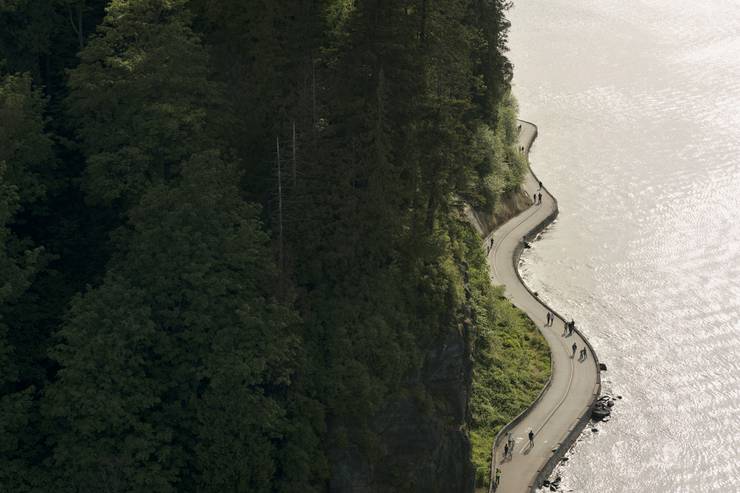 When was the last time you enjoyed a truly memorable evening involving a 1970s Franco-Lebanese pop-star, handsome dancing Druze, a 17-piece drum-and-horn ensemble, free-flowing wine from the slopes of the Bekaa Valley and peerless service? If all of this is a blur but sounds vaguely familiar then you probably had a front-row seat at Music Hall in Beirut (and you danced well into the wee hours)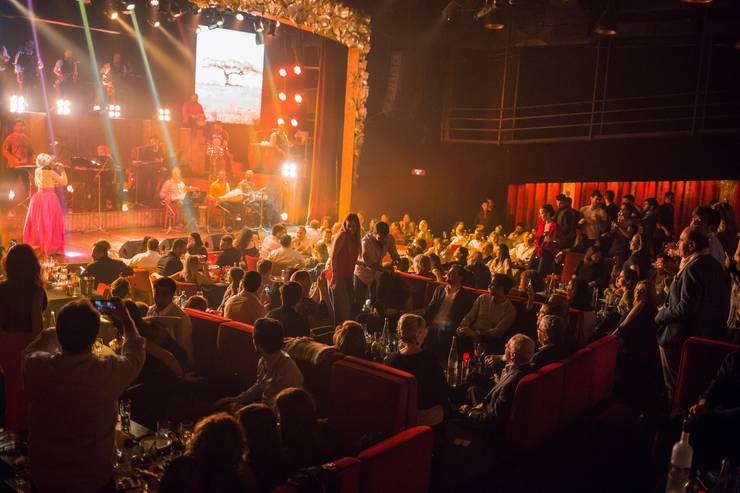 04.
Botanical boulevards
Tokyo
All streets benefit from a flourish of greenery and Koen Dori (appropriately, Park Street) in bustling Shibuya has been particularly leafy of late. Since 2007 the city's shop association has hosted an annual flower festival during the Golden Week holiday in spring; this year there was also a gardening contest that opened up drab patches between road and pavement to 23 teams of professional gardeners from across Japan. The association stumps up the cost and passers-by can enjoy the mini gardens for a year. It's a lesson to share: taking a collective approach to softening a city's edges and adding welcome greenery.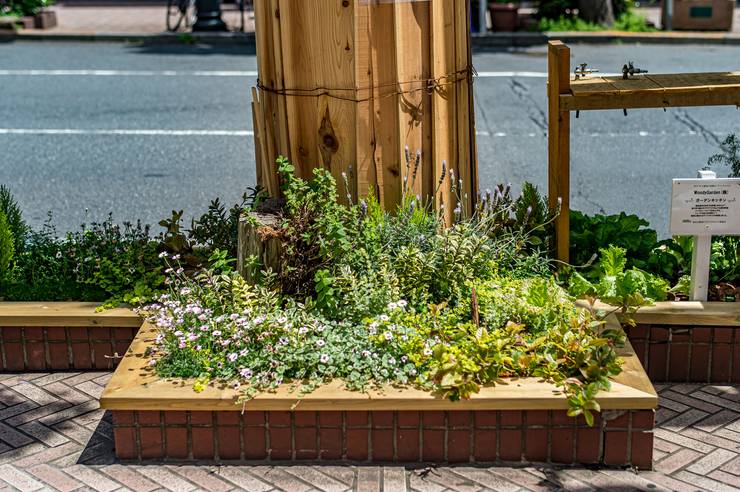 05.
A zippy delivery fleet
Zürich (1)
The Swiss Kyburz dxp 5 is the delivery vehicle of choice for the nation's urban posties. Seeing this sleek, quiet and zippy scooter swerve through the city streets with ease makes it clear why commercial delivery companies across the globe are eager to buy a fleet of their own. The design comes from founder Martin Kyburz's experimentation with electric sports cars and his pioneering mobility scooters for the elderly. The dxp 5 sits somewhere in the middle – a practical electric scooter packed with power and built with all the strength, elegance and style "Made in Switzerland" stands for.
06.
Hedgehog housing
Zürich (2)
Cities aren't the friendliest places for hedgehogs and populations are in decline. That's why it's good to see Switzerland lead preservation efforts with its Igelzenturm (Hedgehog Centre), a place to take the prickly creatures if they're injured or sick and nurse them back to health before setting them free in the wild. The centre in Zürich, led by landscape architect Simon Steinemann and vet Annekäthi Frei, offers advice as well as tours and talks for anyone interested in the wellbeing of hedgehogs. It's an initiative we'd like to see more of.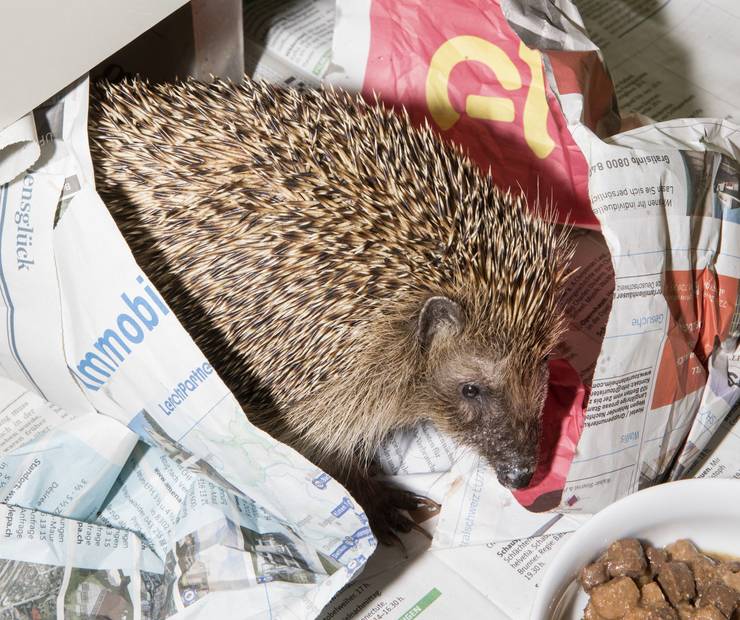 07.
Sensible benches
Zürich (3)
There are many ways to make the most of a city's public spaces and investing in good benches is one. Zürich did well in commissioning Swiss company Burri to design the pews for its Landesmuseum new-build by architecture firm Christ & Gantenbein. The flora-hugging larch-wood benches not only offer plenty of space to sit and relax but their curves also complement the museum's angular façade and succeed in creating a welcoming entrance space.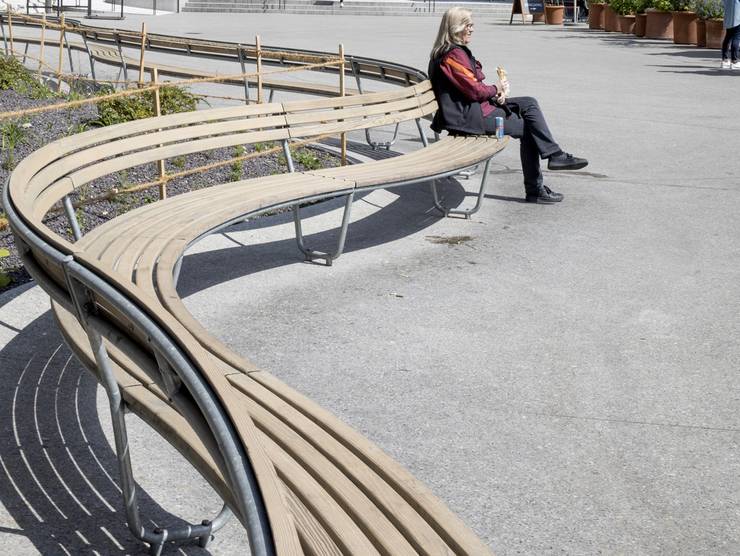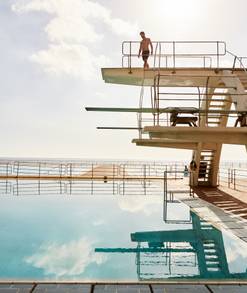 08.
An urban high dive
Cape Town
Does the path to personal liberation lie at the end of an Olympic-height diving board? The only way to find out is to scale one, take in those fine city views, build up some courage and take the plunge. There's something unusually meditative about this process as all your daily worries melt away in one brief moment of sheer exhilaration (read: terror) that a plummet into a cool blue pool provides.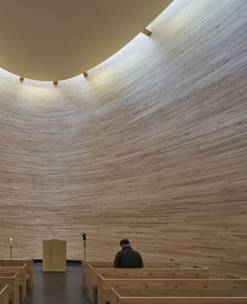 We've always been vocal advocates of the right to make a bit of noise in your city but, when you need time to pause with your thoughts, nothing beats a dedicated space in which to sit in silence. Parks can be quiet but they're hardly ever noise-free so places such as Helsinki's Kamppi Chapel, where keeping schtum is the rule, can be a true godsend. You don't even need to be religious.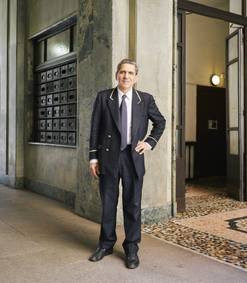 10.
Milanese portinai
Milan
Cranky concierges and grumpy security guards in apartment blocks the world over should take their cue from Milan's friendly portinai. On weekdays this legion of doormen and doorwomen occupy glass booths in the entrances of big residential buildings. They keep tabs on people's movements, sort the mail, look after packages and make sure courtyards stay immaculate by caring for plants. More than keepers of the buildings, they're friends to all residents – happy to water a tenant's balcony flowers when they are away or help shift the odd piece of furniture when extra hands are needed.
11.
A place to dip and sunbathe
Aarhus
Somewhere to swim and sunbathe is something no city should fail to provide its citizens with; smart planners are waking up to what this simple recreational extra can do for a place's prominence. In Aarhus, Denmark, a portside residential and commercial complex that's years from final completion has already become the city's most popular summer destination. Why? Thanks to a Bjarke Ingels-designed bathing centre bolted onto the harbour.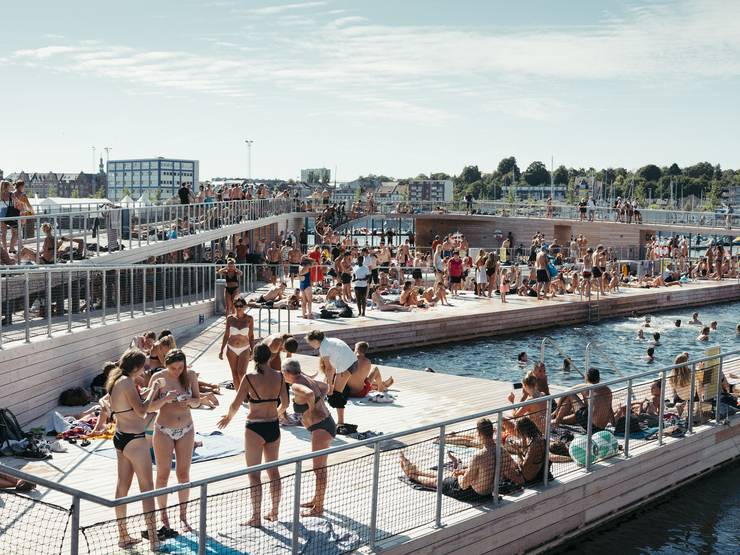 Huge museums such as the Louvre and Prado are impressive but their focus on grand narratives can lack the intimacy of small institutions where personal histories often reveal more about city life. One good example is Toronto's Gardiner, Canada's best ceramics museum, where nearly all the works were collected by one passionate couple and then donated to their hometown.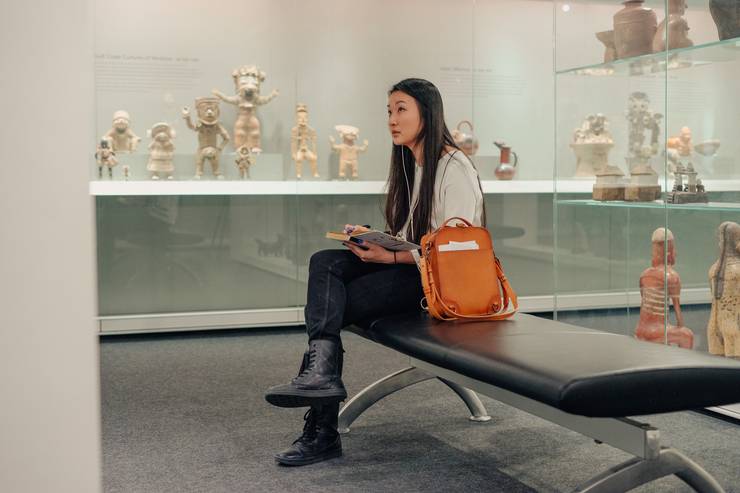 13.
Unexpected growth
Beirut
"Green" has become the defining colour in cities over the past few years; it's happening to walls, roofs and offices to great effect. But what about a little unplanned growth? Space for the ungroomed and the reassuringly ragged to flourish? A bit of room for palm fronds to poke over balconies, orange blossoms to burst forth by roadsides (where the weather allows) and a few wildflowers to nudge up through the soil? Providing somewhere for new life to sprout, thrive and bring forth unplanned beauty is, if you think about it, what cities do best.
14.
Aesthetic drinking fountains
Turin
A city that boasts public fountains on its streets is already ahead of those that force their citizens to buy bottles of water. But a city that is attentive to the fountains' designs goes one step further. In Turin, fresh water is always bountifully supplied by the Turet, the city's bull-faced fountains. Hundreds of these bottle-green, cast-iron devices are spread across the city. Meanwhile in Zürich, they have come up with a multi-tiered design that keeps hound and handler refreshed and watered.
Sometimes the best way to appreciate a city is to get high. A balmy summer's evening is the perfect time to hit up a bustling rooftop bar such as Madrid's Gymage Lounge Resort (left) or Park Restaurant & Bar in Lisbon. It's not just the fact that you're drinking in the sights while sipping a crisp glass of wine or a frosty cerveza that makes these bars so pleasant. There's also the satisfying sense that you're experiencing the city from a (relatively) private perch away from the commotion at street level.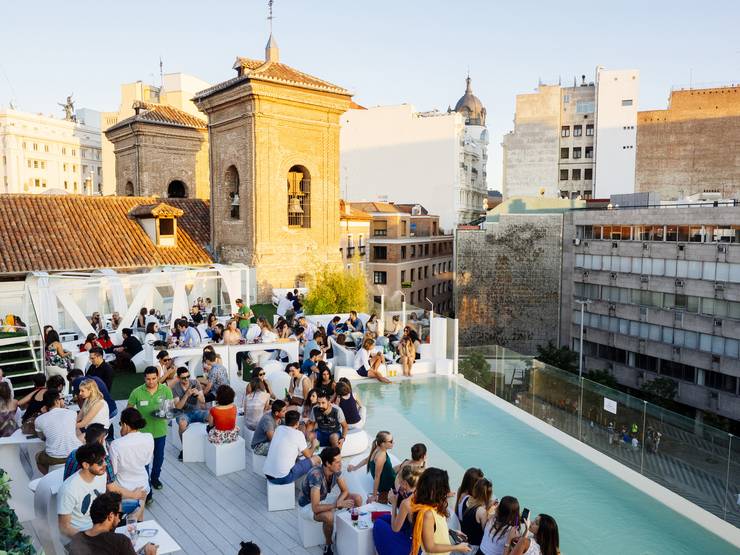 Mayors take note: fixes big and small to enhance any town
Our worldwide itinerary of urban innovation for would-be civic leaders and anyone just after a better place to call home.
When Porto's local government was choosing who should overhaul its city branding in 2014, Eduardo Aires' White Studio stood out. In a nod to the famous blue-and-white tiles found cladding the city's churches and historic buildings, the firm "used the same grid these tiles generate" and filled it with a series of blue-and-white icons that, explains Aires, "are our language for the city". Now found adorning the metro, public buildings and signs across the town, this ingenious bit of branding expresses Porto's history while asserting its aesthetic in the modern age.
17.
Favourable breeze
Vienna
Despite being invisible, ungovernable and completely capricious, the wind can change the course of city life in so many positive ways, from purging air pollution to carrying the pong of industry away from built-up areas. The oxygen from the Wienerwald forest near the Austrian capital, for instance, is said to be the reason Vienna breathes easy (as well as being a place its citizens can escape to for a lung-full). Conversely, as cities grow vertically, skyscrapers create blustery corridors that channel wind to the wrong places – an issue that needs to be addressed.
18.
Beautiful pavements
Lisbon
It's best to look up to enjoy the sights of a city – that is, unless you have beautiful paving beneath your feet. Calçada portuguesa (Portuguese paving) is our favourite: small hand-cut limestone and basalt blocks that create mosaic artworks spreading along pavements in cities such as Lisbon and Rio de Janeiro. Carefully laid by hand, they introduce considered craftsmanship to city streets, creating a point of pride for residents who can enjoy the mesmerising patterns brought right to their door.
19.
Buy-back bottles
Berlin
In Berlin the Pfand system means a deposit is payable on all bottles. So rather than throwing those bottles away or letting them litter the street, people return them to supermarkets and off-licences – or hand them to homeless citizens who can cash them in.
Wienerschnitzel in Vienna, pintxos in San Sebastian, a pastel de nata in Lisbon: it's great when a city is proud of its food, its cafés and bars, so much so that locals go out of their way to lure you to the counter. Food pride equals civic pride.
Liquor stores specialising in saké abound in Tokyo. Some of the most appealing of these feature old-fashioned tachinomi (standing bars) where customers can sip a few cups accompanied by savoury appetisers before heading home with their carefully selected bottle. It's a sensible way to sample the store's inventory, not to mention being a delightful spot for an early-evening tipple.
22.
Design standouts
Global
There's a pleasing tension in cities between the appeal of a deep-rooted architectural vernacular (the red brick of Hamburg, the regularity of timber houses in Kyoto) and standout, look-at-me design whims inserted into a streetscape. We're talking the black box of a home in an otherwise uniform terrace or the toothpick slither of a steel-clad office block inserted between two more established edifices. Surprises and a sense of place combined contribute to making a city more thrilling.
23.
Perfect party food
Los Angeles
"Open 24 Hours" – a sign that rarely graces the façade of a recommended restaurant but one that late-night city revellers lust for before sunrise. Many nations make good claims to providing the best early-morning comfort food (trust us, we've done plenty of sampling) but beer-guzzling Korea might be the master of the after-hours eating spot. Thankfully you don't need to live in Seoul to appreciate this. At Koreatowns from LA to Tokyo, late-night drinking continues while accompanied by food that's perfectly paired for the festivities, such as boney broths and sizzling barbecues. Vegetarians have plenty to choose from too, thanks to spicy, crispy kimchi pancakes (best enjoyed with Korean rice wine) and a tasty selection of banchan (a flavoursome sort of veggie tapas). It all adds up to the perfect midnight fodder – sustenance that might just fuel your return to the tiles.
We love a lively urban park (see our playful feature on page 131) that brings all walks of life together but we also enjoy a city that tucks away its prized green assets for only the intrepid to discover. A secret garden – quiet, tranquil and far away from hordes of amateur photographers and soon-to-be-sunburnt barbecuers – makes it worth adventuring into a far-flung city suburb. Here you can be a little more relaxed, a little more comfortable and, at least when the weather permits, a little more naked.
Dimmable lights? Every restaurant has them – why shouldn't every city street? Norwegian company Comlight has created a motion-sensing street-lighting system that automatically dims when no one's in sight to reduce energy waste and light pollution. Its systems are already proving a success in Norway, Iceland and Switzerland.
Building co-operatives is a good way of creating affordable housing in cities. In 2014, Zürich's Genossenschaft Kalkbreite completed the Kalkbreite development, which revitalised District 4, and now it's about to complete another undertaking. By 2020 the Zollhaus will be home to 175 residents, plus offices, hospitality ventures and event spaces.
Climate change has sent summer temperatures soaring in Japan but the country has an old-fashioned idea to combat the stifling seasonal heat and humidity: uchimizu. The practice of splashing water onto the pavement and street dates back centuries and has been shown to counter the so-called urban heat island effect, lowering temperatures while also washing away unwanted dust.
The UK has recently announced that it will plant 130,000 trees to combat climate change and it isn't the only nation to increase such efforts in recent years. Trees not only absorb carbon dioxide but also decrease noise, reduce the risk of flooding and create more pleasant public spaces. However, not all trees are up to the task. It's important for a city to plant local species that will boost biodiversity. Those with long lives are the most sustainable solution but fast-growing plants are also beneficial. Chestnuts, walnuts, pines, oaks, planes and cypresses are especially well suited.
Japan's new Emperor Naruhito, Empress Masako and daughter Aiko are moving into the imperial palace in Tokyo but they won't be the leafy compound's only occupants. Cormorants, eastern egrets, swans and fireflies also make themselves at home in the palace's trees and moats. It's not uncommon to encounter these wilder inhabitants in many of the city's parks, ports and waterways. Wildlife sightings in the city can be a thrill but it's also reassuring that animals and insects find the urban environment clean enough to take up residence.
30.
Somewhere to shelter
Global
Urbanists and architects love to talk about the importance of
open spaces but somewhere to dodge the deluge or sidestep the sun is equally important. Whether in Toronto or Trieste, porticoes aid pedestrians by providing somewhere light and breezy but safe from the elements. The rash of mercilessly reflective, hard-sided, glass-fronted new-builds could learn from this small, civic-minded intervention.
Parisians engage in a mass exodus in summer but those who stay are rewarded by Parc de la Villette's free open-air cinema. Visitors gather in their thousands on the sprawling lawn to enjoy a mix of global hits and French classics with a glass of vin rouge in hand. The peaceful conviviality is a sight to behold and helps nurture a powerful sense of togetherness in a city that has seen its fair share of trauma over recent years.
32.
Places to park your bike
London
In cities such as London, where it's common to have your wheels nicked, sensible solutions to bike theft are essential. The Cyclehoop scheme allows Londoners to leave their bike in a secure metal cage on their street overnight – but they are vastly oversubscribed. Putting more on the streets would not only ease cyclists' peace of mind but free up valuable police time spent logging stolen bikes.
Greening our cities has become a priority for many top mayors but bringing nature back into an existing concrete jungle is easier said than done. Over the centuries Hungary's capital has mastered the art of greening its denser city corners, equipping its traditional housing stock with generous window boxes in which flora can bloom. In recent years smart, standalone planter boxes have popped up across the city's streets, being deep and wide enough to cater for all forms of plants and trees but smartly designed so that they can be easily moved as the city evolves.
34.
Welcoming boulevards
Stockholm
Stockholm may not be famous for grand boulevards but there's one that's in a class of its own: Valhallavägen. It begins in lush Gärdet in the east and cuts through the neighbourhood of Östermalm, running for 3.5km in total. It has space for cars and buses but the central strip is reserved for pedestrians and cyclists who move along under a shady tree canopy.
Some cities just pull together in ways that make outsiders envious. And you see it in physical ways: people feel that they can put pots outside their homes without fear of them being pinched, they turn up when there are community action days and they talk about their city with pride. You feel it in Helsinki, Lisbon and Tokyo. It's kind of special. It makes the difference between a city feeling edgy or welcoming.
There's something about the satisfaction of reaching the top of a hill, or a staircase in a cathedral, that inspires a sense of wonder and celebration. Perhaps it's because you've managed to climb hundreds of steps without expiring or can now survey the streets where the theatre of your life plays out. Either way it's an occasion best celebrated with a drink. A café such as the Esplanada do Teleférico, perched on a clifftop overlooking Porto, does the trick.
37.
Museums that open late
Global
Many museums experiment with keeping their doors open until late once or twice a month. We're all for making it a daily habit. Weekend gallery-hopping is fun but often an overcrowded affair; during weekdays only tourists have time to enjoy the more peaceful moments. There's something magical about late-night culture: just look at the hordes that turn out when cities host special gallery and museum events into the early hours.
Putting a prized pooch front and centre of weekend plans is a pleasure that many people enjoy. But in a car-clogged city, getting much else done on a dog-focused day can prove tricky. Who wants to drag their dog around the shops? Como Park, in Indonesia's congested capital, provides a smart solution to this problem by offering great little restaurants, fashion shops, a café and a good greengrocer built around a super-social, dog-friendly park. We paws to acknowledge this brilliant effort.
39.
Central stationers
Milan
There are shops that serve a community's needs and others that are, essentially, neighbourhood playgrounds for adults. Stationers represent a little bit of both. Dotted around Milan, well-stocked shops such as Pettinaroli, Rigadritto and the exceptional Fratelli Bonvini are spaces that bring together different generations. There are shops that serve a community's needs and others that are, essentially, neighbourhood playgrounds for adults. Stationers represent a little bit of both. Dotted around Milan, well-stocked shops such as Pettinaroli, Rigadritto and the exceptional Fratelli Bonvini are spaces that bring together different generations. They inspire schoolchildren to care about how and where their thoughts are committed to paper, remind grown-ups of the importance of taking time to pen a letter and entice everyone to succumb to the irresistible temptation to try out coloured biros on the display pads.
40.
Swimming facilities
Zürich
Switzerland's Badi culture is unique. These lake and riverside swimming establishments offer cabins for changing and spots for sunbathing and dining. Küsnacht's Badi (also known as "Sträme") is one of the most beautiful on Lake Zürich. It was designed by Swiss architects Adolf Steger and Karl Egender in 1930 and includes a sandy beach, a pier, springboards, plenty of sun loungers and a scenic terrace overlooking the lake. In other words, everything you could ask for on a sunny summer's day.
41.
Old-world essentials
Global
A good dry cleaner for your best suit, a quality shoe repairer for your favourite boots and a key cutter for spares when you have visitors: all essential services that can't be easily sorted with a click online. They're conveniences that you need at the last minute, often all at the same time – cue an impromptu visit from an old friend. And, just like an old friend, it's nice to know that they're there when you need them.
How many times a day do you check your phone? And how many of those screen checks are just so you can tell the time? If you're not really the type to wear a wristwatch, the chances are that you rely on your smart devices to make it through life punctually. Catching a glimpse of a street-side clock while speeding down an alley makes us feel as if our city is helping us remember how many hours we've got until the post office shuts and whether we will indeed make our train. It's also a strong symbol of a shared urban rhythm and heartbeat.
43.
Rough-and-ready food halls
Singapore
We love a browse through a chic and well-appointed market as much as the next person but, equally, there's something to relish about Singapore's hawker centres. These chaotic open-air food halls offer an array of truly excellent food for mere pocket change. They're democratic – you'll find folks from all walks of life here slurping noodles side by side – and delicious (some hawker stalls have been awarded Michelin stars). You'll find them dotted all over the island but the high-ceilinged Lau Pa Sat centre downtown and the Tiong Bahru Market and Food Centre are two of our favourites.
44.
Newspapers of record
Nice
The New York Times, Washington Post and Frankfurter Allgemeine Zeitung are all excellent newspapers but somewhere along their path to success they outgrew their birth cities and become national (or international) voices. Though local newspapers don't often break the big stories, there will always be space for those that serve the city of their name with cultural recommendations, municipal disputes and chronicles of petty crime. Nothing can quite beat leafing through the pages of, say, Nice-Matin on a sunny morning on the Promenade des Anglais to give residents and visitors a sense of place.
45.
Old cinemas
San Francisco
There's something particularly pleasing about a city that preserves its historical architecture while also ensuring the buildings still serve a practical purpose. The Castro Theatre in San Francisco's vibrant Castro district is the perfect example. Completed in 1922 – and given landmark status in 1977 – the Spanish colonial cinema seats 1,400 and has evolved over the decades from grand picture house to counterculture hub. It's known for its camp-y singalong showings, it was the venue for the world premiere of the film Milk and it is still the place in town to catch a Hollywood classic or cult-favourite film.
Cities are fun – that's one of the reasons why people flock to them – but that higher concentration of people inevitably yields some crime. So why not recruit police who look up to the job of chasing down a crook or containing a tough situation? Platoons of out-of-breath tabard-clad bobbies or overfed gendarmes don't inspire much confidence when it comes to the crunch. Making a job in the police more attractive (higher paid, with more career opportunities and better benefits) will make us all feel safer.
47.
Small-scale advertising
Paris
Space for advertising in our cities is pointlessly polarised: your options seem to consist of either smutty calling cards in phone boxes (if that's your thing) or football-pitch-sized billboards, with little in-between. But what if you're trying to drum up support for a small shop or a just-opened cinema? We like JCDecaux's civic-minded take on converting grim bus-stops and lamp posts into smart ones with room for smaller local firms to display tempting posters and soulful analogue adverts.
Cities are the antithesis of nature. After all, you can't see a decent art show, grab a cocktail or find fusion cuisine in the forest. But what about when nature calls? Most cities provide the bare minimum (and even bears, we're told, go in the woods) when it comes to public toilets. Many double as places to do drugs, few feel secure and none that we've come across are places in which you'd wish to linger. Japan has lots of them but they're still poor. What about some well-lit spaces to change babies? Somewhere to shower or change after a cycle? When it comes to doing the business we need to aim higher.
49.
Collective cleaning
Japan
Instead of using a lack of bins as an excuse to drop rubbish in every available doorway, gutter and bike basket, it's time to take a leaf out of Japan's book, where there are surprisingly few bins and the streets are pristine. Japanese expect to take their rubbish home with them and dispose of it with care. Cleaning is part of the school curriculum and the early training pays dividends: visitors watch slack-jawed as Japanese crowds get stuck into a collective clean-up everywhere from music festivals to baseball.
The glassy high-rises of many a smoggy urban metropolis are too often in need of a good scrub. Our advice? Send in the Swiss. In Zürich, weekend mountaineers work as weekday window cleaners. Rain or shine, these hardy characters clip ropes into their climbing harnesses, fire up high-pressure hoses and belay down the city's skyscrapers on a mission to provide citizens with sharper views.