Briefing / Global
Americas
Briefing
Housing in Boston gets dense, Bogotá transport takes to the skies and a book reconsiders the suburbs.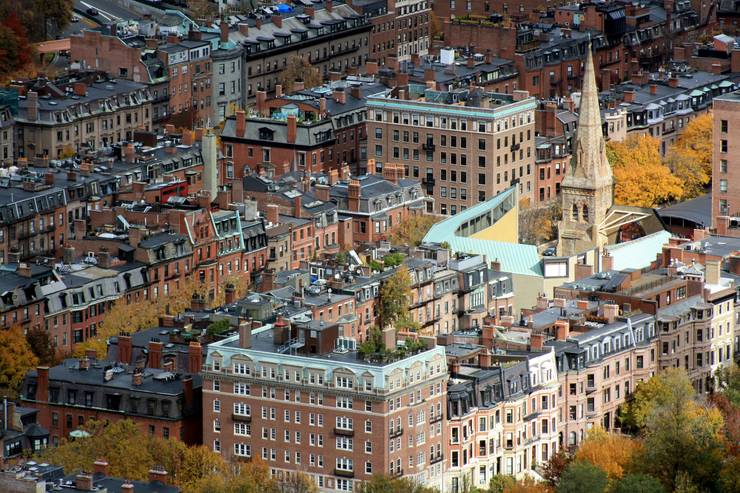 Living options
Boston —
Housing
Boston is often described as the most European city in the US but for mayor Marty Walsh, facing a population increase of 23 per cent by 2030, that whimsical notion falls flat. For the very things that give Boston its European air – historic architecture and the lack of an orderly urban grid – make growth difficult to navigate.
Much of the housing stock is more than 100 years old, built to cater for large families and not suited to the way many live now. "There are large Victorian homes with extra bedrooms and basements that nobody uses because families are shrinking," says Marcy Ostberg, director of operations at the Department of Neighborhood Development, within the mayor's office.
Until now the city's zoning laws made it illegal for homeowners to build self-contained units within their houses – converting a basement into a flat, for example. But a recent change permitting "Accessory Dwelling Units" (adus) may help. The mayor's office has also announced interest-free loans of up to $30,000 (€27,000) to help finance new spaces, with a cap of $650,000 (€580,000) for the fiscal year.
While the change won't add the density that high-rises can, it should help keep Bostonians in their city-centre homes. "It offers an option for older adults who might not have an income but are house-rich," says Ostberg. It will also make it easier for multiple generations to live together, as more university graduates move back home. "adus mean old neighbourhoods can adapt to a new era of complex family structures," says Matthew Littell, principal at Boston architecture firm Utile.
---
Q&A
Amanda Kolson Hurley
Author and journalist
Maryland
Kolson Hurley is the author of Radical Suburbs: Living on the Fringes of the American City (Belt Publishing). It traces the utopian planning and experimental design that once took place in US suburbia.
Have we wrongly caricatured suburbs?
I'm not arguing that stereotypes of suburbia as homogeneous and a bit dull are entirely wrong – but there's a much more diverse history than people realise.
How radical were they, socially and architecturally?
There were a lot of interesting and unconventional suburban communities founded around the turn of the 20th century. You also had the flowering of intellectual movements and the likes of Henry George and his idea of taxing the increase on the value of the land rather than buildings. Suburbs were founded to experiment with that.
Why didn't the ideas take root?
Some communities are still thriving and those that disappeared were pretty successful for decades. The special zoning that enabled the construction of Reston, Virginia – a 1960s New Town – became a model for later mixed-use developments in US cities and suburbs alike.
Which modern US suburbs are doing something different?
Tysons Corner in Northern Virginia is a big spaghetti junction of roads, office buildings and a huge shopping mall surrounded by single-family home cul-de-sacs; in urban-planning terms it's a total mess. The county is pursuing an ambitious plan to turn it into a satellite city. They've added subway stops and are intensively developing the areas around them to put in streets where you can walk around the new buildings.
---
High-wire act
Bogotá —
Transport
Cable cars typically ferry tourists and skiers around but in Bogotá they are part of a new transport system allowing residents of the city's southern slums to get about more easily. Introduced in 2018, the 3.5km, four-station gondola line has cut travel time between hilltop neighbourhoods from one hour to less than 15 minutes. "Cable cars are a feasible solution to the informal settlements we see in cities," says Henry Garay, an environmental city consultant in Bogotá.
Colombian city Medellín first pioneered the cable car as a transport solution for people in poor areas back in 2004; it has since caught on elsewhere. "It has helped Bogotá's poor communities become less isolated," says Garay. "That, in turn, has helped to reduce violence."
---
Quick fix
Kitchener-Waterloo —
Public transport
Kitchener-Waterloo, 90 minutes west of Toronto, is Canada's second-fastest-growing metropolitan region and its fastest-growing tech hub, home to Uber, Microsoft and Google. As of June it is also home to a light rail transit (lrt) line. The region has long clamoured for a modern public-transport network and now 14 trains zip along the 19km route, connecting the city of Waterloo to nearby Kitchener. After Ontario premier Doug Ford scrapped plans for a high-speed rail link between Toronto and Waterloo in September, the lrt is an important tool for attracting talent to the region.