Briefing / Global
Architecture
Briefing
Denmark's longest timber building has been rebuilt and the Pavilion Le Corbusier reopens.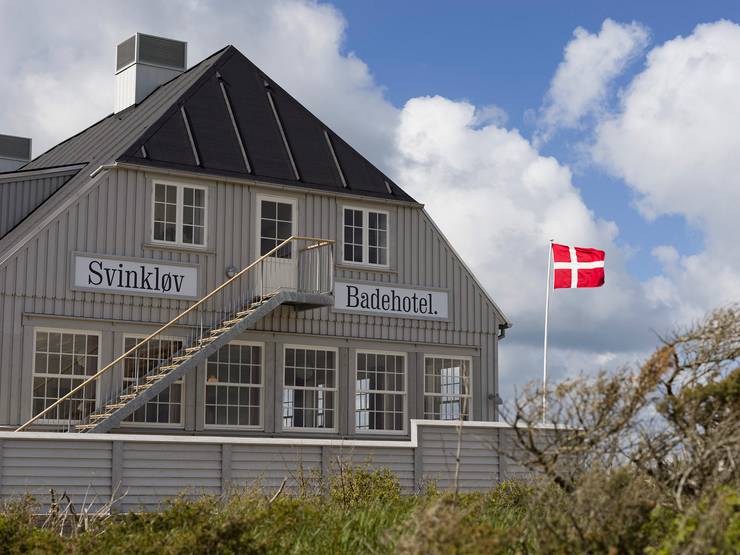 A restorative break
Denmark —
Hotel
Three years ago, on the windy Danish west coast the Svinkløv Badehotel, built in 1925, suffered a fire so severe that it burned to the ground. Thankfully the handsome oblong structure (Denmark's longest timber building) has been resurrected by the private foundation responsible for its upkeep. This May it reopened in a form that deeply references the original build but proves more practical for modern needs.
"We discussed the soul and atmosphere of Svinkløv a lot after the fire, trying to pin it down," says Louise Toft-Hansen, who runs the hotel with husband Kenneth. She says the original recovery plan (conceived on the night of the fire) was to build an exact replica, but the idea evolved. "This is where you come to unwind, to get off the grid," she says, explaining Svinkløv's fame as Denmark's best badehotel (a simple, largely open-plan rural beach retreat popularised at the turn of the 20th century). "We wanted to retain the feeling of remoteness but we also realised that this was an opportunity to make some smaller changes to the old building."
In collaboration with Danish architecture firm Praksis, a sensitive rebuild quickly began. Praksis worked with quality Danish carpenters to create an almost identical timber exterior. Small improvements such as extra windows and chimneys give the hotel a more symmetrical appearance. The interior has been meticulously reworked for the 21st century: the majority of the 36 rooms now have private bathrooms.
The large common areas, historically known as the yellow, red and blue living rooms, have been softened in terms of colour palette and furnishings. Today it's a homely, calm Scandinavian design affair. Soft textiles from Kvadrat were used for the upholstery and curtains, while a selection of traditional timber dining chairs come in a custom dusty "Svinkløv blue", courtesy of Swedish heritage design brand Stolab. Mette Tony, architect and founding partner of Praksis, says, "We had to take a step back, to let history speak, but to improve what we could."
Speed demons
by Nolan Giles
Paris is a city where the glitz of grand architecture and the grit of graffiti miraculously marry like nowhere else. This summer, however, an inelegant new arrival is flying in the face of Parisian shabby chic. From the Arc de Triomphe to the quiet rues off Boulevard Saint Germain, electric stand-up scooters are piling up everywhere.
Some 15,000 of these brightly coloured mobility devices, branded with names such as Lime, Bolt and Flash, have flooded the city. I witnessed the chaos they're causing in May, the same month that mayor Anne Hidalgo forced the companies behind the scooters (which are unlocked via smartphones and dumped wherever the rider sees fit at the journey's end) to sign a "code of good conduct". While dancing over these devices strewn along the pavement, I saw a sun-blinded tourist pump his accelerator a little too hard and hurtle into oncoming traffic to a chorus of beeps from stressed motorists. Later that day an interviewee (also an out-of-towner) told me he'd taken a tumble over a scooter that had been dumped earlier that morning.
The conundrum that Paris and many other cities face is that these devices actually have the ability to decrease pollution and congestion, and make city life better. So why aren't they working? A lack of proper regulation is one problem. Paris is now handling that by slapping large fines on scooter riders who go on pedestrian paths and pushing operators to be more transparent about how their products are being used (and how many will end up in the Seine). But technology and mobility brands should do better. For them, slowing down a notch would give them a much better view of how a good city actually works.
Studio profile
Leipzig —
Felix Monza
Industrial designer Felix Götze admits he is a product of his environment. He grew up in a village of 80 people in western Germany, surrounded by "sheep, cows, geese, pigs and roosters". He's since seen the world, spending time at Graft in California before opening the Felix Monza studio (Monza was a nickname for the way he drove) in an old water tower in Berlin. But after five years in the capital, Götze always knew he was due a homecoming, and three years ago he found a special space in a former wallpaper factory close to his parents in Leipzig.
"I'm bound to this area, to my family and to the company that my father built, because he had a lot of wood and metal workshops," he says. "He would collect old cars and motorcycles and we would restore everything vintage from the 1970s and 1980s, including furniture." This aesthetic is evident in his studio, where Wilkhahn office chairs and a Karlsson flip-clock share space with a worn calfskin rug and antique photographic lights.
Götze can trace the manufacturing of his products to within a two-hour drive of his studio. "There is a lot of traditional craftsmanship in the area. I visit companies to see what they are able to build and my projects are inspired by their techniques," he says. "There's always a mix of handmade with the help of machine. I like that combination of human and machine capabilities."
Moto Rocker
The embodiment of Götze's design style, this kids' rocking bike is detailed, sleek and a whole lot of fun.

Rawr bed
It's industrial and slightly institutional, and Götze chooses each piece of larch, walnut or oak himself.

Hyperqube light
This modular, sculptural glass lighting system is adaptable and, like all Götze's products, designed to withstand the test of time.
Modernist marvel
Zürich —
Le Corbusier
Pavillon Le Corbusier, the Swiss-French modernist master's last building, has reopened after a meticulous two-year renovation. Initially inaugurated in 1967, the colourfully painted four-storey Lake Zürich villa was designed to be Le Corbusier's "perfect exhibition venue", showcasing his diverse body of work as furniture designer, sculptor and artist. It has been returned to its initial splendour, and today's visitors can lounge on cognac leather LC2 chairs.
Q&A
Kate Cullity
Landscape architect
Adelaide
Since Kate Cullity and her late husband founded Australian landscape architecture practice tcl in 1990, it's been challenging the status quo of urban outdoor design. Perth's new Scarborough Foreshore Redevelopment has been one of its most successful projects. The site previously featured a vast carpark that encroached on the beach and stifled the public's interaction with it. Today the beachfront features an almost 1.6km-long stretch of playful linear park, which blends beautifully into the landscape.
What's your number-one tip for creating a playful design?
We've always been interested in collaborating, not just in our sphere but with people who will be able to assist us with creating something larger than the sum of its parts. Artists, designers, environmental scientists and engineers all help form the cornerstone of our practice.
What's one great design piece of the Scarborough Foreshore Redevelopment?
It was the simple element of creating a grassy mound for people to watch sunsets from.
Why was this so effective?
We don't like to clutter a space with a whole lot of objects – it's important to have large, open flexible spaces.
How do you approach each new project?
We start very broad and we enjoy research, observation and starting a dialogue. Like a funnel, we just collect all of this information and focus it, distil it and think about how the raw materials can be used to create play.
How do you find Australia's high levels of regulation?
It'd be wonderful if we only had to work to the safety limitations in Europe. But we've found we can work within the constructs of legality and regulations in Australia and still create fun and vitality. One of the really regulated elements is water. We just collaborate with water specialists who can assist us to navigate through the restrictions.