My last meal / Berlin
Christoph Niemann
The illustrator and artist discusses food in his work, his talent for frying and the German capital's gentrification – and doodles a quick portrait with the help of some salt and pepper, of course.
"This restaurant is called Lokal but it really is local for me. I'd travel to eat here but it just happens to be near my home in Mitte, Berlin. I regularly meet a friend and editor here for dinner. It's not like any other place I know; it feels down to earth. It's German food and it's like coming to somebody's house, where they have very good food every single time.
I was a reasonably big eater as a young person. The only things I actively disliked were dried figs and oysters. I'll eat oysters now but I've also realised that, considering how expensive and fancy they are, if I had a choice between a good piece of bread and an oyster there'd be no reason to go for the latter. I grew up in southwest Germany near Stuttgart and, later, I lived in New York from 1997 to 2008. Before moving there I'd never eaten sushi or Korean food. There were so many things I had no idea existed.
There's a lot of food in my illustrations. But, as with most things I draw, it's less a culinary thing and more about food culture as shared experience. Most people know spaghetti. You might have somebody from 2,000 miles away and you can bond over what pasta and tomato sauce means. It's food as cultural phenomenon, like Mickey Mouse or a famous painting. That's one of the entry points I use for my work: something that we know as a piece of [our] cultural vocabulary.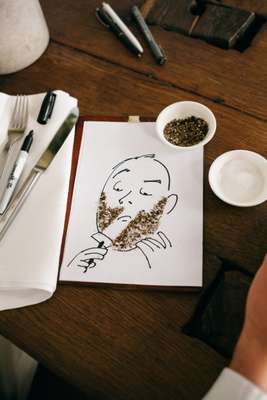 For the Museum of Concrete Art in Ingolstadt I got an assignment to produce a series for an exhibition. I made technical pop-art squares with colour gradations. One was a pattern of small yellow dots – spaghetti as seen from above. Another went from yellow to black, with black dots: oil and vinegar. The pieces are abstract but, through the lens of food, they make sense. These are games with the experience of food.
When I work I have an idea and then I play with it and see if there's enough substance. For something like the gradation project, you need 40 ideas so that you can edit them to 20. Sometimes you get six or seven ideas and the project dries up; other times you don't know how rich a source will be. Going to the supermarket, riding a train, standing in line: the best sources for stories are usually something routine, like eating.
I'm not a good cook but I'm good at frying things so they're really crispy. The trick is to fry them low and slow. I can make fried potatoes and Maultaschen, which are like big ravioli and are from my region. You slice them and fry them super crispy on the outside. Delicious. I also fry gnocchi. I have to do one of these things once a week – my sons demand them. They're now 11, 14, and 17.
I've lived in Berlin for 10 years and have been coming to this restaurant for about six years. The neighbourhood has definitely got fancier. I think gentrification is a serious issue but the hipster take on the discussion was summed up beautifully in a cartoon I recently read in a Berlin city magazine. Two people are sitting in a café. One guy says, 'So how do you like Berlin?' The other says, 'It's great. I've only been here two weeks but I already hate everybody who came after me.' I think a lot about how we relate to things that we love. People always idealise the place they were when they were 25. I'm sure that, in 15 years time, whoever is 25 now in Berlin will say that things here had substance back in 2019.
The reality of a drawing ends up being different from what you originally wanted. The interesting stuff happens in transition. You have an idea in your head and once you put it on paper it comes out as something else. Now you put it back into your head and start twisting it again. The act of drawing, writing, film-making or even cooking is where fantasy hits reality and then it starts messing with that fantasy. This is how I come up with new things. It's all about the process."
Profile:
Christoph Niemann is an artist, author and animator. Born in 1970 in Waiblingen, Germany, he studied at the Stuttgart State Academy of Art before moving to New York, where he began illustrating for Zeit Magazin and The New Yorker, among others. In 2008 he moved to Berlin were he began animating, writing books such as Sunday Sketching and creating apps. Inducted into the Art Directors Club Hall of Fame in 2010, he is known for his abstract and amusing takes on everyday life.
To eat:

Starter:
Cold radish soup

Main course:
Goat with white asparagus and elderflower leaves

Dessert: Cheesecake
Venue:
Open since 2011, Lokal is an unpretentious dinner spot in Berlin that's long attracted diners from the Berlin-Mitte neighbourhood and beyond. Maren Thimm launched Lokal when Kantine, David Chipperfield's nearby cafeteria that she also ran, was on hiatus during the architect's office expansion. Lokal has continued to serve farm-to-table "new German" fare (including offal and game) in a pared-down homely atmosphere on a quiet corner. The tables are made of wood from nearby forests, service is always friendly and the menu changes daily. The restaurant opens for dinner service but kindly opened up a little earlier for Niemann's lunch.
160 Linienstrasse