Shore thing / Brisbane
Destination: Brisbane
Brisbane River is a gravitational force for the Queensland capital's splash-happy and active residents. From kayaking to cooling off by its banks, there's plenty to do along this winding waterway.
There's what the world considers a conventional wake-up time and then there's Brisbane's. "The river is incredibly well used between the hours of 04.00 and 07.00," says Jo Cook, club captain of Commercial Rowing Club. While fruit bats still pock the night sky, boat lamps illuminate the serpentine path of the Brisbane River. "There's something almost spiritual about being on the water that early," she says.
Commercial Rowing Club is one of many organisations catering to Brisbane's growing affection for watersports. Yet it dates to 1877, making it one of the oldest continuously running sport clubs in Queensland; grainy photos show Victorians cheering on the rowers. "The Brisbane River is a symbol of the city's liveability and prosperity," says Lord Mayor Adrian Schrinner. Accordingly, local and state governments are supporting it, with more than au$6.9bn (€4.3bn) of tourism-related infrastructure under construction. This will add to the extensive network of walks and cycleways that hug the river's spine, outdoor public gyms, pocket-size beaches and zippy catamarans that motor 5.4 million people around the city every year.
A large percentage of Brisbane's key precincts also enjoy prime river real estate: the Queensland Museum and Gallery of Modern Art at South Bank, Eagle Street's dining precinct (favoured by the suits) and the verdant public park, marketplace and Powerhouse theatre at New Farm.
This progressive use of the river hasn't always been an easy sell. It's taken decades for entrepreneurial residents such as John Sharpe to not only activate other central stretches but to persuade people to use them.

"Twenty years ago the attitude was that the river was just an industrial quarry," says Sharpe, the founder of some of Brisbane's biggest leisure operators, such as Riverlife and Story Bridge Adventure Climb. He built up a fleet of kayaks and bicycles and convinced thrill-seekers to clamber up the 20-metre cliffs jutting above the river at Kangaroo Point. "When you spend money on amenities, it draws people to the river," he says.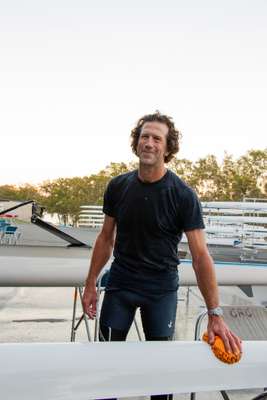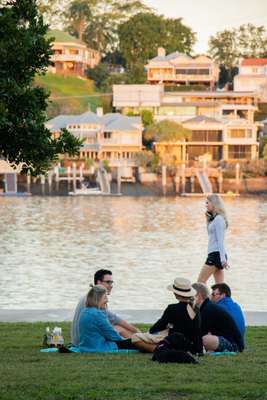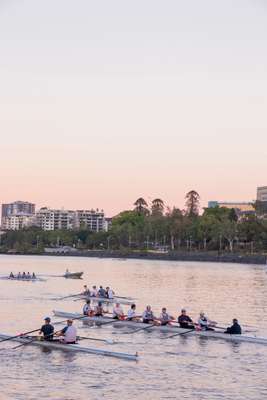 Even on an overcast day there's an alluring glint of green-blue. It's almost inviting enough to jump in, if it weren't for some of the less welcoming river dwellers. "Sometimes you'll feel a knock on the bottom of your boat," says Cook. "And you don't know whether you've hit a log or a shark."
At the wharves the subtropical climate is embraced with lofty and open architecture; diners perch on wooden boardwalks overhanging the water, the atmosphere is laidback and the service is warm and familiar. "We don't need a significant monument like a tower or a big bridge to define us," says Luke Fraser, CEO of Howard Smith Wharves. "We define ourselves by our lifestyle."
---
Eat: Bar Alto, Brisbane Powerhouse: A converted power station with an Italian restaurant and enviable waterside berth.
baralto.com.au
See: Queensland Art Gallery/Gallery of Modern Art: A great place to see some of the state's finest treasure.
qagoma.qld.gov.au
Drink: Felons Brewing Co: Take your pick from the crisp lager, pale ale or "middy", a mild session lager.
felonsbrewingco.com.au
Do: Riverlife: A heritage-listed boathouse from which a paddleboard can be rented and adventure organised.
riverlife.com.au
Do: Commercial Rowing Club: A comely veranda in the West End of the inner city with views to 20km of uninterrupted river.
revolutionise.com.au
Pointe de la Jonction
geneva
By Mikaela Aitken
There are many spots in which to enjoy the waters of Lake Geneva. Most residents and visitors tend to prefer the Bains des Pâquis – a swimming complex jutting north of the centre – but the younger crowd in Geneva favour Pointe de la Jonction.
It's a little more rough and tumble, less manicured. It sits on a foresty patch where the fast-paced sandy waters of the Arve collide with the slower, glacial blues of the Rhône; here the two rivers merge into one hypnotic green swirl. The best view is from the Viaduc de la Jonction. For a dip, head to Pointe de la Jonction Park, where you can also pick up a kayak from Canoë-Club Genève.
bains-des-paquis.ch; canoe-club-geneve.ch
stay: Four Seasons Hotel des Bergues Geneva: This was the city's first hotel (it opened in 1834) and it remains an institution. fourseasons.com/geneva
eat: Café de la Paix: This French-style brasserie always has a convivial atmosphere. The menu changes regularly but the focus is always on top-quality seasonal Swiss produce.cafe-delapaix.ch
drink: Bottle Brothers: Located in one of the city's most buzzy quarters are sister bars Petit and Grand Bottle. bottlebrothers.ch
shop: Les Enfants Terribles: One of the city's best furniture and design shops.les-enfants-terribles.ch
see: Musée d'Art Moderne et Contemporain: Switzerland's largest museum for contemporary art has wide windows and high ceilings that welcome in a pleasing diffused light. mamco.ch