In fine feather / Perth
Destination: Perth
Explorers and residents alike have become besotted with Perth's Swan River. So how has it retained its status as the city's focal point? With good planning, a love of water sports and an appreciation of nature.
When James Stirling, the first governor of Western Australia, began to explore the Swan River in 1825, he was astounded by what he saw. To his eyes it was a "spot as beautiful as anything of the kind I have ever witnessed". Nearly 200 years on, the landscape that bewitched Stirling has changed dramatically. Along its banks stands Perth, a key player in Australia's lucrative resources sector. Its central business district is home to busy bars and shops; at night the logos of mining companies illuminate the towering skyline.
Urban planners have always tried to protect the river, the city's most important natural asset, and the waterway remains central to the everyday lives of most residents, as well as a major attraction for visitors. "The river is part of our dna," says Andy Fethers, a two-time world sailing champion and instructor. "We're blessed to have it so close to the city." Fethers has raced and lived around the globe but he recently returned to his native Perth to oversee Swan River Sailing, a non-profit organisation that operates private charter boats and gives inexperienced sailors the opportunity to view the city from the water. "It's a unique vantage point," he says. "During most charters the dolphins will come have a look at us; if not the swans will."
Fethers often heads south towards Fremantle port, past the lush riverside parks and sports grounds of Perth's oldest and most affluent suburbs and Bicton Baths, a popular swimming spot since 1926. But there is more to see. A short walk south of Perth's busiest shopping streets is Elizabeth Quay, a newly constructed waterfront precinct. The state government conceived the project as a way to improve links between downtown Perth and the river.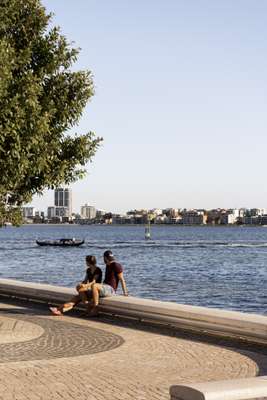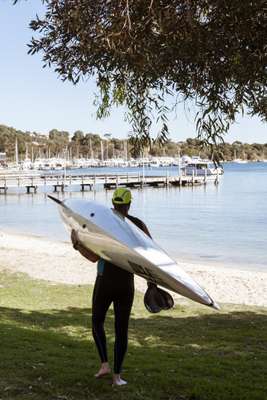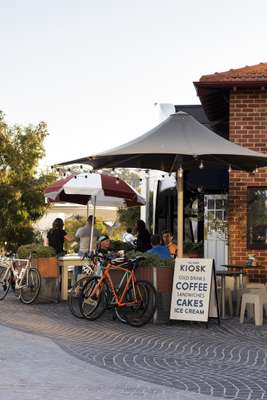 At the heart of the au$440m (€270m) development is an inlet lined with a promenade and picnic spots. Restaurateurs have moved quickly, opening casual spots such as The Island, a restaurant in a heritage-listed kiosk that serves delicacies including prawns and slow-cooked lamb shoulder. "Our building is very open so you can do a lot of people-watching," says Marisa Romeo, The Island's acting general manager. "There are always runners going by and on the weekend they often stop in for breakfast."
In summer, ferries leave Elizabeth Quay for the Swan Valley, docking intermittently at wineries such as Sandalford. The estate dates back to 1840 and was originally owned by John Septimus Roe, the surveyor general on Stirling's inaugural voyage to Western Australia. "Some of the vines on our grounds are 125 years old," says Sandalford ceo Grant Brinklow. "In a state as young as Western Australia, that is rare." Brinklow has worked at Sandalford for more than a decade but his appreciation for its natural surroundings hasn't waned. "The Swan is everything to Perth," he says. "Without that water we wouldn't have the life we have here."
---
stay: Como The Treasury: Perth's premier stay is a 48-key affair in a revamped 19th-century building.
comohotels.com
eat: Freshwaters: Local architect Paul Burnham is responsible for designing one of the city's most beautiful cafés.
3 Lilla St, Peppermint Grove
eat: The Boat Shed: This restaurant's floor-to-ceiling windows offer an unrivalled vantage of the cbd at night.
boatshedrestaurant.com
drink: Raffles: This art deco pub touts riverside views and unusual cocktails.rafflesperth.com.au
drink: Riverside Brewhouse: This microbrewery continues a long tradition of beer-making on the banks of the Swan.
riversidebrewhouse.com.au
coffee: Rubra on the Swan: An artisanal coffee roaster that sits adjacent to Perth's oldest rowing club.
rubraontheswan.com.au