Briefing / Global
Food
&

drink
Briefing
A sharp chopping bowl and restaurants from London to Hong Kong (via Izmir).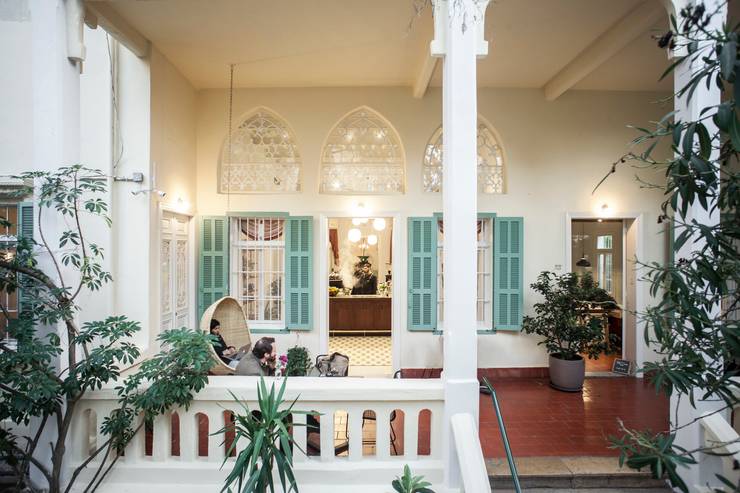 West Beirut is rich in soul but short on comfortable spots in which to knock back a decent espresso. That's changed with the opening of Kalei Coffee Co's second spot, in a 19th-century Ottoman house in the village-like neighbourhood of Ras Beirut. "We'd like to think that both locations expose eras of Beirut that most people of our generation would never get to see," says Kalei's co-founder Dalia Jaffal.
Following an eight-month restoration the house is furnished with spearmint-green shutters and a central preparation unit. The menu offers tempting bites such as Lebanese goat's cheese on sourdough. Bring Rover along too: it's dog-friendly.
kaleicoffee.com
In architect Hugh Zimmerman's newest venue, barfolk can be seen chiselling vast hunks of ice; the resulting cubes go on to adorn a range of Japanese-inspired cocktails. Zimmerman made a name for himself with Ping Pong 129; the brass finishes and black-lacquer table-tops in his latest venture add a level of formality to the fun. Great for a deal-sealing drink.
52 Bonham Strand West, Sheung Wan
This bowl may hum with the simple lines of Scandi modernism but the form of this beech-hewn beauty can actually be glimpsed among the artefacts in the Museu Nacional de Etnologia, Lisbon. First used among villages in northeastern Portugal, the clever bowl has been reproduced by cookware maestro Crane and, as the marketing bumf stresses, is not designed by Jasper Morrison (though he has updated it).
cranecookware.com
Authentique Épicerie and Bar
London
Authentique Épicerie and Bar is an independent shop and wine bar in north London that is passionate about produce from France and Francophone countries. Despite stocking some 600 wines and 500 food items, its four French founders know the people and stories behind each of their products. Customers can book a wine-tasting, enjoy a meal cooked by a roster of guest chefs in the restaurant area or browse the shopfloor for items exclusive to the épicerie in the UK. These include a rare organic camembert from Normandy, boudin from Alain Grèzes in Gaillac and amlou, a Moroccan spread made from argan oil, almonds and honey. The entrepreneurial team plans to open a French brasserie and boulangerie in central London next year.
authentique-epicerie.com
For your delectation: [Global] For more food scoops, culinary roadtrips and journalistic repast, buy a copy of our Drinking & Dining Directory. We tour Vienna's city vineyards, consider a move to Ojai in California, survey the dining rooms where deals get done and examine Japan's obsession with eating solo. All that before our top 50 Restaurant Awards and how to start a food firm. Hungry for more? We thought as much.
monocle.com/shop
Opened in 2018, Od Urla is set in an olive grove in Turkey's pastoral province of Izmir. The venue's farm-to-table menu changes every month, based on seasonal produce from the region's fecund farms. "We're inspired by our roots and the geography in which we live," says chef Osman Sezener, with a twinkle in his eye.
The restaurant serves culinary favourites, such as octopus with roasted peppers and strawberry gazpacho. All dishes are cooked on a traditional Anatolian wood-fire grill. Unlike most restaurants the best seats are at the bar, ideally on the crescent of stools facing the busy open kitchen.
odurla.com
Berlin is a melting pot of creativity from all over Europe – and there's a small courtyard close to the Mykita shop in Kreuzberg that sums it up nicely. Husband-and-wife duo Martin Ruge and Ann-Marie von Löw chose this site for their colourful café within a buttercup-yellow booth from the 1960s. Designed by Slovenian Sasa J Machtig, the concession stand (known as a k67 to swots) serves Finnish-inflected delights, from rye bread with salmon and sharp horseradish to more Mediterranean-influenced sandwiches and superb coffee. We'll see you there.
kioski.berlin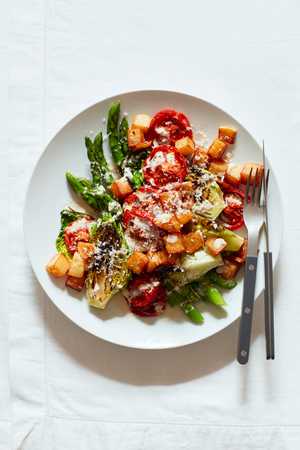 Slow-roasted tomato, potato and grilled asparagus salad with anchovy dressing
Recipe —
midori house
Serves 4
Ingredients
16 tomatoes, halved horizontally
10 tbsps olive oil (6 for tomatoes, 4 for potatoes)
2 medium-sized potatoes, peeled and cubed
250ml sunflower oil
8 baby gem lettuces, halved lengthwise
2 bunches of asparagus
Sea salt, pepper
Extra parmesan, for garnish
Dressing
4 tbsps extra virgin olive oil
2 organic egg yolks
2 garlic cloves, peeled
8 anchovy fillets
4 tsps lemon juice
2 tsps lemon zest
2 tbsps white wine vinegar
1 tsp Dijon mustard
1/2 tsp Worcestershire sauce
4 tbsps buttermilk
40g grated parmesan
1. Start by roasting the tomatoes. Preheat fan oven to 140c. Place the tomatoes on a baking tray, slice, drizzle olive oil and season with sea salt and pepper. Roast for 2 hours. This could be prepared a couple of days earlier.
2. Mix all the dressing ingredients in a blender or mini food processor and blitz until smooth.
3. Heat the oil in a frying pan and shallow fry the cubed potatoes. When golden brown, remove with a slotted spoon and drain on kitchen paper.
4. Heat a griddle pan until smoky. Brush the lettuce and asparagus with olive oil and grill for 3 minutes for lettuce, 2 minutes for asparagus, each side.
5. Arrange the asparagus, lettuce, potato and roasted tomatoes on a plate. Drizzle with the dressing and grate extra parmesan on top. Serve warm.