Boutiques / Beirut
Happy place
Womenswear designer Rabih Kayrouz gives us a tour of his serene new boutique, housed in a fantastical 19th-century mansion.
In a lovely house on a busy street in a leafy neighbourhood in Beirut, the fashion designer Rabih Kayrouz has opened a shop. Although to call it a "shop" is to do it a disservice. This gracious space in the old suburb of Gemmayzeh houses a boutique that sells Kayrouz's ready-to-wear women's collections, a couture salon and an atelier. When Kayrouz is not doing private fittings in a pink room called The Cabinet it becomes his studio, where he devises new creations by draping fabrics over mannequins (he prefers this to sketching). In adjacent rooms, seamstresses bring his work to life. All this activity (there's a team of 15 people) takes place on the first floor of a 19th-century mansion whose jungly gardens, Ottoman-style triple-pointed-arch windows and duck-egg blue shutters create a bewitching atmosphere.
"I want people to feel at home here, to feel they can stay two hours if they want to, not just buy a dress and go," says Kayrouz. The designer, who has warm eyes and a calm aura, is from Beirut but founded Maison Rabih Kayrouz, his womenswear house, in Paris in 1998. (He splits his time between Paris and Beirut.) As he walks us through the high-ceilinged, marble-floored shop, the late-afternoon sun illuminates his creations, which are delicate and feminine but never frilly or flouncy. Gossamer gowns in pinks and yellows float from copper hangers; a mannequin wears a taupe dress with a diaphanous skirt composed of hundreds of fine metal ribbons. He helps a customer into a floral tangerine sundress sewn from an Ottoman brocade. "It is difficult to describe my work," he says. "I would say every piece is done with respect to the fabric, to the cut and to the woman who will wear it."
Brands talk about the need for shops to provide an "experience" but few are able to achieve what Kayrouz has here. "You are here to discover," he says of the space, which opened in March and is accessed via a sweeping outdoor staircase. "If you want to have tea we have a nice sitting room, there's a balcony overlooking the garden, you can walk around the clothes and discover the atelier," he says.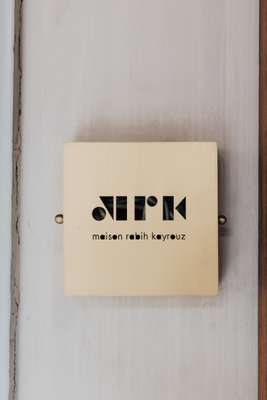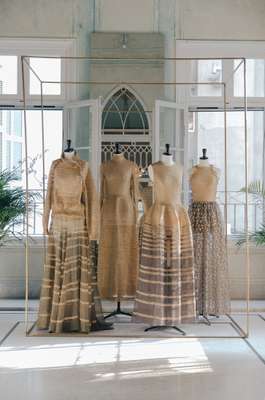 Kayrouz had been looking for a site where he could combine his Beirut studio and shop, and was familiar with the building – his friend had lived on the first floor for a decade. But it wasn't until he saw it stripped back for an art exhibition that he pictured himself in it. "So I called the owner and two weeks later we shook hands and we took the place."
He's done little to it bar adding flowers and a simple assortment of furnishings: Knoll tables, rattan chairs from a Beirut flea market, a pair of 1950s Italian armchairs, oriental-patterned sideboards and photos of Lebanon's Holy Valley and of the first wedding dress he designed. The point is to reveal the grandeur of the original interior. "I don't want it to look like a showcase or a gallery; I want it to look simple, like the house it is," he says. "To really look classical."
If the space is a throwback to the couture salons of the 1950s (albeit with a Middle Eastern twist), so too is Kayrouz's brand. His collections are contemporary yet are made using intricate techniques that recall an era when time-intensive handiwork was commonplace. His ready-to-wear collections, made in factories in France and other European countries, contain such elevated techniques that the famously snooty Fédération de la Haute Couture et de la Mode allows him to show them during Paris Couture week. His couture dresses – which take a minimum of 110 hours apiece to make, require three fittings and start at €30,000 – comprise 15 to 20 per cent of the business.
Kayrouz has a shop-cum-studio in the upscale 7th arrondissement of Paris, which serves an international clientele. By contrast, in Beirut his customer base is 90 per cent Lebanese. "It's a small society here and people know each other – so everyone wants to be unique," he says. This informs his shop's edit: he only offers one or two sizes in each ready-to-wear style and clients can request customised tweaks to designs.
"In Beirut there remains a culture of regularly dressing up," says Kayrouz. And now these women have a suitably elegant place in which to scout for their next winning outfit.
320 Rue Gouraud, Gemmayzeh
Dressing the part:
Unlike in many major capital cities, in Beirut there remains a culture of getting dressed up. Rabih Kayrouz's clients wear his refined gowns to dinner parties, cocktail events and gallery openings; men are equally well turned out in suits and pressed shirts. "One lady told me, 'When we are invited to a dinner and people have made an effort to prepare food for us, we have to be well dressed for them,'" he says. "Dressing up is a way to be polite." It's a refreshing contrast to the prevailing mood in Paris, London and New York, where trainers, sweatshirts and denim dominate social gatherings. "This attitude [of dressing up] can be found all over the Mediterranean; it's a different education," says Kayrouz. Sometimes it's worth rising to the occasion.