Summer 100 / Global
Hot picks
Fill those endless days with the best in sight and sound, thanks to our sunny selection.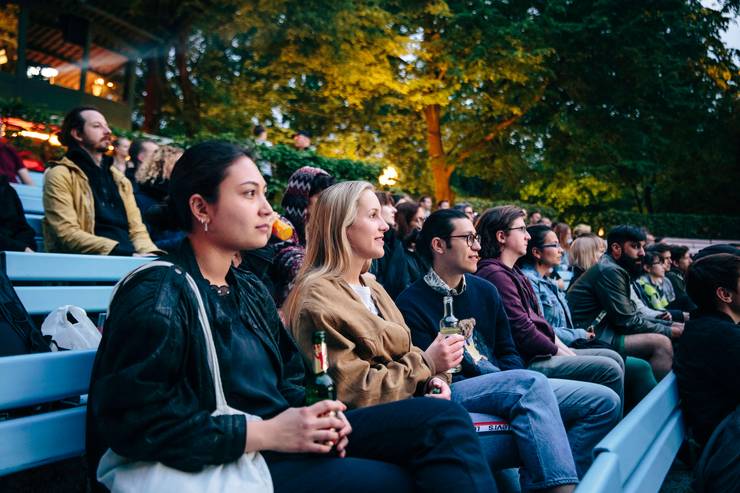 1.
Freiluftkino Hasenheide
Berlin
This pleasingly low-key cinema is tucked away in a leafy clearing in the middle of Kreuzberg's vast Hasenheide Park. The amphitheatre-style structure has tiered wooden seating for 1,000 spectators and dates back to the 1950s. The space has been operating as a cinema since the late 1980s and Berliners flock to this picturesque setting in the summer to enjoy arthouse and blockbuster screenings. A highlight from this year's programme is Japanese drama Shoplifters.
freiluftkino-hasenheide.de
2.
NeueHouse Hollywood
Los Angeles
What better setting for an outdoor cinema screening than atop the former cbs studios in Hollywood? This is where the Rooftop Cinema Club hosts its movie nights, on the sun deck of co-working space NeueHouse. Upon arrival guests collect a set of headphones and a blanket, and are invited to grab a seat on one of the deckchairs dotting the terrace. The selection is varied: new titles, Hollywood classics and (unofficial) sing-a-longs such as Grease. During intermission the bar offers not only drinks but also delicious food – the ahi tuna taco is a favourite.
rooftopcinemaclub.com
When the scorching sun has finally tucked itself behind the hill of Tibidabo, Barcelonans gather at the beach – and not just to party. For one month, Cinema Lliure puts on a free weekly film screening. Movie buffs lay their towels on the sand to enjoy internationally acclaimed films, as well as the best of Spanish and Catalan cinema. Following its success in Barcelona the festival has spread to other towns along the coast; this year the small town of Palamós on the Costa Brava will hold its first edition. Cinema Lliure continues in the autumn in Barcelona's libraries, where it focuses on promoting Catalan documentaries. This year's edition takes place from 27 June to 1 August.
cinemalliure.com
From June to September, Filmstreet pops up at locations across the city, with a repertoire of Balkan and international classic films. Over the past few years Filmstreet's inflatable screen has made appearances at the imposing Kalemegdan Fortress, central Flower Square and along the banks of the River Sava. But it also stays true to its name by closing off Old Town streets for screenings. Admission is free but be sure to bring an extra cushion.
facebook.com/filmstreet
It took the input of two British expats, Phil Ilic and Chris Wood, to bring rooftop cinemas to the Portuguese capital. Now in its third year, Cine Society has become an established appointment on the city's summer calendar, with Hollywood classics playing every week on the Topo Chiado rooftop. "We wanted to bring this whole experience to Portugal," says Ilic. "It's not just about the films but everything surrounding it: you come a bit early, grab a drink and watch the sun set with Lisbon's skyline as a backdrop."
cinesociety.pt
Films for summer evenings
6.
Aquarela
Dir: Victor Kossakovsky
The protagonist of this film, directed by Russian auteur Victor Kossakovsky, is water in all of its temperamental permutations, from life-giving force to vengeful agent of destruction. Shot in high-definition slow motion with a thundering score, this mesmerising documentary is an immersive dive into the terrifying majesty of Earth's most precious element.
Released in the UK on 16 August
7.
The Dead Don't Die
Dir: Jim Jarmusch
Silver-haired director Jim Jarmusch returns with this peculiar (and hilarious) mix of mumblecore-cum-zombie movie. Bill Murray and Adam Driver play two underprepared policemen battling to save a small town overrun by the undead. Wonderfully dry one-liners are served up by a starry supporting cast that includes Danny Glover, Chloë Sevigny, Tilda Swinton, Iggy Pop and Tom Waits.
Released in the UK on 12 July
8.
Once Upon a Time in Hollywood
Dir: Quentin Tarantino
Of all the film-makers working today perhaps none is better suited to adapting Charles Manson's reign of terror than Quentin Tarantino. The killing spree that ended the Old Hollywood era in 1969 is brought to chilling life, with Leonardo DiCaprio and Brad Pitt leading an impressive cast.
Released in the UK on 15 August
9.
Non-fiction
Dir: Olivier Assayas
Olivier Assayas and Juliette Binoche reunite following 2014 drama Clouds of Sils Maria. This delightful comedy is a witty observation of Paris's cultural elite, which sees Binoche playing an actor who cheats on her literary-agent husband with a writer whose work the latter refuses to publish.
Released in the UK on 19 July
10.
Pain and Glory
Dir: Pedro Almodóvar
There are murmurs this could be Pedro Almodovar's swansong. Those familiar with the director will spot familiar tropes (including muses Antonio Banderas and Penelope Cruz) and self-references. Banderas plays a forlorn film-maker questioning the influence of time on memory and the self. In trying to reconcile past with present, he revisits relationships, love, loss, sexuality and addiction.
Released in the UK on 23 August
11.
The Farewell
Dir: Lulu Wang
Awkwafina stars as the American granddaughter of a Chinese woman diagnosed with a terminal illness. The family decides to keep the news a secret from the ageing matriarch and instead plans an elaborate wedding. Writer and director Lulu Wang delicately balances humour and heartstrings.
Released in the US on 12 July
12.
Diego Maradona
Dir: Asif Kapadia
After making documentaries on Ayrton Senna and Amy Winehouse, Asif Kapadia looks at another complicated genius: footballer Diego Maradona. The director draws sharp focus on the mercurial Argentine's mad, bad and dangerous-to-know mid-1980s period playing for Napoli. Telling the story of the benign "Diego", providing for his poor family since he was a teenager, versus the naughty, haughty "Maradona", Kapadia's film is both parable and a nose-dive into notoriety.
Released in the UK on 14 June
13.
Transit
Dir: Christian Petzold
Despite being based on an Anna Seghers novel from 1944, this tense, Kafkaesque thriller unfolds in modern-day Marseille, where protagonist Georg assumes the identity of a deceased writer in order to escape the country's ruling fascist regime.
Released in the UK on 3 August
14.
Midsommar
Dir: Ari Aster
Writer/director Ari Aster refreshed the horror genre with his first feature Hereditary. Now he applies his mastery to the haunting story of a couple visiting rural Sweden, where an idyllic festival is not what it seems. Pagan cults and eerie twists bring to mind classics Rosemary's Baby and The Wicker Man.
Released in the UK on 5 July
15.
JT Leroy
Dir: Justin Kelly
Author JT Leroy caused a stir with a series of apparently autobiographical books that recounted a teenage boy's messy childhood. The stir became a scandal in 2005 when the persona was exposed as an elaborate hoax. Kristen Stewart shines in this clever critique of celebrity culture.
Released in the UK on 12 August
"My first album is about meditation and self-discovery, the second one is about my childhood. I thought, 'What can I write about now?'" Answer: the effect of technology on mankind. It may not be what you expect from a summer record but, as Jordan Rakei sings on the opening track of new LP Origin, "It's a mad world."
Since moving to London in 2015, Rakei's career has been on the rise. The New Zealand-born, Brisbane-raised musician has written with legendary producer Nile Rodgers, performed with electronica superstar Bonobo and appeared on fellow Londoner Loyle Carner's recent critically acclaimed album.
It's an experience that helped Rakei develop from his earlier introspective albums to something with a wider view. "It could be partly maturing and realising there's more to think about than just yourself," he says of the songwriting shift.
Worry not though, as Rakei's dystopian subject is unpacked via lush, upbeat and layered arrangements. "I wanted the music to sound bright, colourful and vibrant," he says. His capacity to marry classic song structures with contemporary jazz textures (and a touch of neo-soul) makes for a pleasing listen.
If debut Cloak was a man trying to work out his sound and Wallflower was a lesson in mastering the art of songwriting, Origin finds Rakei confident in his musical chops and what he wants to say.
Rakei's summer tracks:
1. Anderson Paak (featuring Andre 3000): Come Home
2. Shafiq Husayn (featuring Coultrain): Message in a Bottle
3. Jaco Pastorius: River People
17.
Bedouine
Bird Songs of a Killjoy
"I have a kind of beginner's mind," says Azniv Korkejian (stage name Bedouine) of writing songs on her guitar. "I'm not quite ready to get better in case it changes how the songs come out." On her eponymous debut album in 2017, the songs came out just beautifully, thank you very much, and in a style quite wonderfully out of time. Guitar, mostly picked, occasionally strummed, accompanied by jazz percussion and minimal production allows the songs to soar and nestle comfortably into your subconscious. As for new album Bird Songs of a Killjoy, the tunes are just as memorable. "I love music from the 1960s and 1970s, simple melodies that feel strong and emotional," says Korkejian. "With my writing, if it feels good I just run with it."
Family Korkejian, Armenians in Syria, were musical and her father ("an incredible voice") was a musician, gigging around the country before taking a job that moved the family to Saudi Arabia. They later settled in California, where Azniv became a sound engineer and then moved on to writing her own songs. "But wherever we were my parents had music on all the time – Armenian, Arabic and Greek traditional stuff, and pop music."
You might have to have eagle ears to hear Arabic motifs on Bedouine's new album but the zing of the contemporary is rarely embraced by her. "I'm worried about getting songs stuck in my head," she says with a laugh.
Bedouine's summer tracks:
1. Tom Petty and the Heartbreakers: All the Wrong Reasons
2. Santo and Johnny: Sleepwalk
3. Brigitte Bardot: La Madrague
Imagine you're cruising down the Pacific Coast Highway heading out of LA: sun shining, wind in your hair, on your way to the beach. The ideal tune for that carefree summer vibe? Yuna's new single "Blank Marquee", featuring rapper G-Eazy and a danceable funk riff, has to be a strong contender. "It's the perfect song to drive to," says the Malaysian singer, who calls the City of Angels home.
An inspiration for Muslim women and all-round boundary crosser, the 32-year-old has spent the past two years in the studio working on new album Rouge, which will be released on 12 July. She calls it a departure from the "shiny pop" that she was making before. With the encouragement of her Danish producer Robin Hannibal, the new album is more complex, embracing everything from the aforementioned funk to 1990s pop. As ever there are licks of hip-hop (guest performers include Tyler, The Creator and the UK's Little Simz) and R&B. "This is the type of music I grew up listening to in my dad's car," says Yuna. "The album feels like a memory."
Yuna admits that as her career has progressed, she's become more aware of her position as a role model. And even if she has frustrations at being typecast on festival bills as an Asian artist, she says she's "got to send out a positive message". At the end of the day though, it's the music that speaks loudest. "We decided to do something fun this time," she says. And that's something we can definitely get behind.
Yuna's summer tracks:
1. Tame Impala: Borderline
2. Childish Gambino: Summertime Magic
3. Françoise Hardy: Le Temps de l'Amour
19.
Weyes Blood
Titanic Rising
Weyes Blood, the 30-year-old California-born, Pennsylvania-raised musician otherwise known as Natalie Mering, has been making music since she was four. First it was piano lessons, then school choirs. "I was really into the performative aspects of music. I was a big fan of Nirvana and I wanted to destroy my guitar," she says, chuckling. "I found my parents' music a little too vanilla. It's funny that now I make music that is so inspired by the 1970s."
Mering's fourth album, Titanic Rising, retains the velvety vocals that evoke singer-songwriters like Joni Mitchell. But layered with synths and strings, it's also grand and cinematic. "I find classical music to be the most emotionally moving and I think a lot of that has to do with it being used in films," says Mering. Her first time working with Seattle-based powerhouse label Sub Pop also afforded her new opportunities, such as working with string musicians. "It's more symphonic than the last [album] but the issues the album speaks to are huge, and the strings match that."
Those themes include love and loss but also climate change. The album cover is a teenager's bedroom in water (the set was built, dunked in a pool and then photographed). "A childhood bedroom is this secret place inside everybody, where they thought they knew what their life was going to be like or what the world was going to be like," says Mering. "My goal is that people glean hope from the album. I've put a neat conceptual bow over the chaos of our times."
Weyes's summer tracks:
1. The Kinks: Lazy Old Sun
2. Lana Del Rey: Summertime Sadness
3. Barry Gibb: Midsummer Nights
20.
Phum Viphurit
Lover Boy
Thai singer-songwriter Phum Viphurit brings his tour, and perennial smile, to Europe from July. It will be his second visit in as many years as the 23-year-old prepares to launch his second album, the follow-up to Manchild. The easygoing first single from it was released last year and quickly became an anthem across Asia. The video, showing Viphurit sweet-talking a young woman along the promenade in Pattaya City, has clocked up more than 40 million views on YouTube.
Mild-mannered Viphurit is at a loss to explain the size of his following. "I don't think anyone in Bangkok cares," he says, laughing, as he prepares to go on stage in Hong Kong. He's underselling himself: all his fans appear equally smitten and scream every time he smiles.
Viphurit was born in Bangkok but grew up in New Zealand before returning to the Thai capital to study film. He's directed two of his music videos and had his own superfan moment last year when he spotted Stephen Spielberg leaving a venue in Amsterdam where he had just performed. Since then a string of sold-out concerts have built up the pressure to deliver more musical hits. It's an experience that Viphurit has taken in his stride: "Hello, Anxiety", released earlier this year, was his cheery antidote to the dreaded second-album syndrome. "Heaven knows we're lost," he sings on the chorus. "But the sun still shines so we'll be fine." Beat that for a summer motto.
Phum's summer tracks:
1. Mac DeMarco: Salad Days
2. Bombay Bicycle Club: Always Like This
3. Rupert Holmes: Escape (The Pina Colada Song)
21.
Music's Not Dead
Bexhill-on-Sea
In an impressive upgrade of its real estate, this record shop has recently moved from UK seaside town Bexhill-on-Sea's high street to the De La Warr Pavilion. The modernist 1930s masterpiece was designed by Erich Mendelsohn and Serge Chermayeff and is now a buzzing arts venue sitting right on the promenade. Music's Not Dead has set up shop in a corner of the big first-floor café, with large windows overlooking the Channel. "We sell newly pressed vinyl, a mixture of classic back catalogue and new releases," says co-owner Ollie Cherer. The room also often hosts in-store performances – check them out for atmospheric acoustic gigs with a view.
musicsnotdead.com
World of Echo popped up late last year and has become London's freshest hotspot for new, used and rare vinyl. Co-owned by Stephen Pietrzykowski and Natalie Judge – who have a personal collection of more than 5,000 records between them – the shop was named after Arthur Russell's experimental 1980s LP. "London is well serviced for record shops," says Pietrzykowski. "We had to do something that wasn't already here." The pair wanted the shop to appeal to under-represented tastes – and they've managed it brilliantly.
worldofechomusic.com
Shigeki Kuzuhara's diminutive shop in the pretty area of Nishihara is perfect for anyone who wants to get into vinyl. The well-ordered selection of 3,500 records covers everything from classics to rarities, with a particularly strong selection of Japanese music. Get deeper into Japanese jazz, folk and new wave – and become better acquainted with the likes of Yellow Magic Orchestra and Tatsuro Yamashita.
ella-records.com
24.
Roastin' Records
Cape Town
DJ and vinyl obsessive Wentzel van der Gryp has gathered an impressively varied selection that caters to the most exacting of tastes. Van der Gryp's previous career as a barista at Cape Town's popular roastery Deluxe Coffeeworks also means that you're guaranteed a fantastic flat white while you browse. In addition to records, there's also a range of high-quality music accessories.
roastinrecords.com
25.
Louisiana Music Factory
New Orleans
Few cities are as linked to music as New Orleans. The Louisiana Music Factory is the city's best record shop and an excellent place to get acquainted with the area's unique musical history. The expansive floor is filled with rows of LPs from the state's jazz, blues, zydeco, Cajun and Dixieland artists. The shop continues to serve the city's famed French Quarter with weekly live performances.
louisianamusicfactory.com
This one-day shindig overlooks Faliro Marina on Athens' scenic southern coast and is now the capital's largest open-air music festival. This summer's show is sure to stand out with headliners The Cure and Khruangbin.
17 July; ejekt.gr
Set on Mount Cobetas, overlooking the Spanish Basque capital, this festival matches the charm of its location with the advantages of being a stone's throw from the city. Catch The Strokes in one of their few appearances this summer, as well as Thom Yorke and Spain's own Rosalía.
11-13 July; bilbaobbklive.com
28.
Pitchfork Music Festival
Chicago
Pitchfork might be partly based in New York but the online music magazine still has a strong attachment to its founding city – as does its annual festival. Welcoming 60,000 revellers to Chicago's Union Park, it will host California's Haim.
19-21 July; pitchforkmusicfestival.com
29.
Way out West
Gothenburg
This three-day festival has some of the biggest names in rock, pop and electronic music. This year sees Solange and Cardi B headline alongside homegrown talent including Zara Larsson and David Norgren.
8-10 August; wayoutwest.se
Bringing together more than 70,000 people, Flow is known for diverse music, contemporary arts and a stellar selection of street food. This year's line-up includes Scandi superstar Robyn but there are also some groovy African acts and freeflowing jazz.
9-11 August; flowfestival.com
Makuhari Messe, the city's convention centre, may not scream holiday but come August it transforms for Summer Sonic. Look beyond the headliners and you'll discover more eclectic acts such as UK duo Bananarama and Swede Neneh Cherry.
16-18 August, summersonic.com
This event showcases established jazz mavericks and new acts in the lush surroundings of Marechal Carmona Park. "The festival has grown bigger and bigger but without losing its essence," says Karla Campos, one of the organisers.
7-31 July; edpcooljazz.com
Dekmantel is a relatively small affair (it has a capacity of about 10,000) and its excellent line-ups ensure it's a regular sell-out. Hosting names such as Jeff Mills and cult DJ Fett Burger, this year promises a non-stop dance-filled weekend.
31 July-4 August; dekmantelfestival.com
34.
Congés Annulés
Luxembourg City
The Congés Annulés ("Cancelled Leave") music festival focuses on international indie bands. Highlights include experimental electronica trio Son Lux and Canada's Foxwarren.
26 July-23 August, rotondes.lu
Toyenparken will host the festival's best line-up we've seen in years; Sigrid, James Blake, Christine and the Queens and Rex Orange County are all making an appearance.
6-10 August; oyafestivalen.no
36.
Cova D'en Xoroi
Menorca
In 1964, when four friends from Alaior announced plans to turn Menorca's coastal caverns into a music venue, they were granted permits with relative ease. Their bold vision continues to fuel seaside euphoria more than 50 years later.
Cova D'en Xoroi (pictured, above) reels in cocktail-sipping crowds and motley music-lovers who let the Med-inspired rhythms dazzle them on the dancefloor. The whitewashed decor may be unchanged since the 1960s but operations have got slicker thanks to Miquel Mascaró, the son of one of the founders. His team keep the club pumping 20 hours a day so punters can eat, drink and dance all day long.
covadenxoroi.com
37.
Les Caves du Roy
Saint-Tropez
One of France's most mythical nightclubs, Les Caves du Roy, is part of the Byblos Hotel in Saint-Tropez. This is the club that everyone dreams about getting into – and where those who don't manage to are turned away gracefully by Junior the doorman. A queue of 500 people can often be seen outside until 05.00 – because the pay-off is worth the effort.
Despite a spruce-up two years ago for the club's 50th anniversary, nothing has really changed since Jean Prosper Gay-Para decided to create a palace inspired by his native Lebanon. His ambition was to impress Brigitte Bardot and it worked: the hotel became the place in Saint-Tropez to be – and celebrities haven't stopped visiting.
lescavesduroy.com
The selling point of this restaurant-cum-bar is its shady garden (a rarity in central Athens). On balmy summer evenings it draws in the capital's residents seeking an alternative to the coast. Housed in a neoclassical villa, the club has had different iterations since it opened in the 1970s. Under the ownership of the Pitsili brothers it now has a bright interior complete with chichi chandeliers.
The kitchen turns out a delectable selection of fusion dishes by Greek chef Christoforos Peskias and the cocktails are sublime. Sip the suitably summery Stuck in Love (rum, coconut liqueur, pineapple and sea salt) under the palm trees before heading inside to the dancefloor for a post-dinner boogie until the early hours.
balthazar.gr
39.
Georgia
About Work the Dancefloor
This track is made for letting loose. Think the Drive soundtrack on steroids.
---
40.
Clara Luciani
La Grenade
The sultry French chanteuse delivers a tune that's all potent basslines and 1980s beats.
---
41.
L'Impératrice
Dreaming of You
L'Impératrice's debut album is a wonder from start to finish but its soulful title track is our dance-worthy highlight.
---
A delicious 1990s reggae beat makes this song irresistible.
---
"Pookie" has plenty of swagger and will give all hips plenty of swaying power.
Scratch the surface of this apparently straightforward crime drama and you'll find clever storytelling, particularly in building the main character Asa Katz. An early release sees him out of prison after 16 years for murder – but with strings attached. In navigating a network of conflicting interests we see his personality unfold.
---
45.
Milk and Honey
Channel 4
Israel is well known for its thrillers but it's also home to comedies. Pick of the bunch is Milk and Honey, which follows a group of hopeless thirty-somethings who start a male-escort service to help finance an apiary.
---
The most remote island of the Canary archipelago, the paradise-like El Hierro is the setting for this gripping crime thriller. A judge, sent to the island as punishment, is faced with a murder case: a young man has been killed on his wedding day. Hierro's stunning landscape provides a beautiful backdrop.
---
47.
The Righteous Gemstones
HBO
A witty window into the world of televangelists, where greed-fuelled deception is carried out in the name of Jesus Christ. John Goodman plays the Gemstone family's patriarch, Eli, and is exceptional. This series will be a true revelation.
---
48.
The Loudest Voice
Showtime
The nemesis of fair-and-balanced news reporting is the focus of this drama based on a book by Gabriel Sherman. Russell Crowe and Naomi Watts are in fine form. Expect a scathing account of Roger Ailes, who worked for Richard Nixon and Donald Trump, and Fox News.
49.
Merchants of Truth: Inside the News Revolution
Jill Abramson
A behind-the-scenes look at the struggles faced by four major news platforms battling to survive.
---
50.
A Thousand Small Sanities
Adam Gopnik
Gopnik issues this apology for liberalism – reminding readers that the term is about more than economic policy.
---
51.
Faber & Faber: The Untold Story
Toby Faber
Toby Faber's story of his family's publishing house introduces us to anecdotes from the past century's literary greats.
---
52.
Walter Gropius
Fiona MacCarthy
MacCarthy's biography of the Bauhaus founder explores the lasting impact of his work and – most interestingly – his intriguing personal life.
---
53.
The Castle on Sunset
Shawn Levy
The Chateau Marmont hotel is a key witness to Hollywood's history, which is juicily recounted here.
Berlin's cultural evolution has long been about repurposing historical buildings for the arts: breweries have morphed into cinemas or museums, several Second World War bunkers are now art spaces, an old pumping station is a dance venue. Now, in the far west of the city, a space in the former US army headquarters – in a building built for the German Luftwaffe in the mid-1930s – has launched as a frame for video art.
Fluentum has been created by art collector and technology entrepreneur Markus Hannebauer. The venue will host works from his collection; the inaugural exhibition highlights Dutch artist Guido van der Werve, whose art features performances that combine classical music with extreme endurance sports. Hannebauer's collection also includes contemporary video artists Omer Fast, Hito Steyerl and Andreas Gursky.
fluentum.org
Debuting in late June, Montpellier's newest contemporary-art museum will rotate international collections borrowed from foundations, corporations, private collectors or other museums – and is likely to become one of the region's biggest players. The 19th-century mansion it's housed in was formerly the glitzy Hôtel Montcalm, refurbished by architect Philippe Chiambaretta to accommodate art in different mediums and sizes.
The villa's lush gardens will be open to members of the public looking for a shady palm-fronded retreat from the south of France's summer heat. The inaugural exhibition spotlights the collection of Japanese entrepreneur Yasuharu Ishikawa, with 50 works by On Kawara, Pierre Huyghe and Simon Fujiwara and more.
moco.art
56.
Centre Photographique Marseille
Marseille
Since opening last year, this centre has been providing a snapshot of the best in the medium. Its direct predecessor was the association Les Ateliers de l'Image, which offered educational courses on modern visual culture. The Centre Photographique is continuing this legacy with workshops and media courses. In August the venue will host the annual photo festival Polyptyque, held in tandem with the city's contemporary-art fair Art-O-Rama.
centrephotomarseille.fr
"I believe artists are tired of working in galleries that are identical all over the world," says Massimo De Carlo, Milan's most prominent gallerist. He recently closed his flagship white cube in the Lambrate neighbourhood and relocated to the Piola district's Casa Corbellini-Wassermann, a handsome villa constructed in 1936.
The space is embellished with a rainbow of mixed marble and ornate wall decorations. "Artists don't want cold industrial spaces and cement floors anymore," says De Carlo. "The future of art is in locations with personality and history that can stimulate the artists." A visit to this very Milanese location will excite architecture and art lovers alike.
massimodecarlo.com
58.
Noma Sculpture Park
New Orleans
Sculpture parks are a pleasure on a fine day. New Orleans' Museum of Modern Art already had an impressive park but a recent expansion has considerably upped the ante: an 18-month renovation has more than doubled the size to make room for 26 new large-scale works. Pieces by the likes of abstract artist Sean Scully, British-Nigerian Yinka Shonibare and Frank Stella are now populating the garden, which has been landscaped by design firm Reed Hilderbrand. There's an amphitheatre for open-air plays too.
noma.org
59.
Julia Jacklin
Pressure to Party
A hit on the drum kit's cowbell launches some chilled guitar riffs courtesy of Australian singer-songwriter Julia Jacklin.
---
60.
Flamingods
Paradise Drive
We move into psychedelic territory with Bahrain-born, London-based quartet Flamingod's synth-infused tune – there's more than a hint of the Middle East here.
---
61.
Unperfect
Looking for a Hug
UK girl band Unperfect have produced a pretty perfect pop tune with a captivating bassline.
---
62.
Heavenstamp
L.O.V.E, Right?
Time to go all-out with shamelessly cheesy Japanese pop. Just try matching those high notes in your sing-a-long.
---
Norwegian singer Sigrid turns it up a notch with an irresistible series of beat drops.
---
64.
Carly Rae Jepsen
Julien
This Canadian superstar knows how to craft a spotless, smooth pop tune – this is proof.
---
65.
Liberato
Tu T'e Scurdat' 'e Me
Roll down the windows – this mellow hit by Naples' Liberato is best enjoyed with a warm breeze in your hair.
---
66.
Ibibio Sound Machine
Tell Me (Doko Mien)
West African funk and its signature drums combine with spot-on electro; just you wait until the brass section bursts onto the scene.
---
If Abba had gone on a long roadtrip through the depths of America's plains, they'd sound a lot like this.
---
68.
Nilüfer Yanya
Heat Rises
With warm vocals, singer Nilüfer Yanya brings this section to an atmospheric end.
Andrea Mercuri had always loved going to her edicola (kiosk) in the neigbourhood of Prati and watched with sadness as it stood shut and forlorn for the past seven years. But she and three friends decided they would buy it and turn it around at the end of 2018. Erno, which is an acronym for No Ordinary Edicola in Rome, is exactly that – and now serves an impressive selection of art, design travel and fashion publications. It also sells a healthy roster of national (and a few international) dailies.
Piazza Amerigo Capponi
On the first floor of Ponce City Market – a mixed-use development in Atlanta's former Sears, Roebuck & Co building – is Quick Quick, the city's best spot to pick up independent and niche magazines since opening in 2017.
While the spruced-up convenience store also sells snacks, soap and perfume from brands including Brooklyn-based MCMC Fragrances, its focus remains the newsstand. It stocks more than 50 titles, which range from London-based culture magazine Luncheon to The Surfer's Journal and high-fashion titles such as 032c. "I do believe there will always be a desire for print," says managing partner Vincent Mitchell. "A matte page with a certain smell – there are specific qualities that people still long for."
shopquickquick.com
Describing itself as an ambassador of "creativity and slow reading", Porto's O Manifesto stocks some of the best independent titles around. Housed within the Matosinhos market, it opened its doors three years ago when two former journalists, Eduardo Madeira and Tiago Costa, realised that there was nowhere else quite like it in the city. More than 200 magazines are on sale here but the shop goes beyond the printed press: it also doubles as an art gallery and event space. There's a café serving excellent sweet treats too.
omanifesto.pt
A sharply designed quarterly, Montecristo has been exploring global culture since 2008. It covers everything from fashion to business, with recent profiles of the likes of Yotam Ottolenghi and Canadian photographer Edward Burtynsky. But it's the magazine's focus on Vancouver that reveals the city's otherwise hidden pockets of creativity.
montecristomagazine.com
---
73.
Arcades Magazine
Berlin
Travellers normally only see the suburbs from the window of a taxi. Yet, Arcades' editor Wendy Huynh believes, they deserve to be celebrated. Each issue explores the periphery of a city, documenting the architecture, places and people that make up these often overlooked areas. Its latest issue heads to the outskirts of Berlin.
arcadesmagazine.com
---
74.
August Journal
Copenhagen
August focuses on one city per issue, with a nuanced take on art, architecture and design. Its runs in-depth interviews, original photography, artwork and typography. The latest issue is all about Copenhagen's creatives and their craft.
august-journal.com
75.
Los Angeles Times
Los Angeles
Last year's takeover by CEO Patrick Soon-Shiong heralded a much-needed morale boost. At a time when a progressive view on US politics is a welcome counterpoint to the Washington narrative, the LA Times has plenty of space to make its voice heard.
latimes.com
---
Tri-weekly independent newspaper Micro was founded in Geneva in May to focus on French-speaking Switzerland's stories big and small. All the articles are reported firsthand on the ground. Micro is available free in most of the city's cafés and hotels.
microjournal.ch
---
77.
The Saturday Paper
Melbourne
Launched in 2014, The Saturday Paper has become an Australian stalwart. It offers a deep dive into sociopolitical issues, often with a left-of-centre bent, but it's filled with cultural highlights and delectable recipes too. Its heavy-hitting contributors include journalists such as Behrouz Boochani and David Marr.
thesaturdaypaper.com.au
Exhibitions for a weekend
78.
Seascapes
Guggenheim Bilbao
Frank Gehry's glittering Guggenheim Museum in Bilbao is hosting a new exhibition of German artist Gerhard Richter's Seascapes. Realised in the second half of the 20th century, the hazy works are inspired by both the moody landscapes of Romantic painter Caspar David Friedrich and contemporary holiday snapshots. Stare at the canvases long enough and frothy seas and cloudy skies begin to merge in an impactful testimony to the power of nature and the sea's ability to bewitch bystanders.
23 May to 9 September; guggenheim-bilbao.eus
While you're here… three more things to do:
1. At the Guggenheim, pop into Lucio Fontana: On the Threshold, an exhibition of minimal works by the Argentinian-Italian founder of spatialism.
2. Head to the Museum of Fine Arts for a display of photographs documenting early 20th-century Basque life.
3. Sample your way through the city's best pintxos bars, especially those on Calle del Músico Ledesma, with tables spilling out onto the street.
---
79.
Miriam Cahn: I as Human
Haus der Kunst Munich
Munich's Haus der Kunst – one of the institutions the city has inherited and aptly repurposed from National Socialist times – is mounting a daring retrospective of feminist artist Miriam Cahn. Born in 1949 to Jewish parents who had escaped to Switzerland, Cahn paints uncompromising pictures that take on sexuality, gender stereotypes and displacement. Her colourful, nebulous paintings have a dreamy air and a humble quality the artist calls "the rejection of the idea of the 'ultimate' masterpiece".
12 July to 27 October; hausderkunst.de
While you're here… three more things to do:
1. The unfinished palace of Herrenchiemsee, started by Ludwig II in 1878, is the dramatic setting for modernist works by artists such as Kazuo Shiraga, Dan Flavin and Arnulf Rainer.
2. Forever Young – 10 Years of Museum Brandhorst shows off many of the best contemporary artworks collected by Udo Brandhorst since 1970.
3. The hottest commercial gallery in town is Deborah Schamoni's. Die Marmory Show IV features eight emerging artist, including Alexandra Bircken, fresh from her breakthrough Venice Biennale show.
---
80.
Sight: Antony Gormley
Delos
According to Greek mythology, the island of Delos was the birthplace of Apollo. The legend – and the island's extensive historical remains – make it one of Greece's most venerated archaeological treasures. So it has not been without controversy that 29 contemporary-art sculptures have been installed on the 5,000-year-old site. But Antony Gormley's angular, rusty body forms complement and animate the arid landscape, restoring a welcome human presence to the ruined temples, altars and sculptures.
Till 31 October; neon.org.gr
While you're here… three more things to do:
1. Catch a boat to Tinos to see the work of TQP artists in residence at the Tinos Quarry Platform.
2. Syros' International Film Festival is an open-air celebration of experimental and narrative cinema.
3. Housed in a former tomato tinning factory, Santorini Arts Factory hosts exhibitions, theatre and music.
---
81.
Less is a Bore
ICA Boston
Mies van der Rohe proudly declared "less is more"; architect Robert Venturi retorted "less is a bore". His spirit pervades this show; it is a riot of colour, pattern and texture. Miriam Schapiro contributes with glittery paintings, while Harlem-based Sanford Biggers displays his political quilts. The show "demonstrates how artists have subverted histories related to craft, feminism, queerness, beauty and taste", says curator Jenelle Porter.
Till 22 September; icaboston.org
While you're here… three more things to do:
1. Take the watershuttle across the marina to the ICA Watershed, a seasonal project space in the Boston Harbor Shipyard, to see film-maker John Akomfrah's environmental epic Purple.
2. Motto Books at the Carpenter Center for Visual Arts – an offshoot of the Berlin-based publisher and distributor – is a great place to find artists' books and small-run magazines.
3. Zone 3 is a Harvard University-initiated "arts hub" in a former dry-cleaning factory. This summer it launches a podcast studio, movie nights and exhibitions.
---
82.
Setouchi Triennale
Seto Inland Sea
The fourth edition of Japan's Setouchi Triennale takes place between July and August. The festival is spread across 12 islands and two seaports on the country's Seto Inland Sea, a region that once faced depopulation. The triennale began in 2010 as an effort to revitalise communities through contemporary art and has managed to become a must-see on the country's culture calendar. Works by big names like Olafur Eliasson and Sou Fujimoto will be on show. The islands of Naoshima and Teshima are the festival's main hubs but a plethora of artwork is spread around smaller neighbouring islands too.
Till 25 August; setouchi-artfest.jp
While you're here… three more things to do:
1. The Hiroshima Peace Memorial has recently reopened after an extensive refurbishment.
2. One of Japan's most beautiful landscaped green spaces, 400-year-old Ritsurin Garden is especially known for its impressive collection of pine trees.
3. Anyone who steps through the Motonosumi Shrine, a winding tunnel of 123 red gates, is said to gain good fortune.
Thrillers to read by the pool
83.
The Department of Sensitive Crimes
Alexander McCall Smith
Described as a work of "Scandi blanc", the latest venture from British writer Alexander McCall Smith is intended to be a cheerier take on the rather gloomy world of Scandinavian crime fiction. It follows a Swedish detective called Ulf Varg as he investigates abnormal happenings in Malmö.
---
Nuclear war has broken out, the end of the world is near and 20 survivors remain in a hotel in Switzerland – among them, a killer. When a girl's body is found in a water tank, paranoia takes hold and a US historian called Jon Keller – the protagonist of Jameson's dystopian murder mystery – decides to investigate.
---
85.
The Overnight Kidnapper
Andrea Camilleri
Sicilian novelist Camilleri is the master of Italian crime writing, with more than 30 books under his belt. The latest instalment in the Inspector Montalbano series sees the ageing detective search for an oddball kidnapper who leaves his victims unharmed, their possessions untouched. As always, deftly translated by the US poet Stephen Sartarell.
---
86.
Diary of a Murderer: And Other Stories
Young-Ha Kim
The novella at the heart of this collection is about a former serial killer struggling with memory loss. His final target: his daughter's boyfriend. The short stories that follow involve childhood friends, kidnapping and the pursuit of creativity. Seoul-based author Kim has written seven novels and five short-story collections, and won almost every major Korean literary award out there.
---
87.
Article 353
Tanguy Viel
The 23rd piece of fiction from French author Viel, translated by former journalist William Rodarmor, is billed as part courtroom drama, part psychological thriller. The novel noir takes place off the coast of Brittany and is narrated by a man called Martial Kermeur, who has been arrested for the murder of real-estate developer Antoine Lazenec. Kermeur's eerie tale retraces the events leading up to the moment when he threw Lazenec overboard.
Pioneering women reflect on their lives as mavericks, revealing real life tales of sex, drugs and rock'n'roll alongside conversations about being women and making art. From swinging Soho, where artist and writer Molly Parkin had her first kiss with Louis Armstrong, to rural Oxfordshire where lsd campaigner Amanda Feilding lives, the series documents the ripping up of rulebooks.
---
89.
Everything is Alive
USA
Inanimate objects (pillows, lamp-posts, etc) are given a name and a voice and then interviewed by host Ian Chillag. The results are thought-provoking conversations about what it is like to fulfil a purpose, for an amusing, moving and strangely relatable listen.
---
Helen Zaltzman presents short and sharp episodes celebrating the English language. Recent instalments include an exploration of the lexicon associated with Seattle's grunge scene and a discussion on why the word "gossip" has so many negative connotations.
---
Ever wondered how you go about rigging an election? Who really benefits from the international arms trade? Where is the world's first narcostate? Outspoken Trump critic and Monocle 24 regular Brian Klaas has the answers.
---
92.
Kerning Cultures
Middle East
Skirting stereotypical narratives of the Middle East, this podcast presents rich documentary-style storytelling about the region. A recent round of funding means followers can expect a new drama series and fiction, in addition to more shows in both English and Arabic.
93.
Kalk Bay Books
Cape Town
Overlooking a harbour dotted with bobbing, brightly painted fishing boats, this bookshop is petite but it hoards an impressive selection. Quality trumps quantity: on comedy wooden shelves you'll encounter a smartly edited array of both international and South African fiction, compelling memoirs, delectable cookbooks and more.
Staffed by knowledgeable bookworms, this is the kind of establishment where, walking in to buy one title, you'll easily come out with several new discoveries (after a few hours on a comfy couch). Frequent book launches and lively literary discussions offer a window on the country's vivacious publishing scene – and there's also a smart newsstand filled with quality international staples.
kalkbaybooks.co.za
---
94.
Better Read than Dead
Sydney
Located in the inner-west Sydney suburb of Newtown on bustling King Street (amid myriad restaurants, bars and other independent shops), this staple of the Aussie publishing scene entices customers to lose track of time. Pick up a book to read in store or let the staff guide you through the cheerful teal-coloured shelves. If you're travelling with kids, let them loose in the excellent children's section. The bookshop also runs literature-inspired tours around the world, should you want to join on your next trip.
betterread.com.au
---
95.
Black Bird Bookstore
San Francisco
Opened in 2017, Black Bird is a community-focused bookshop located in the salty-aired neighbourhood of Outer Sunset, a Pacific-hugging spot that feels a world away from downtown San Francisco. This is founder's Kathryn Grantham second foray into bookselling, the first being in 1990s New York when she was in her twenties. There's a backyard for lounging and reading paperbacks (it's also home to cacti and succulents for sale), while inside the light-filled space you'll find a satisfying selection of publications covering San Francisco and California. Black Bird also organises events, from kids' readings to author talks.
blackbirdbooksf.com
---
96.
Little Prince Bookstore
Tel Aviv
Ten minutes from Jerusalem Beach on Tel Aviv's sweeping coastline, this bookship and café is an institution in the Israeli city. Named after the hero of Antoine de Saint-Exupéry's novel, the King George street shop was set up in 2001 by Naim Cohen.
Business has been booming ever since the opening hours were stretched; the narrow shop and book-lined back-garden terrace remain open well into the night. Desks and comfortable chairs run the length of the room, making this a shady spot for an afternoon break from the sand. Reward yourself with ice coffee, salad and falafels – or fruity cocktails come happy hour.
19 King George
---
Born in Cannes, Stéphanie Gaou settled in Tangier in 2003. Six years later she opened Les Insolites in a former furniture restoration workshop with a dazzling view of the Strait of Gibraltar. The space has since become an anchor of the city's cultural community, regularly hosting book signings, photography exhibitions, lectures and gigs.
The majority of titles stacked along the sunshine-yellow shelves are in Gaou's mother tongue but the shop also carries a selection of English-language books. Gaou recommends visitors pick up a copy of Spirits of Tangier by Tessa Codrington: "It's part coffee-table book, part family album of the city, documenting the eccentricities of Tangier."
28 Rue Khalid Ibn El Oualid
98.
Norton Museum of Art
West Palm Beach
Architecture studio Foster + Partners has updated the 1940s art deco home of Florida's Norton Museum of Art with a new exhibition wing and a promenade-facing sculpture garden. The idea behind the design was to open the gallery buildings to the outside but the centrepiece is the garden, formerly a carpark. It is now filled with large-scale artworks by the likes of Antony Gormley, scattered amid subtropical greenery.
norton.org
---
99.
Norval Foundation
Cape Town
Following the opening of the Zeitz Mocaa in 2017, Cape Town added to its budding clutch of impressive galleries last year when shopping-mall mogul Louis Norval set up his private foundation in Steenberg. Set amid mountains and wetlands a short skip from the ocean, the four-storey centre hosts one of the world's largest collections of contemporary South African art across nine exhibition halls. Capetonian firm dhk devised the stunning glass-fronted atrium; the building was designed in response to the surrounding environment and has become a custodian of its indigenous flora and fauna. To top it all off, at the Skotnes Restaurant you can pick up pre-packed summer picnic baskets to enjoy in the four-hectare sculpture garden, featuring works by South Africans Wim Botha, Michele Mathison and more.
norvalfoundation.org
---
100.
Beelden aan Zee
The Hague
In among the property developments and beachclubs it's easy to lose sight of the natural beauty of the beach at Scheveningen, the seaside town adjoining The Hague. But tucked behind a sand dune in the centre of the promenade is this gallery, which takes visitors back to the essence of the coast. Enjoy contemporary sculpture in a warren of light-filled rooms, hidden courtyards and spiral walkways. Designed by Dutch architect Wim Quist, the natural-stone structure offers views of the sky and glimpses of sea; it's a wonderfully tranquil environment.
beeldenaanzee.nl