Observation 3 / Munich
If you build it
The world's largest construction trade fair might not strike many as a likely destination for a fun day out but Bauma is attracting revellers to Bavaria in droves. We don lederhosen, munch bratwurst and join the crane spotters.
On a spring afternoon on the outskirts of Munich, a crowd is watching a five-piece brass band wearing lederhosen (and sunglasses) parp out some of Bavaria's greatest hits. The air fills with the jaunty oompah of tubas, trumpets and trombones; those with two free hands clap and cheer, while others glug pints of pilsner and champ on bratwurst. Behind the band, a Ferris wheel filled with dozens of giddy children rotates in the sunlight.
This scene could be lifted straight from Oktoberfest but the presence of a plethora of heavy machinery signifies otherwise. Next to the musicians, some 25 gleaming new excavators, trucks and compactors are lined up for inspection. The players, audience and machines are here for German construction-equipment-maker Wacker Neuson's exhibit at Bauma, which is not only the construction industry's biggest trade fair but the largest in the world across all industries (by exhibition space).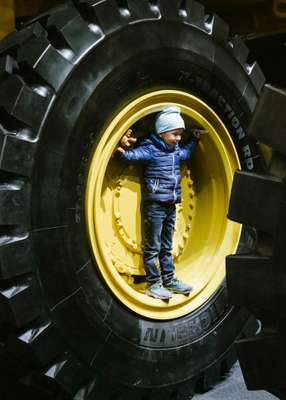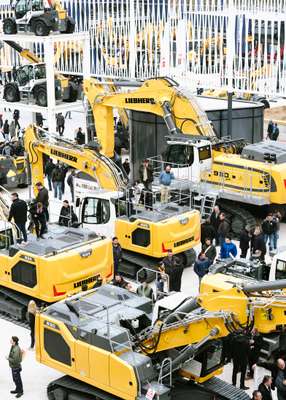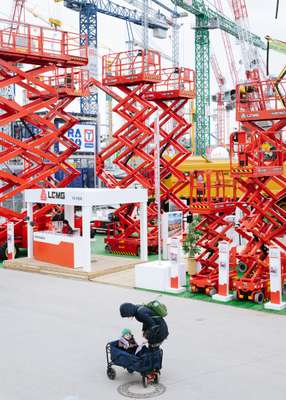 Usually there isn't much to draw your average funseeker to a trade fair but amid the suited attendees there is a more casual cohort: children, families and crane spotters come here simply to marvel at the height of the latest loader crane, hear the roar of the engine in a pc-4000 mining excavator and feel the emotional pang as a pair of Volvo diggers come together in a choreographed embrace to the soundtrack of Beauty and the Beast.
Other than the spectacle of towering machines, Bauma's appeal is broadening thanks to a renewed interest in how we make cities. Europe is in the midst of a construction boom and the public appear more intrigued to learn about how grand infrastructure projects – or just the apartments down the street – are built. According to visitor surveys, 16 per cent of the fair's attendees have nothing to do with the construction industry; at the last fair, three years ago, that figure was 15 per cent. Some 30,000 visitors in this group are budding construction buffs under the age of 14 – a record high on previous years. "Welcoming children is a tradition at Bauma," says Johannes Manger, the fair's spokesman. "We don't want to do anything to discourage them."
As the fair organisers are encouraging more families to attend, some of the more prestigious construction companies are getting better at monetising their presence. Most exhibitors are hoping to score big contracts but the wisest among them are catering to the crane-spotting crowd with well-stocked souvenir shops. German construction giant Liebherr has a stall selling everything from T-shirts to die-cast scale models of cranes on tracks and loaders that can set fervent collectors back hundreds of euros. The latter are a particular hit among young attendees at the Caterpillar stand. Meanwhile, those requiring refreshment take advantage of "drivers' bars" on most of the big stands. These pop-ups start pouring pilsner before midday and, as of the first Monday morning of this year's fair, many were full of folk clinking glasses and planning their day ahead.
Back at Wacker Neuson's stand, the musical intervention is now reaching its crescendo. As the saxophone player breaks into a solo, a gleaming yellow forklift with an extendable boom drives up and the musician steps onto its arm. There is a collective gasp as it lifts him high into the air, the solo reaching its climax. In the sky above, a Caterpillar-Zeppelin branded blimp hovers over the forest of cranes. Who says that trade fairs can't be fun?