A city's quirks can often beguile us more than its falling crime rate or fine trams. We list our favourite idiosyncrasies from around the world.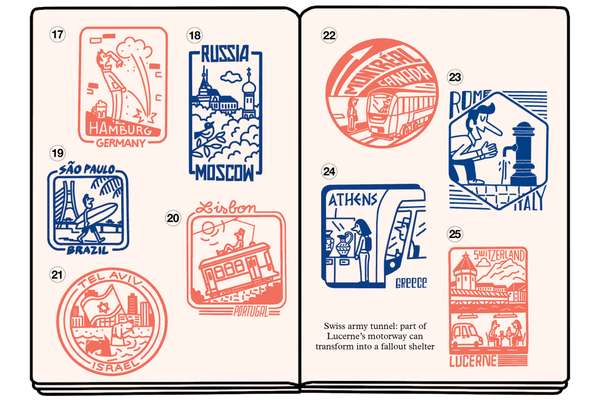 Bogotá: Every Sunday, Colombia's capital closes 125km of roads so that those on two wheels have the run (or the pedal) of the place.
Oslo: Keen for fresh air? Try the 2,600km of cross-country ski tracks that can be reached from Oslo's city centre.
Vilnius: A quick flick on your smartphone is OK but not while crossing the road: in Lithuania's capital, doing both could land you with a fine.
Toronto: The Toronto Public Library is the world's busiest. In 2018 it had 17.3 million visits and 70 per cent of Torontonians use it.
Córdoba: Nowhere is Fernet Branca and Coca-Cola more readily quaffed than in Argentina's second city.
Madrid: Has the oldest running restaurant in the world: Sobrino de Botín hasn't closed its doors since 1725.
Helsinki: Home to 123 signed heavy-metal bands. Finns also consume the most ice cream per capita in Europe.
Calgary: The greater city area has the biggest network of cycling and walking trails in North America: more than 1,000km.
Putrajaya: This Malaysian city has a roundabout with a circumference of 3.5km.
Cardiff: In 1894, Henry Spiller opened a record shop in the Welsh capital. After 125 years it's still going strong.
New York: Cyclists are allowed to wear headphones – as long as they listen through just one ear.
Chongqing: Pedestrians have had enough of being stuck behind those walking slowly while checking their phones: pavements have a separate lane for digital dawdlers.
Salt Lake City: A decree stating that those driving cattle through the town must be able to turn livestock without "resorting to profanity" means that most roads are 39.6 metres wide.
Skopje: Thrifty travellers should head to North Macedonia while it still has the cheapest capital city in Europe.
Paris: Has no stop signs.
Shanghai: Every weekend, China's second city holds an outdoor marriage market. Parents of single folk scout for spouses for their sons and daughters.
Hamburg: To stop revellers relieving themselves in the party district of St Pauli, Hamburg has hydrophobically painted walls that ricochet urine back onto offenders' trousers.
Moscow: The Russian capital has more park space than any other major city: 54 per cent of Moscow is green.
São Paulo: Has the highest number of surfers for a city that has no immediate coastline. The 150,000 surfers who live here leave town for a swell time.
Lisbon: Has 2,799 hours of sunshine a year (more than double Glasgow's 1,203).
Tel Aviv: More dogs per capita than any city in the world (one for every 17 people). It has four dog-friendly beaches and one dog-friendly park per square kilometre.
Montréal: Each of Montréal's 68 (mostly) brutalist metro stations are designed by a different architect.
Rome: There are 2,800 tap-less drinking fountains here called nasoni – Italian for "big nose".
Athens: Half of the city's 65 metro stations exhibit archaeological treasures found during construction.
Lucerne: The ends of one of the city's motorway tunnels can be sealed off, turning it into a fallout shelter capable of holding 2,000 people.