Cooking / Tokyo
Open house
A Tokyo community centre with food at its heart is helping to nourish the whole neighbourhood.
In a residential area behind Tokyo's busy Ebisu Station, Kageoka no Ie (House in Kageoka) is a home away from home. Open since March, the five-floor set-up is a non-profit community centre funded by public money but run by the private sector. "Everyone is welcome here," says director Kisako Omi. "Parents with toddlers, schoolchildren, teenagers and the elderly."
There was a house on this plot of land but when the owner died in 1998 the property was donated to Shibuya City Social Welfare Council. The council ran it as a community meeting place but it never took off due to its clunky layout. Now it's used for numerous purposes but food is the central theme. "We take shoku-iku [food education] very seriously," says Omi. "Food plays such a critical role in raising children. It nurtures not only our body but also our heart."
Once a month Omi hosts Kodomo Shokudo (Kids' Canteen) and on a Wednesday evening we visit its second edition. Schoolchildren (some as young as five) ready themselves with a bandana and apron in the kitchen upstairs. Tonight they will be cooking their own dinner with the help of staff, mothers and volunteers. It's not just parents who are getting on board: likeminded chefs are joining today's session too. "Opportunities like this change children's perception of food," says Rieko Teramoto, director of innovative vegetable shop Vegeo Vegeco.
Omi believes that the simple act of eating at the same table has become a luxury for busy Tokyo residents. "When you come home and there is a good smell, a freshly prepared homemade meal, that's really important for families," she says. "We choose time-consuming recipes because busy parents [normally] don't have time to make these complicated dishes on weekdays."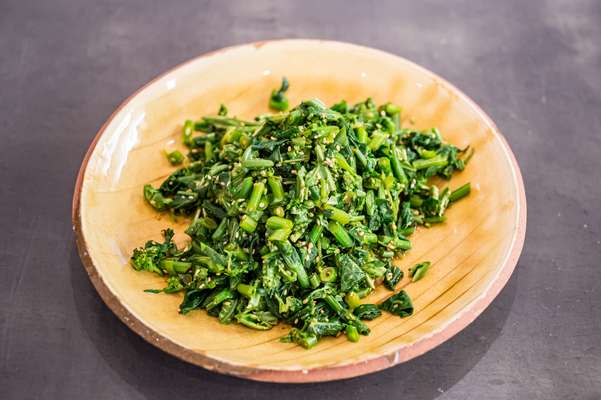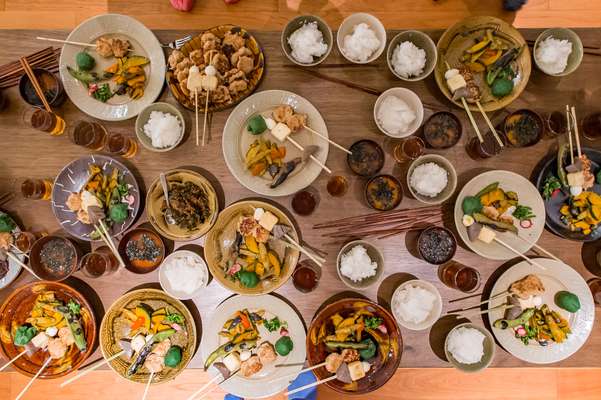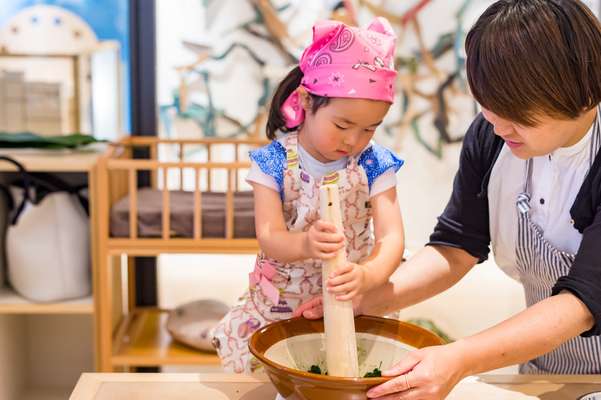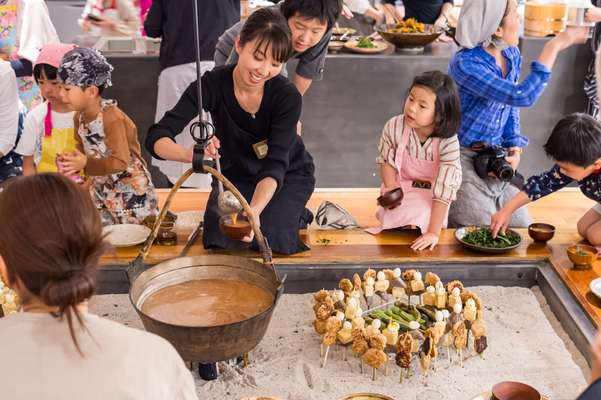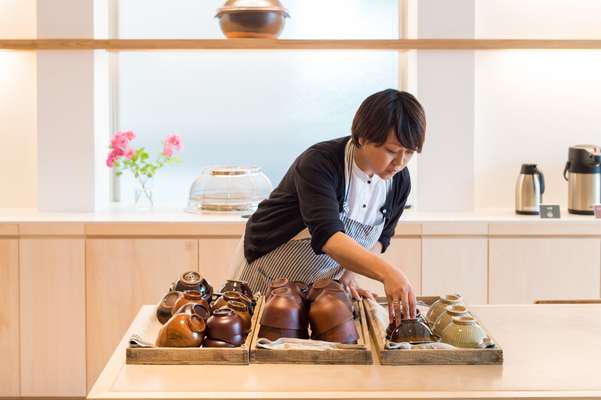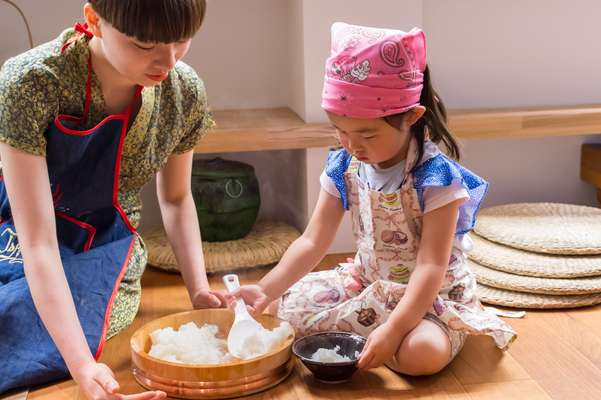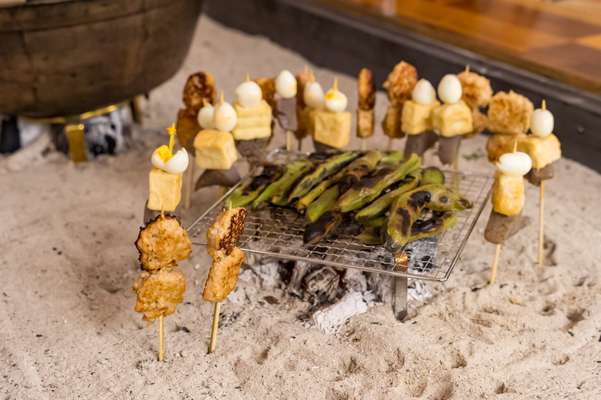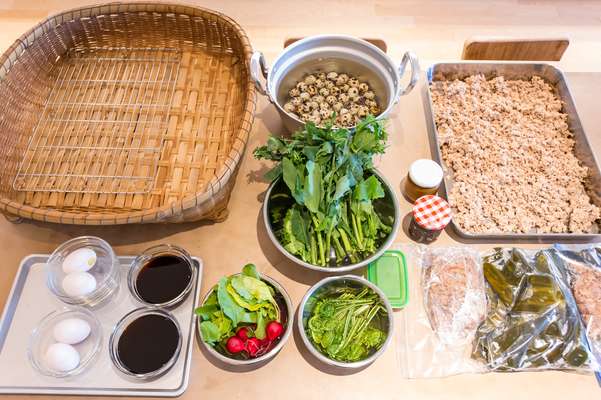 The colourful menu includes skewered tsukune chicken meatballs cooked on a charcoal fire in the irori (a traditional Japanese sunken hearth), lightly fried summer vegetables and yomogi-leaf rice cakes. Sisters Sora and Kei Harakawa are with their mother Kuniko, mixing minced chicken with chopped onions and egg yolk, as well as pounding rice cakes with yomogi leaves in a bowl. A fourth-grader boy is asking what type of egg he's holding and a girl next to him helps by shouting, "Uzura [quail]!" Cooking with other people is sparking conversations and interest. "It's so much fun," says the boy with a big smile.
The parents are clearly happy with this initiative too. "It's great to show children how our food is made," says Nanako Hoshida, who signed up her five-year-old daughter. "I love this opportunity to cook and eat with everyone, and raise our children together in the community."
Kuniko Harakawa is watching her girls serve rice and then wait at the irori. On cue everyone shouts, "Itadakimasu [I humbly receive]," – a phrase children in Japan learn at home and school. It's a call urging you to appreciate the food (and its producers) and to tuck into the meal. "This is such a great environment in the middle of the city. It's a place like no other," says Harakawa.
It's not just budding chefs who are using the space. Like Omi, Shibuya mayor and working father Ken Hasebe has always had a vision of a community space with food education at its core. A few years ago, Shibuya ward launched a project called Kodomo Table (Kids' Table) under Hasebe's leadership.
"Food projects for children have become popular in Japan in the past few years," says Hiroshi Kato, who heads the Shibuya Child and Youth Affairs Division. "However, they tend to be aimed against poverty. There's an increasing number of parents in work and social bonds within neighbourhoods are weakening. With a bigger picture in mind, we thought that the concept of 'table' would serve people of all generations: [a place] to gather and play together."
Kageoka no Ie is just the latest addition to this movement, open to anyone within or outside Shibuya Ward. The Council of Social Welfare commissioned Mother Dictionary, a Tokyo-based company working for families and children, to fine-tune the concept. It built an inviting structure, finishing the interior with warm wooden details. A group of textile designers, craftsman and potters then donated products to help kit out the space.
On the ground floor in front of the entrance sits the irori, where visitors can sit and chat over a cup of tea. The basement floors have a soundproof music room with instruments including a drum set and guitars, a ping-pong table and a dance room. After school, children (many of whom are regulars) can check in at reception, run by Mother Dictionary's friendly staff, to play until their parents come and pick them up after work. The top floor, meanwhile, features a family room for parents with babies. "I find myself here all the time," says Lisa Araki, who brings her one-year-old daughter Yuma. "I love the wooden toys and natural materials. It has become a meeting spot for parents." Yuma is mingling with other toddlers while babies are napping nearby. "An indoor place like this, open for everyone, is rare in Tokyo. Especially a place where you can let your toddlers play," says Araki's friend, Haruka Funahashi.
Kageoka no Ie has found a strong following by word of mouth. "This is a new style of community place for all generations," says Kato. "It would be great if this place can become a model for other communities."
---
Come one, come all:
Opened in March, Kageoka no Ie has quickly proved to be a much-needed community space in central Tokyo, with about 1,000 people gathering for its grand opening. Kodomo Table is a popular monthly event but the place has even more to offer: there are classes to sign up for, including arts and crafts, science, photography and music with guest lecturers who are active in their fields.
The initiative's operator, Mother Dictionary, also provides opportunities for families living in urban areas. In April it took a group out to a sustainable farm in the countryside nearby Chiba prefecture. Children got their hands dirty planting seedlings, looking for small creatures in the field, picking flowers and helping out with the farm's goats. And afterwards? You know the drill: they cooked their own lunch using organic ingredients grown on the farm. Kageoka no Ie isn't proposing radical new concepts: it's all about going back to the basics and doing things together, whatever your age.