Oatly / Sweden
Against the grain
Oatly CEO Toni Petersson has raised the drink's profile by revamping its brand, tapping into consumers' eco-desires and antagonising the dairy industry.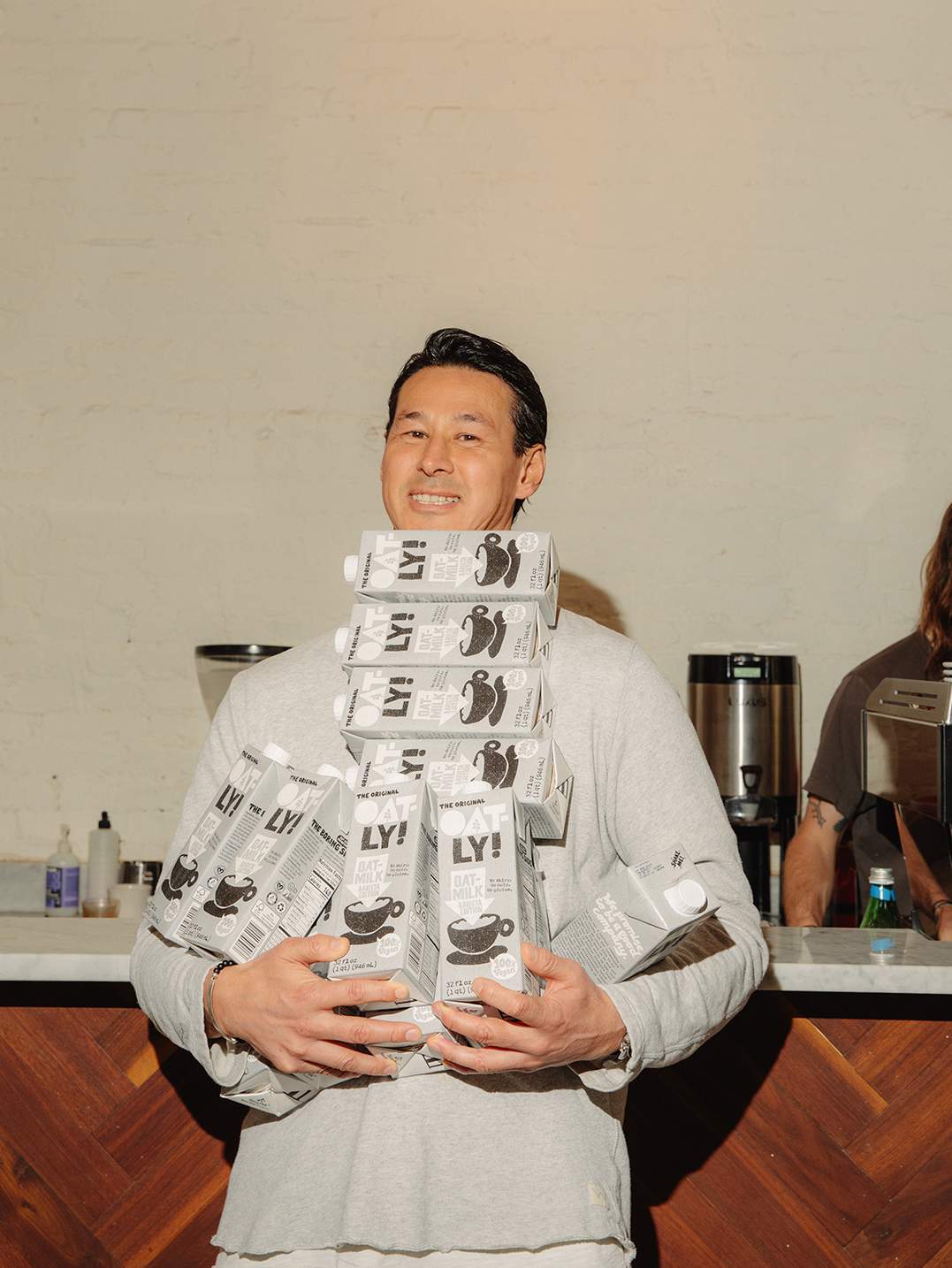 Swedes wouldn't be Swedes without the so-called milk gene. This uniquely high level of lactose tolerance allows the average person to gulp down about 80 litres of cow's milk every year – adults as well as children – without a hiccup. That puts them second behind the Finns as the world's biggest milk drinkers.
But if the alternative milk market keeps growing as it does, that could soon change. Leading the charge is Oatly. The quirky Malmö-based brand can claim to be the originator of oat milk, a buttery-tasting white liquid created by using enzymes to liquefy raw oat kernels. The company was founded by Swedish chemistry teacher Rickard Öste back in 1994 but it wasn't until a rebrand, following Toni Petersson's arrival as CEO in 2012, that it started becoming widely known.
Petersson, a serial entrepreneur, had already started, and run, several businesses, including a successful izakaya (Japanese pub that serves snacks) in Malmö, before being recruited by Oatly. At first, he says, he wasn't interested in leading a company he thought made some sort of wheat puffs. It wasn't until the board explained the business in more depth that he began to see that its products could become much more than just alternative milk drinks.
"Back then, milk was holy in Sweden," says Petersson, who describes himself as an introvert who recharges by pottering about in his garden. But that just spurred him on. He brought in a new creative director, copywriter John Schoolcraft, and leading Swedish advertising firm Forsman & Bodenfors, relaunching Oatly with a punchy anti-establishment ethos reflected in packaging that features hand-drawn type and images by creative Lars Elfman. Suddenly, conventional milk had to share the fridges with Oatly's whimsical yet politically charged packaging. Its cartons spelled out the company's disdain for its competitors through phrases such as "No milk. No soy. No badness" and "It's like milk but made for humans". Unsurprisingly, the conventional milk industry quickly went sour, suing Oatly for what it called "tough language".
1993 Founds Izakaya Koi restaurant, along with brother Ronnie
1999 Launches Koi Brands, a wine and beer distribution company
2000 Creates Koi Concept, a lifestyle brand selling homeware and clothes
2007 Founds a real-estate company
2009 Joins Swedish backpack company Boblbee as CEO
2012 Joins Oatly as CEO
"We knew our message was right and we happily took the fight," says Petersson. Although Oatly lost and had to stop attacking cow's milk, as a final jab at the dairy industry the firm ran full-page newspaper adverts with the message: "Don't think this is over. Lawyers won't be able to stop the growing demand for plant-based produce. And we'll never stop fighting for what we believe in."
And it hasn't. Petersson says the publicity around the case turned the brand from obscure to mainstream overnight thanks to the attention it garnered, pushing Oatly from the realm of allergy drink to the much more desirable lifestyle sphere. These days the company's products include creamy "milk" drinks, a barista-grade beverage that froths easily, yoghurt, cooking cream, crème fraiche and flavoured ice cream. They have become so popular in Sweden that it's hard to find a coffee shop without Oatly as a "milk" choice for your coffee.
In fact, demand has exploded globally. Between 2017 and 2018, the company's revenue grew from $1.5m to more than $15m, and it estimates sales will double in the next year. Last year, Oatly produced 80 million litres of oat drink and the firm is building its production capacity, with new factories recently completed or under construction in Asia, the Netherlands and the US.
The market is seen as having enormous potential for growth and other brands are hot on Oatly's heels. Quaker Oats, the 142-year-old company owned by PepsiCo, launched an oat beverage this year. Even legacy dairy company HP Hood, one of the largest food and beverage companies in the US, is getting in on the act with Planet Oat.
Yet Oatly's spectacular rise to fame has made it something of a cult brand and therefore a tricky one to compete with. When it was first introduced at select New York cafés in 2017, for example, demand rose so quickly that customers secretly bought cartons of Oatly over the café counters. Some even paid $200 on Amazon for a litre of the stuff. "We created demand before there was a market," says Petersson, with a chuckle. That's been the mantra in other new markets too. In Hong Kong, Oatly is now in 80 per cent of speciality coffee shops and the Oatly team developed a new character in Cantonese that means "plant-based milk".
Its positioning as a cool vegan product that's good for the environment has proved a savvy business choice. "Everyone wants to make the world a better place," says Petersson. "And if people can make personal choices to affect the climate positively, then they want to do that. Our products play into that mentality."
All of this is great for profits but for Petersson it's also a mission. "The more oat products we sell, the better it is for everyone – the planet, animals and people."
The rules:

1.
What's your morning routine before work?
I don't really have one. I work late so I'm fairly up to date with emails when I wake up. I eat breakfast, do a round of emails, then I'm usually off to work within an hour. I almost always dress before I leave…

2.
What do you do to stay motivated?
I do impossible things. You can come up with a whole bunch of impossible things every day, so your motivation gets refuelled pretty much constantly.

3.
How do you deal with stress?
I make sure that I get enough low and positive energy. And a lot of herbal drugs – we call them snus in Sweden.

4.
What is your perfect work environment like?
If I could, I would work from home every day. We have a nice garden and the house is fairly big, so there's enough space for me to walk around while on the phone without things getting too monotone.

5.
What's the best bit of advice you've been given?
My father once asked me why it's not better to start working instead of attending university. That was pretty pivotal. I withdrew my application to university and started my first business a couple of years later.