Architecture / Spain
Aiming high
For Catalans, Gaudí's Sagrada Família isn't just a church: it's an icon of identity and innovation.
A slab of Iranian-sourced granite dangles from a gigantic crane, guided onto the Sagrada Família's reinforced roof where the circular base of the Jesus tower is taking shape. When completed, this central turret will stand at 172.5 metres, making this Barcelona's tallest building.
Yet the city's most prominent construction site only became legal this summer. The revelation that no one had checked the paperwork since 1885 came back in 2016. Following about two years of negotiations between the local government and church authorities, redemption came with a hefty pricetag: €36m in overdue taxes. Upon issuing the building permit in June, mayor Ada Colau announced that the settlement will fund public transport and improve surrounding streets.
Viewed from afar, the Sagrada Família's steeples capture the city's ancestry and aspirations all in one. The building is a slow-moving monument to Catalonia's penchant for impassioned, yet sometimes implacable, struggle. Now, after 137 years of spasmodic growth, Antoni Gaudí's chef-d'oeuvre is nearing completion.
"Building a cathedral-sized temple in about a century isn't long," says Eric Rusiñol Cambray. One of the chief architects on the project, the 32-year-old's contract is open-ended, the significance of which is not lost on him. "Gaudí acknowledged he would never see his life's passion finished. Contributing to such an emblematic building conjures special feelings."
Akin to a vertical jigsaw puzzle, the ongoing assembly of all 18 towers is an added spectacle for 12,000 daily visitors. Dutifully steered by a team of more than 300 builders, architects and artisans, the technical prowess on show feels far removed from the day Gaudí hoisted a live donkey in front of the façade so he could replicate it on a stone nativity scene.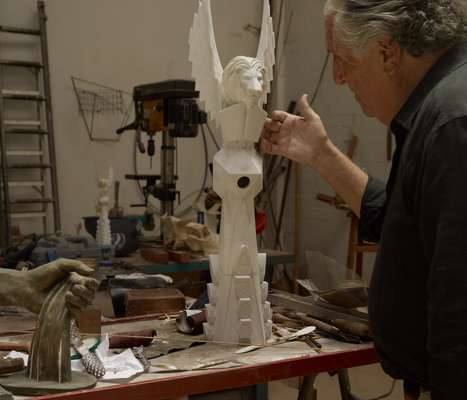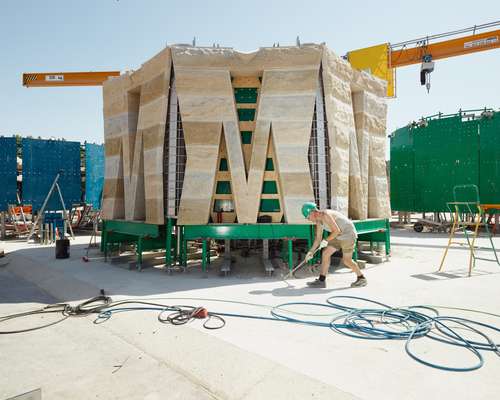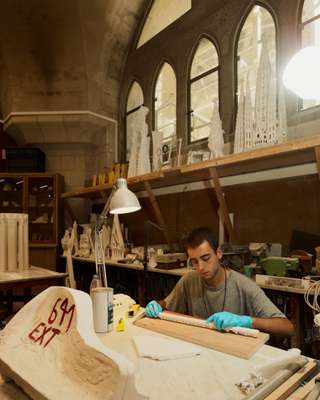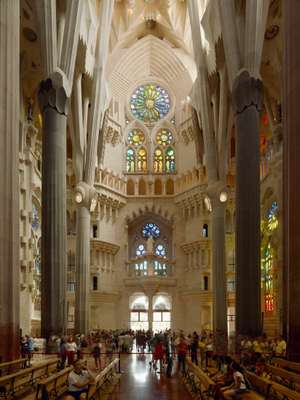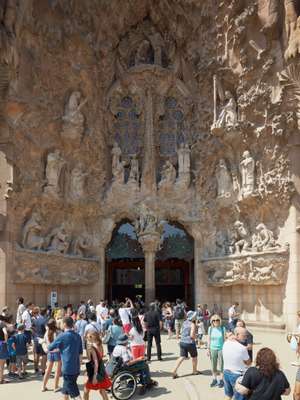 Such feats of fancy and colourful contrasts are among the Sagrada Família's hallmarks. The spiritual skyscraper is a tribute to traditional ideas of family and natural wonder, while also defying established religious tropes. Gaudí's rebellious streak is occasionally subtle and often sonorous, employing modernist motifs and exotic shapes. Opinion about this building has always been divided but, inside, the technicians and designers are adamant about their place in history. "This is the dream of a nation," says Albert Portolés, who heads the 3D-model studio. "We're finishing something that represents my city and country."
Portolés, who has worked here for 33 years, leads a restoration effort that is as much about reclaiming the past as exploring future architectural possibilities. He points to a photo on the wall that shows Gaudí's studio before anarchists burst in during the Spanish Civil War and burnt his drawings. Decades later, more than 8,200 fragments have been unearthed. Laser scanners mean they can be pieced back together and referenced in the making of models. Guided by Gaudí's writings, the crypt's journals and a mixture of aeronautical and augmented-reality software, these 3D models are the closest the team can get to deciphering Gaudí's vision. "Many have said it's impossible but we're going to build it and it's going to be spectacular," says Portolés.
While intellectuals debate whether an architect's unfinished work is inviolate, residents prefer to grumble about the temple turning into a tourism mecca. However, these 4.5 million yearly visitors add €50m of annual revenue to the basilica's coffers, paying for the construction that's slated for completion in 2026, the centenary of Gaudí's death. The neighbours may be loath to admit it but the tourists are paving the path to redemption.
Despite all the noise in the city centre, the bulk of construction is actually being carried out in Galera, an hour's drive from Barcelona. In a former lumber yard, construction manager Josep Valiellas shows MONOCLE biblical feats of carpentry, nanotechnology, stonemasonry and steelwork. Safety concerns in the metropolitan area mean this epic exercise of experimental Tetris is only tenable on these 11 hectares of land in the countryside.
"This is an open-air laboratory," says Valiellas, showing how, through trial and error, the Sagrada Família's towers take shape. Once they pass muster, the towers are sent, piece by piece, to Barcelona. "Almost everything here is a first," he says. "This church has always been an icon for innovation; we continue that by pioneering new techniques and technology."
Catalonia's Gaudí worship came late. Misunderstood and underappreciated while alive, today his work is part of a regional identity. Perhaps seeking atonement for his death (hit by a tram and mistaken for a homeless man, he died alone in 1926), a push to canonise the man dubbed "god's architect" started in 1992.
"Catalans blaspheme more than most," says sculptor Xavier Medina Campeny. "Perhaps this explains our need to erect such a massive church: it's our way of overcompensating." The artist is creating four 12-metre-tall sculptures – a bull, eagle, lion and angel – to adorn the Jesus tower. Describing the project's mix of guesswork and good intentions as "an amusement park", he seems unfazed by the controversy that clung to fellow sculptor Josep Maria Subirachs, whose figures on the Passion façade led to protests in 1990. "The Catalan experience has always been a sort of frustrating experiment," he says.
High-profile dissent is part of this building's history. In 1953 a manifesto signed by Le Corbusier, Walter Gropius and Mies van der Rohe demanded the church be left incomplete. Another, published by Spanish cultural elites in 2008, lamented the mediocrity of the project. Yet, rather than rage, such passion reveals the building's power to arouse ideas – just like any good work of art.
Building a cathedral is a commitment to the long term. For Catalans, Gaudí's Sagrada Família goes one step further: it's a paean to national pride and perseverance. In the coming months, as the central turret takes shape, the city's sense of self is set to be energised along with it, no doubt inspiring even the most impassive bystanders to take another look.
Highs and lows 
Timeline
The story so far
1882
The first stone is laid but a quarrel between the architect and developer (bookseller Josep Maria Bocabella) means the architect is fired.
1883
Bocabella appoints Gaudí.
1926
Gaudí is hit by a tram. Mistaken for a vagabond, he is transferred to the wrong hospital and dies.
1930
The Nativity façade is completed.
1936
Outbreak of Spain's Civil War; anarchists sack Gaudí's studio.
1953
A manifesto calls for works to stop – they don't.
1976
The Passion façade is completed.
1992
The Barcelona Olympics heralds an influx of tourists. Entry-ticket revenue energises construction.
2008
Another manifesto decries the manipulation of Gaudí's vision but work continues.
2010
Papal visit sees the consecration of the church as a basilica.
2011
Arson attack on the sacristy (the fire is contained within 45 minutes).
2016
Mayor Ada Colau says the church lacks a municipal building permit.
2017
A foiled terrorist bomb plot had the basilica in its sights.
2019
A building permit is issued.
2022
This is when the central towers are scheduled for completion.
2026
The end of construction will coincide with the centenary of Gaudí's death.
2032
Final decorations will be added.
Other feats of epic architecture:
Milan's Duomo
Started in 1386, construction on Milan's cathedral lagged until Napoleon paid up in the 1800s.
Capital ideas
Building entire cities calls for grand-scale architecture. Infrastructure for Saudi Arabia's Jubail II, billed as the world's biggest civil-engineering project, will cost $80bn. Egypt's new "smart capital" is also underway, designed to house up to 40 million people by 2050.
Bjarke's Mars City
Danish architect Bjarke Ingels' project is part of the UAE's plan to build a colony on Mars by 2117. The prototype will cover more than 170,000 square metres and cost more than €110m.
Notre-Dame de Paris
This year's blaze at the cathedral ignited a design debate that was epic in its imaginative scale. A contest to create the new spire has received wild proposals including a forest, a carpark and an animal sanctuary.