Sustainability / germany
Business sense
Organic grocery chain Alnatura has gone above and beyond to create a smart and healthy office culture in its new HQ.
From tree-covered high rises in Milan to low-carbon apartment blocks in Melbourne, buildings engendering a sustainably minded lifestyle are on the rise. Yet when it comes to the way we work, creating places proffering productivity, profit and the preservation of the planet, the uptick has been slower.
Enter Alnatura Campus – a new base for one of Germany's major whole-foods brands – pioneered by architect Martin Haas of Stuttgart firm Haas Cook Zemmrich. On the fringes of the fast-growing city of Darmstadt, this HQ, which is home to 500 employees, is a green machine. "Usually it's experts or other architects that show the most interest in this type of building but here it's the staff – because the design is for their wellbeing," says Haas of this rammed-earth walled structure that replaced an old US army base on the site. "We, as architects, have somewhat neglected the end-user in recent years as we searched for nice sustainable solutions that were slick, cool and impressive to other designers."
To break stride with this old school of thought, Haas worked closely with Alnatura's ceo Götz Rehn on a design that empowers a healthy office culture. This spanned far beyond the building's walls. City Hall was lobbied to improve public-transport links to the site and won over by Alnatura offering citizens a public nursery, vegetarian restaurant and hectares of rentable community allotments. All of these on-site facilities also benefit staff; early arrivals tend to prized patches of earth, watched over by their green-thumbed CEO.
"This was very important to us because people find such joy in gardening and can really relax here," says Rehn, still exuberant from the company's recent first harvest. Here, he says, his assistant impressed with a rather fine-looking (and tasty) courgette. "The allotments also allow people to keep sight of how nature can create such a brilliant product when it's looked after properly."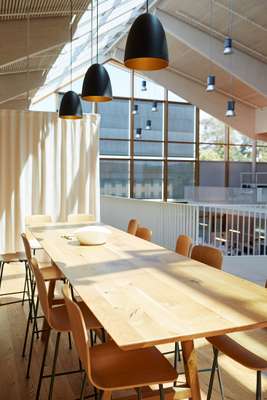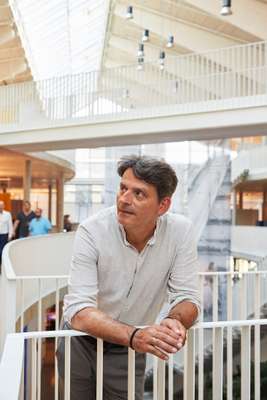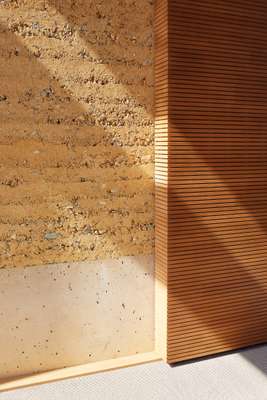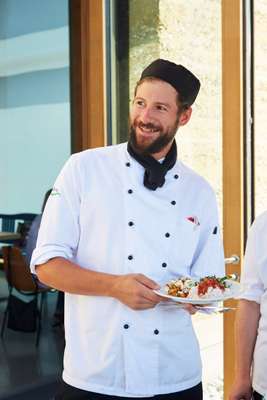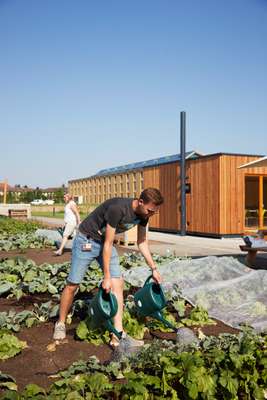 Constant reminders of nature's brilliance mark the headquarters' design. Architect Haas welcomes monocle inside on a scorching summer's day. We're greeted with a gush of chilled air. It's refreshing but also surprising as we learn that it's not artificially cooled; instead the air is pumped in from vents from the neighbouring forest's shady floor, its pine-infused freshness mixing with the smell of the timber-laden interior.
From earthen walls, which naturally absorb moisture and offer excellent insulation, to the gigantic windows on both ends of the oblong structure, the HQ's triumphs continue to draw from the earth and the heavens. "It's a low-tech building but an effective one," says Rehn. Here abundant natural light is said to be powerful in helping staff maintain a sunny disposition (the handsome suite of Swiss Vitra furniture installed here helps too, we suspect). "It's a pure building; there are no hidden secrets," adds Haas.
Clearly beautiful and built for the betterment of the planet, the one question remaining is whether Alnatura's new campus is actually good for business. A few months in it's too early to say but staff are certainly proud of their new home; those we speak to say the internal layout is forming a more collaborative company culture. Haas adds that the set-up in this "one big room", three storeys in height, functions more like a village than "kindergartens for grown-ups" – quirky, open-plan offices popularised by US technology brands. "You generate neighbourhoods: you look at where the traffic is going to be, then you can add stairs and bridges and form meeting areas where appropriate," he says, adding that his collaborations with Danish master urbanist Jan Gehl reaffirmed his belief in the importance of human scale in architecture. "Walking the staircases that stretch across the central atrium provides staff with a sense of empowerment, while the balance of connections within the building is done in a way that is playful but still functional. It is about giving staff respect, it is about organisation; this is not where you live, it's where you work."
For Alnatura, which is growing – in line with a German sentiment to be a healthier nation – the new office is the most natural extension of its brand values. ceo Rehn, on the subject of whether substantial spending on sustainability might dent the massive revenue the company is yielding, says his view is uncompromising. "When it comes to sustainability it's not a question of 'nice to have', it's a necessary condition," he says, noting that providing the kind of environment that upholds these values helps keep staff happy too. "Only a business that serves its staff has a future. If companies are just designed to be profitable and efficient, there's no future."
---
Company profile:
A widely popular German health-food brand, Alnatura operates 134 supermarkets. Götz Rehn founded it in 1984 and says sustainability has always been the cornerstone of its business model. As the company has grown (in line with the strength of European retail's organic-food sector), Rehn has continued to practise what he preaches. In 2014 he opened the brand's all-timber distribution centre – the world's largest of its type and a showcase of sustainable architecture. The Alnatura Campus, inaugurated earlier this year, pioneers rammed-earth architecture. It is also the world's first office to have geothermal heating built into its earthen walls.
---
More offices that are improving the way we work
1.
Illwerke Zentrum Montafon
Vandans, Austria
This Austrian electricity company chose wisely when selecting HK Architekten for its new home (and not just because the building only took six weeks to construct). All timber elements were left exposed which, when combined with the fresh mountain air, makes for a truly natural working environment.
2.
IOC
Lausanne
Copenhagen firm 3xn applied a triple-glazed façade to the International Olympic Committee's new HQ, which helps sustain a comfortable interior climate from solar panels and water pumped from a nearby lake. Impressively, almost all materials from the previous, now-demolished site were salvaged.
3.
Davines
Parma
Matteo Thun, the architect behind this cosmetic brand's HQ, has taken a highway-side plot and turned it into a green oasis, where offices sit within verdant gardens and greenhouses. The site meets the highest sustainability standards, and scientists developing Davines' products pluck plants from the garden for research.