Briefing / Global
Fashion
Briefing
LA's menswear upstart, an impressive new perfume shop and a beloved designer making a comeback.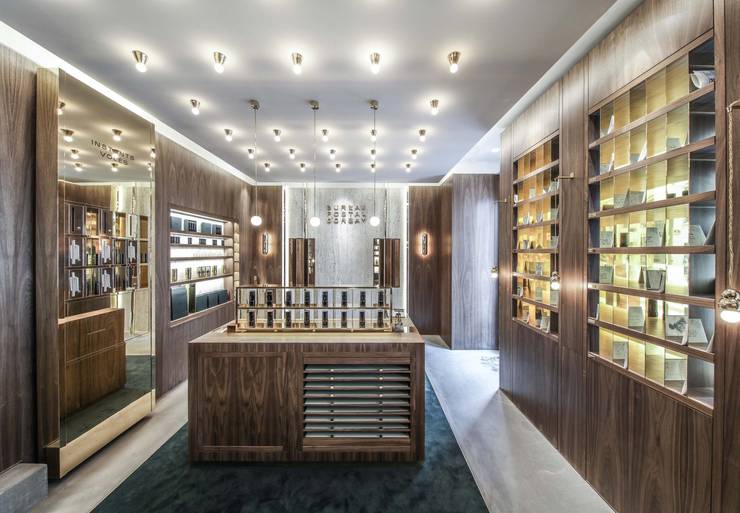 Parfums d'Orsay, the French perfume brand, has been given a 21st-century reboot with sleek new typography, understated cylindrical packaging and a new shop in Paris's 7th arrondissement. Inside the shop, called Bureau Postal d'Orsay, customers can buy perfume (including five body fragrances and five home scents) and send letters to loved ones that have been written in-store on a vintage typewriter. "Imagine sending a love note, a break-up letter or a parcel from a boutique where one puts on perfume," says managing director Noémie Prot. "Writing is a forgotten form of beauty. We want to bring it back into fashion."
The brand has a storied history: it was founded in 1830 by French socialite and sculptor Alfred d'Orsay after he fell in love with Marguerite Blessington, the Countess of Blessington. They wrote letters to each other and d'Orsay created a unisex scent for them both to wear as a symbol of their commitment to one another. "Fragrances can be declarations of love," says Prot.
dorsay.paris/fr
Tod's x Alber Elbaz
Italy —
Footwear & bags
When fashion folk discuss the most talented designers who are not currently working in permanent roles, Alber Elbaz always comes up. The Israeli designer who's famed for transforming Lanvin left that maison in 2015 and has since dabbled in the odd project – but nothing has stuck.
So it's exciting to see him collaborating with Tod's on a capsule collection of bags and footwear. Called Tod's Happy Moments, the line of "Made in Italy" loafers and leather handbags is being released in a series of drops.
The first one launched in July. The second batch includes men's footwear, such as Elbaz's take on Tod's mocassino loafers (including versions mounted on trainer soles or in metallic hues); it is out in September.
tods.com
"Every piece is a one-off," says Robert Ettinger, CEO of the historic London leather-accessories label that has launched its first bespoke range of wallets, key fobs and card cases. "There are eight products available and 34 leathers, 20 threads, two linings and embossed initials to choose from." Released to coincide with the brand's 85th birthday, the offering is part of a strategy to maintain a point of difference in a "growing world of mass manufacturing", says Ettinger.
ettinger.co.uk
Los Angeles is more buffet than melting pot – a range of cultures but in ethnically specific neighbourhoods. The city's Goodfight menswear label though, likes to mix things together. The latest collection's influences include chefs on break, the food and colours of Singapore (where designer Calvin Nguyen spent part of his youth) and traditional European tailoring. Add Nguyen's training in womenswear – manifested in "an emphasis on beautiful fabrics", often sourced from Japan – and you get a high-quality line-up that spans outerwear to smart corduroy trousers.
Before starting Goodfight in 2017 its founders – Nguyen, Caleb Lin, Christina Chou and Julia Chu – were buyers, stylists and Hollywood players. What binds them is that they're all self-described "shop kids" who met at Opening Ceremony. That helps explain why one of their first stockists was Dover Street Market, a retailer committed to bricks and mortar. But what is the "good fight"? According to Lin it's about keeping an eye on their LA factories to ensure they treat workers fairly (Goodfight makes everything in LA) and being mindful every step of the way.
gdfht.com