My last meal / Buenos Aires
Francis Mallmann
The Argentine chef on early inspiration, youthful rebellion, meaty domination and the tyranny of interfering waiters.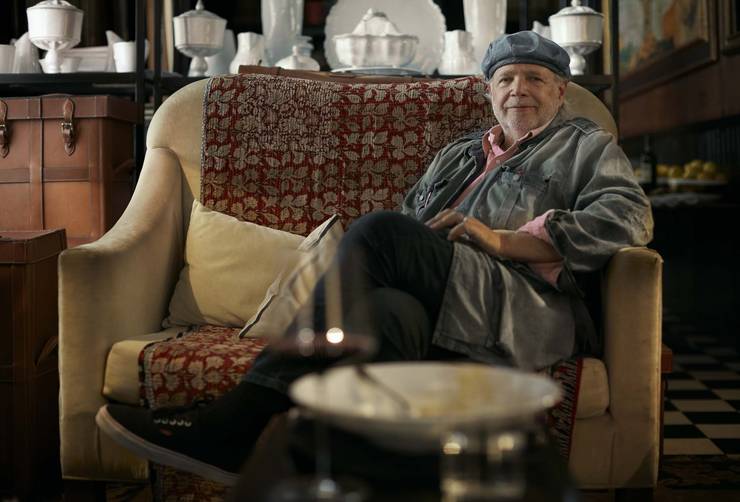 "My first memory of food is being invited to a lunch, aged nine, hosted by German baroness Ruth von Ellrichshausen in San Carlos de Bariloche – a dream. A beautifully laid table under a tree, flowers, classical music. I'll never forget it, not because of the food but for the scene.
I came into cooking due to the happiness a restaurant offers: you don't sit down to have a quarrel. I later realised that I also had to cook. Growing up in Patagonia we ate simple food such as stew or milanesas [schnitzel], nothing glamorous. Our dining room was important and the breakfast table was set immaculately; teatime was also notable as my mother was a good pastry chef and we'd sit down for cake every day. The whole house, from hot water to heating, was run by fire. We kids started it before breakfast.
My physicist father ran a postgraduate school so we frequently hosted scientists for dinner. I loved that joyful scene, beautiful silverware, musicians playing – and I was allowed to share incredible conversations with the grown-ups.
My first adventures in taste came from our beautiful Bariloche orchard. Our Russian gardener grew incredible aubergines, rhubarb and pears. From a young age I was attracted to the acidity of raw fruits, eating them green. I also ate bark – my parents hated that.
By 13 I was so rebellious I left home. At 16 I moved to California and learned to cook for myself. Two years later I opened Nahuel Malal in Bariloche with a friend. As chef I prepared a table d'hôte using my mother's recipes, such as her lamb pie; I also invented some disgusting dishes, like a pineapple and tuna omelette. My God. Looked beautiful, was totally disgusting. Poor people. I still make my pumpkin soup from those days, although it has improved.
I moved to France at 20, working at eight three-Michelin-starred restaurants. At Pavillon Ledoyen I was frozen in happiness because they dressed me in white. The chef, M Trousselier, was very nice but also confused: I was young but, as I'd owned a restaurant, he called me 'chef'. The two of us lunched together at 11.00 every day. He cooked but I had to make the green salad and vinaigrette. 'That's easy,' I thought. It took six months for him to say, 'It was OK today.' That was his big lesson for me.
While Argentines have learned to eat vegetables, we still don't know how to eat or buy fish. National dishes such as milanesa and ñoqui [gnocchi] are always in our thoughts. And, despite Argentina's economic woes, we'll always eat meat. It might turn out to be a cheap chunk of something but they'll save up to buy tira de asado for Sunday's barbecue.
In [the province of] Corrientes, though, they cook dorado fish; half grilled and half on the fire, fried with pork lard. It's to faint for. But meat dominates in South America: Brazil and Uruguay are the other big names. Chile also has some nice food gestures such as pebre tomato sauce, and at many restaurants we like to use the Chiloe Archipelago's ancient underground cooking technique for creating a dish called curanto.
I don't like big groups; eight is a multitude. I'm getting a bit grumpy – I'm 63 – and seldom go out, although I love dining with my children. I hate it when, during a beautiful conversation, waiters interrupt you with a message from the chef. I think: "Fuck off and let me eat." And I hate the concept of wine pairings because I prefer the contrast of tastes.
For this 'last lunch' I'd be inviting [the late author Jorge Luis] Borges. I'd especially love to talk about the two English-language poems he wrote – 'I offer you lean streets, desperate sunsets…' I'd also invite poets WH Auden and Seán Haldane, along with Coco Chanel, as I love fashion and am quite vain. Quite a literary lunch."
To eat:
Potato gnocchi a la plancha (seared) with sage
To drink:
Nicolás Catena Zapata, 1997
Venue:
Patagonia Sur is on a busy corner of gritty La Boca, an historic Buenos Aires port district steeped in nostalgia. Doubling as his residence and restaurant, the decor is unmistakably Mallmann: thick burgundy curtains theatrically frame windows and a suspended wood-burning "salamander" stove is the focal point. The black-and-white-chequered floor provides the air of a bistro but the low lighting, cosy setting and tasting menu elevate the experience.
Patagonia Sur, 801 Rocha;
Profile:
Raised in San Carlos de Bariloche in Patagonia, Argentine chef Francis Mallmann left home at 13 to become a DJ, opened his first restaurant aged 18, then moved to France to train in several Michelin-starred kitchens. He now brings his barbecue techniques to a wider audience on TV programmes such as La Ruta Azul, Los Fuegos and Chef's Table. He also heads up several feted restaurants around the world, dividing his time between Uruguay, the US, France and Chile, as well as La Isla, his Patagonian island home. The father of seven has penned six books including Seven Fires (2009) and Mallmann On Fire (2014).