HQ audit / Global
Hive of industry
Soundproofed chairs, high ceilings and yellow upholstery have helped Estonian newspaper 'Aripaev' turn a factory hall in Tallinn into a modern office for busy bees.
Housed in the grand former machine hall of a plywood factory, Estonian newspaper Aripaev is a media company with headquarters that match its ambitions. As the country's largest business and financial daily, its 50-strong editorial team covers stock markets, features entrepreneurs and investigates corruption, putting out a 16-page publication five times a week in Estonian and twice a month in Russian. As well as keeping the newspaper ticking over, the company's 230 staff run a radio station, events and a publishing house.
The listed concrete-and-limestone building once churned out something quite different though: plywood for everything from chairs to hat boxes, sold throughout Europe under the trademark Luterma. It is part of Tallinn's storied Lutheri kvartal (Luther quarter), a century-old complex of factories that belonged to a company founded by Estonian industrialist Alexander Martin Luther. Production was wound down at the end of the 20th century and most of the listed buildings have since been turned into bijou flats for upwardly mobile residents, giving the area a fresh lease of life.
The fabric of the building is protected so it was the job of Hayashi-Grossschmidt Arhitektuur (Hga) in Tallinn to restore it, patch up the crumbling concrete and replace the vast skylights in the pitched glass roof and floor-to-ceiling windows. Inside, the architects punched through the basement to create two floors at the back for Aripaev and three more at the front for start-ups. Aripaev, which celebrates its 30th birthday this year and is owned by Swedish media company Bonnier, spent several years looking for a space big enough to bring all of its employees together in the same room. The machine hall had been sitting unused for close to a decade so when it became available for redevelopment in 2015, the newspaper jumped at the chance to occupy it.
"Aripaev previously had a regular office over four floors," says Hannelore Kaaramees, interior architect at Arhitekt 11, the firm tasked with designing the office's interior. "People who worked in the same company didn't know each other. This was the main job for us: to make a comfortable communal space where people can come together."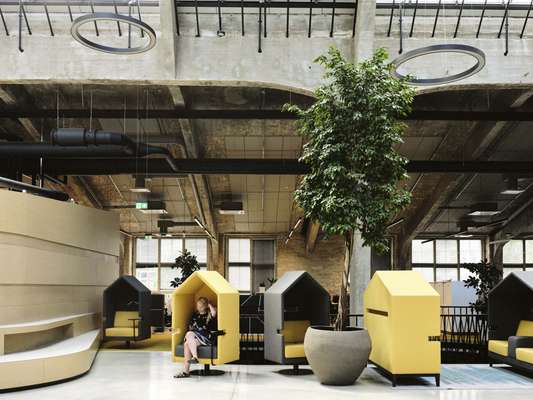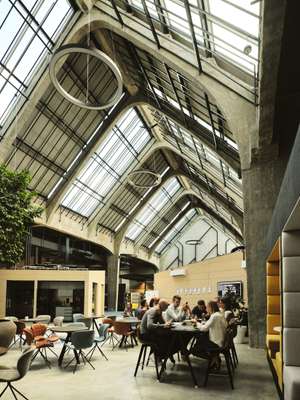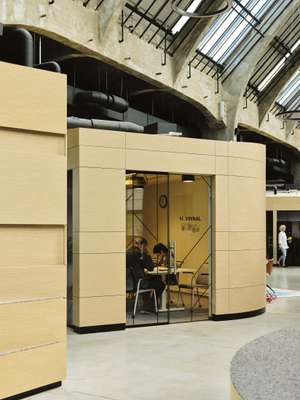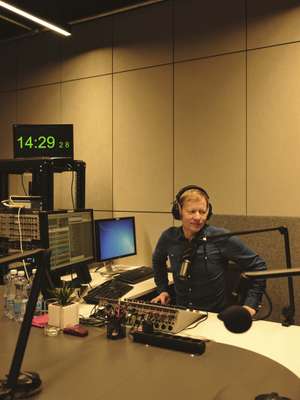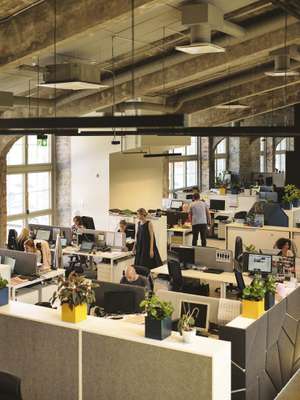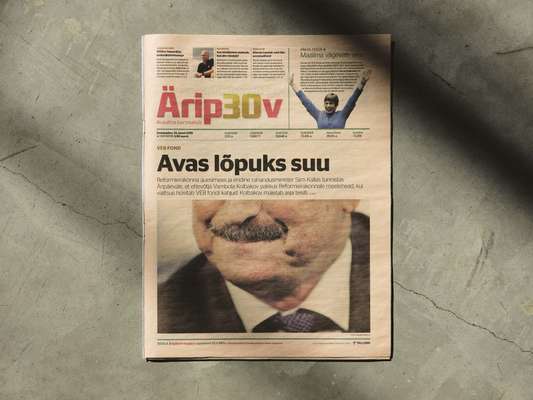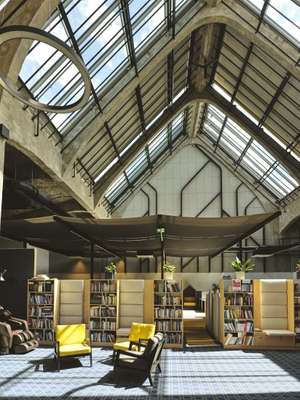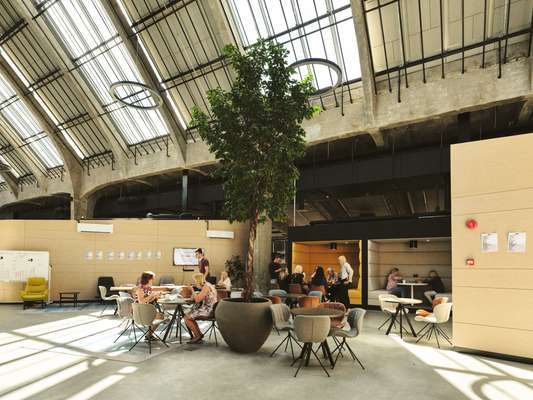 "This office is unique in Estonia," says Meelis Mandel, Aripaev's editor in chief, who adds that having different departments in the same space allows them to work together more efficiently. "We are very happy with the space."
The interior design
Turning down the volume
Employees occupy plain but functional workstations around the perimeter of the vast open-plan office. Their desks are lit by circular lamps from German industrial brand Lightnet that glow, like halos, close to the soaring glass roof. In the summer, however, there is more than enough natural light; almost too much, in fact. "It becomes a little like a greenhouse," says reporter Pille Ivask. To remedy this, Hga added specially designed panels to the glass roof to regulate the light and office temperature, while Arhitekt 11 devised an internal textile canopy to shelter those sitting directly beneath the glass roof.
The architecturally spectacular proportions also presented another challenge. "The echo was a big problem," says Tomomi Hayashi of Hga. "It is more like a church, a big open space – and everything has a hard surface." In response the architects placed wool panelling on the walls and Arhitekt 11 added sound-absorbing panels to table screens and office partitions.
Despite these innovative solutions, it's still not perfect. "Some people are more sensitive to the noise," says reporter Kristel Harma. "There are places where people think no one can hear them but actually everyone can hear them." To mitigate this, Arhitekt 11 brought in grey and yellow soundproofed chairs by Estonian company Borg that provide quiet nooks for phone conversations. It also designed bespoke padded pods – made by Estonian manufacturer Studio Seppe – for Aripaev's kitchen so that employees can chat without disturbing colleagues. The chosen colour scheme here is muted and a little corporate: all greys and blues, with dashes of sunny yellow in the upholstery.
'Aripaev' in numbers:
Launched: 1989
Monthly subscription: €30
Readership: 11,000 in Estonian; 2,500 in Russian
Radio audience: 25,000
Employees: 50 in editorial, 100 in telemarketing, 30 in ad sales and 50 more for other projects
Revenue (2018): €15m
Printed in: Tartu
Arhitekt 11 created multiple areas within the office. In a nod to the building's history, the kitchen at the centre of the office is encircled by standalone meeting rooms clad in plywood; one is even filled with pencils and toys for the staff's children. There is also a radio studio and a conference room on the floor below. "We have light, we have air and we can move around," says editor Rivo Sarapik. "We're free to choose where to work."
The vast space has also proven to be a boon for the company's bottom line. "We can do our work here but also run workshops and training for about 80 people," says Juhan Lang, who heads up the stock-markets desk and organises many of Aripaev's business conferences and training workshops – a key revenue stream. "The building supports the core business and we don't have to rent another venue for our events." There is also a library of business books for browsing and a cosy plywood-clad café on the ground floor, which serves Estonian breakfasts and hearty lunches of fish or meat with buckwheat, a local staple.
Employees also enjoy spacious shower rooms and eye-catching toilets; one looks like the surface of the moon. "It's an open-plan office so you can't be alone, except in the toilets," says Arhitekt 11's Kaaramees. "So we made a little joke."
Newspaper's new model:
In the face of a difficult global media landscape – and a reduction in income from advertising – Aripaev has diversified its revenue streams. Today some 11,000 subscribers contribute a third of its income but Aripaev also runs events; in addition it translates and publishes books, from business titles to the Estonian-language National Geographic. "It's really important to be practical," says editor in chief Meelis Mandel, who has worked at Aripaev for 25 years. "If you're profitable you can be bold and fearless. If you're in the red it's hard."