Destination: Switzerland / Switzerland
In pursuit of perfection
Think that all the best work is done in cities? A chef hitting the heights in a remote Swiss village is proving otherwise.
You know when you've arrived in Fürstenau: the cacophony of the city gives way to a soothing chorus of crickets accompanied by the sporadic clang of cowbells, with the smell of wild flowers filling the air. A slender church spire piercing the cloudless sky marks the centre of this centuries-old Swiss village in the canton of Graubünden, near St Moritz and the wine-growing region of Bündner Herrschaft.
Life here moves slowly – at least until you enter the kitchens of chef Andreas Caminada, who opened his first restaurant here in 2003. Inside, one intricate dish after another is prepared with clockwork precision. Caminada and his team wouldn't want to leave their guests waiting: some have travelled many miles – and even crossed borders – to dine in his three-Michelin-star establishment at the historic Schloss Schauenstein.
"I always wanted to run my own restaurant," says Caminada, who discovered his love for cooking early and gained his first experience in the kitchen of a nearby hotel at the age of 14. "The people were so friendly and international," he says. In the end it wasn't only the food but also the hospitality that won him over. He completed an apprenticeship at Hotel Signina in Laax and then worked at a number of lauded restaurants in Switzerland and abroad. Little did he know that he'd go on to become one of the youngest chefs in the world to be awarded three Michelin stars (with four restaurants and a fifth to follow, opening in Bangkok at the St Regis in autumn). In the process, he's also become an entrepreneurial hotelier.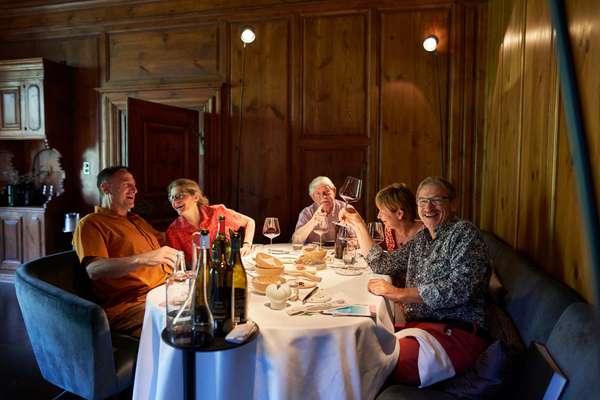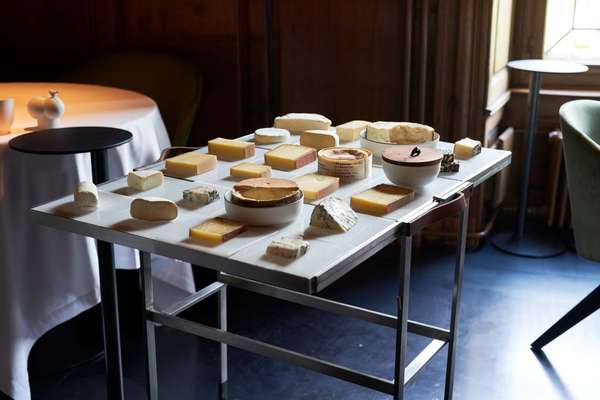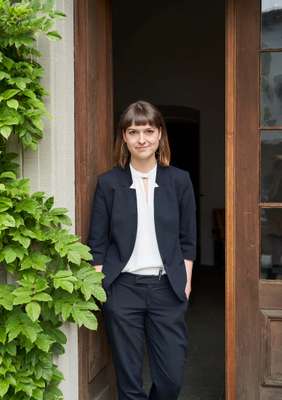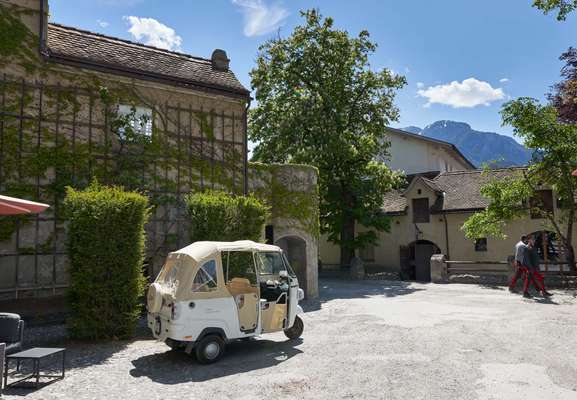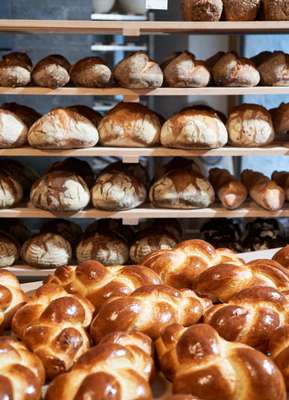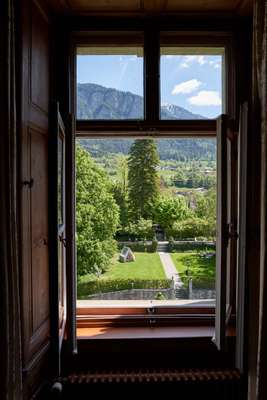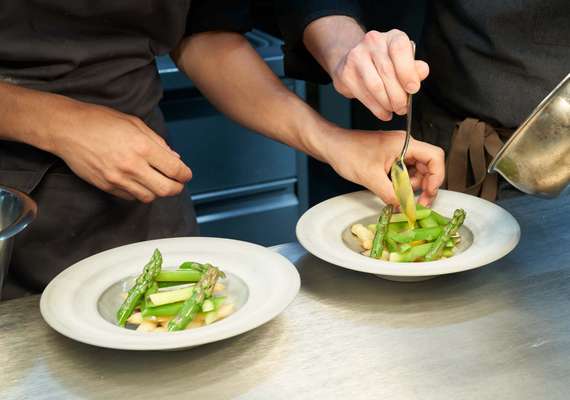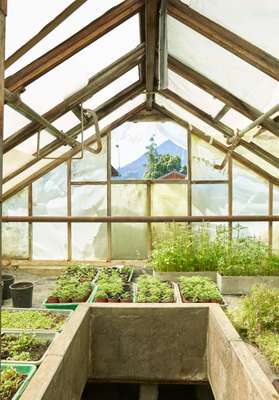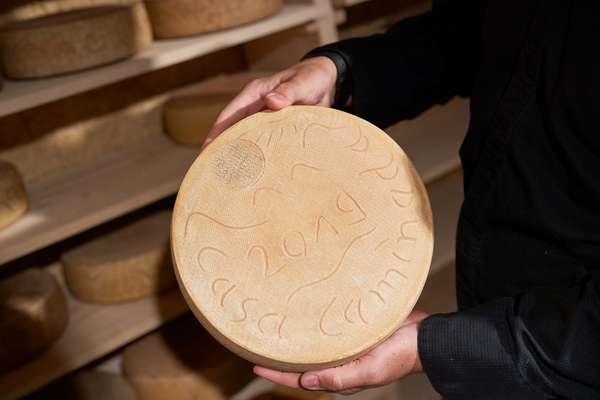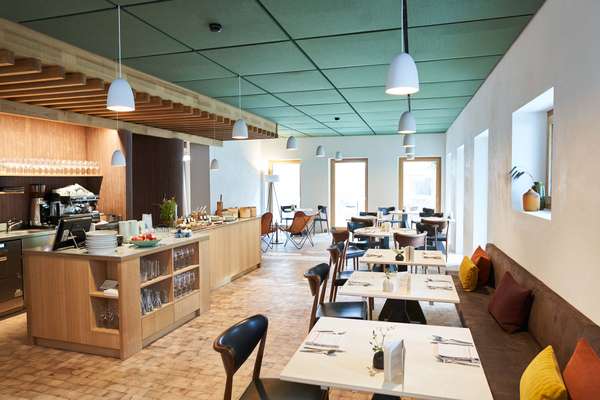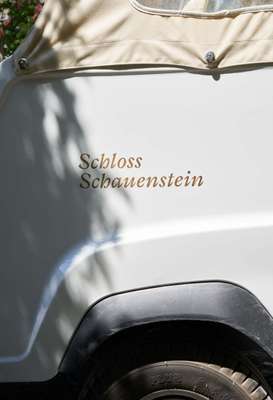 "We had nothing to lose," says Caminada of his decision to launch his first venture at Schloss Schauenstein at the age of 26. He grew up 20 minutes from Fürstenau and always had a soft spot for his home turf. "I knew I'd want to open a restaurant close to home because I was familiar with the region and its produce," he says. "I missed the mountains." Nonetheless he had reservations. "I wondered whether this valley would be a fitting destination but we went for it," he says. Caminada's approachable manner reflects the kind of hospitality his establishments offer: down to earth and inviting. We speak to him in a garden overlooking the castle, which dates back to 1670; birds are chirping in the trees and a couple can be seen exploring the property before retiring to Schauenstein for aperitifs.
"I'd dreamed of a Michelin star but it was never my goal; good hospitality was always our ambition," says Caminada. "We want people to feel at home here and offer a pleasant escape from the daily grind. I wanted to fulfil my vision." And he has: the ingredients, recipes, tableware and furnishings are all selected by Caminada to reflect his idea of creating a complete and authentic experience. He works and lives with his family at Fürstenau and wants his guests to feel at home too.
Some visitors book trips to this part of the world just to dine at Schloss Schauenstein – which was awarded 19 out of 20 points by Gault Millau – so having a hotel on the site quickly became part of the plan. But Caminada had more in mind for this quiet little community. The Schloss, with its nine rooms, couldn't meet demand so Caminada looked into opening a second hotel and restaurant on the castle's grounds. At the end of last year the 10-room Casa Caminada opened.
"I wanted to bring life back to the village, bring it back from its sleeping-beauty slumber," says Caminada of the new venture. He brought in Bündner architect Gion A Caminada (a distant relative) to transform two abandoned stables, a stone's throw from the castle, into a contemporary guesthouse that contains a more relaxed restaurant and a bakery-cum-shop. "The bakery is the heartbeat of the property," says the chef as he enters Casa Caminada. Inside, a baker is pulling one loaf after another out of a wood-fired oven, filling the shop with the comforting smell of freshly baked bread. "We want to celebrate craftsmanship. It brings villagers to us and has helped to rejuvenate the place," says Caminada.
Besides buns, the neighbourhood shop – there are too few of them here these days – sells homemade jam, regional sausages, freshly roasted coffee beans, tableware and other goods selected by Caminada. "I wanted to create something completely different from the castle," he says. "But it had to complement it." Rather than the French-inspired gourmet dishes on offer next door, the Casa's menu is homely. It includes a number of classics that Caminada grew up eating, such as maluns (scrambled potatoes) served with apple compote and Alpine cheese, capuns tatta (chard wraps) and pizzoccheri (buckwheat pasta) with ham and crispy onions. "These are things I like to eat myself," says Caminada. "They were traditionally served in farming villages such as this one but these days it's hard to find them well made. It's a simple regional cuisine."
When Caminada says "simple", it never is. The attention to detail here is not unlike that in the Schloss and the dishes unmistakably reflect the chef's tastes: sweet, salty, sour, bitter and fresh flavours complement each other beautifully. The recipes, not to mention the presentation, carry Caminada's signature style – kitchen chef Mathias Kotzbeck makes sure of that. "The taste is what matters most," he says. The secret to making these dishes well is the quality of the ingredients, which is why Caminada and his team are always on the hunt for the best seasonal produce. They've formed strong relationships with dozens of suppliers and planted their own vegetable patch; here they grow more than 30 herbs as well as fruit and vegetables, including juicy figs and tomatoes.
As Caminada enters the Casa kitchen to check progress, he can't help getting involved: he sprinkles a few freshly picked herbs here and there and samples a dish – then another. "I play sheriff," he says, munching on some cress. He lays out a fillet of char on a Reichenbach plate and garnishes it with garden radishes, turnips and watercress. Then he smiles at the team and excuses himself: he's needed back at Schloss Schauenstein. A waiter dressed in a smart apron designed by Le Nouveau Chef takes the plate from his hands and Caminada disappears into the night.
Setting the stage:
Since 2016, Caminada has been hosting the Fall in Love food festival in the castle grounds. The event brings together regional producers and chefs making the most of local goods, from fruit and vegetables to ice cream and wine. It's yet another way that the chef and hotelier is bringing life back to Fürstenau.