Roadtrip / Asturias
New wave
Northern Spain has long been overlooked by visitors and entrepreneurs but there's a glint of revival to be seen in its under-the-radar restaurants and inns. We pack a trunk for a roadtrip to meet the food folk doing things differently.
Asturias is a merry, mountainous principality perched on Spain's northern coast – and it has a voracious reputation. Hearty stews are served as starters. Those who finish cachopos – large crumbed veal fillets stuffed with jamón and cheese – are revered for their fortitude. Seafood is served in the same sitting as meat from animals that graze on the mountainside. And then there's all that excessive sloshing of cider and snacking on cabrales cheese. But rather than being a worrying sign of gluttony, the region's excessive meals tell a comforting tale.
This is a land where valley villages and small seaside communities meet; farmers and fishermen have exchanged their produce and catches for centuries. The result is a proximate and plentiful ecosystem that's proudly fed by a spirit of self-sufficiency. In an era where the food industry is adjusting by looking closer to home, this Spanish land of plenty stands as a reassuring reminder that the joys of eating don't always come from afar. Here there is no need to ship products from the ends of the Earth or sprinkle them with guilty pleasures. We venture from remote villages to quiet pockets along the coast to show you a band of entrepreneurs doing things differently.
Day 1
Las Arenas to Arriondas
We begin immersed in damp and darkness, inside caves of cabrales cheese. A zig-zagging strip of about 20 tightknit communities in southeast Asturias learned long ago that natural alcoves in the valley's rock formations acted as refrigerators, conserving and improving surplus cow's milk. The fortuitous presence of fungi aided the conditions that give birth to a rather potent cheese. Cabrales takes six months to mature – but production was fine-tuned generations ago. Cheese-making families still enjoy shared access to the hidden caves that act as subterranean co-ops and community larders.
One cave on the outskirts of Las Arenas doubles as a museum, with regular tours providing a historical context to the overpowering smell. But visitors can knock on any of the custom-fitted cave doors in towns between Asiego and Cangas de Onis to ask for a tour and taste test, or make a spontaneous purchase; many makers will happily oblige. Cabrales was awarded protected status in 1981 and this is now one of Europe's most concentrated cheese-making areas: more than 40 types of homemade cheese and 20 officially recognised varietals are made here. It remains a largely family-run sector and is a symbolic cornerstone of the values sprinkled throughout Asturias' food culture.
"In life you have to make your own way," says Javier González, the proprietor of Casa Poli, a tavern he opened in 1996 after renovating his family's near 200-year-old homestead. "People laughed at my plans for this restaurant," he adds, while welcoming patrons to its patio. "I was too far from the highway, they said." He is clearly chuffed by his success in putting the tiny township of Puertas de Vidiago on the map. The tavern has become a favourite of townsfolk and well-to-do weekenders hailing mostly from Madrid. It's early afternoon when we visit and only standing room is available. González notes down names, directs people inside to sup cider while they wait for a table and, once they are seated, never rushes his guests through a meal – big portions require lengthy sittings. Try the pastel de cabracho (a scorpionfish-based loaf similar to aspic), the house cachopo and the succulent and crispy calamari.
Though the emerald-hilled scenery suggests otherwise, Puertas de Vidiago is just a short drive from Llanes, a port that looks as though it has sprouted from the riverbanks. Stroll down to the harbour to watch the seafood auctions at the Lonja fisherman's market or quaff wine from the comfort of Bálamu, a laidback affair on the market's upper level, while watching vessels come and go.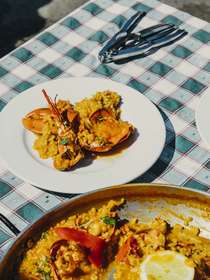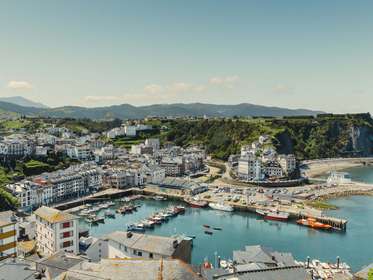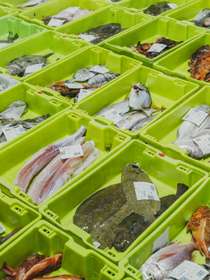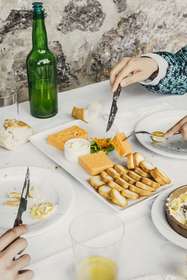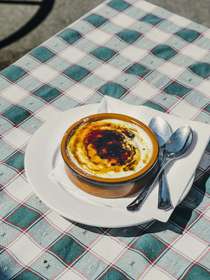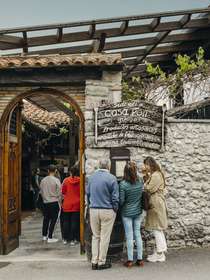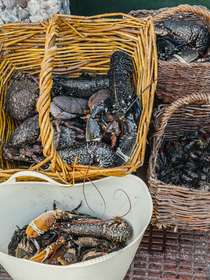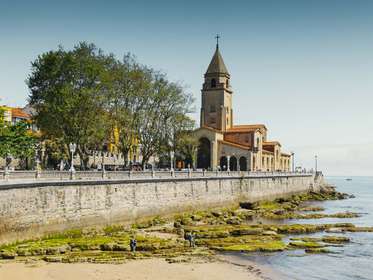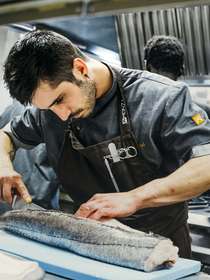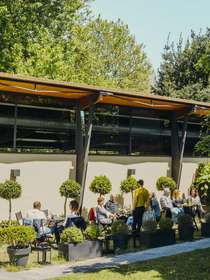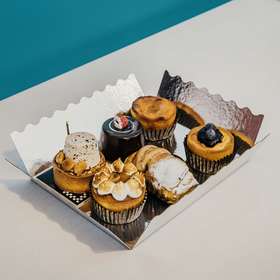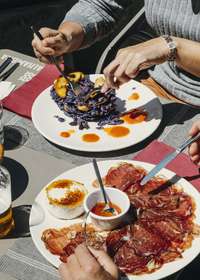 Head west and homespun traditions become more evident. La Huertona, a former family home near the town of Ribadesella, is an exquisitely detailed destination. Respected chefs Rosa Rui-Sánchez and José Manuel Viejo effortlessly blend stews, fresh grilled fish and succulent meat in one menu.
Further inland you'll find Casa Marcial. Though it has the appearance of an unassuming two-storey country house made from chestnut, the restaurant has been key to moving Asturian fare to a more wholesome place. The property has been in the hands of proprietor Nacho Manzano's family for generations; he was born upstairs and his father still patrols the gardens with a sturdy cane. Manzano began converting the house into a world-class restaurant when he was just 22. Asturian comfort food, such as tortas de maiz (corn fritters), was added to the menu and classic dishes, such as revueltos (sautéed vegetables with eggs), were reinvented. This is the kind of food that was once confined to grandmothers' kitchens. By serving it in his restaurant, Manzano nudged other chefs to embrace homegrown recipes. Despite its two Michelin stars, acclaim hasn't eradicated Casa Marcial's familial feel: Manzano's sister, Sandra, is the maître-d' and there is a distinct lack of pretension. "Asturian food culture is rustic, like an old man with lots of personality," says Manzano. "Our mothers and grandmothers probably played a part in nursing our healthy appetites too."
Leaving behind sleepy villages, we move on to the seaside city of Gijón. There are more distractions here, including the welcome refurbishment of a formerly derelict art deco highrise. The 47-room El Môderne hotel is the pride of Juan Silvestre García and his son Juan Antonio; they wanted to build a family legacy. "Travelling the world, I always dreamed that Gijón could have a hotel worthy of a world capital," says Juan Silvestre.
Gijón is one of Spain's most overlooked seaside spots but, as we look around, it's difficult to understand why. There's a smart esplanade with white sandy beaches, a sprawling network of chigres (Asturian bars) and La Laboral, a castle-like complex built on the orders of Franco that is now a university and cultural centre that hosts the lev festival, a celebration of digital art and music. Many of the region's youngsters settle here rather than in the stuffier regional capital of Oviedo; the opening of El Môderne promises to lure more visitors to Gijón.
Add some agrarian history to your own grazing with a visit to El Salgar. Headed up by Esther Manzano (Nacho's sister), it overlooks the largely outdoor Pueblu d'Asturias Museum, where you can learn about hórreos and paneras: grain-storage cottages on stilts, that dot the Asturian countryside. At the other end of the spectrum is Tierra Astur, a characterful chain of restaurants with six regional outposts that reflect Asturias' homegrown pride. On offer are 40 cheeses and a steady stream of cider, empty bottles of which are used to create a green canopy on the ceiling.
For sun, sea breeze and succulent fish, backtrack along the coast to visit the fishing village of Tazones, a hamlet with brightly coloured houses and a population of little more than 200. Pull up a chair at La Tortuga – perched next to the frothing ocean – where owners Patricia and Xícu will shift your table into sunlight or shade on request. Their hardy mother manages the kitchen; try her fabada de almejas (clam and bean stew) flavoured with parsley before a paella de bogavante (lobster paella), while supping cider in the spirit of the sailors who have stopped in this cove for centuries.
As the sun becomes less intense and shadows of cutlery and glassware lengthen across your table, it's time to get moving. Head east, bypassing Gijón, and you'll discover the rather gritty port city of Avilés. You might notice the curved buildings of the Oscar Niemeyer International Cultural Centre – a monument to the pharaonic delusions of past politicians – rising from the docks. It was built in an effort to emulate Bilbao, which used the Guggenheim Museum as a catalyst for urban regeneration. But many such projects in Spain lacked long-term vision; Santiago Calatrava's spacecraft-like shopping centre in Oviedo is another example. Gratuitous exteriors, such as those within this precinct by the Brazilian master, ring hollow thanks to a threadbare cultural programme. We avoid it and embellish our pit-stop with a visit to vintage cider house Casa Lin. The portside drinking hole's thirsty regulars start swarming through the doors at about 19.30, before the dinner crowds converge on the restaurant at the rear.
Continuing west, you could stop at picturesque spots along the coast, such as the fishing town of El Cudillero or the gaping cliffs of El Silencio Beach. On the other hand, you might want to head directly to the cosy confines of the Torre de Villademoros hotel on the outskirts of Cadavedo. The crumbling estate, bought by Manolo Santullano 20 years ago, opened as a 10-room hotel in 2000; there is also a multi-level suite in its sturdy watchtower, a library and spectacular coastal paths nearby. The in-house restaurant might encourage you to extend your stay: the hotel's owners cook for guests themselves.
The slower pace of life along the western swathe of Asturias has become a draw for young entrepreneurs seeking low-stress ventures. Among them is Paula Fernández Suárez and her partner Guzman Amago Castro, who took over El Casino Bar, an ailing roadside social club in Cadavedo, in 2018 and gave it a makeover – even bringing back board games. They also added a set menu, which changes daily, to their standard offering. Unusually in this land of abundance, it only features one dish – no three-course feasts here. There is also a vegan option; on the day we visit it is nido de lombrada con manzana (a nest of red cabbage and apple).
So why the reduced menu? "I simply noticed that a lot of people also like less," says Suárez. She happily sends ravenous traditionalists with their hearts set on a larger meal to other restaurants.
Elsewhere, 31-year-old baker Jhonatan González Ovalle converted the space under the hórreo at his grandmother's house into a kitchen and started selling sweet confections – banana-and-apple strudel and almond cake among them – from a makeshift shop inside her front room in 2012. The Pastelería Cabo de Busto – open from Wednesday to Sunday – attracts sweet-toothed patrons from far and wide; many sit in Ovalle's flower-filled garden to enjoy their snacks. "Desserts are meant to be eaten fresh, which is why I don't sell online," he says, pointing to the nearby orchard where he grows figs and raspberries destined for his fruit-filled creations. "I want people to enjoy the experience of coming to the bakery."
Repurposing homes is a recurring theme. The many period mansions built close to roads offered returning colonial-era tobacco and sugar merchants a means of flaunting their fortunes at home. Today many form part of the Casonas network of family-run bed and breakfasts. Villa Argentina near Luarca is both a humble 12-bedroom abode and a glimpse into the majesty of a bygone age. Luarca, in fact, is another postcard-worthy outpost ripe with potential. Portside restaurant El Barómetro – popular for its seafood stews – is nestled among several vacant spaces screaming out for new life. But given the surfeit of food stories we've encountered in Asturias, perhaps it's only a matter of time before the revival reaches this part of the region.
Putting Asturias on the map
From restaurants in converted homesteads to traditional cheese merchants, these are the places in which to eat, drink and sleep while on the road.
Casa Poli: Don't be discouraged by the famished crowds; make your way to the service table where proprietor Javier will usher you to the bar while your table is prepared.
casapoli.es
La Huertona: Views of fertile green fields make this well-heeled restaurant ideal for a leisurely lunch. Despite an inland location – about 2km from Ribadesella – the speciality here is seafood, such as angulas (baby eels).
restaurantelahuertona.com
Casa Marcial: Chef Nacho Monzano is clearly at home in this converted homestead, which is brought to life by his playful renditions of classic cuisine and his staff's caring charm.
casamarcial.com
Fundación Cabrales: The pungent power of cabrales cheese isn't the only cultural commodity on show during this cave tour: you'll get to know the stout-hearted Asturian character of the larger-than-life guides too.
fundacioncabrales.com
El Môderne Hotel: Inaugurated in 2018, this restored art deco highrise is now an independent hotel that adds glamour to Gijón's charm.
elmodernehotel.com
Tierra Astur Sidrería: This chain doesn't dumb things down: there's a hefty menu and regular music. It's a reliable option for anyone wanting to delve into the regional food culture.
tierra-astur.com
La Tortuga: This Tazones restaurant has been popular with those in the know for three generations. Order the flambé rice pudding for dessert.
latortugatazones.com
Casa Lin: If you want the true, no-frills Asturian ciderhouse experience, Casa Lin is as unassuming and welcoming as they come; even the sawdust strewn across the ground defies recent government regulations.
sidreriacasalin.com
The Coffeest: Leandro Santamarina added this fresh serving to the otherwise poor coffee panorama by opening this speciality coffee shop inside the Áviles market.
Plaza Hermanos Orbón, Stall 15A
La Colosal: Spain's ultramarinos – traditional one-stop shops for meat and groceries – are fading away. But this 90-year-old outpost in Áviles stills serves tasty bare essentials – and plenty more. Useful for the road ahead.
6 Calle San Francisco
Hotel Torre de Villademoros: A grandiose manor from the outside that becomes a modest homestead inside. Borrow one of the bikes to explore the rugged coastline.
torrevillademoros.com
Hotel Villa la Argentina: This manor is run by a married couple and contains period furniture, original painted ceilings and the tranquil surroundings of a well-manicured garden.
villalaargentina.com
Pastelería Cabo de Busto: Petunias, pansies and camellias surround this cottage-cum-bakery. Pastry chef Jhonatan González Ovalle prefers natural ingredients over artificial sweeteners. The tarta de Asturias is his take on the region's "official" cake.
Busto, Luarca
El Barómetro: The often overlooked seaside town of Luarca is home to this rustic institution specialising in seafood stews and fish sourced from vessels berthing just metres from its tables.
5 Paseo del Muelle, Luarca
El Casino Bar: One of the few outings bucking the trend for indulgence, this former social club offers a singular daily dish instead of an excessive three-course menu diario. Enjoy it on the sun-soaked terrace.
Calle Curion, Cadavedo