Travel round-up / Global
Take your pick
Do you fancy a 19th-century palace in Porto or a 1920s office building in LA? All bases are covered here.
Torel 1884, which opened in Porto earlier this year, is set in an elegant 19th-century palace that was a bank in a former life. Some clever thinking by its trio of young owners means that its original features – five-metre-high ceilings, a grand staircase and elegant crowning skylight – have been retained and enhanced rather than sacrificed for maximising the number of rooms. "We made a conscious decision to respect the building and give guests plenty of space; we want people to feel they are in a private palace, not a normal hotel," says Torel Boutiques partner Ingrid Koeck.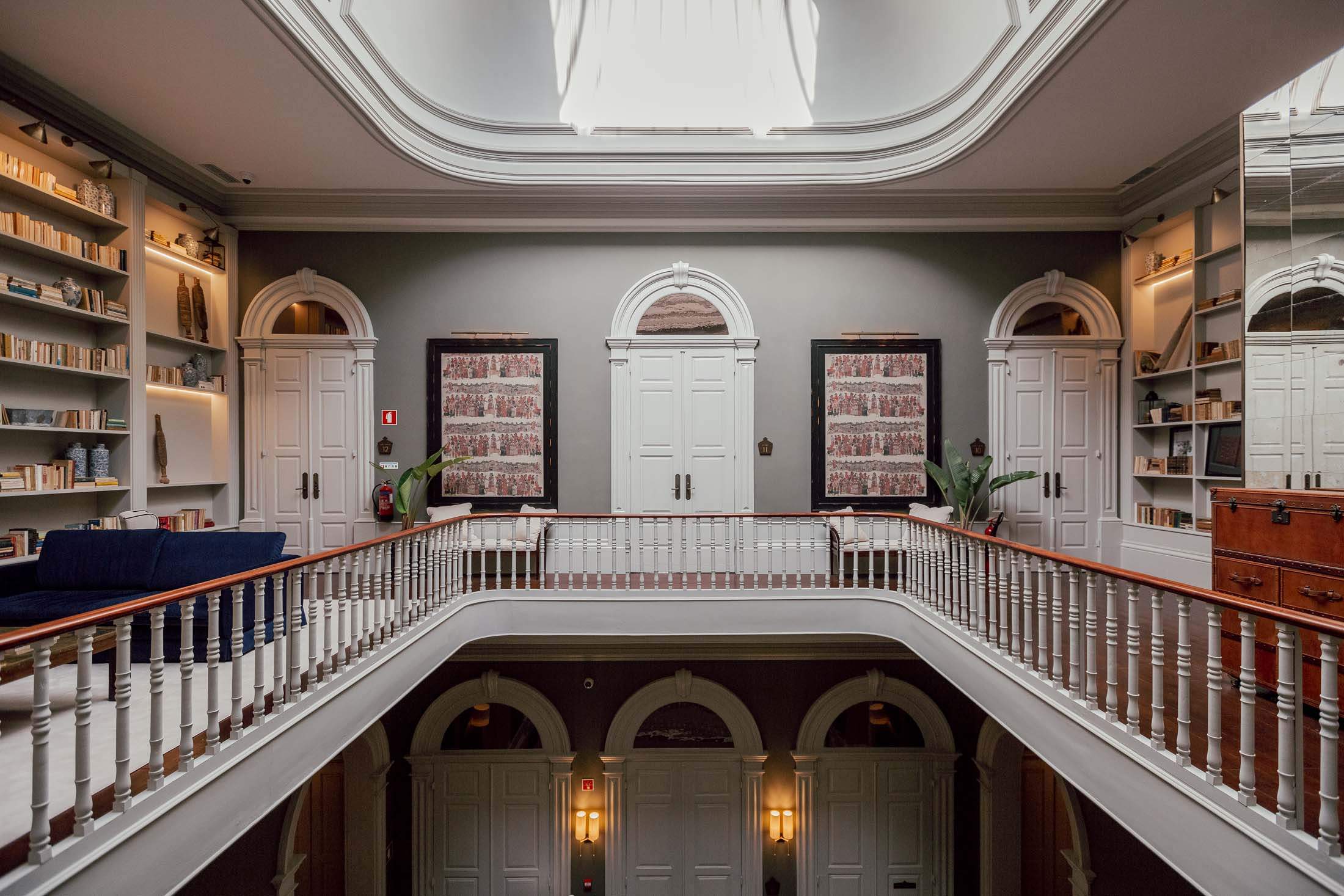 Located in the heart of the city, the hotel is only a three-minute walk from São Bento Station, five minutes from the riverside and a few steps from the pleasant pedestrian street of Rua das Flores. It has just 12 guest rooms whose historic elements, including granite lintels and wooden floors, are complemented by contemporary details such as handmade curtains, linen cushions, jute rugs and velvet sofas. On the top floor, the guests-only library (which is replete with an honesty bar), makes a bright and welcoming spot to while away an hour or two.
torelboutiques.com
---
The Pig at Bridge Place
Canterbury, UK
"We were trying to deformalise the experience of country-house hotels," says hotelier Robin Hutson of The Pig group, which he founded with his wife Judy in 2011. The Pig at Bridge Place is their sixth and latest opening. Less than an hour from central London and close to the coast, the redbrick property hosted rock legends such as Led Zeppelin back in the day; today it's a rural retreat.
"We grow our produce – and what we can't grow we source within 25 miles," says Robin, adding that they keep their own quails, hens, pigs and sheep. (With that in mind, the venison – paired with a glass of Biddenden gamay noir – is well worth a try.) His brand of hospitality is about "the spirit of generosity, about not having too many rules. It's about anticipating guests' needs and having a relaxed environment, as well as friendly staff. There's not a lot of pomp and ceremony in our hotels."
That's what sets The Pig at the Bridge apart: it feels like coming home. Each room is unique and furnished with vintage and found pieces. Hutson's favourite is the Hop Pickers' Hut, built on stilts along a boardwalk adjacent to the Nailbourne Stream.
thepighotel.com
---
"It has always been important to figure out how to do things differently and invite people in," says Joachim Kornbek Engell-Hansen, design and brand director at design company Menu. He's also been integral to the creation of The Audo, which opened in Copenhagen this spring and combines Menu's new HQ with a hotel, café, shop and workspace, designed in collaboration with Norm Architects. "It's more about the person coming in than the furniture; that's why we didn't want to call it a showroom."
At the hotel, the 10 guest rooms are furnished with Menu designs – from sofas to shelves – and will be restyled every six months to showcase new pieces. Breakfast is served in the café on the ground floor, which also pulls in locals. "We want our guests to feel more at home than at a hotel," says Engell-Hansen.
theaudo.com
---
Santa Monica Proper Hotel
Los Angeles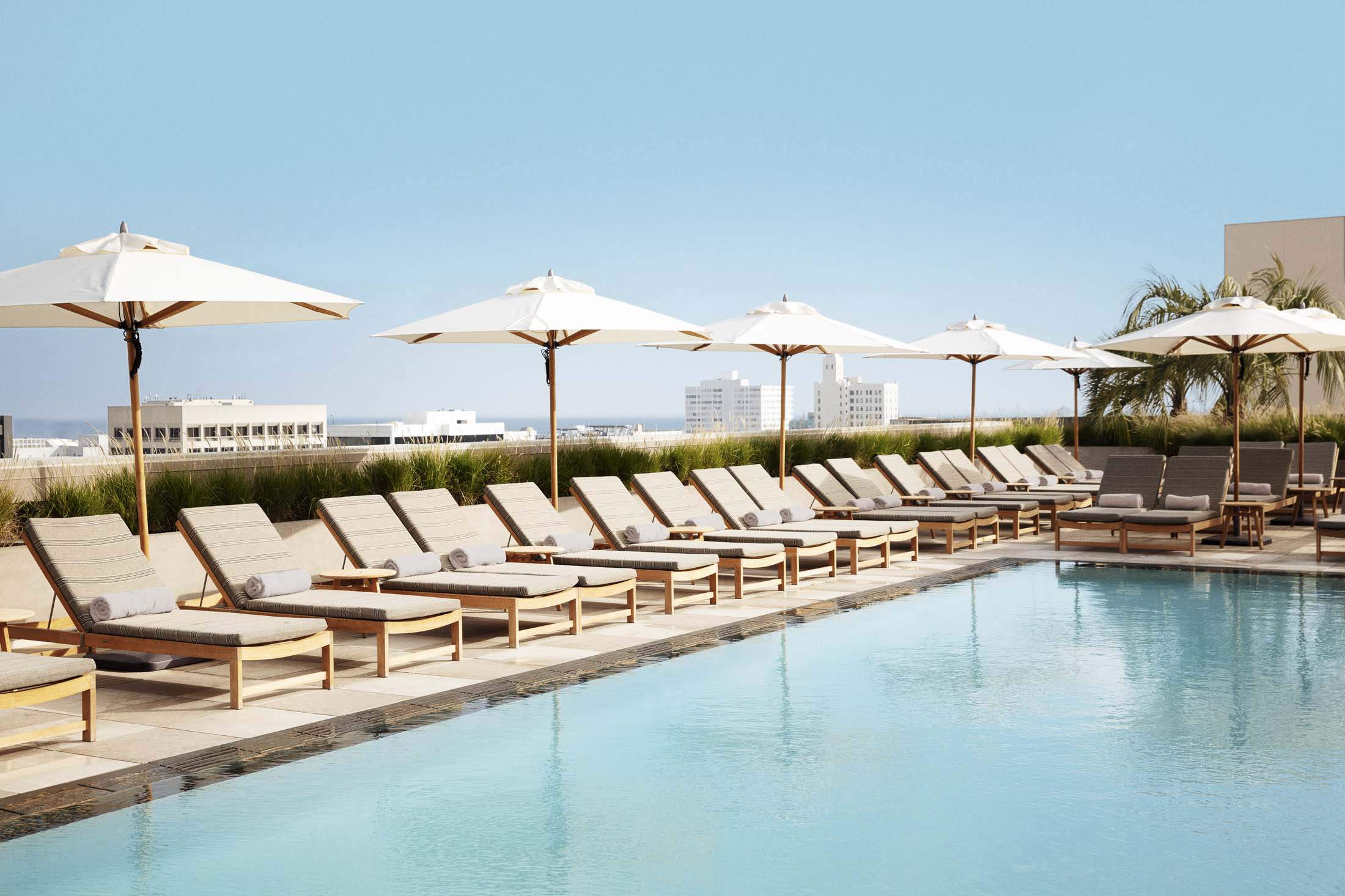 A sensitively restored 1928 office building, designed in the Spanish colonial revival style, forms the backbone of the new Santa Monica Proper Hotel, a 271-room retreat with a communal sensibility. The landmark building, slightly removed from crowded Ocean Avenue, contains 55 of the hotel's rooms; the other 216 are spread throughout a sleek new concrete structure that almost covers an entire city block.
"It's unheard of, in a place like Santa Monica, to have that much land to do something with," says Brian De Lowe, president and co-founder of Proper Hospitality. The property has abundant outdoor spaces and its interior – marble arches, madala-esque wooden floors and Venetian plaster – was designed by Kelly Wearstler to create a homely atmosphere.
The aptly named Palma lounge makes you feel like you've arrived in a small coastal glade somewhere in Mallorca, with towering potted palms and wide russet-leather sofas. Indeed, the Mediterranean influence extends upstairs to Calabra, a lush rooftop oasis where houmous and octopus salad are served poolside. Ground-floor restaurant Onda, helmed by Jessica Coslow and Gabriela Cámara, has more of a Mexican-Californian flavour and is sure to become a neighbourhood fixture.
properhotel.com
Q&A
Karen Roos
Founder and hotelier,
Babylonstoren, South Africa, and The Newt, UK
South African hotelier Karen Roos is bringing her hospitality know-how to Somerset, where The Newt will open at the end of August. Just like at Babylonstoren, her hotel in the South African Winelands, the idea is to create a rural escape.
How does The Newt compare to Babylonstoren?
Both are grounded in large gardens and serve food from farm to table – but there any similarity ends. Babylonstoren is anchored in its history over three centuries as a Cape Dutch wine farm. The Newt celebrates all things Somerset: Georgian limestone buildings, cider and cheddar, but also deer and meadows. All this set within Hadspen House and its Stable Yard, with a spa, indoor and outdoor pools, two restaurants – with a bar – and 23 bedrooms.
What sets your hotel apart from other country houses?
We revel in the local. The hotel is an ode to the county with a focus on sustainability. Everything stems from a deep respect for the land, its animals and its environment, as well as a passion for horticulture and agriculture. Visitors will be able to explore the cultivated gardens, ancient woodland, orchards, cider cellar and farm shops.
There's also something new to explore at Babylonstoren: tell us about the recently opened Fynbos cottages.
With a reference to the sturdy Cape dwellings of the 18th century, the six new cottages are the definition of restrained luxury. They overlook water, mountains and two thirds sky.
thenewtinsomerset.com; babylonstoren.com
Japanese proprietor Ryo Kobayashi opened his first Fylgdu Mér ("follow me" in Icelandic) restaurant in Fukuoka, serving farm-to-table fare, two years ago. This spring he expanded the concept with a new location in Osaka: a three-storey building with a restaurant, spa and guest room.
The atmospheric interior, designed by Teruhiro Yanagihara Studio, has mud-and-charcoal walls, clay tiles and unvarnished wood furniture. While the restaurant and spa are open to the public, the hotel room on the top floor is a private refuge for up to two people. Overnight guests have their own massage room, wine cellar and customised menus for an intimate and relaxed stay. What a treat. fylgdumer.jp
Turn up trumps
By Josh Fehnert
About this time of year my inbox begins to groan and my phone to flicker with messages from readers, friends and the vaguest of acquaintances, all demanding inside scoops to get the best out of their next trip. "Where should I stay in Singapore?" someone asks. (The Warehouse Hotel, I may suggest.) "What's the best place for dinner in Madrid?" asks another. (Taberna Carmencita, I might say.)
Recently, however, I found myself at the Blique by Nobis hotel in Stockholm's Vasastan. Having not been to the area in years I realised that a few rules of thumb on how to find great places can be as useful as a guide itself. So here are a few tested do's and don't-bothers for discovering a new 'hood.
Ignore online reviews. A bank manager or a rival restaurateur clattering out a few glib witticisms about their dinner doesn't guarantee a great feed.
Once you've found somewhere, make the call. On occasions I've seen websites listing a restaurant as full but a sunny voice on the other end of the phone contradicts it to say a table has just become available.
Ask around. Press the waiter, chef or barista for recommendations. It's their patch after all so they'll know the new café or gallery before the "influencer" crowd has ruined it.
Go with your gut. If the hotel or restaurant looks grubby, over-lit or empty, or is disgorging crying customers, then it's probably not up to its billing. Ditto if it's solely geared up to look good on a screen.
Get lost. The discoveries that stick with us are the serendipitous ones: the mid-century furniture shop beneath the vacant showroom or the smart cocktail bar tucked down a seemingly dead-end road.
Finally, take all tips (including mine) with a pinch of salt. What the best restaurants and hotels are realising is that most of us are looking to discover places we haven't heard of yet.