Museum / Turkey
Art of the possible
Kengo Kuma has designed a new museum in Turkey that is aiming to put locals in the frame.
A new museum with ambitious Japanese architecture in a historic city that few people outside Turkey have heard of, in a nation where locals don't visit cultural institutions: if ever there was a test case for the Bilbao effect, it's here in Eskisehir, between Istanbul and Ankara. But Odunpazari Modern Museum (Omm), which was funded and built by construction billionaire Erol Tabanca and designed by Kengo Kuma and Associates, varies greatly from the Basque Guggenheim.
The design of this contemporary-art museum responds gently to its environment and the needs of its visitors. Formed of carefully stacked cubic volumes enmeshed in warm pine beams, the building embraces the historic neighbourhood in which it sits rather than fighting it for primacy. "It was crucial that the museum reflected the social and cultural history and fabric of the city, and resonated with its inhabitants," says Tabanca, whose construction firm Polimeks delivered the project.
A passionate art collector, Tabanca has brought on his daughter Idil, a former culture-magazine publisher in New York, as creative director. Her commissions of young international artists will offset the contemporary Turkish works that her father's museum will house permanently; selections for the September opening included an immersive interactive work by London art collective Marshmallow Laser Feast. She admits that success for Omm will be tough: it's estimated that 70 per cent of Turkish people have never visited a cultural institution. But, she says, the museum's inviting design will encourage residents of Eskisehir, a university city known nationally for its cultural clout, to take ownership of the museum. "Institutions like this have a responsibility to introduce certain things to people," she says. "We want to be the catalyst for new ideas and we want people to come here and feel like they are at home. In Turkish the highest compliment you can give someone else's place is to say, 'I can live here.' We want people to have that reaction when they arrive."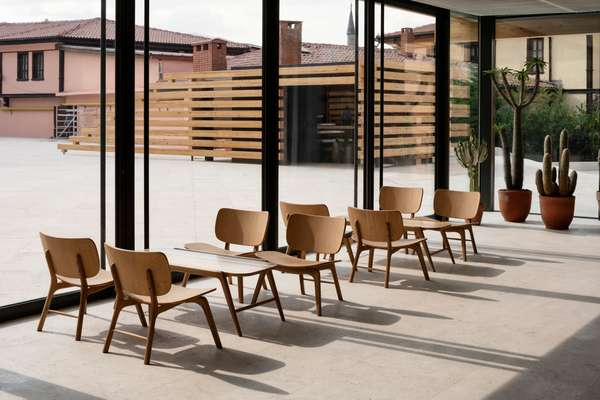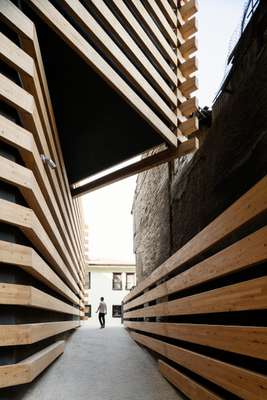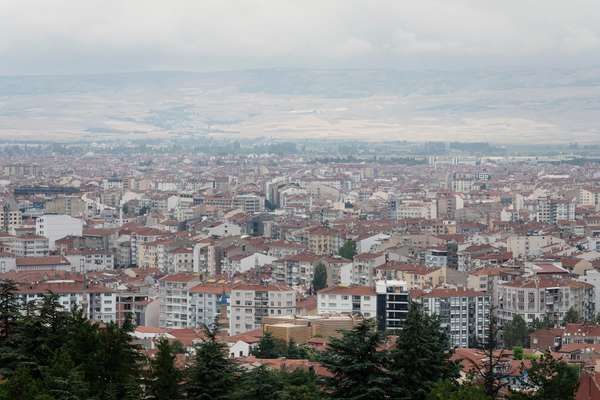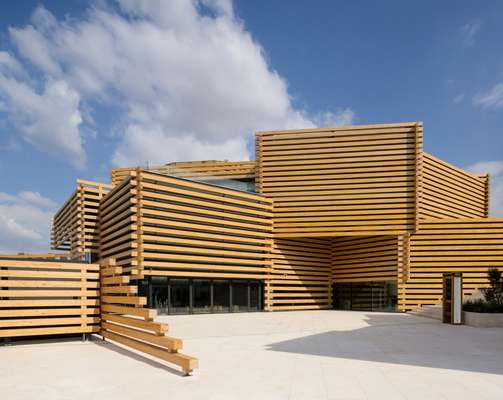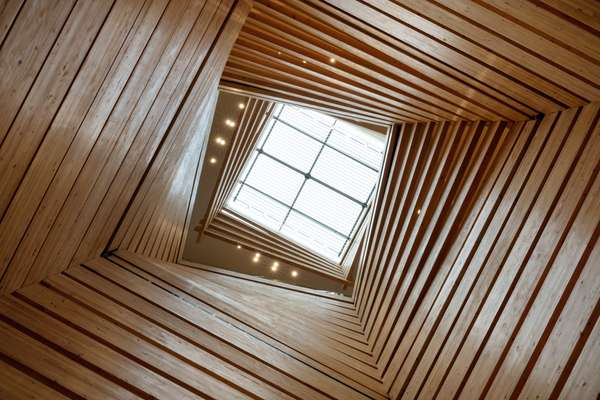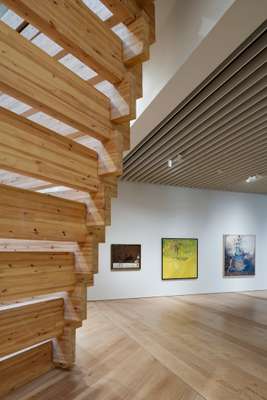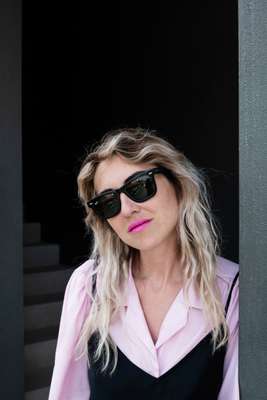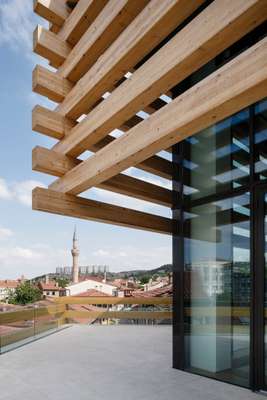 Homeliness is rarely a characteristic of contemporary-art museums but Omm's generous public spaces and warm wooden architecture encourage visitors to linger. "Museums are a refuge in which to reflect and reconnect with daily life," says Kuma of the building, which stands at the centre of a former Ottoman timber-trading district – today a tourist attraction. "Museums are not just spaces dedicated to artwork and objects but living rooms for communities where anyone can gather, even those not interested in art."
The design was led by architect Yuki Ikeguchi, Paris-based partner at Kengo Kuma and Associates. She drew inspiration from the rich culture and architecture of the Odunpazari district, particularly the styling of neighbouring timber buildings with their cantilevered storeys – designed to provide shade – and rugged exposed timber beams. "At two or three storeys high, the wooden Ottoman architecture surrounding the site on this meandering street works on a very human scale," she says. "Our architecture mirrors these buildings and their rotations so if you're walking on the street the experience remains on a very nice scale. Obviously the volumes, which compose the exhibition spaces on our building, are larger but they work in harmony with the houses."
Historic city:
Sitting between Istanbul and Ankara, Eskisehir is known in Turkey for its respectable universities and proximity to ancient ruins. Its Odunpazari district appears on Unesco's Tentative list of Intangible Cultural Heritage thanks to its roots as a timber market in the Seljuk and Ottoman periods. The city is having a renaissance under mayor Yilmaz Buyukersen. He has cleaned up its canals and made preservation of Odunpazari's historical buildings a priority. He also owns a popular wax-figurine museum in the district.
Inside, Omm is a more Japanese affair. The interior design showcases the timber-engineering mastery for which Kuma buildings – such as the new Victoria & Albert Museum in Dundee, Scotland, and Tokyo's upcoming Olympic Stadium – are renowned. A staircase at the entrance fans down to the lower-level galleries, doubling as a seating and play area for children. It overlooks a timber-and-concrete café with refined wooden furniture designed in Japan and manufactured in Eskisehir. At the building's core stands an undulating chimney-like timber structure that rises from the basement to the roof and cleverly filters light. Ikeguchi says that the effect of "allowing light to leak into the building in a soft and indirect manner" creates a calm and contemplative atmosphere for appreciating the art and architecture.
Omm's precise engineering is made all the more impressive by the fact that it was carried out by Erol Tabanca's firm Polimeks, more akin to working on airports and major infrastructure projects not museums. "Working with Turkish craftsmen, as opposed to those in Japan, has its differences but there are certain similarities," says Kuma, who notes that the hands-on nature and respect for the site in Turkish building resembles that in Japan. Polimeks' lead team travelled to Tokyo to learn about Japanese construction culture. "It was a challenge to find common ground," says Ozay Yakak, construction co-ordinator at Polimeks. "But at a certain point it clicked and a great collaboration was created." This entwining of cultures through design is a welcome addition to Eskisehir.
Touring the Odunpazari district's small museums and shops dedicated to glassblowing, woodworking and the craft of working with meerschaum (a malleable material drawn from the Black Sea), it's clear that many here would benefit from an influx of international visitors. District mayor Kazim Kurt says that everyone is ready for the thousands of tourists from Japan and elsewhere already booked to visit the new cultural site. "Omm adds another level of creativity to the city," he says. "Even people who don't want to visit the museum will come to view its design as it is a masterpiece. It will cultivate the whole neighbourhood."
Idil Tabanca will also help to cultivate the district by challenging its many makers to create more contemporary objects Omm's retail offering. For her it's the museum's unique qualities that make it memorable. "Being in untapped territory is what makes it so special," she says. "It's so unpredictable to have a structure like this here. And that is the point of art anyway: making people ask, 'What is it doing here?' It is disrupting something and that is what makes it exciting."