Have the city to yourself / San Francisco
Cities at 7:00: San Francisco
San Francisco is relatively quiet before 08.00 so rise early to run, cycle or surf – and see the best of what the city has to offer.
San Francisco isn't a city that rises early. In the golden morning light, the city is quiet. Its white Victorian homes and their pristine lawns shine against the backdrop of rolling hills. The streets are empty save for an occasional jogger or dog-walker. Only by 08.00 will the pavements be abuzz with people; until then one has the sense of being the city's sole occupant.
At least the bakers, collectively one of the bedrocks of the city's food scene, wake before dawn. Bakeries offering pastries and fanciful toast experience long queues all day but in the morning hours, while the software engineers are still asleep, you can walk in and have a fresh-baked treat in hand within seconds.
As the commuters leave the city for Silicon Valley and the bankers report to work in time for the opening of the US stock market, the city's scenic destinations are left open for runners and cyclists, and surfers who want to catch a wave before breakfast. San Francisco is surrounded on three sides by water, which creates an ideal setting for outdoor-sports enthusiasts; it also brings brisk winds that naturally cool the city. But in the morning the air is still and, if it's sunny, the warmth lingers. Uninterrupted blue skies are emblematic of California's coveted way of life. They are rare in San Francisco, which is often veiled in fog, so it's a wonder that many residents sleep through them.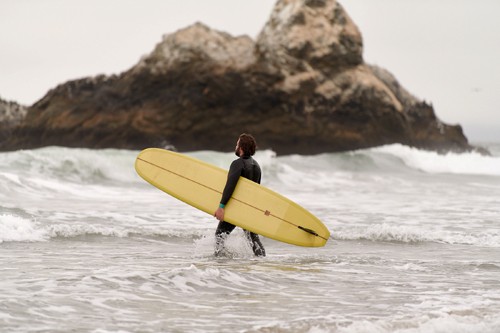 SURF: Ocean Beach, Outer Sunset: This beach break is one of the most challenging in California. Paddling out beyond the ice-cold whitewater requires peak fitness but for surfers craving big waves it's worth the exertion. Those who are devoted enough to surf Ocean Beach have the discipline to get out at sunrise; if the swell is good, the beach will be deserted but expect company in the water. Boards are available to rent at Aqua Surf Shop on Judah Street.
nps.gov/goga
BREAKFAST: Andytown, Outer Sunset: Opened by Blue Bottle alumnus Lauren Crabbe and her husband Michael McCrory, Andytown is an institution. Try the snowy plover, the café's signature drink made from espresso, San Pellegrino, brown-sugar syrup and whipped cream.
andytownsf.com
2.
Going through the gears
CYCLE: The Embarcadero, North Beach: Early morning is the only time to visit Pier 39: at this hour the waterside attraction feels like a closed theme park. Cycle southeastward, along the city's landmark waterside route. There will be minimal traffic and you'll be hours ahead of the notorious gusty winds. Pay a visit to the famous sealion colony as they wake with a yawn and catch the morning rays.
pier39.com
BREAKFAST: Cuesa Farmers Market, Ferry Building: The Embarcadero stretches to Oracle Park (formerly at&t Park) but the Ferry Building is a natural pit-stop. On Tuesdays, Thursdays and Saturdays the transit hub hosts a farmers' market. Visit Vive la Tarte to try a tacro, a croissant shell stuffed with Mexican filling; pair it with a brew from Sightglass Coffee.
ferrybuildingmarketplace.com
RUN: Lands End Trail, Outer Richmond: Venture out to the city's northwest corner for this 4.8km cliffside hiking trail. Begin on the west end overlooking Sutro Baths, the ruins of a European-style bathhouse built in the 1890s, and head eastward. In the morning the noises of city life are replaced by the sound of waves crashing below and the smell of eucalyptus. Finish at 32nd Avenue for views of the Golden Gate Bridge and Marin Headlands. nps.gov/goga/planyourvisit/landsend.htm
BREAKFAST: Marla Bakery, Outer Richmond: Head south to Balboa Street for breakfast at Marla Bakery. Take a seat inside to watch loaves of bread come out of the oven or if the sun is shining, take advantage of the little-known back yard. Order a bagel plate with cheese, smoked trout and assorted pickles.
marlabakery.com
---
STAY: San Francisco Proper Hotel: A welcome newcomer to San Francisco's hotel scene, the Proper Hotels outpost features interiors by Kelly Wearstler, a work-friendly lounge and rooftop bar.
properhotel.com