Shopping / Global
Coat tails
Whatever the weather, dogs and their owners have to get out and take the ruff with the smooth. And while one of the joys of four-legged friendship is having those rainy streets to yourselves, cosy canine outerwear makes for a more waggish companion. We've taken the lead with some fetching looks.
Avoid a chilly whippet this winter. This colourful fleece number is from Wagwear, a brand founded by former model Amy Harlow, who swapped the catwalk for the dog park.
wagwear.com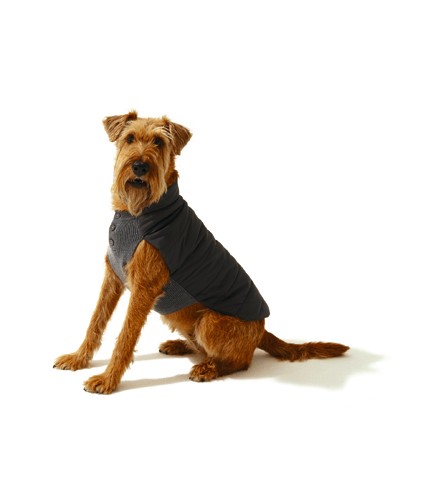 UK brand Mungo & Maud's neatly designed Beetle coat has a soft merino-wool vest on the underside and a snug, quilted puffer layer on top.
mungoandmaud.com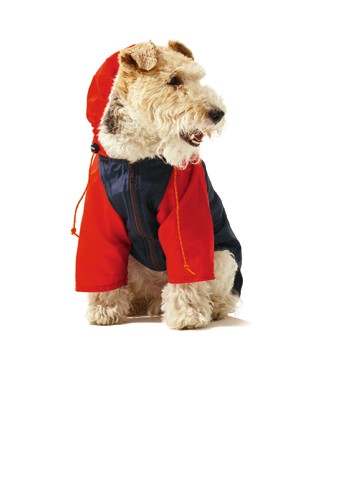 Protect your pooch from the elements with this enviable nylon rainbreaker with raglan sleeves. A nifty hood adds urban smarts for city dawgs.
wagwear.com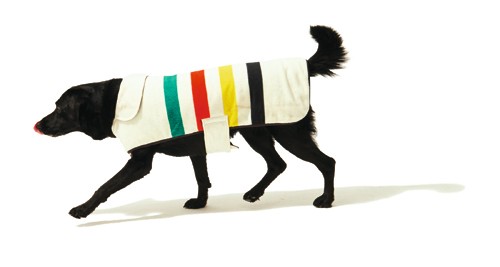 This cosy fleece features a quilted underside and comes in the traditional US National Parks stripes. A percentage of the price goes towards National Park Foundation restoration projects.
pendleton-usa.com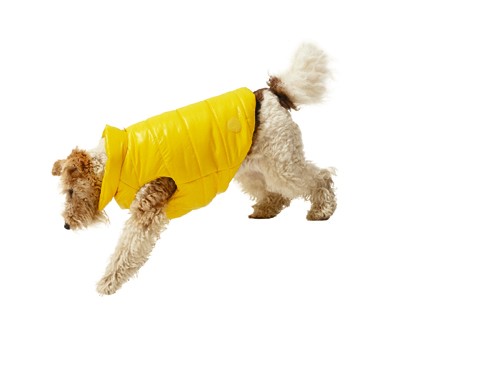 Match your mutt with these scaled-down versions of the Italian brand's trademark puffa jackets. They have been dubbed the Mondog and come in a range of colours and sizes.
moncler.com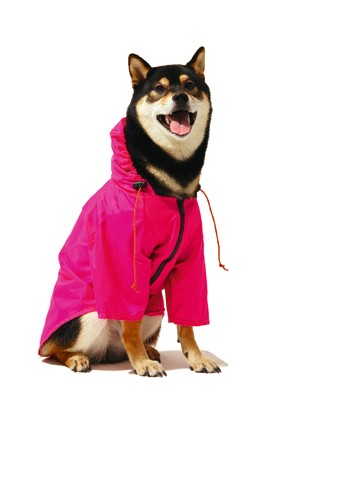 Dress your pooch in this boldly coloured zip-up nylon raincoat and you'll never again miss him zipping off in hot pursuit of a faster – and, let's face it, smarter – squirrel.
wagwear.com
Former Moncler creative director of window design Maurizio Azzimonti founded this Italian brand. The transparent mackintosh lets your furry friend's true colours shine, even on the rainiest days.
poldodogcouture.com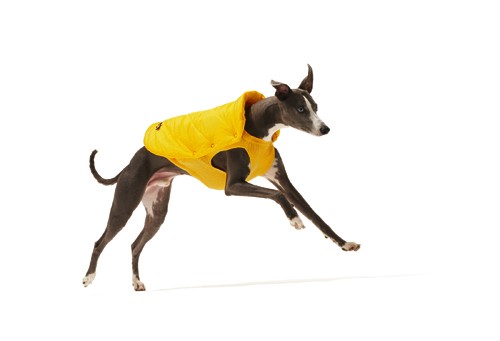 Smart, sporty and made in Italy, this coat combines a removable quilted top with an underlayer of merino wool to let your hound show his class.
poldodogcouture.com
From New York to Hong Kong, you'll want to visit these canine outfitters.
1.
Dog & Co
New York
A Manhattan shop stocking everything from treats to tags.
shopdogandco.com
2.
Fetch and Follow
London
This east London spot is the perfect place to find UK-made accessories.
fetchandfollow.co.uk
3.
Denjo Dogs
Stockholm
A one-stop shop for all your canine needs, including travel essentials and goodies.
denjodogs.com
4.
Wholesome Canine
Toronto
The place to find dog food of the highest quality.
wholesomecanine.ca
5.
Bark Department
Hong Kong
Everything you need for the smart urban dog.
barkdepartment.com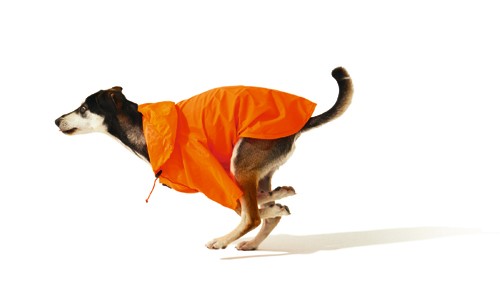 This New York brand has been making practical and fashionable items for dogs since 1998. Keep your hound dry even when it's raining cats and dogs with this zip-up nylon raincoat.
wagwear.com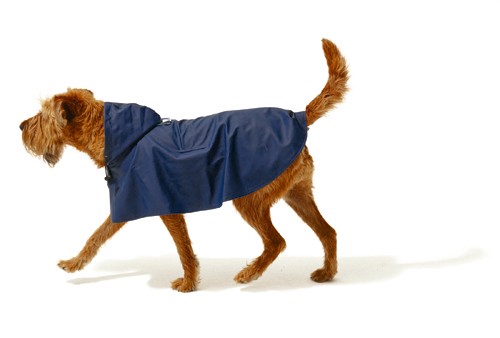 This Spanish brand makes canine wet-weather wear; its hooded cape design is simple to clip on to your hound and features a handy no-leak hole through which to attach a lead.
painters-wife.com
The doggie version of the classic British waxed-cotton coat has the tartan lining you'd expect from the brand, plus lightweight padding for added warmth. The neat corduroy collar is a classy detail.
barbour.com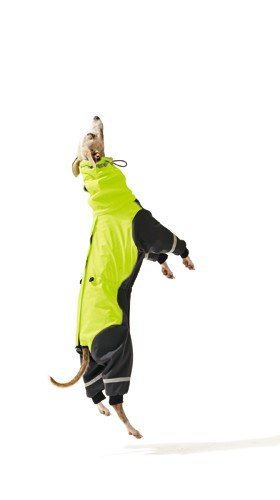 Channel a little construction-worker chic with this hard-to-miss full bodysuit; it's fleece-lined for warmth and features reflective strips for added safety.
dgdoggear.com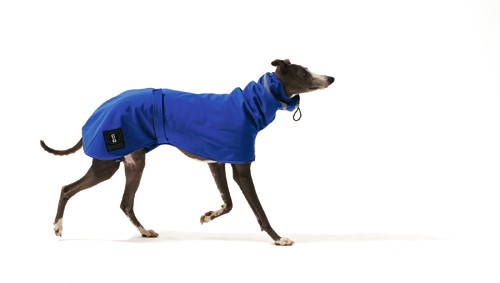 You won't want to wait for a rainy day to crack out this design from Czech brand DG Dog Gear. It's made from a soft shell material that's most often used for winter sports jackets so it's bound to keep your four-legged friend warm even on the coldest days. 
dgdoggear.com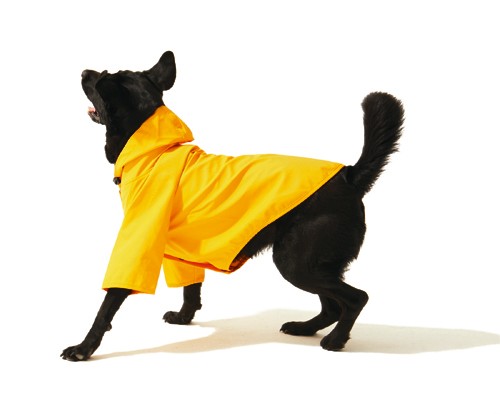 Inspired by the sou'westers worn by Spanish fishermen working off the Atlantic coast, this hardy wet-weather number is manufactured using a technical fabric that protects your mutt but also dries quickly.
painters-wife.com
This brindle coat is part of the London-based brand's new Highlands collection, which features canine creations inspired by the wilds of northern Scotland. It's perfect for a chilly trek, even if your walking route is more local park than Loch Lomond.
mungoandmaud.com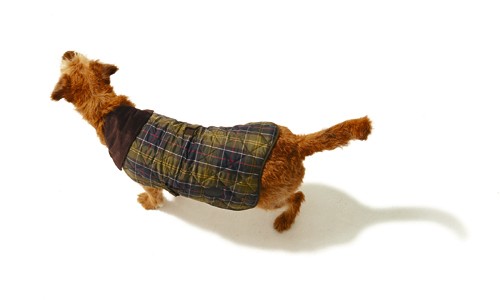 Maintain a snug schnauzer with this dashing quilted-tartan number, complete with smart strap and buckle. Barbour has been making waxed jackets since 1894 but its canine collection is a far more recent addition, elegantly extending its rural style to four-legged country wags.
barbour.com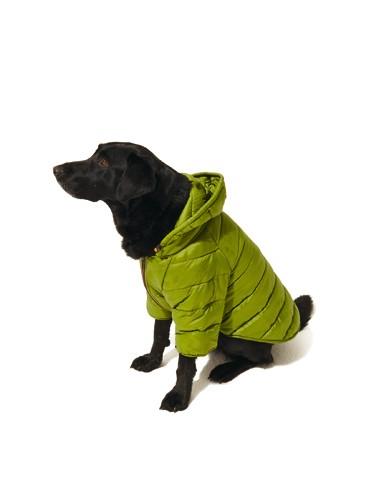 Windproof and water resistant, Wagwear's puffa is functional fashion for man's best friend. The lightweight design means it can be compressed for storage.
wagwear.com
Our model mutts:
Lady Harriet Wicklow the Irish terrier
Nugget the whippet
Macy the fox terrier
Twinka the whippet
Fido the Greek rescue dog
Bessie the parson russell terrier cross
Kobi the labrador-collie cross
Pablo the Shiba Inu