Noah / New York
Crest of a wave
Noah may have surf/street roots but it's delivering a sophisticated retail model based on community, transparency and some colourful clothes.
The Noah shop in downtown Manhattan doesn't look like the headquarters of a radical fashion company. Outside, deckchairs sit in the midsummer sun; inside, the shop is full of warm-toned wood, ancient-looking rugs and a deep-red sofa that could have belonged to someone's British grandparents (assuming they had discreet good taste and a bit of money). The shop is calm, welcoming and feels like a place where it's OK to touch things. The clothes might be described as what a man buys when he's outgrown skate-wear but still cares about the ideas that style of dress embodies. Bucket hats, thoughtful graphic tees and workwear-style trousers that nod to Dickies share space with serious tailored pieces in high-end European fabrics. Everything is very soft, even the raw-looking denim.
The spring collection is on the racks but autumn samples are here too. There's a double-breasted jacket with deep pockets in a fine check; multihued paisley trousers; and an exceptional belted knee-length coat in navy wool with thick grey stripes. All the pieces are considered, many are beautiful or playful and nothing is at all "out there". Which is why it's surprising to sit down with Noah's founders and hear what they have to say about the ideas behind their business. Afterwards you look at the clothes and the shop in a different light, and think that perhaps a brand can embody the anti-establishment values of punk rock while selling preppy pink rugby shirts and boat shoes.
Noah was founded in 2015 by the former design director of Supreme, Brendon Babenzien, and his wife Estelle Bailey-Babenzien, a Central Saint Martins alum who moved to New York in 1999. He's in charge of clothing design while she oversees visual presentation, including the shops and their furniture. The pair look like the downtown power couple they are but in person they're unpretentious and quick to laugh. They're also that rare British/American couple in which the American does all the swearing. Babenzien grew up on Long Island near the sea, which gives Noah a key part of its DNA. He's as inspired by those who work on the sea – "ferry drivers, clammers" – as those who play in it, which is manifested in his collections thanks to heavy-knit fisherman sweaters and white rubber boots. He grew up surfing and, while that also informs his designs, its main effect has been on the vision of what the shop should be.

As the couple sit down to talk by a window in the shop's extension (they expanded in June, adding large changing rooms and extra rack space), they explain that the deckchairs outside aren't just a reminder of the beach. "People have lunch in them, hang out with friends – I've seen people in the middle of important phone calls; I love it," says Babenzien. The skate and surf shops of his youth were social spaces as much as businesses and "it was 100 per cent the intention" that Noah would feel the same. "I've always wanted to do a shop that felt like someone's house," says Bailey-Babenzien. Do people come in and hang out? "All the time," she says. Babenzien looks at her: "Isn't it tonight that the kids do the podcast? A friend of one of the guys who works here comes in and does a podcast out of the shop after we close. And for a long time one of the staff members did yoga classes here," he says, laughing. "That was the point. The idea of a store being 100 per cent transactional – 'We take your money, you take this thing, and that's where it ends…'" he trails off, as if the idea were self-evidently awful. "It needs to be like a surf shop or a record shop, where people meet each other and exchange ideas and things happen."
Of course, Noah can only exist if it sells clothes so how does the design process work? "It can either be an old garment that I love, then figuring out the Noah version of that: 'What's the fabric, is it a solid colour or a pattern?'" says Babenzien. "Or, because I love good fabrics, oftentimes it's just, 'I have to use this material,' then we figure out where it resides. But the process is always looking back to move forward. We make tweaks but the baseline is really traditional. A rugby shirt is a normal classic thing but you can make all sorts of changes. Very few people make rugby shirts with black as the base colour for whatever reason but we'll always do one because we think it looks great and you can't get them; same with an all-over print or a floral one. But the item itself is very baseline normal. I don't think any item we make is that unique."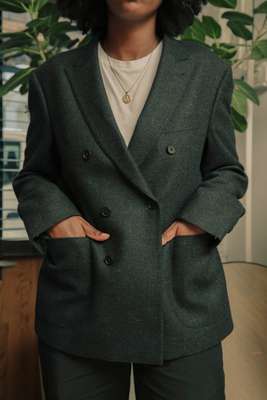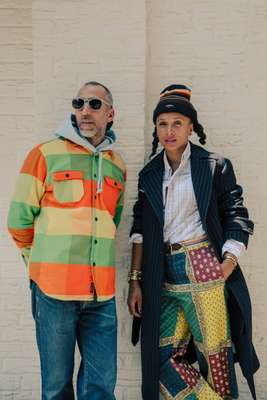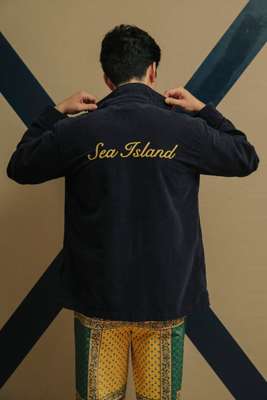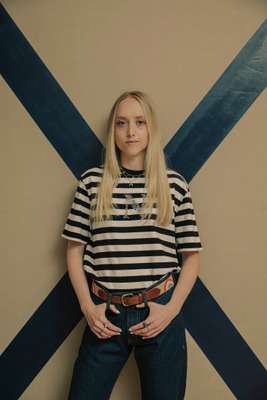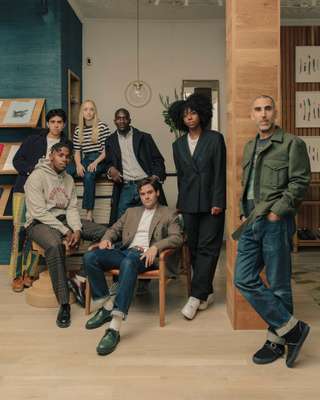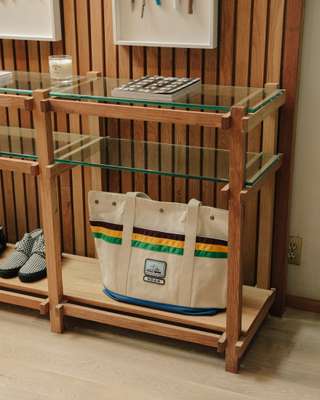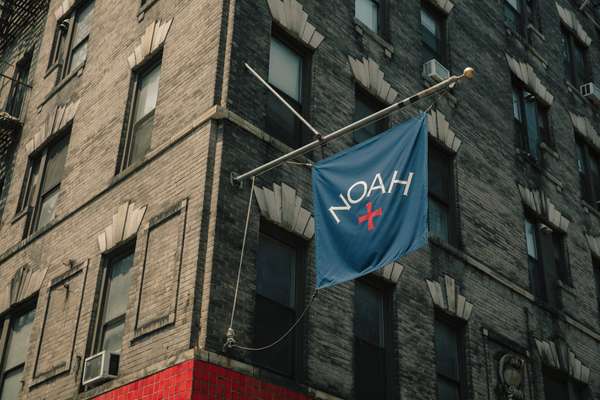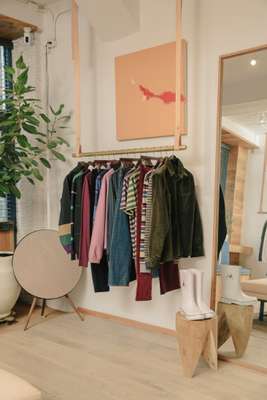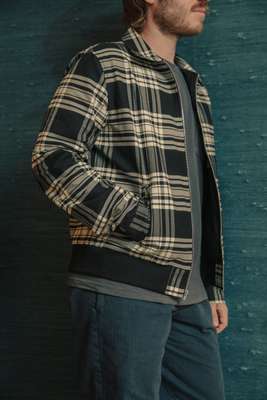 Customers, however, feel otherwise. As well as the successful New York shop, Noah has a Tokyo outpost, plus shop-in-shops at fashion-forward Dover Street Market in London and Los Angeles. They also did a pop-up at Paris's Galeries Lafayette. Pretty good for a brand whose wares aren't particularly "fashion" and whose designer calls it "not a trend-based business".
As the shop gets busier we retreat to Epistophy, a café around the corner that became Noah's de facto office when the shop was being fitted out. It's an independent business, like Noah, and as tea (for him) and coffee (for her) arrive, Babenzien talks about the DIY subcultures that inspired his company. His tone is one of reverence. "I'm inspired by punk, new wave, hip-hop for sure. It was invented out of thin air. A DJ scratching records to make new music – that's insane. No one was making things for them so they did it themselves. Skateboarding is the same: you invented your own style, you invented tricks. You had to find places to skate. Kids just figured it out. Those are the two most important, unique cultures that I think invented themselves. So I go back to that stuff a lot."
As someone heavily influenced by radical movements that are in a class of their own, does he ever want to make something that really pushes the envelope? After all, his designs aren't provocative. "This business is radical so I don't need the clothes to be," he says.
His point is borne out by Noah's website, which has blog posts detailing the exact cost of various items of clothing, including Noah's margin (paying workers properly and using responsibly made fabrics accounts for much of the expense); the brand's stance on abortion rights (pro – they even partnered with Planned Parenthood); and an entry titled We Are Not A Sustainable Company. Environmental matters and ethical business are a big preoccupation and Noah is opinionated about a range of political issues – most of which greatly affect young people – in a way that many self-styled "youth" brands are not. Some of the graphic T-shirts that streetwear labels sell to teens might look edgy but is there anything behind them beyond conspicuous consumption and a desire to shock?
Streetwear has become a commodified form of rebellion – "It was over before we started Noah," says Babenzien – and it's questionable whether some of the big brands have much interest in young people beyond their capacity to buy things. Babenzien, on the other hand, cares passionately about the kids, although his core customer is 24 to 32 years old. "So many people don't understand how fucking smart young people are today and how tuned in they are," he says. "People think our blog is for older people because we're talking about mature subject matter – the environment, war, politics – but kids are the ones who are really reading our blog; they are the ones changing their behaviour as consumers so things aren't worse in the future."
The less polemical parts of Noah's elegantly designed website are also political in their own way. You can search for clothes based on what fabric they're made of (most come from Italy and the UK) and where they're made (primarily Portugal and Italy, although rugby shirts and sweats are made in Canada because Babenzien likes to "go to the source"). This is a non-earnest form of transparency, enabling customers to verify that Noah practises what it preaches.
Babenzien believes fashion is inherently unsustainable, so why have a label at all? "There's a practicality that has to come into the conversation," he says. "I was born in 1971, not the caveman era. We're not walking around naked – we need clothes. And I love clothes. So I figured it's best to stay involved and show people another way. I don't have a problem with production; I have a problem with insane greed that leads to disaster. You don't have to poison people or the Earth to make a product, just make a little less money – there's nothing wrong with that."
Noah's success suggests this is a viable strategy. The brand was profitable from its first year despite choosing not to manufacture in China and other places where workers' conditions and factory practices are troubling. The label also intends to expand but in its own way. Bailey-Babenzien says: "We can't just stay a mom-and-pop shop. The vision is to create a legacy brand – I look to Hermès for inspiration. We have a purpose; this is a personal venture."
"We'll stop growth when we have to make decisions we're not proud of," says Babenzien. "I'm quite open to almost any possibility. If there's someone out there with $100m who wants to come in, share our values and operate the way we do, then maybe we can open 50 shops. But it seems like that's not a real thing," he adds, grinning. "We operate in reality and the simple way to look at it is: once we have to do things that we don't believe in to continue growth, that's as big as we can be."