Adrian Joffe / London
Cult leader
Dover Street Market and Commes des Garçons CEO Adrian Joffe sheds light on the high-fashion haven's inner workings.
Adrian Joffe is about to have his photo taken but first there are some adjustments to make. "I feel tired today, can I wear my incognito disguise?" he asks politely, before popping on a black cap and sunglasses. We're in Dover Street Market's spare, white-walled HQ in central London and these outfit additions complement Joffe's black trainers, black trousers and dark-navy shirt; he's a man looking to go under the radar. Joffe's diminutive build, gentle South African accent and deferential manner (unusually for an interview, he repeatedly turns the tables and asks for your opinion) belie his formidable stature in the fashion industry. As the ceo of Comme des Garçons International and Dover Street Market International, the 66-year-old – along with his wife, the revered fashion designer Rei Kawakubo – is behind one of fashion's most idiosyncratic forces.
Kawakubo founded Comme des Garçons in Tokyo in 1969; since then it's become a cult phenomenon and is arguably the ultimate fashion purist's brand. Joffe met Kawakubo, and began working for the brand, in 1987. Kawakubo, the president and creative director, remains based in Tokyo while Joffe splits his time between the Japanese capital and Paris. Together they oversee the brand's global operations.
In 2004 the couple co-founded Dover Street Market (DSM), a sprawling multi-brand store on Dover Street in Mayfair that sold Comme des Garçons alongside a sartorial pick'n'mix of high-fashion, streetwear and workwear brands. "We thought if we jumbled it all up, like a modern version of Kensington Market, then people would be stimulated," says Joffe, recounting its fabled origin story. They thought right. DSM ignited shoppers' imaginations; there are now six outlets, each boasting different layouts and brand selections to reflect local tastes in London, Tokyo, New York, Los Angeles, Beijing and Singapore.
Comme des Garçons and DSM are commercial as well as creative hits. Certainly, both challenge our conceptions of how things can look. Comme des Garçons' clothes can be powerful and provocative, often challenging gendered stereotypes or transforming the body with extreme silhouettes.
The DSM emporiums, meanwhile, are a titillating mix of sweeping spiral staircases, acres of corrugated iron, insouciantly cool staff and bonkers sculptures, which could take the form of huge white fibreglass balls (currently in the London store), dinosaur skeletons, ice-cream cones, elephants or, say, a giant baby with outstretched arms.
People talk ad nauseum about the need for shops to offer an "experience"; DSM has been doing this at an exceptional level for years. It is perhaps the closest thing that fashion retail has to high culture. It is not a coincidence that its shops are referred to as fashion temples, nor is it surprising that the much-anticipated biannual overhaul of each store's displays is dubbed New Beginnings, a term with more than a whiff of the religious about it. Over the years, millions of chic acolytes have worshipped at the till of DSM.
Part of Kawakubo and Joffe's genius is in offering shoppers plenty of accessible things to buy. Including the flagship Comme des Garçons line there are 18 brands under the Comme des Garçons umbrella, such as Play (known for its T-shirts with puckish heart faces), Shirt, Wallet and Junya Watanabe, the king of patchwork menswear. In 2018 the Comme des Garçons stable recorded annual revenue of $330m.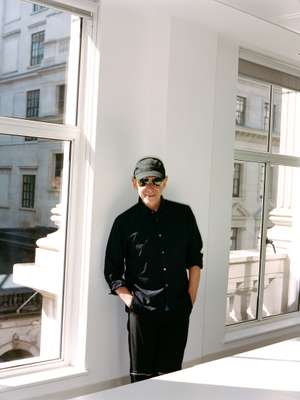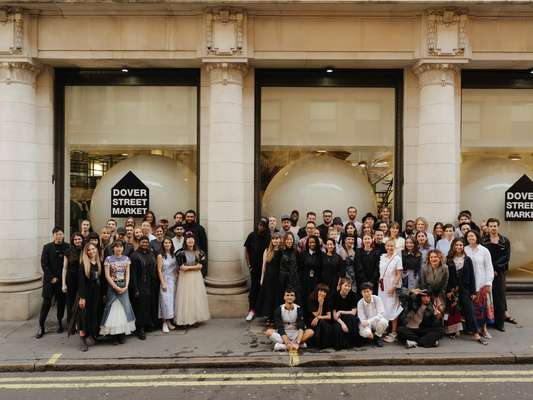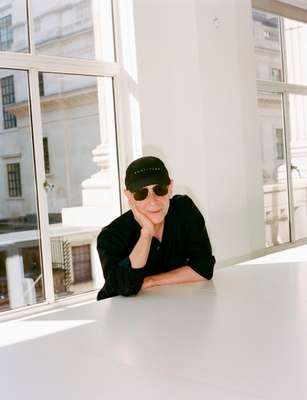 The DSM shops are also cash cows. Don't be fooled by the otherworldly fit-outs: these are cleverly merchandised stores that are forecast to rake in a total of $190m in revenue this year. Between the stores some 200 brands are stocked, spanning everything from high-fashion designers such as Maison Margiela and Raf Simons to more sober workwear brands like London's Labour & Wait, while T-shirt and trainer spaces are stacked with more affordable goods.
Though reserved, Joffe often speaks on behalf of Commes des Garçons, DSM and, notably, Kawakubo. He acts as an English translator for the designer, who has a tricky relationship with the press and is known for gnomic answers. Neither one seems to enjoy the limelight and this is perhaps reflected in the way they run their companies, which are often referenced within the industry yet never feel overly hyped or exposed. Both Comme des Garçons and DSM maintain a certain allure – always wearing a black cap and dark shades.
As DSM prepares to celebrate its 15th anniversary in November, Joffe sat down with us to share his thoughts.
It's the 15-year anniversary of Dover Street Market. How are you feeling?
Tired. We don't have long-term plans: we didn't know we were going to have six stores by this time. It's a lot of work, you know; it's a lot of work, it's a lot of work. Now we're starting a new venture: satellite shops. We're going to open the first of these mini Dover Street Markets on 1 October in Paris. It's called Dover Street Parfum Market, and we'll have [our own and] other people's perfume. It's 10 times smaller than any Dover Street Market. Hopefully it will lead to Dover Street Sneaker Market, Dover Street T-shirt or [Dover Street] Jewellery Market. We can give that Dover Street energy and "accident" kind of idea by item. Best item: that's the idea.
It's a different retail landscape now versus 15 years ago. What are the main differences for you?
When we started we just wanted to do a stimulating retail experience. It was almost at the beginning of the online boom. It felt very lonely to me for people to sit at home and order things. [For us] it was that feeling of wanting to make retail survive in an interesting way.

Department stores are over. But we have done our best to keep that [physical shopping] option open. There's more places like us now, which give a whole experience and are often changing [things such as layout]. I'm proud and happy about that. But it's terrible how department stores and high streets are being killed by online – and also by traffic, parking, greedy landlords and town development. I feel sad but also vindicated that what we started 15 years ago is a good thing. I think there is hope and a future for bricks-and-mortar stores.
Do you feel any pressure to keep up with online?
We take notice of it. We've developed our very low-tech e-shop over the years and it's becoming more important. It was always a service for people who couldn't come to the [physical] shop because they were looking after their mother, for instance, or who'd already been in and wanted to reorder something. I don't think it's growing as much as online is overall but it's big: about 25 per cent [of our business]. It's still supplementary [to the physical store] and I want to keep it low-tech. I'm not having any twirly-whirly models wearing styled things. No. Do you like online? Do you use it?
Not that often, to be honest.
Nor do I.
I prefer to see things in person.
But don't you think everyone would? I don't understand it.
What's the purpose of DSM? It's a place of commerce but it's almost become like a cultural institution.
First of all, without any pretension, it's just a shop. But the kind of shop we wanted is somewhere with an interchange of ideas and community. In the beginning we couldn't take the whole store so we thought: let's share it with like-minded people. You know the story. It's kind of cultural in a way; it's developed like that. When we've found brands we've given them their space. But we're not a charity; it has to be a two-way street. What we give to young designers, they give back to us. And if they want to go on and we're not big enough then we encourage them to go to, say, Selfridges.
How do you balance the creativity of the high-fashion designers you stock with the basic need to shift product?
It's a constant battle. At our buying meetings I'm always like, "This is a bit boring or tacky, isn't it?" I'm always on [our buyers'] backs to find something more interesting and creative. But often creative things don't sell. And [our team will] say: this is boring but it sells. At Dover Street we do have to make money. For the first five years it was very difficult; it didn't make money. If you don't break even or make some money, you don't survive and you have to close. So we do have luxury brands that sell very well. It's about finding that balance.

Balancing the business and creative sides is what Rei has done for 50 years with Comme des Garçons. But for us it has to be creative first; we have to have people who are trying to do something new. There are so many different ways of being creative. It's not [just] getting a student from Central Saint Martins going completely wacky. Some brands look plain and safe but where they're coming from conceptually could be interesting.
The many brands at DSM design their own in-store spaces. How do you maintain an overall identity?
It's so hard because in theory we don't like to judge people. Who are we to say, "This is bad design – can you do something better?" But we have to be a bit like that. It depends on who they are as well. If Gucci sends us a new design it's very hard for us to say we don't like it. We do like to give brands freedom within certain parameters. It looks like beautiful chaos but the rules are very important: you can't touch the building; you must respect your [neighbouring brands]; you can't put a big wall on the side that blocks the neighbour. There's rules about height [of displays]. If brands want a backdrop then they have to build something in front of the wall, they can't put it on the wall.
Within those strict rules I like to let people be as free as possible. But if it's really ugly and really boring we will tell them [laughs]. I run a kind of benevolent dictatorship. Because often democracy doesn't work. Just look at the world today. We're not going to get too much into politics. But it's a mix of that. Let people be as free as possible but then you've got to say yes or no for the benefit of everybody.
DSM isn't in Paris yet you have outposts in places such as Singapore. How do you decide where to open?
We can't afford rents on Bond Street and Rodeo Drive, and we probably don't want to be there. It's about [affordable] rent and also that spirit of adventure: giving people that sense of discovery or the sense that they are going there for us.

Deciding where to open is a gut thing. We wanted a second American shop and kept being offered Miami but it never felt right. Also, we have a lot of clients in Los Angeles who go to [DSN] New York, so we thought that would be the best second city – then the space [in the Arts District in LA] came up. Singapore also happened accidentally because we had a Comme des Garçons store there and our partners, Club 21, offered us a building in Dempsey Park, which was trying to make Singapore cooler.

We think Paris now. Everybody is saying that since Colette went, we need Dover Street in Paris. No one needs Dover Street. But Paris seems the most likely [next place]. I would like Moscow and Berlin. But Berlin is not for fashion; I don't think I could do Dover Street there. And we'd need a change of government before we could have Moscow.

But those edgy cities with lots of creation, lots of history of literature and art, are places we would like. Also, these new satellite shops could lend themselves to second cities; it's much easier to do a 200 sq m than a 2,000 sq m shop. They could open in Milan, Marseille or Manchester.
Do you have distinct strategies for each of the 18 brands under the Comme des Garçons umbrella?
Nope [laughs]. We never plan these things. There has to be a new idea about something [to create a new brand]. It's the way Rei designs the company. She has said she's not a designer of clothes, she's the designer of a company. And our way is horizontal. We have very few of our own stores and we don't like to own factories because we think factories make better product when they are [independently owned]; if we owned them then we think they would lose motivation. Also, the majority of people are never going to wear the mainline Comme des Garçons. It's not meant to be for everybody. It's like an engine. So in order for us to grow we have to increase our brands.

Then, in Paris, we have this new company called Dover Street Market Paris, which comes under Comme des Garçons International. The first business thing that company will do is the Paris perfume shop. It will also develop more brands, like Gosha [Rubchinskiy, the Russian designer] and Paccbet [a new brand by Rubchinskiy]. There are three more coming: for instance, we're going to work with [US transgender DJ] Honey Dijon. I think this idea of working with brands and developing them can be done creatively.
Do DSM and Comme des Garçons have the same customer? Do you think about who your customer is?
We often think about who the customer is. It's mostly creative people: architects, singers, artists. It's three, or sometimes four, generations and really diverse. I don't think anybody else has such a diverse customer.

Comme des Garçons has always had it: we have great-grandmothers and their great-granddaughters coming in. A lot of [Comme des Garçons customers] were open to the Dover Street idea; a lot weren't. In New York and Tokyo, where we have Comme des Garçons and Dover Street flagships, there's a large part of the Comme des Garçons customer base that will not step into a Dover Street Market. Because they don't want their Comme des Garçons polluted by other things. But then a lot of them are open-minded; there is a big overlap [between DSM and Comme des Garçons customers]. Our customers have always been very demanding.
With social media there's a danger of becoming overexposed. How do you retain that mystique around DSM?
I think about it a lot. And when [a brand we're looking to stock] is ambitious and wants to get everywhere, I think about how we can keep our approach to that brand interesting.

I find a lot of people now on Instagram but it's interesting when they really have something to say. Like this guy from Guadelajara, Mexico, has the most amazing brand: Liberal Youth Ministry. For me it has so much mystique. You've got to look for things that are out of the ordinary, that come from a good starting point as an idea. This guy is kind of political, he's got good statements. I think we need to get a bit more political.

Once we get him then I understand the dangers of that and the opportunities for the brand. Of course I worry that maybe [brands are] going to get spoilt by success. Social media is a challenge. We say: this is an opportunity, let's grow together. I try to encourage people: don't kill your mystique, don't oversell, don't get too greedy – you've got to slow things down.