Defence / Global
Defence
Briefing
Russian construction in Gogland is making Finland nervous and the US makes an eyebrow-raising purchase from the Israelis.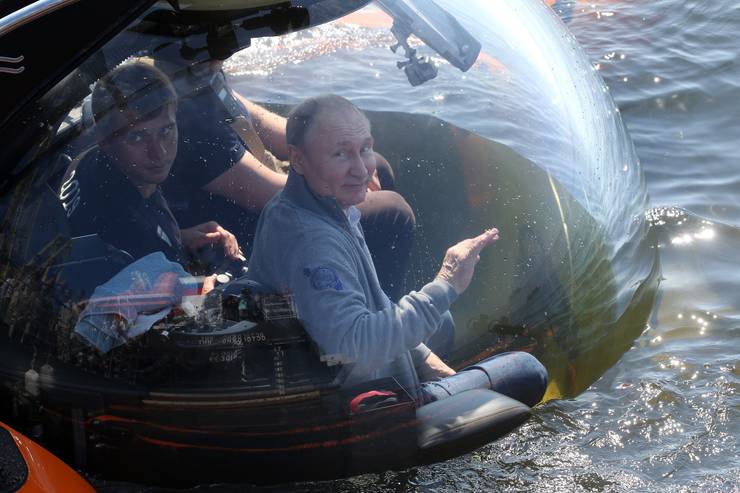 Muddying the waters
Finland —
Territory
Gogland, an island in the Gulf of Finland, is just 35km from the Finnish port of Kotka but as much a part of Leningrad Oblast as St Petersburg. In a manoeuvre not exactly calculated to reduce tensions in the region, Russian military engineers are building a helicopter base there, complete with five helipads, a control centre and facilities for both refuelling and maintenance.
The island is Russian territory on which Russia is entitled to build what it pleases. However, this latest endeavour occurs against a backdrop of less orthodox Russian behaviour in the vicinity. In 2018, Finnish police raided several Finnish islands and sites on the Finnish mainland believed to be linked to Airiston Helmi, a Finnish real-estate firm owned by a Russian tycoon. There were concerns not only that Airiston Helmi had bought a lot of land along key shipping lanes but had also purchased decommissioned Finnish navy ships.
"The official Finnish reaction to the new base has been: no worries, nothing to see here," says Charly Salonius-Pasternak, senior research fellow at the Finnish Institute of International Affairs. "And that's probably true in this specific instance; it is just a helicopter base."
Yet it's clearly an important one, at least to Russia. Vladimir Putin visited Gogland in July and not for the first time. (Officially he has been keeping up with the work of the Russian Geographical Society, which has been studying Russian naval shipwrecks near the island.) But how important should it be to Finland? "There's a paradox," says Salonius-Pasternak. "Russia is a neighbour with whom Finland trades and has cultural exchanges. At the same time, Russia is Finland's only existential threat."
---
Making inroads
Russia —
Navies
Russia and Venezuela have agreed to allow their navies to dock in each other's ports. There being no obvious reason why the ships of the modest Bolivarian Navy of Venezuela would be passing by Vidyayevo or Severomorsk, it must be inferred that the driver of this treaty is Russia's ambition in Venezuela. "For Venezuela this is symbolic," says Mathieu Boulegue, research fellow at the Russia and Eurasia Programme at Chatham House. "It's a way to show it has powerful allies. For Russia, it allows them to build a lighthouse for defence contracts. It's a signal to the rest of South America and part of an aggressive marketing strategy."
At short range
In the basket 05
Who's buying and who's selling? We keep you abreast of significant – and surprising – defence deals.
In the basket: Two Iron Dome air defence systems 
Who's buying: The US army
Who's selling: Israel
Price: About $373m (€338m)
Delivery date: 2020
Talk of this sale has been circulating for a while, almost since Israel first deployed Iron Dome in 2011. The air-defence system has attracted interest with a demonstrable efficacy in knocking down short-range missiles at short notice (other buyers are India, Azerbaijan and Romania). By Israel's own estimation, Iron Dome has shot down more than 1,700 unguided rockets and mortars launched from Gaza and Lebanon – and at least one ballistic missile fired by Iranian Revolutionary Guards operating in Syria. It is unusual for the US to go shopping overseas for defence kit but this probably doesn't seem like an especially foreign purchase: though Iron Dome is manufactured by the state-owned Israel Aerospace Industries and Rafael Advance Defence Systems, most of the components in Iron Dome's Tamir missiles are built by Raytheon in the US.
Local Talent
Australia —
Workforce
After spruiking up his state's defence industry in meetings with US security industry leaders in Washington earlier this year, South Australian premier Steven Marshall is now aiming to tout an equally robust pool of defence personnel. The politician has announced a series of scholarships worth AU$600,000 (€365,000) over three years to help funnel university students who are studying Stem subjects and logistics into roles with the state's defence firms. By creating a well-trained civilian workforce to step into line behind the defence force, Marshall hopes to keep South Australia self-sufficient when it comes to security capabilities.