Food & Drink / Global
Food
&

Drink
Briefing
Top tables and food finds from across the globe; plus a simple and sumptuous recipe.
't Blauwe Theehuis
AMSTERDAM
Amsterdam's charming 't Blauwe Theehuis is an iconic modernist pavilion tucked away in the leafy Vondelpark. Built in 1937, it has most recently come under the stewardship of the Brouwerij 't IJ, a well-loved producer of hoppy Belgian-style beers.
The brewery hired Amsterdam's Studio Modijefsky to work on the restoration of the rotund pavilion; the designers retained the original white-and-blue palette and stayed true to the concrete, glass and steel get-up of the original. The outdoor terrace has been given a timely facelift with plenty of seating, parasols and twinkly lights. Pale ales as well as small-batch speciality beers are served at the beautifully polished wooden bar; the 't Blauwe Theehuis pils, in particular, is worth trying.
Brouwerij 't IJ has also teamed up with the good people behind Renato's to serve pizza, which can be enjoyed in the upstairs dining space or on the terrace at any time of the day. "It's a dream to bring this beauty back to its original glory and serve our beers here," says Louis Croonen, brand manager at Brouwerij 't IJ. "The popularity of craft beer is helping 't IJ to grow."
brouwerijhetij.nl
Hong Kong's love affair with all things French continues with the arrival of chef Julien Royer's latest restaurant, Louise. The chef from Cantal in central France, who gained fans with starry Singapore restaurant Odette, has taken over the two-storey space in Soho that previously housed Jason Atherton's Aberdeen Street Social. Today it's a less formal affair but there's no skimping on ingredients: expect to see Challans duck, Wagyu beef and Hong Kong frogs legs on the menu. The transformation, backed by Hong Kong's Jia Group and Singapore's Lo & Behold, comes courtesy of André Fu and is full of palm trees, floral prints and fan-shaped lacquer tiles. Former fans of Atherton's restaurant will have reason to return and the patio is still one of the finest spots in Hong Kong for an apéritif.
louise.hk
Following a tidy refurbishment of the seafront square, a wave of food entrepreneurs is turning Henley Beach into a culinary destination in its own right. Among the multicultural milieu sits easygoing Acacia, which Adelaidean Elisa Mercurio and her Colombian partner Juan Londono opened in the hope of bringing warm service to the esplanade. "By the beach people like to feel welcomed, recognised and treated with care," says Londono. The bar offers fail-safe flat whites and considered fare for breakfast, lunch and dinner. Start your day with blue-swimmer crab scrambled eggs, hit the beach and return for tenderised octopus with fermented-corn sauce.
acacia.place
Pizzeria Beddia
PHILADELPHIA
Deep pan and thin crust have put Chicago and New York on the pizza map but what about Philadelphia? Joe Beddia believes it can grab a slice of the pie. He's been trying to carve out a spot for Philly since opening Pizzeria Beddia in 2013. It closed last year but has now reopened in larger digs. Try the pizza topped with dandelion greens, red pepper, cream and garlic.
pizzeriabeddia.com
The view from Lisbon's Rossio Gastrobar, which opened in May, is unbeatable: visit at sunset and you'll see the castle battlements on the hillside opposite bathed in a soft pink light. But it's the food and drink luring regulars. Starters include a katsu sandwich of crunchy Iberian pork with red-onion-and-coriander pickle; follow it up with Algarve-prawn risotto. Wine from small producers and cocktails make up the drinks offer and an interior featuring velvet and marble make this a great place to linger.
rossiogastrobar.com
Paper Moon is one of the few havens for the hungry in Milan's Quadrilatero della moda. Recently it expanded its reach with a second location on the secluded Via Bagutta. Paper Moon Giardino offers outdoors dining – a rare treat downtown. It's set in the stately 19th-century Palazzo Reina so diners eating indoors will find themselves beneath frescoed ceilings. Highlights include raviolo stuffed with burrata, prawn and anchovy essence, and oven-baked umbrina (a fish) with cherry tomatoes, spring onion, courgette and leek.
papermoongiardino.com
The Jewish Cookbook
GLOBAL
Leah Koenig provides a definitive delve into the art of Jewish cookery in this bumper-sized beauty by Phaidon. The 400-recipe romp plucks delights from Bubba's back catalogue, from Manhattan to the Middle East. Ideal fodder for those who want to know their kibbeh from their knish.
phaidon.com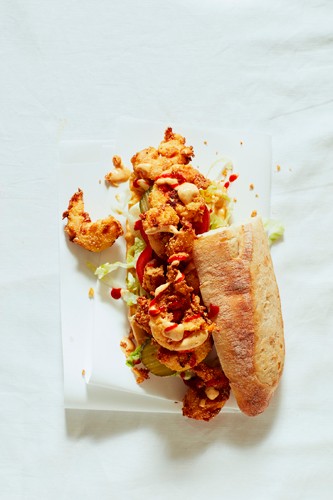 RECIPE
Prawn po' boy sandwich
Makes 4 sandwiches
Ingredients
For the prawn marinade
1 tsp sea salt
2 tsps cayenne pepper
2 tsps grated garlic
1 tsp grated onion
2 tsps paprika
1/2 tsp freshly ground black pepper
40 medium-sized prawns, peeled
For the sauce
30g dijon mustard
100g mayonnaise
1/2 tsp horseradish sauce
¼ tsp white wine vinegar
¼ tsp hot sauce
1/2 garlic clove, minced and smashed
¼ tbsp paprika
¼ tsp Cajun seasoning
1 tsp Worcestershire sauce
For the flour/semolina mixture
240ml buttermilk
200g plain flour
150g fine semolina/cornmeal
Sunflower oil for deep frying
4 soft baguettes, split horizontally and cut into 20cm portions
1 tbsp of mayonnaise
Iceberg lettuce, shredded
2 tomatoes, sliced
16 slices of cucumber pickles
Hot sauce (to taste)
1. Mix the marinade ingredients and add the prawns.
2. Heat oil to 180c for deep frying.
3. In bowls, prepare the buttermilk, flour and semolina.
4. Drop the marinated shrimps into the buttermilk then coat with the flour/semolina mixture.
5. Working in 4 batches, fry the prawns until golden brown (about 3 minutes) then scoop out of the oil with a slotted spoon and drain on kitchen paper.
6. Open the baguette and spread with mayonnaise. Stuff with lettuce, tomato, pickles and prawns. Serve with the sauces.