Wine / Burgundy
Grape minds
We meet the dynamic new wave of Burgundy-based winemakers who are doing things a little differently.
Sandwiched between Champagne to the north and the Rhône valley to the south, Burgundy has long been shaped by the wine trade. Driving south of Beaune in the late-summer heat haze and past the jasmine-covered dry-stone walls that flank the road to the village of Pommard, it's easy to see why this region of France is an attractive place to live and work.
Today there's something stirring in the soil and a new crop of vignerons, experimenters and offshoots are trying something new. Many of these upstart winemakers came to Burgundy from far afield – Japan, Australia, the US and Germany – keen to make the most of the famous terroir and learn from it.
Understanding a region that's dotted with prestigious domaines (châteaux are so Bordeaux) is a simple lesson in economics: demand for wine from here easily outstrips supply and prices are lofty. Bottles made by Romanée Conti, a winery in the village of Vosne-Romanée, go for north of €3,250. With less than 30,000 hectares of land planted with vines (Bordeaux has four times this number) there's also a scarcity of space to make the stuff.
The village of Auxey-Duresses is all blue-shuttered, ivy-clad houses. As we pull up, US-born winemakers Chris Santini and Jon Purcell are peering into the sunlight from beyond an open cellar door. Santini quickly produces a chilled glass of his pinot beurot (pinot gris). We take refuge from the heat in the small cuverie that the duo of winemakers share with Domaine Dandelion, another recent start-up producer. It's clear that things are done differently compared to other Bourgogne winemakers. "You don't need to only make expensive wines in Burgundy," says Santini. "There are many unsung grape varieties, like aligoté, gamay and the pinot gris you're drinking now."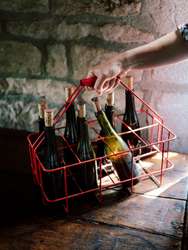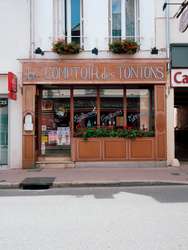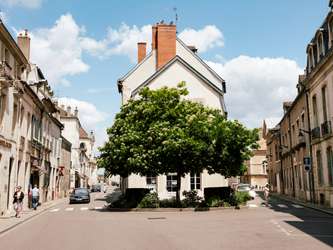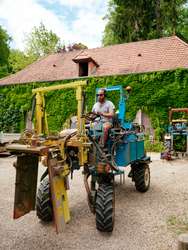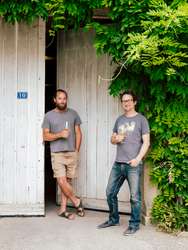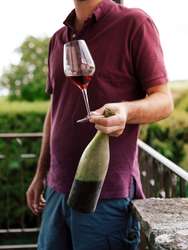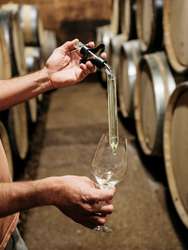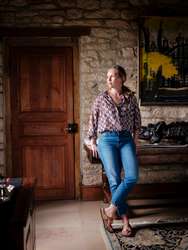 Santini started making wine out of his garage in 2013. His bottles of vin de soif ("thirst quenchers") are inspired by early experiences of wine tastings with his French father. "He'd come home with plastic jugs of inexpensive blanc and rouge," says Santini, wistfully. "I wanted to tap into that memory of drinking basic but joyous every-day Burgundy wine."
Santini sidesteps rigid Burgundy rules to make "regional" wines: those not designated to a particular village. These mongrel blends would traditionally sit on the bottom rung but, as the market is realising, they can offer a lot of bang for your buck. So-called "village" wines that bear the name of the settlement where the grapes hail from are the next step up, while those wines emblazoned with the designation premier cru (first growth) and grand cru (great growth) are at the top of the ladder.
Neither Santini nor Purcell own vines; instead they buy grapes from trusted growers and experiment. The French call them négociants: historically a dirty word, it describes those buying large quantities of fruit and making generic (mostly bad) blends under their own label. Luckily the story is turning into a more positive one.
Burgundy in numbers:
Land under vine: About 30,000 hectares
Vineyards: 84 aocs (French certified)
Grand cru vineyards: 33
Main wine-growing areas: Chablis, Côte de Nuits, Côte de Beaune, Côte Chalonnaise and Mâconnais
Wine produced: 59 per cent of white, 30 per cent of red, 11 per cent of crémant
Grape varieties: Pinot noir, gamay, chardonnay, aligoté
Official designations: Bourgogne, village, premier cru and grand cru
"We are the underbelly of Burgundy," says Purcell with a grin. We're trying a glass of his gamay from a bottle emblazoned with a pair of crossed fingers: the "happy accident", as he puts it. "Burgundy is changing," says Purcell. "Land is so expensive here now that only the biggest domaines, or banks, can afford to buy it." The value of one hectare of prime grand-cru Burgundy vines doubled between 2008 and 2017 to a cost of €14m. That wealth seems a world away from the humble lunch of crusty baguette and chicken terrine from the nearby butcher's that Purcell has laid out for us. The tanks and equipment here arrived via friends and fellow entrepreneurs such as Andrew and Emma Nielsen, who make wine from overlooked parcels of vines in Burgundy and beyond, under their label Le Grappin.
French-born Morgane Seuillot and her Australian partner Christian Knott of Domaine Dandelion are also working away in this small dark cellar. Sharing a space (and expertise) is a measure that keeps costs down but also creates an air of community and collaboration, something that is increasingly attracting budding winemakers to study and work here. Purcell and Santini, though, have elected to keep their day jobs (they make just 5,000 and 9,000 bottles, respectively, plus a further 3,000 together). Santini is part of the US wine importer Kermit Lynch and Purcell is a tractoriste for one of the larger family-owned estates.
The next time we see Purcell is at the De Montille house in the village of Volnay, a short cycle from Beaune; he's sitting atop a yellow tractor in the vines. It's here that we also meet Domaine de Montille's charismatic winemaker Brian Sieve and German-born vineyard manager Alexander Götze. American Sieve previously worked at Californian wineries. While De Montille is notable for its old-school winemaking and its premier cru and grand cru vineyards, the team is young, dynamic and international.
Étienne de Montille comes from a family of lawyers and is a lawyer himself, but he is the first of the De Montilles to take a hands-on role in the day-to-day running of the business. Even though this family domaine is large for the region – producing about 200,000 bottles a year – everything feels small-scale. Work is undertaken conscientiously and the vines are farmed organically, with a move towards biodynamic methods. "We realise there is a certain human aspect to it that needs to stay in the work," says Sieve.
Domaine Dujac is another vigneron tinkering with its production. "We are still considered a newcomer in the village [of Morey-Saint-Denis] even though the family have been here for 50 years," says Diana Seysses, a Californian who works alongside her husband Jeremy and brothers-in-law Alec and Paul. "When we installed a lift in the winery to help move around our bottles and equipment, it was the talk of the village," she says. "Nobody had done it before."
The ancient landscape of Burgundy is changing though. Even the fortunate families who inherit storied old domaines face vast inheritance-tax bills when passing wineries through the generations. The temptation to sell out to commercial ventures is strong but could be disastrous for the quality and attention to detail that made the region famous. Santini remains positive. "Everyone finds their way in Burgundy," he says. "People quietly respect what others are doing."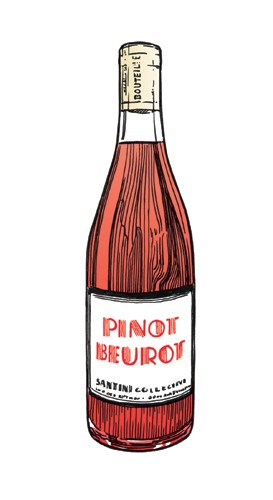 1. Santini Collective, pinot beurot, 2018
Until 2018, Santini made his wine in one-litre bottles. This pinot beurot (AKA pinot gris) was meant to be a rosé but the grapes took on more colour than he expected, turning it into a refreshing red that's best drunk a little chilled.
santinifreres.com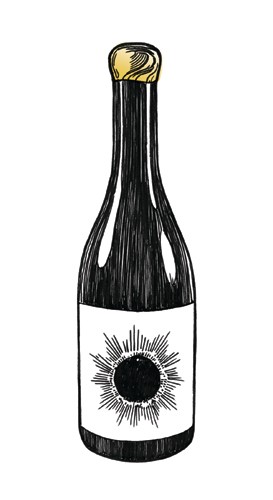 2. Vin Noé, Face To Face Macération, 2017
This viognier from winemaker Jon Purcell is like nothing you'll have tasted before. It's aromatic with texture a-plenty; not dissimilar to a muscat but with twice the character. A wine for sipping and savouring.
10 Rue Des Étoiles, 21190 Auxey-Duresses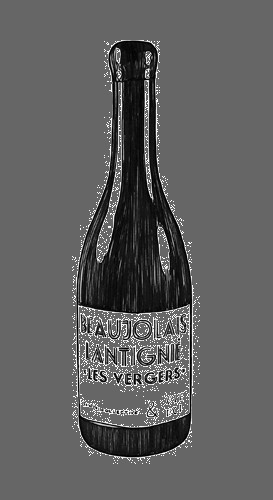 3. Santini Collective, Vin Noé, Beaujolais Lantignié, 2017
Burgundy's neighbour Beaujolais has come a long way from churning out mass-produced plonk in the 1980s. This wine, made from the gamay grape, is the meeting of minds between Santini and Purcell.
santinifreres.com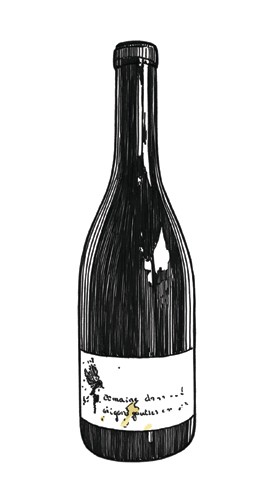 4. Domaine Dandelion, Bourgogne aligoté, 2017
This aligoté is ripe, smokey and nutty. Partners Morgane Seuillot and Christian Knott farm two hectares of vines over five plots the traditional way: with horses and by hand.
10 Rue Des Étoiles, 21190 Auxey-Duresses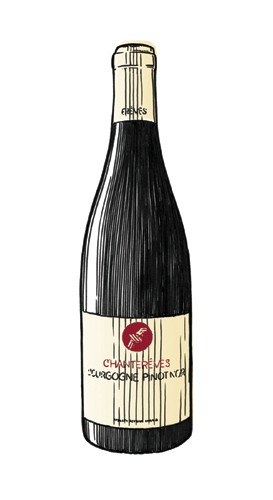 5. Chanterêves, Bourgogne pinot noir, 2017
Set up in 2010 by Japanese-born Tomoko Kuriyama and husband Guillaume Bott, Chanterêves makes some of the most exciting wine in the region. With its depth and purity, this one is a good place to start.
chantereves.com