Fashion / Global
Sweet spot
Shoppers want quality at the right price. Meet the brands creating a market where nothing costs more than €500.
"Luxury is being democratised," says Sandra Sandor, creative director of the Budapest-based womenswear brand Nanushka. Sitting on a mustard couch in the middle of her shop, she gestures to a rail stacked with buttery vegan-leather trench coats, dresses and puffed-sleeve blouses, all in rich autumnal colours. With their smart cuts and smooth textures they look like their prices could easily run into four digits. The shop, which opened in the city centre in 2018, feels expensive too: it's a light-flooded, two-storey space filled with antique Persian rugs and mid-century furniture. Despite appearances, though, garments rarely cost more than €500.
Nanushka's prices haven't always been so strict. Founded in 2006, Sandor says they "fluctuated" for years. It was only when her fiancé Peter Baldaszti, a restaurateur, joined Nanushka as chief executive and aimed for global expansion that its retail benchmark firmed up. Almost immediately the label gained a sea of prestigious international stockists, including Le Bon Marché, Harvey Nichols and Saks Fifth Avenue. Last season a dress from the vegan leather range – an ankle-length, button-up shirt-dress in a deep chestnut hue – was a sell-out worldwide. "It quickly became one of our signatures," says Sandor. She thinks the dress's appeal lay in its high-low juxtaposition: "high-fashion aesthetics at an affordable price".
Nanushka's meteoric rise has chimed with a shift in the luxury womenswear industry, in which global retailers are snapping up labels whose items cost no more than €500. It's a growing category at Net-a-Porter, which recently began stocking South Korean label Le 17 Septembre and cult US label the Frankie Shop; its lemon-yellow knife-pleat midi-skirt, made with a sustainable Tencel and cashmere mix, and with an architectural, lopsided hemline, retails for €245.
Meanwhile Dover Street Market stocks Canadian label Beaufille and London retailer Browns sells South Korean brand Low Classic. Such is the prominence of the €500 sweet spot that Patou – the defunct century-old Parisian house in the process of being relaunched by luxury conglomerate LVMH – has priced its clothing to sit around that mark.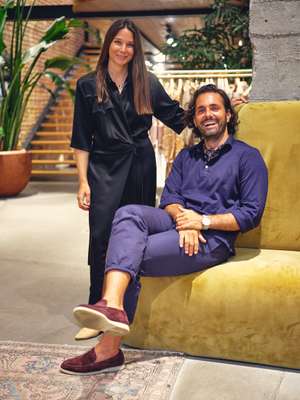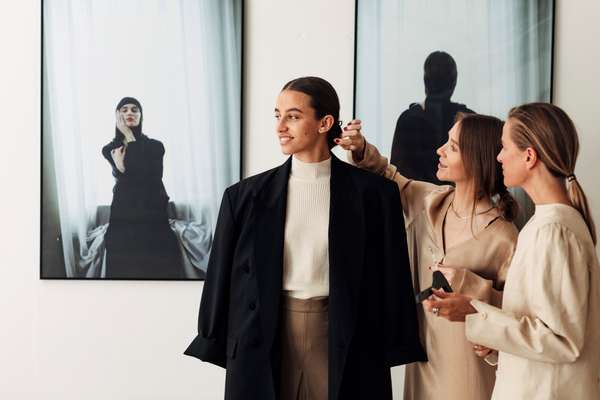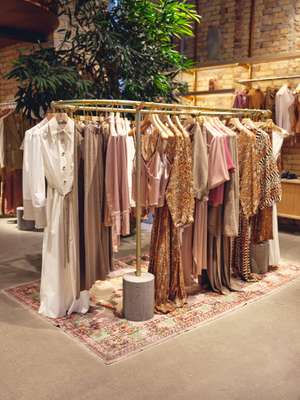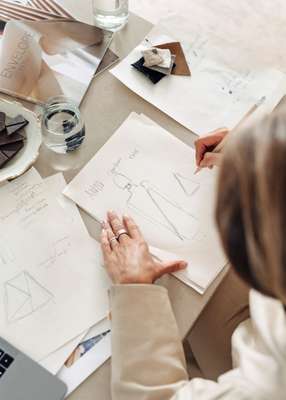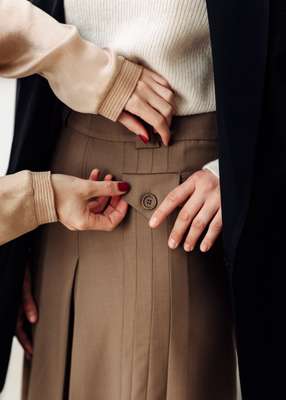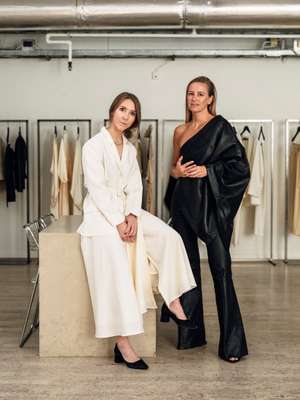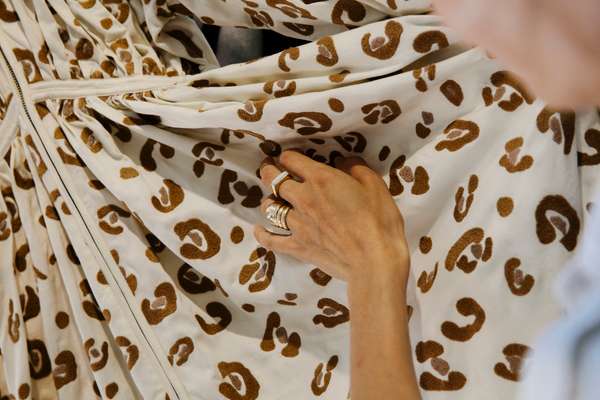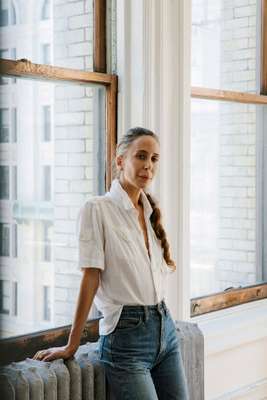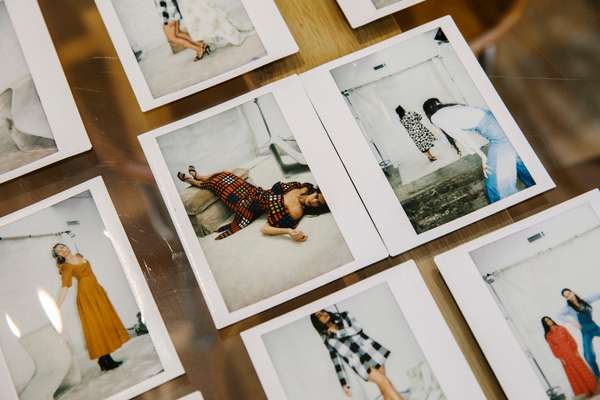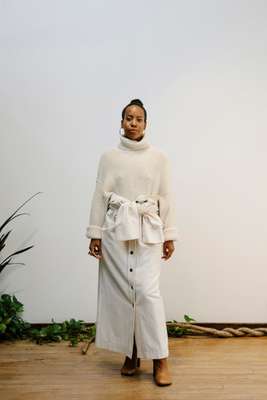 It's notable that these clothes are not simple utilitarian staples but runway-style pieces that sell at a fraction of the cost of bona fide luxury labels such as The Row or Bottega Veneta. "They have a very distinct design DNA and sophisticated aesthetic, which in the past you did not get with more 'contemporary' brands," says Elizabeth von der Goltz, global buying director at Net-a-Porter. By "contemporary" she means the category that traditionally sat below luxury, both in terms of price and aesthetic. (The segment originated when luxury labels began offering entry-level or diffusion pieces, which were crafted from cheaper materials and simplified in design.) In contrast, Nanushka's pinafore dresses feature an asymmetric button-up fastening, while heavy plaid overcoats have tassel-fringed edges and oversized shirts feature leathery patch pockets. "These €500 brands cater to a fashion-conscious woman who wants to shop smartly," says Von der Goltz. "The clothes are chic and clean, and have a real point of view."
Women under 40 are largely driving the category. "Millennial women are shifting their ideas about consumerism; they are aware of what is going on in the world around them and how the choices we make are part of a much greater collective," says New York-based designer Mara Hoffman, referring to the furore surrounding fast fashion and mass consumerism. She thinks her commitment to sustainability and US manufacturing resonates particularly strongly with these savvy young consumers. "These women are looking for brands that are doing more than just selling clothes," says Hoffman. "We're showing that ethically made products can be accessible."
Baldaszti at Nanushka thinks the fact that "millennials spend more on experiences and less on products or tangible assets" is also a driving force behind the €500 boom. When these customers do shop, he says, they want well-made clothes but for less.
Also significant is the fact that none of these brands manufacture in China. Eighty-five per cent of Nanushka's collection is produced in Hungary; the remainder is made on the Serbian border. Oslo-based brand Envelope 1976, which peddles a Scandinavian aesthetic of understated slinky silk slips and cosy cashmere sweaters, inspired in part by The Row, is crafted in Europe using fabrics from Italy and Japan. Le 17 Septembre, meanwhile, makes all its wares in Seoul. "Our factories are the same as those used by Chloé, Valentino and Stella McCartney," says Nanushka's Sandor. "The quality of our fabrics is also the same as what high-luxury brands use."
In order to sell such quality products at such moderate prices, these brands must be canny with their design process. "Sometimes we have to make a compromise and simplify certain designs for the sake of a better price," says Sandor.

Her commitment to the €500 benchmark stems from her days as a student at London College of Fashion, when she worked in pubs, restaurants and retail to support herself financially. She wants to be able to offer other young women a modicum of luxury. "We might remove a few tailoring details that would otherwise overcomplicate the garment, or look for an alternative technique when working on the silhouette," she says. "And if a material is expensive we might [give it] less complex details."
Envelope 1976 reduces its profits in order to keep its prices down. "Our focus is on what the end retail price will be: we only think about our margins after that," says co-founder Celine Aagaard. "We use the finest wool from Italy, silky fabrics like biodegradable Cupro from Japan and recycled natural fibres. We don't compromise when it comes to fabrics so we work hard on our price strategy to make sure that we are in some way affordable. We want to include, not exclude."
Resourcefulness is key: to help reduce potential losses, the brand produces in small quantities and refuses to go on sale. "During our research before launching, we found so much leftover fabrics around that we decided to make a bag out of waste," says Aagaard. "It became the Durban bag," adds co-founder Pia Nordskaug, speaking of the tote that was crafted from interlinked disks of leather in a variety of colours.
The boom in €500 brands isn't only beneficial for consumers. It's also opened up a new market for luxury retailers: it allows them to capitalise on the customer keen to graduate from the plethora of products around the €200 mark, while also encouraging true luxury consumers to shop down. "It opens up the luxury segment from the bottom," says Sandor. "Some of my customers are mixing Nanushka with brands like Chanel."
Von der Goltz agrees. "We have a wide range of customers now shopping this price point," she says, stating mothers often buy something within the category for their daughters and then return to buy something for themselves. "It's key that customers feel like they've made an investment but it doesn't necessarily have to be as classic as their normal purchases as it is less of a financial outlay."

There is still much room for these brands to grow. In October, Nanushka will open a US flagship in New York and simultaneously unveil its debut menswear collection – a segment Sandor and Baldaszti see great potential in. "We have defined a space for ourselves in the market, which we call modern luxury," says Sandor. "The fashion landscape is changing. The lines between luxury and contemporary are fading away."