Style news / Global
The autumn manifesto
The most exciting period in the fashion calendar is back, as jumpers, coats, woolly hats and chunky shoes are welcomed into the wardrobe for war with the elements.
Many fashion designers today are interested in creating unisex collections; Masato Koyama is not one of them. "I wanted to create a men's brand with a strong identity," says Koyama, the former chief designer at Japanese fashion giant United Arrows, who launched his own label this season. "I'd like to create with an international mindset: I'll go wherever it takes to get the best quality, whether it be India or China." His balmacaan coat, made in northern Japan, has its collar hand-sewn so it stands up sharply to give off a dandyish flair. "If you cater to the mass [market], you might lose an edgy attitude," he says.
heugn.com
Mizuno is a household name in Japan. Founded in Osaka in 1906, the Japanese sports brand is synonymous with quality, supplying gold medal-winning gear to athletes across the field.
When the brand celebrated its 110th anniversary, its president Akito Mizuno, the grandson of founder Rihachi Mizuno, decided it was time for a shake-up. "We launched a lifestyle brand [in order to] become a company that can grow outside the sports scene," says Masatoshi Yamaguchi, the lifestyle section manager. Under the brand – called Mizuno Sports Style – Yamaguchi heads up three shoe labels: the Italian collection (designed by an Italian designer and only sold in Europe and Japan), Run Bird (including a small apparel collection) and M Line, which features the classic "M" logo. All are designed for daily life, yet make the most of Mizuno's decades of sports shoe-making expertise.
"It is very difficult to change peoples' perceptions. Everyone thinks of us as a sports maker," says Yamaguchi. "Many people use our sports gear in school but leave us when they graduate. We wanted to engage with them again."
Tough to rival Nike and Adidas? "We are not inferior as a sports maker," adds Masaomi Makino, Mizuno's lifestyle shoes and apparel merchandiser. "Perhaps there are tens of thousands of rivals in the apparel industry but only a handful of them can make trainers. That's our field and we have the craftsmanship to compete."
mizuno.jp/mizuno1906
3.
Eyewear/Zürich
Room with a Viu
Zürich eyewear brand Viu has taken Switzerland by storm with its craftsmanship and cutting-edge techniques: think Italian acetate, Japanese titanium and 3D printing. The brand boasts 53 shops in Europe and opened its London flagship in August. Viu allows customers to take four pairs home for a spin before making up one's mind.
shopviu.com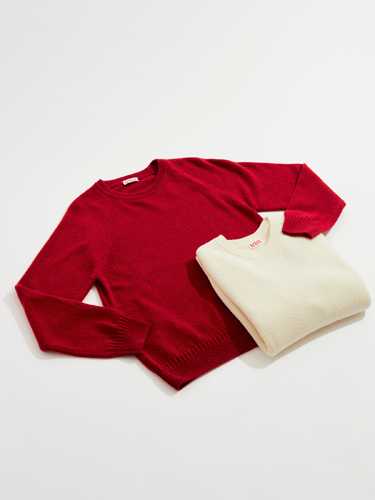 New French label Tricot focuses on knitwear that is mindful of the environment. Founded by photographer Rémi de Laquintane – also co-founder of men's and women's labels Éditions MR and Laquintane – and Tom Lehman, the brand uses recycled cashmere and works with factories near Venice and Lima that are close to fabric suppliers. The aim is to reduce the carbon footprint. "Everyone deserves luxurious knitwear," says Laquintane. "But to make sweaters for everyone, we must make sweaters that are good for the world."
tricotparis.com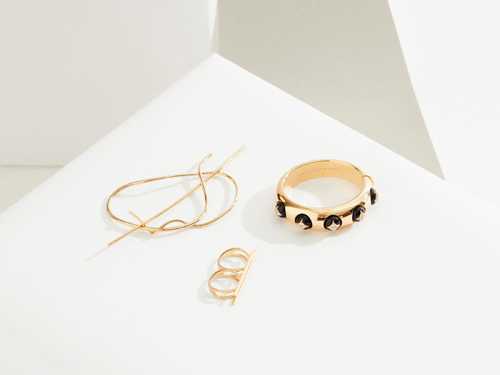 5.
Jewellery/Global
Women's round-up
1 Completedworks Founded by Anna Jewsbury, this London jewellery brand often plays with fluid, elongated forms. Its Lure of Civilisation hairpin is handmade in gold vermeil. 2 Gerbase Paula Gerbase's new venture focuses on made-to-measure women's suiting, knitwear and jewellery. This Aria double-finger, yellow-gold ring is handmade in London. 3 Louis Vuitton Francesca Amfitheatrof recently took over as artistic director of jewellery and watches at Louis Vuitton. This B Blossom cuff from her debut collection is made from white and yellow gold and studded with black onyx.
completedworks.com; gerbase.com; louisvuitton.com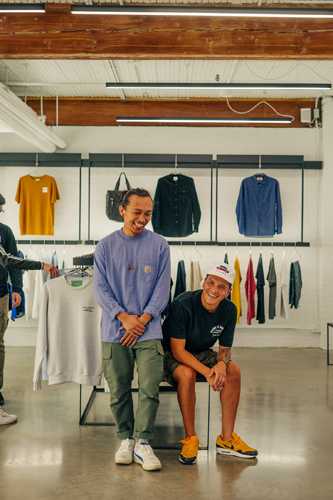 6.
RETAIL/TORONTO
On the up
By Josh Greenblatt, Photography Ian Patterson
Chinatown is one of Toronto's most vibrant areas. Now it is getting a retail scene to match.
Spadina Avenue is one of the most vibrant thoroughfares in downtown Toronto: the stretch from College Street to Dundas Street has been home to one of North America's largest Chinatowns since the 1950s. And its retail options are diversifying: over the past five years, the family-run Chinese grocers, hardware and trinket shops have been joined by a roster of fresh shops.
Last summer Uncle Otis, a Toronto staple for contemporary menswear for nearly three decades, relocated from the Yorkville neighbourhood to Spadina Avenue in Chinatown. "We thought, 'Our customer is really more the Chinatown, downtown vibe and that's where we are too,'" says owner Donnell Enns, whose brand list includes Los Angeles T-shirt guru Lady White Co, Japanese denim expert Orslow and Scandi knits from Andersen-Andersen and SNS Herning.
Up the road you'll find Nomad, a cutting-edge retailer known for introducing the city to high-fashion brands such as Comme des Garçons and Craig Green. Nomad moved to the area earlier this year. Further south on Spadina – just out of Chinatown's bounds – is Livestock, a streetwear shop with a popular in-house line of sweatshirts, fleeces and track pants. Meanwhile Sonic Boom, the city's biggest independent record shop, is on hand for those who'd like some tunes to go with their new threads. It moved its collection of rare rock vinyl to Chinatown in 2014 after 13 years in the city's Annex neighbourhood.
"There's a community here," says Nomad's head buyer Ivan Chow, who grew up spending weekends in Chinatown with his family. "We wanted to create a hub where like-minded people could grab food and groceries, and go shopping all in one area."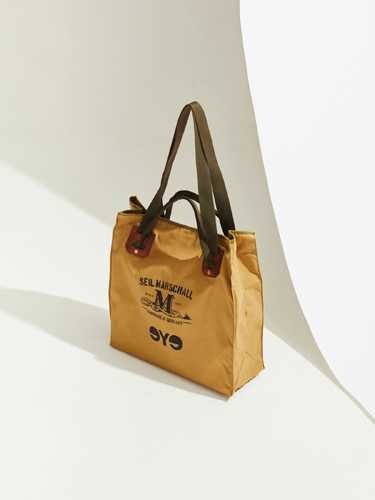 7.
ACCESSORIES
Junya Watanabe x Seil Marschall tote
For several seasons now Junya Watanabe, the protégé of Comme des Garçons' Rei Kawakubo, has teamed with Seil Marschall, a historic German company known for its outdoor clothing and equipment. It's an unlikely union but has resulted in some great products. This autumn they have released a sturdy khaki tote that's made from water-repellent cotton. The bag, with its unusual crinkled aesthetic, is inspired by the classic Ikea shopping bags; there is also a felt version.
8.
Trends/Global
Things we've noticed
Summer kit: Instead of Birkenstocks and bikinis, fashion folk have been wearing one-pieces and Havaianas flip-flops or Teva Velcro sandals.
Merch: Some of the best T-shirts are hanging by tills in cafés and restaurants, from East London to Los Angeles's Arts District. Fashion can be about swearing allegiance to a club or place; this is the ultimate way to do that.
Faux leather: "Pleather" used to induce shudders. No longer. Consumers are increasingly interested in animal-free products and brands such as Rejina Pyo are responding with great faux-leather stuff.
'Shops': With Rent the Runway opening in San Francisco, and Neiman Marcus unveiling its "local" outposts in New York, some of the biggest new shops don't sell clothes. Are showrooms the future?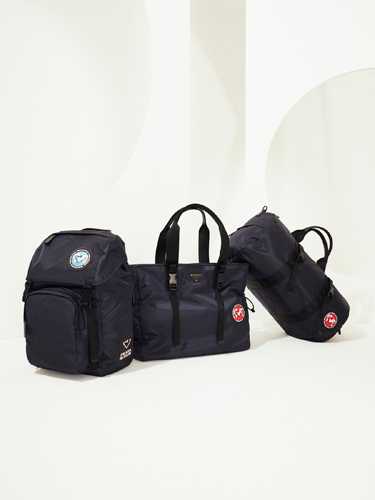 9.
Bags/Italy
Prada Re-Nylon
Prada has done more for nylon than any other fashion brand. After all it was Miuccia Prada who elevated the "cheap" material into something suitable for the luxury world when she launched that black nylon backpack in 1984. Now the Milanese house is redoing some of its signature carriers in a collection fit for our eco-conscious age. Dubbed Re-Nylon, each bag in the capsule collection – whether it be a tote, duffle or backpack – is made using Econyl, a nylon-like fibre spun from old fishing nets and discarded plastics that's produced by the Italian firm Aquafil. It's the first step in an ambitious project: Prada is aiming to have converted all its virgin-nylon products into Re-Nylon by the end of 2021.
prada.com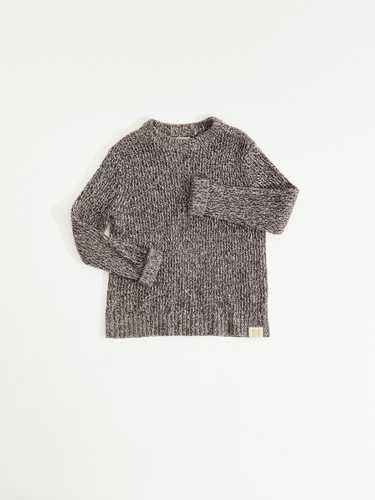 10.
Knitwear/Global
In praise of the gardening jumper
In your wardrobe are your shirts and jackets, all pressed and keen; in your drawers your underwear and T-shirts, all neat like soldiers. But soundly sleeping next to muddy boots on the porch is your most treasured piece of clothing: the gardening jumper. It's old, holey and smells of pleasant smoke, bonfires, barbecues and tobacco. It's probably quite a good make, was certainly woven when things lasted and simply won't give up the ghost. This old campaigner has seen you through chilly drives to the airport at dawn and dog-walks in downpours, and it still wears a few stubborn burrs from that time you fell out of the tree trying to make her laugh. It doesn't care where it lies and will always save another day. The gardening jumper can be read as a spaniel-scented stealth-wealth signifier but it is more than that. Everyone has a gardening jumper. Having one is to know and love; memory wrought in lambswool.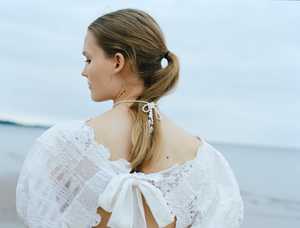 11.
AGENCY/DENMARK
Lunar landscape
By Louis Harnett O'Meara
If you own a successful young fashion label in Denmark, chances are your branding was overseen by Moon, whose cool, almost minimal style is on the rise
Behind all great fashion brands is equally great branding – at least that's the case in Denmark. For the past five or so years, Copenhagen creative agency Moon has done branding, shop fit-outs and runway-show production for almost every one of Denmark's exciting crop of young brands. It seems like the only thing Moon leaves to its clients are the clothes themselves.
"I developed Acne Studio's retail platform before starting Moon," says Martin Gjesing, who co-founded the agency with Frederik Bjerregaard in 2013 after leaving the famous Swedish house. Although Moon's aesthetic favours clean black fonts and plenty of white space, it has a certain grittiness that stops it from being minimalist. Ganni – a Danish womenswear company that has recently exploded onto the world stage – was an early client. That brand bucked the Scandinavian stereotype of pared-back design with its loud colours and girly styles. In addition to designing Ganni's brand identity and campaigns Moon oversees Ganni's fashion shows, which have become iconic at Copenhagen Fashion Week. This summer the brand drew huge crowds to a city-centre rooftop tennis court. "The 360-degree mindset was key to us," says Gjesing, of Moon's move into show production.
The agency's other clients include new menswear brand Sunflower and up-and-coming womenswear talent Cecilie Bahnsen. Working with young brands allows Moon to establish a consistent identity from the outset. When creating Bahnsen's branding, for instance, Moon matched the designer's playful riffs on classic billowing dresses with lookbooks featuring off-kilter photography shot in grand old abandoned studios. It has some older customers too. Birger Christensen, a 150-year-old multi-brand retailer, received a total refresh. From its logo to shopfront, it shifted its identity from old-school fur seller to international fashion player, with clean, neutral tones offset by blasts of bright colour. "It's important that they're open to a new direction," says Gjesing. "And ready for a faster-moving business."
moon-international.com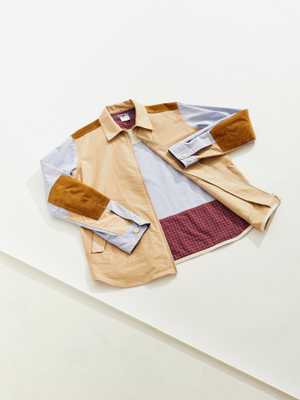 12.
Buyers/Global
Buyers on their favourite item this autumn
Pierre-Henri Mattout Founder of PHM Saint-Peres, Paris
Pick: Junya Watanabe deconstructed shirt (pictured) "What I particularly love in all of Junya's collections are the hybrid pieces. He is the master of combining clothing to bring something new — this piece is a tailored harrington jacket at the front, with Oxford shirt sleeves. You can wear it as an overshirt or a jacket."
Alex Eagle Founder of Alex Eagle, London
Pick: Giuliva Heritage Collection dress coat "Giuliva pieces are made to last a lifetime – each is made with the finest fabrics and with effortless design. Tailored pieces are always a classic as they smarten up jeans and a T-shirt, but this would equally work with a slinky black slip dress for winter parties."
Takuro Komeiji Buyer at L'Echoppe, Tokyo
Pick: Mackintosh for L'Echoppe, water-repellent mohair rubberised coat. "Exclusively made for us, this oversized rubberised coat is made from a water-treated mohair, which gives it a 'good old days' feel. It's a coat for grown-ups who want to mix the vintage character of a classic coat with the trench coat silhouette."
Rhys Hallett Head of Women's at Frances May, Portland
Pick: Nomia trench coat "Nomia is a New York-based designer and a friend. Her plaid trench is a statement piece that feels old school and collegiate, but a little bit more modern. We've carried her since the store opened so it's just nice to maintain that consistency."
The Old Rascal
You may be able to spot him but there's no stopping him...
By Robert Bound
You know the type. You've seen him. You've wondered what he does, or did for a living if a living was even required. You have briefly alighted in his sweeping gaze. You've smelt his cigar smoke from afar. You sort of love him and hate him. Maybe you're just jealous. Maybe you're married to him. Maybe you are him. He is the Picasso of the restaurant you're in; he is the collector to whom the savage art dealer is obsequious; he is the old guy your young girlfriend is flirting with at the party. He is the Old Rascal.
The hair is grey and slicked back but also curled with subtlety at the ends. It is thinning on top, sure, but the welt and weft, the quality of the rest of the barnet can only be called luxuriant. The clothing is carefully codified, its layering and interweaving as complex as the Edwardian class system or a taxonomy of Ancient Egyptian slaves. It's subtle. Some think that a simple Tod's driving moccasin and a Breitling will suffice. They won't. A Swatch worn almost ironically says that you're always on holiday. Some will tie a navy Loro Piana sweater around the neck of a burgundy Lacoste tennis shirt and think they're done. Good – but not quite. It can easily be jeans, always Wrangler or Levi's (nothing designer), but it's more often chinos, mostly navy with a woven belt and always the right length to allow just enough tanned leg. There will be no sock, nor socklet. The shoe will likely be Sebago, boat, but not chunky (God), worn but not worn out. This last point is important: peak Old Rascal is French, Italian, Argentinian.
The Old Rascal is not sporty like the Englishman or horsey like the Spaniard; he is often urban, out and about, and can't see much point in hanging out with other men unless it's for work – if work was even required. The Old Rascal is at the party in Forte dei Marmi, Cap Ferret, Gstaad. He's a bit of a bastard but doesn't he do it so well. He's proof that vanity works and, yes, he's still flirting with your bloody girlfriend.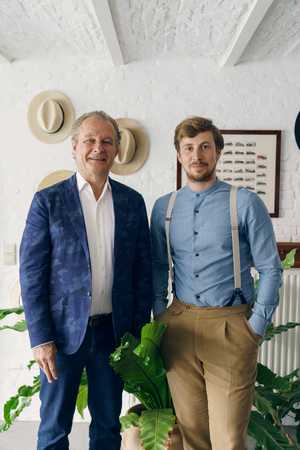 13.
Menswear/Belgium
Borélio
Belgian trouser brand Borélio's custom designs are a rarity in the made-to-measure world: its jeans and casual slacks in linen or cotton replace the suits and dress shirts more traditionally associated with bespoke. Its focus on the everyday has won the brand a legion of fans, including Belgian royalty.
Founded in 1930 by Julia Cracco Fache, the company is now run by Fache's great-grandson Alain. It operates out of a loft in Antwerp where about six customers a day enjoy fittings with Borélio's 29-year-old commercial director, Ruben Opheide. Pre-made silhouettes can be tried for size and customers can pick fabrics, trimmings and adjust fit; trousers can also be garment dyed in a range of bespoke colours.
"We often feel more like chemists than trousers makers," says Opheide. "Trousers are given a special colour wash after [being made], resulting in a more vintage look. It took us years of testing to master this technique in every single colour and every single fabric."
borelio.eu
Q&A
JONATHAN DANIEL PRYCE
Photographer
London
Jonathan Daniel Pryce is a London-based photographer who goes by the moniker Garçon Jon. His route into fashion photography began when he started shooting men on the streets in his hometown of Glasgow for his blog. Today he travels around the globe using a Canon camera, taking street-style pictures for publications such as Vogue. His debut book Garçon Style is published in September.
MONOCLE: What is your favourite city for men's style?
JONATHAN DANIEL PRYCE: London. It's the most multicultural city in Europe; it mixes British sensibility for irreverence and dressing up with a flavour from around the world. In most other cities dressing casually dominates but in London I see a lot of men still making an effort with their outfits. If a guy decides to try a floral-print suit he's unlikely to get a funny look from a Londoner.
M: Is London the most fashionable city, then?
JDP: No, that would be Paris; it embraces fashion both as an art form and a business. Fashion is built into French culture; there is an appreciation of quality and design, so there's a knowledge and appreciation of designers. It's not unsurprising to see the average man in Dior Homme. 
M: Does your photography shape what you wear?
JDP: Not really. I love workwear – clothing that is fit for purpose. I wear a lot of black and have a uniform: Japanese denim jeans, a crewneck black T-shirt and a pair of Dr Martens that I replace every time they wear out. I like clothes that have everyday wearability.
garconjon.com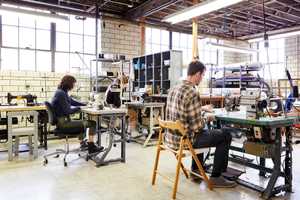 14.
MANUFACTURING/CINCINNATI
Make, do
By Josh Greenblatt
With affordable production space lacking, Sew Valley's founders fashioned a solution.
Rosie Kovacs was struggling to launch her fashion line in her hometown of Cincinnati. A city of 300,000 people, it lacked the manufacturing infrastructure a young fashion entrepreneur needed. Then, in 2017, Kovacs and fellow designer Shailah Maynard learned that a local development foundation was looking to fund a maker-space in the city and they sensed an opportunity.
In December that year Sew Valley opened, offering designers affordable production from sample-making to prototyping, studio space and workshops on sewing and patternmaking. "We're focused on designers that are just starting out and don't want to spend thousands to make 500 units of something and then don't know what to do with all that unsold inventory," says Kovacs. Today, seven members operate out of Sew Valley's collection of 20 sq m studios; these are housed inside a 150-year-old former flag factory in the city's West End neighbourhood. Sew Valley's studios are currently at capacity and would-be entrepreneurs call every day in search of production support. "Sewing manufacturing is nearly non-existent in the Midwest," says Kovacs.
Keeping production close is key for young brands. "If you're a 15-hour flight away from your factory, things can slip through the cracks," says Dave Craft, founder of the small-batch menswear label Makeshift. A community is forming here. Two tenants, womenswear brand Grind & Glaze and sustainable-handbag label Madlin, have just collaborated on a limited-run of carriers made from cotton and Piñatex (a leather alternative). "Sew Valley is showing young designers that you don't have to move elsewhere to be successful," says Craft. "If this is your passion and you want to start a label, it's doable here."
sewvalley.org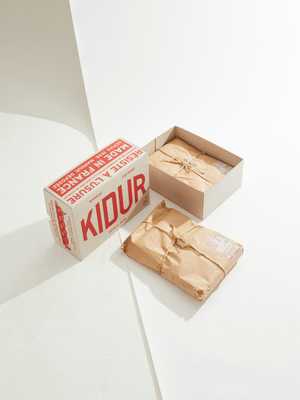 15.
DESIGN/FRANCE
Best packaging: Kidur
It took a year for the team at Kidur, a French menswear brand that began making workwear in 1927, to develop packaging that paid homage to its origins. Purchases arrive in recycled paper wrapped in twine; in each box, a postcard based on the brand's legacy can be found. "The packaging is made to last as long as the garment," says chief executive Alexandre Clary of the plastic-free wrapping. "We want our customers to keep and reuse it."
kidur.fr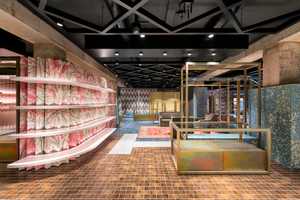 "Men and women in the north of England love luxury fashion," says Michael Murray, head of brand elevation at Flannels, the department-store chain headquartered in Wigan, not far from Manchester. Flannels opened its first shop in 1976; today it is owned by Sports Direct International and has over 40 UK stores. But chances are few people will have heard of the multi-brand retailer, which stocks Tom Ford, Gucci and JW Anderson. Why? Because it hasn't had a shop in London – until now.
"To be a prominent name in luxury retail, it's important to have a presence in the capital," says Murray of a forthcoming space on Oxford Street. "Opening is a statement of intent." It won't be an easy move. London is a tough market with stiff opposition. Flannels will be within walking distance of Selfridges and Liberty.
How does a relatively unknown department store plan to battle it out? Murray says the answer lies in its northern charm. "Because there is less accessibility to luxury [up north], stores in these cities offer a personal touch – staff know their customers names," he says. "Shops in London are less intimate. This is something we want to change."
The four-storey building will host art installations and pop-ups. "People are longing for tangible experiences, especially in luxury," he says. "This is more than a store. It's a destination."
flannels.com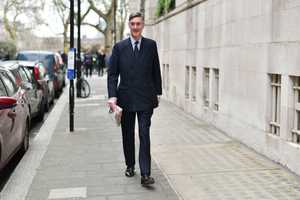 Autumn dressing
By Peter York
'Layering' is a dirty word for this fashion aesthete, but as the days shorten, men get the chance to mix their materials and dress properly.
There's more to wear in the autumn. More choices, more layers, more fun. If you like clothes, that is. If you don't see yourself as a superannuated surfer, gap-year dude, millennial mindfulness tent-dweller, or any kind of Babytime identity that grown men invent for themselves so they can be toddlers forever.
I speak here as a man who owns a pale double-breasted cotton suit, so I know the limits of summer self-expression. There's that white (cream, actually) linen suit danger of looking like a stage Englishman, someone who saw a couple of Merchant Ivory films in their late teens and has never been the same since. The other summer stuff is so limiting. T-shirts and shorts – people say there's subtle inflections you can build into these modest garments, but you can't get inventive without looking silly. It's got to be well-ventilated now Northern Europe gets hotter than Timbuktu. And there's the bare feet thing, or the sandal thing, or the new-generation woven synthetic trainer hybrid thing that looks vaguely... therapeutic. All terrible.
But all are gone for autumn, to be replaced by grown-up clothes for a grown-up life. The smart and only borderline stagey-fun of a striped double-breasted suit. (The greatest problem with double-breasted suits now is the risk of "doing a Jacob" – Jacob Rees-Mogg, the terrible Brexiteer and Dublin-based money manager. But JRM's double-breasteds look like his dad's, or a 1939 Appeasement politician's. If yours is cut right it'll do the business.)
There's that "layering" thing fashion writers talk about. It'd be better if they didn't of course, but what's actually meant by it – a shirt, then a jersey, with a jacket on top – involves interesting choices about colour, material and pattern. Things that can give a law-abiding bourgeois a bit of mild self-expression and modest private pleasure. There are new and old combos too. I've got a blue herringbone tweed jacket made at least 20 years ago and it looks nice on top of one of those black architectish garments.
There's a book to be written about Scarf Action for Men. The trade-off between those vintage, unbulky Tootal rayon numbers or the glory of a big double-sided silk and wool number with excitable Paisleys or disciplined white dots.
Grown-up shoes: the joy of the perfect Cleverley Oxford, or even those big Church's brogues that look different with narrower trousers. There's the perennial pleasure of your brown suede chukka boots or those nicely lasted Crockett & Jones lace-ups.
There are shirts and ties, proper shirts with room in them. And the challenge of Ties for Now. Knitted – I have a new brown one from Signor Volpe.
It's inspiring just thinking about it. In a time when the Trumpite coup threatens British civilisation, we've got to do everything we can to resist.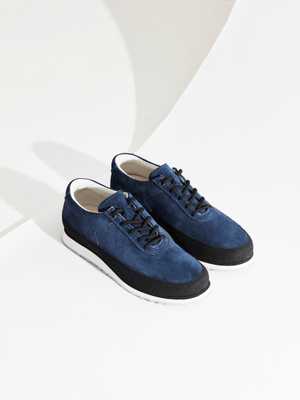 17.
Footwear/Finland
Tarvas shoes
The three industry veterans behind this new Helsinki shoe brand sensed there was a gap in the market for rugged and durable shoes that looked sharp. "We wanted a shoe that looks stylish but that you can still wear in the slush and snow in winter," says co-founder Pekka Keinänen. The lace-ups have natural-rubber outsoles and water-resistant mud guards, come in suede as well as more technical materials, and are made in Finland. Tarvas has collaborated with menswear brand Engineered Garments and, just a year after launching, its main markets are Japan, the US and the UK.
tarvasfootwear.com
---
4 more:
Veja (France)
New running shoes.
On (Switzerland)
Look out for its stylish but sturdy hiking boots.
Santoni (Italy)
The Innova trainer with otange detailing
Reproduction of Found (Japan)
Retro trainers.
18.
Retail/USA
Será beauty shop
When Christine Ferrante was thinking about opening a shop to sell her fragrances and candles, she didn't look to New York, her former home. Instead she went north to Woodstock, a town of 6,000 made famous by the festival. Ferrante and friend Nolan Zimmerman, a former retail executive, moved to Woodstock a few years ago to escape the Big Apple; they opened Será in July. "The concept was to nurture connections with nature," says Ferrante. It's working: Será's Kyoto fragrance sold out in two weeks.
seraspace.com
19.
Autumn essentials
Textiles
Layering up is still the best way to control your temperature.
JACKET by Sunspel, SHIRT and TROUSERS by Beams Plus, SOCKS by Uniqlo, SHOES by JM Weston, SCARF by Johnstons of Elgin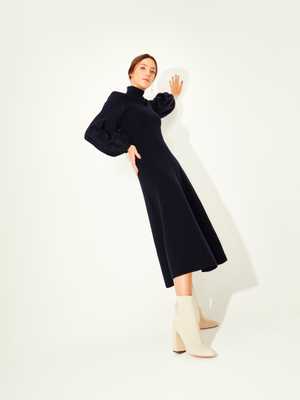 20.
Autumn essentials
Accessories
Bags and boots galore.
DRESS by Akris, BOOTS and EARRINGS by Hermès
21.
Autumn essentials
Key items
Loafers, hats and puffer vests.
22.
Menswear/Australia
Informale
When thinking of tailoring centres, Australia is unlikely to come to mind. "Melbourne isn't even on the radar," says Steve Calder, co-founder of Informale, a casual men's tailoring brand launched in 2018. Informale's neutral-toned trousers and jackets are made in Melbourne with sustainable fabrics; the ambition is to reinvigorate domestic manufacturing. "With relaxed fits and vintage styles, we're making pieces that will be part of a wardrobe for 10 to 15 years," says Calder. He has his work cut out, though. "It's hard to convince Australian guys to dress well," he says. "We are in uncharted waters but the opportunities are endless."
informale.com.au
JACKET and TROUSERS by Informale, T-SHIRT by Sunspel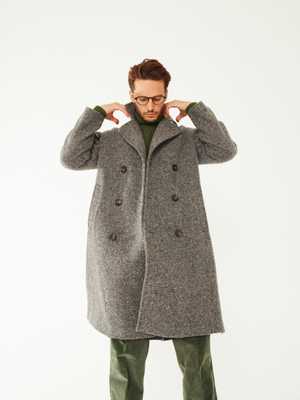 A four-year-old brand born from the friendship of Alain Fracassi and Albert Carreras, Doppiaa turns classic menswear styles into versatile modern pieces with a Mediterranean flair. Vibrant colours and plaids highlight the full-bodied fabrics – tweed, alpaca blends and lamb's wool – chosen by Fracassi, the son of a clothing store owner and grandson of a tailor who taught him all about textiles. The brand is based in Milan and its wares are made by small production houses in Italy. The clothes are designed to dress every generation, from teenagers to grandfathers, with a flexible approach between formal and informal dressing that includes blazers and ties – but also shorts. "Fashion doesn't depend on age," says Carreras. "It only depends on where you're going and the mood you're in."
doppiaa.it
COAT, ROLLNECK JUMPER and TROUSERS by Doppiaa, GLASSES by Lindberg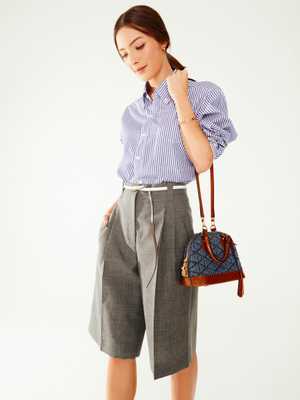 24.
Autumn essentials
Patterns
Liven up your look with a print or two
SHIRT by Appletrees, TROUSERS by Loewe, EARRINGS and BANGLE by Georg Jensen, BAG and BELT by Louis Vuitton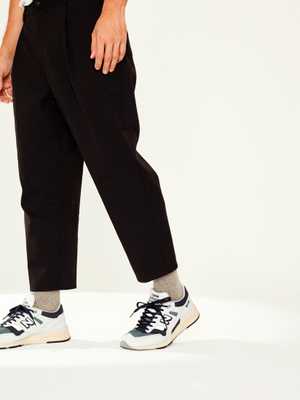 25.
Menswear/Japan
New Balance
The Japanese attention to detail is so precise that New Balance Japan, the Tokyo-based division of the trainer brand, has perfected what it thinks is the ideal trouser for showing off its shoes. The collection of slacks offers skinny to wide silhouettes in black, camel and grey cotton. The hem of every pair is calculated to sit slightly above the shoe tongue. The sad news? They're only available in Japan.
newbalance.jp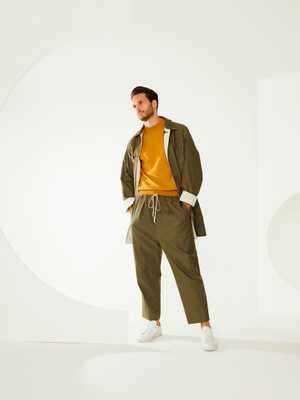 Fashion has always been part of life for Yu Haneishi. "My grandfather ran a small tailoring business," he says. The Tokyo-based designer launched unisex label Anei this year following stints at Yohji Yamamoto and Visvim. "At these brands I learnt things that school cannot teach," he says. "I draw details and inspirations from wafuku [traditional Japanese clothes]." But Haneishi has big ambitions. "I'd like to take Anei to the global stage."
JACKET and TROUSERS by Anei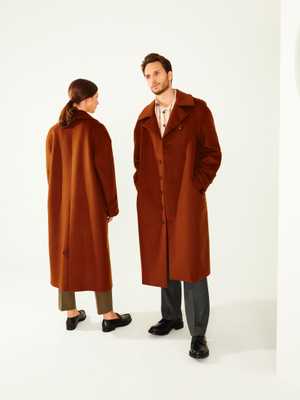 27.
NEW LAUNCH/ITALY
Cabinet Milano
"We wanted something that worked first of all for ourselves," says Francesco Valtolina. An art director of contemporary-art Mousse Magazine, Valtolina and his girlfriend Rossana Passalacqua, a location scout and fashion stylist for top luxury brands, launched Cabinet Milano less than a year ago. The seasonless, mostly unisex garments in a tight range of co-ordinated colours offer a fresh interpretation of dressing for the office, with new proposals to replace the classic suit – matched sets, trench coats and simple dress shirts. Made in Italy, their first collections of redefined workwear consist of a few thoughtful pieces – what Valtolina calls fashion "without hysteria", a response to the trend-driven vertigo of much of the fashion world.
cabinetmilano.com
COAT by Cabinet, TROUSERS by Pal Zileri, SHOES by JM Weston
28.
Autumn essentials
Down to earth
Autumn is the right time to opt for neutral earthy tones.
COAT, SHIRT and TROUSERS by Cabinet, SHOES by Church's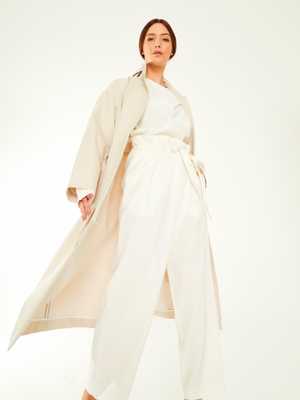 29.
Womenswear/South Korea
Le 17 Septembre
"Our pieces are so minimalist that the fabric itself has to stand out the most," says Eunhye Shin, founder of Seoul-based womenswear label Le 17 Septembre. With its signature understated silhouettes, Le 17 Septembre aims to update the classic pieces in a woman's wardrobe with design-focused details: woollen twill shirts are oversized with adjustable side straps, while sweaters and coats are convertible so can be worn two ways.
le17septembre.com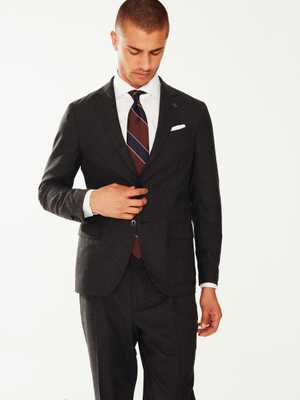 30.
Autumn essentials
Find a look that works
Staying smart for the office.
SUIT by Lardini, SHIRT by Barba from Beams, TIE by Breuer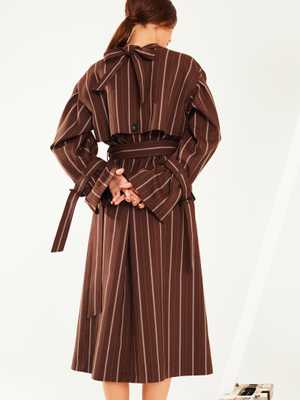 31.
WOMENSWEAR/JAPAN
Yohei Ohno
Japanese designer Yohei Ohno started his women's brand in 2014 following his studies in Tokyo and London. "When I create I think about free, refreshing shapes," says the 34-year-old, whose designs are inspired by art, architecture and objects. "I want to design modern clothes that have borderless universal beauty."
yoheiohno.com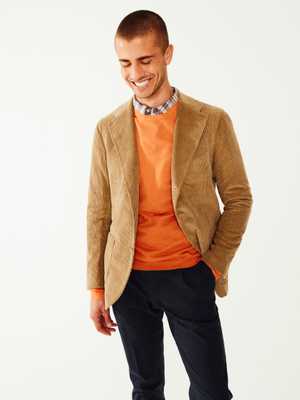 32.
Autumn essentials
Materials
As the temperature cools corduroy, plaid and wool come into their own.
JACKET by Orazio Luciano, JUMPER by Brookfield, SHIRT by A Kind of Guise, TROUSERS by PT01