Cosy corner / Berlin
The usual, please
The editor in chief of 'Zeit Magazin' on where he goes to shoot the breeze over a first-rate cocktail.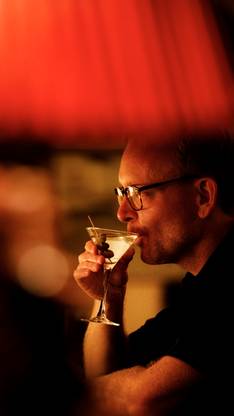 "Victoria Bar feels old but it's not," says Christoph Amend, editor in chief of German weekly Zeit Magazin, as he settles into a corner banquette in the Berlin bar. Our bartender, with slicked-back hair and a crisp white shirt, tells us that while this establishment – low-lit and festooned with paintings, photographs and collages – feels like it's been around for decades, it actually only opened 18 years ago.
Predating the bustling art-gallery scene here, the Potsdamer Strasse bar has long attracted Berlin's creative and media types, barflies and spirit connoisseurs, many of whom are after some of the best cocktails the city has to offer. "There's no show, it's really about the drinks," says Amend. "They're a little strict at the door but not really and the mix of the crowd is great: regular people from the neighbourhood, west Berliners, kids around 25 and, of course, the art crowd."
Amend moved to Berlin 20 years ago. For the past seven years he has lived in an apartment around the corner and made this his local. Like many regulars he's had late nights sitting in the back banquettes but sometimes he takes one of the front tables which – due to the layout – are still remarkably discreet. "That's what makes this place special: you can hang out and nobody will bother you," says Amend, whose recent visit with singer Bryan Ferry went largely unnoticed.
Victoria Bar is a sundowner venue for Amend as well: on his walk home from work in Berlin-Mitte he'll stop here for a single drink to simply reflect and "let the day pass", or bat around ideas with a friend or colleague. Some of those reflections and conversations are behind his book, Wie geht's dir, Deutschland? The title means How Are You, Germany? and inside he takes the pulse of his home nation at a time of transition. Each chapter profiles a person based on interviews with famed Germans, such as singer Herbert Grönemeyer and designer Dieter Rams, but also regular citizens such as Amend's own father.
It was born of an epiphany; a year ago, after anti-immigration unrest in Chemnitz, Amend was listening to the radio. "One quote I heard was, 'The varnish of civilisation is thin.' I knew I'd heard that before." He remembered it from interviews for his first book in 2003, in which he talked to the "grandfathers" of postwar Germany. The realisation that nearly all of his protagonists were dead and that the country had changed compelled him to find out how Germany was faring now.
So how is Germany? "As long as we keep talking to each other we'll be fine," says Amend assuredly, meaning that different societal groups shouldn't lose track of each other. Like the things that make Victoria Bar great, it's all in the mix.
1974 Born in Giessen
1996 Takes first editorial job at Süddeutsche Zeitung's youth magazine Jetzt
1999 Moves to Berlin for a position at the Tagesspiegel daily newspaper
2004 Wins Hermann Hesse-Junior Award for his first book, Morgen tanzt die ganze Welt
2007 Becomes editor in chief of Zeit Magazin in Berlin
2019 Publishes Wie geht's dir, Deutschland?