Retail revival / Santa Cecilia, São Paulo
Come together
Residents of a downtown São Paulo district have teamed up to revive the area through retail.
São Paulo's downtown district of Santa Cecília has recently seen an influx of bricks-and-mortar retail, spearheaded by entrepreneurs eager to improve the neighbourhood. With its low-lying houses, brightly coloured chapels and shady tipuana trees, the area is nestled between towering apartment blocks in upscale Higienópolis and Oscar Niemeyer's colossal Copan building.
On a bustling corner, the once neglected Banca Tatuí newsstand was among the first businesses in the neighbourhood to be revamped. Five years on the open-plan kiosk, with its vibrantly painted façade, has become a meeting point for the community. "It was a dangerous corner," says its co-owner Cecilia Arbolave. "Today the Banca is much more than a point of sale: it creates a feeling of safety, particularly at night."
Arbolave and João Varella saw the benefits of renovating the newsstand following the launch of their publishing house, Lote 42. These days the duo regularly hosts events at the stand, including readings and concerts – some of which are performed on the reinforced kiosk roof – to draw a wider audience to their literature. On these occasions dozens of people gather here in the sub-tropical sunshine, sharing bottles of chilled beer from the bar next door.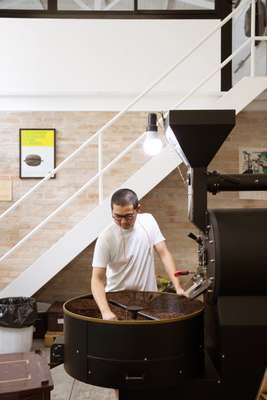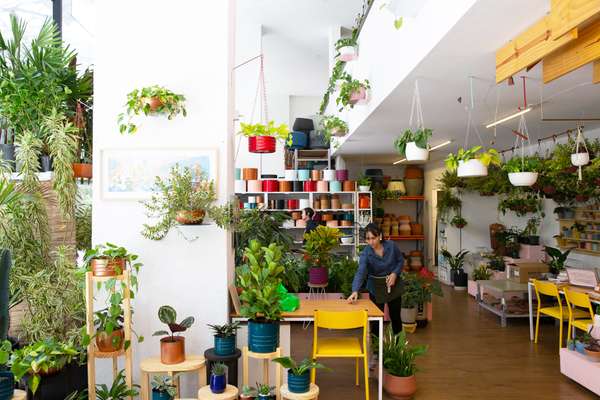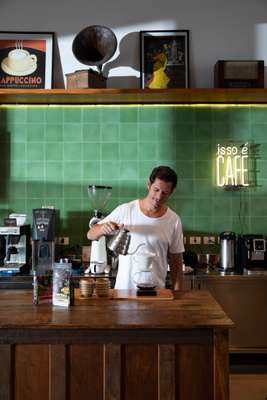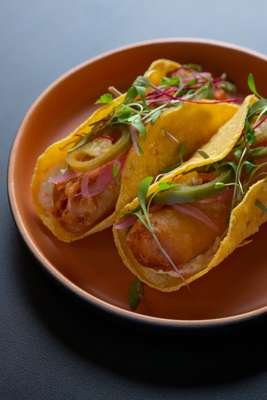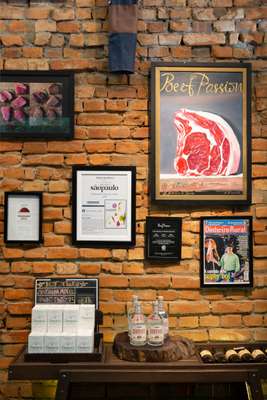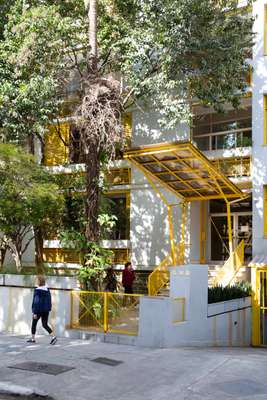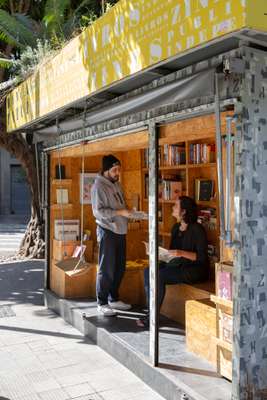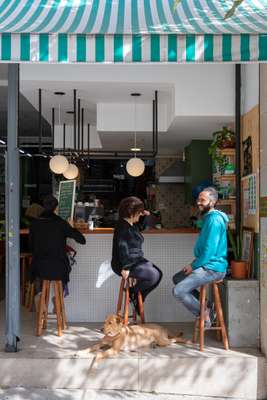 Creating more public space has become a priority in the city of 12 million. São Paulo has one of the world's fastest-growing populations and has seen many skyscrapers rise and suburbs sprawl; hence the push to give the city a more human feel. After the renewal of neighbouring Centro, the focus has shifted to Santa Cecília. Cattle ranchers and coffee barons once had their stalls here; now the young generation reviving the district is keen to restore the area's relationship with farming by promoting a village-like atmosphere.
Across the road from Banca Tatuí, florist Arranjo Tropical's bouquets brighten up the pavement, while the restored covered markets of Galpão Jardim Secreto and Instituto Feira Livre, which sell handicrafts and organic produce from more than 250 small-scale producers, fill the streets with crates of watermelons, avocados and passion fruit. Architect and resident André Scarpa has noticed a huge difference in the way people interact since shops and restaurants have opened onto the streets. "There's a sense of security, movement and collaboration," he says.
Nearby Isso é Café lures in passers-by with its freshly roasted coffee beans, cultivated on founder Felipe Croce's family-run plantation. "I'm part of a group where businesses and homeowners share ways to improve our street's lighting, greenery, recycling and safety," says Croce. "We need to learn how to live together." His neighbours include the butcher Beef Passion, that opened up in a former convent, a longstanding picture-frame specialist, an upholsterer and a Portuguese tile-seller. The traditional workers' café that serves food "by the kilo" on weekdays hasn't budged either; it smartened up its outdoor seating and now benefits from growing footfall.
Those investing in Santa Cecília are not interested in creating a sunny veneer to disguise the inequality that exists in Brazil; instead they're seeking to heal social disparities by building a sustainable and affordable neighbourhood. "People shouldn't forget that São Paulo is a very divided city," says Scarpa. "So there must be a greater sensibility when introducing new concepts if they are going to work; anything too radical upsets the balance."
In a world where social divisions in cities are widening, Santa Cecília seems to have found a way to evolve without losing its long-time residents. It's also kept gentrification at bay – and its character intact.
Banca Tatuí: Independent newsstand selling books, graphic novels and locally made prints.
275 Rua Barão de Tatuí bancatatui.com.br

Instituto Feira Livre: This organic grocer has become a neighbourhood staple. It sources its produce from more than 250 producers and offers jars to refill liquid soap and olive oil.  
229 Rua Major Sertório institutofeiralivre.org

Galpão Jardim Secreto: This refurbished market offers dozens of handcrafted items, from tableware to accessories.  
209 Rua Major Sertório feirajardimsecreto.com.br     

Isso é Café: Pared-back coffee shop selling freshly roasted beans from the owner's plantation.  183 Rua Barão de Tatuí issoecafe.com

Beef Passion: Brazil's first certified sustainable beef is available at this butcher that also hosts upmarket dining events.   
229 Rua Barão de Tatuí beefpassion.com.br

Loja Nó: This boutique focuses on pieces designed by Brazilian brands and carries an urban menswear collection.  
114 Rua Major Sertório lojano.com.br

Selvvva: A tropical paradise with plants and design pieces.
501 Avenida Angélica  selvvva.com

A Casa do Queijo: Delicatessen with a gourmet range of regional cheese and preserves from the state of Minas Gerais.  
719 Rua Martim Francisco

Rota do Acarajé: Traditional food from Bahia, in Brazil's northeast, served in a vibrant dining room.
529 Rua Martim Francisco  rotadoacaraje.com.br/site

Beverino: Biodynamic wine shop with an intimate bar and seasonal menu.  
702 Rua General Jardim

Caracol: Sweeping bar-cum-nightclub that serves potent cocktails. In-the-know Paulistanos can be found mingling here until the early hours.  
76 Rua Jaguaribe