Table talk / Global
Conversation starters
Whether it's picking the perfect mealtime music, learning how to drink a potent muscle relaxant with prime ministers or promoting parliament with regional produce, this rundown guarantees you'll have something to talk about at even the most formal of dinner parties. And if all our help fails you can always resort to a stiff drink to encourage the chatter to flow.
Queensland's culinary envoy
DIPLOMACY
Supporting the state
In the shiny stainless-steel kitchen of Queensland's Parliament House, chef Andrew McCrea is putting the finishing touches to tonight's menu. However, those set to enjoy the feast aren't the state officials you might expect.
The spiced-lentil and halloumi salad, paired with beetroot wellington, will be served in the speaker's dining room – but the guests this evening aren't ambassadors or business executives being greeted by politicians. They're citizens – certainly not the usual foreign CEOs or visiting dignitaries.
"When I accepted this position in parliament I didn't only want to cook for a select few people," says McCrea. "I don't think that's how democracy works. Everyone should be able to experience what we're doing here."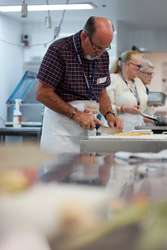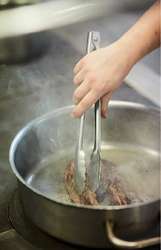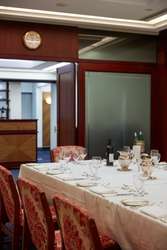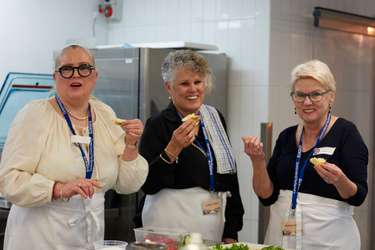 As the state's top parliamentary chef, McCrea was instrumental in setting up a monthly cooking school in the Parliament House kitchen, giving residents an opportunity to visit their governmental buildings, understand what happens here a little better and learn some new culinary tricks along the way.
It's part outreach and part savvy PR effort that's also seen three other restaurants in the parliament open to the public. Until recently, the building was closed to all, bar members of the house and VIPs. It's a move that's intended to show that the northeastern state is progressive but it's also a reminder of the power of food diplomacy. "The link between politics and food is that everyone comes together to eat," says McCrea, who only uses regional produce in his dishes. By bringing people together over quiet examples of Queensland's agricultural prowess (a little soft power with your ribeye, anyone?) he helps instil a sense of pride in place.
"When members of parliament or people from certain areas see their region on a menu, it makes them proud," says McCrea. "Whether it's pork from Goondiwindi, beef from Kilcoy or citrus from Bundaberg."
In a tone that feels lifted from an ambassador's speech, McCrea concludes: "We want to push new ideas and support small growers in the state. We want to get them on the map."
---
The sober truth
DRINKS
No booze? You lose
Urgh: alcohol-free "spirits". Yuck: mocktails. Cringe: Seedlip. As you'll have read, we're celebrating hosting and subtly directing you towards doing it better. One big trend that we'd recommend you shy away from is embracing zero alcohol at the sort of events that have traditionally thrived on them. Why change the rules of engagement? They still thrive on them. Here's what might happen in some situations, sans booze.
The wedding:
The first dance was awkward, the speeches more "Greta Thunberg at the UN" than "Chris Rock at the Hollywood Bowl" and the carriages at midnight were asked to come at 19.00.
Work party:
A successful company is built on great ideas, hard work and inappropriate behaviour at parties. Zero grog means no one having affairs, staff morale plummeting and firms ceasing trading.
Product launch:
No one turned up.
Wake:
Sober events suffer when the rose-tinted spectacles of a couple of gins have not been employed. Imagine a wake at which people were honest.
Leaving do:
No rinsing of a corporate card combines the key ingredients of the product launch and the wake. There will be tears; you have been warned.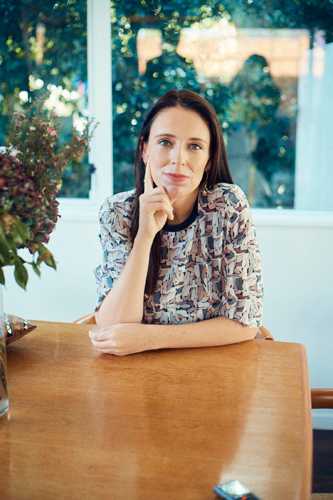 Asia-Pacific hospitality
POLITICS
Take it easy
My first meeting with New Zealand prime minister Jacinda Ardern took place at her bungalow in Auckland. Around 08.00 her partner, dressed in shorts and "jandals" (think flip-flops), opened the gate with a warm "G'day" before Ardern offered to make a cup of tea. Kiwi hospitality served up before I'd even got in the front door. At the end of the interview they went to view a house and left me and the photographer to lock up.
Being a good host is not just about serving food and drink; it is about inviting people in and revealing a bit about yourself. This natural generosity is a hallmark of Asia-Pacific hospitality and, in many cases, it extends to politicians as much as the people they serve. To me as a Brit (well, Welshman), living in Hong Kong and tasting this for the first time, it came across – at first – as naïve.
My most extreme experience of an easy-going politician in these parts came during a trip to Pohnpei, one of four main islands that make up the Federated States of Micronesia. Over several days I had a crash course in drinking sakau while covering a gathering of Pacific island leaders. A muscle relaxant, sakau is made by men beating the root of a kava plant and is then drunk from a hollowed-out coconut. On the final day of the trip I shared one with the then prime minister of Micronesia, Peter Christian. It ended up being a highly refreshing experience, especially when so much time is usually for show and lives are staged for photographs.
But politics is politics and even in Asia Pacific there's a message at play. Two years ago I interviewed Imran Khan while he was running for office. The former cricketer likes to host journalists at his gated compound; what initially felt like an exercise in ivory-tower aloofness was actually a demonstration of transparency. "Come in," he was saying, "I have nothing to hide." As I was leaving, Khan – now a devout Muslim – kneeled on his prayer mat. It felt very personal; it also felt like I was part of delivering a message. Sharing yarns about cricket and his times as a cad in London would have scored plenty of hospitality points but, at the end of the day, the politician had an election to win.
Dinner-party speak
ETIQUETTE
Tasty translations
Host says: "Do finish the..."
Means: "Don't finish the..."
---
Host says: "Anything I can get anyone?"
Means: "I'll fork you if you ask for ketchup."
---
Host says: "I hope everyone likes chilli/lime/tarragon."
Means: "I have used an ungodly quantity of chilli/lime/tarragon."
---
Host says: "You two will really get on."
Means: "I've kept you apart until now because you absolutely won't agree on anything."
---
Host says: "Be here at 19.30."
Host means: "Be here at 20.00."
---
Host says: "Have you seen the rest of the house?"
Host means: "Get out of the kitchen and speak to the other guests."
---
Host says: "I've been meaning to introduce you two..."
Means:"My partner and I have a bet about you two copulating."
---
Host says: "Top up?"
Means: "If I have to ask, you have to slow down."
---
Host says: silence
Means: "I much preferred your previous partner."
---
Host says: "How's your basket-weaving course/pottery retreat/novel about Weimar Germany?"
Means: "I'm running out of things to say."
---
Host says: "Isn't it wonderful catching up with old friends?"
Means: "Is that the time… perhaps you should think about leaving? Right now?"
---
Host says: "Early start tomorrow, is it?"
Means: "I'm going to set off the fire alarm if you don't leave soon. Don't test me."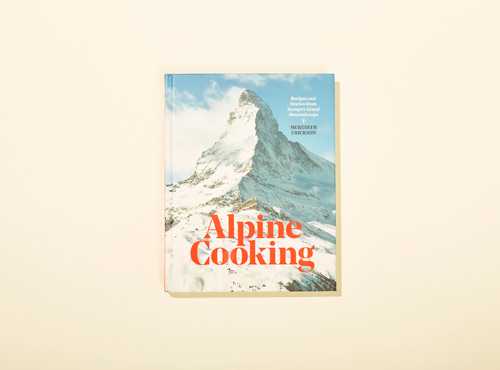 Alpine Cooking 
COOKBOOK
Meredith Erickson
Food fads fade and, for all the fermentation fuss and the blight of bad craft beer, some admirable older traditions survive undiminished. It's really this that hits you like a sip of bitter Kirsch as you leaf through Meredith Erickson's stately travelogue-cum-cookbook about all things alpine. There are 80-odd recipes that are sympathetic to home cooks and aren't full of impossible-to-find herbs or rare-flowering vegetables. Cookbooks have gone one of two ways. Some ramp up the depth and detail offering beautiful but impossible dishes, others – usually the overtly healthy ones – bore you with the merits of manioc flour or lure of Lupini beans. Alpine Cooking, however, is the height of hearty, easy-on-the-eye edibles. crownpublishing.com
Dish jockey
GLOBAL
Songs for supper
DINNER A DEUX
A must-impress dinner for two
Album: Walk Through Fire by Yola.
Reason: You've worked all day on your (effortlessly) thrown-together dinner. The Grüner is on ice but you're feeling panicked about the prospect of leaving the music in the hands of an algorithm. This is in the sweet spot between country, soul, R'n'B and classic pop.
FRIENDS REUNITED
Something to spur on conversation
Album: Filmworks XIX: The Rain Horse by John Zorn.
Reason: Finding its own sound between jazz, tango and contemporary classical, this overlooked 2008 film soundtrack will spark discussion. Put this on at your reunion and your friends will soon forget your questionable past and instantly see you for the deeply cultured bohemian that you are.  
FAMILY AFFAIR, PART ONE
Failsafe for younger relatives
Album: The Lost Boy by YBN Cordae.
Reason: Just because you've plumped for more comfortable footwear options down the years, doesn't mean you can't kick it with the kids. Your cool nephew won't know him and you'll be instantly covered in glory. Just don't try to rap along and don't do the bumbag around the chest thing either – it's unbecoming at your age.
FAMILY AFFAIR, PART TWO
Something for the old folks
Album: To Drink the Rainbow: An Anthology 1988 – 2019 by Tanita Tikaram.
Reason: The album Ancient Heart was so perfectly realised and such a part of 1988's radio landscape that it was almost impossible for Tanita Tikaram to replicate its success. She's had nine albums and 30 years to hone her songwriting craft. Re-release label Needle Mythology has rounded up 12 standout songs on this beautifully presented package.
THE BREAK-UP
Well, if you must
Album: Brunswick by Bambi Davidson.
Reason: There's never a good time to say goodbye but if you must, make sure it's not against a soundtrack of Abba or Scott Walker. After a 15-year hiatus, this German band regrouped with a mix of spacious dream pop and krautrock. If you're planning to have "the talk", this album will unobtrusively iron out any awkward silences. Remember: it's like ripping off a plaster. 
FLIGHT OF FANCY
The album to impress the music snob in your life
Album: Blue Spring by Nathan Micay.
Reason: You know the type: impossible to impress. Blow them away with forward-thinking electronica from Berlin-based DJ, producer and personal trainer Nathan Micay. Blue Spring is a wild ride through electronic music from possibly the fittest man in dance music.
Communal kitchens
HONG KONG
Table talk
Diners share a lot in Hong Kong and it's not just the family-style food: those arriving at a restaurant can be routinely squeezed onto a table already occupied by another couple. Sharing a meal with total strangers is an everyday fact of life here, not a cool, communal choice.
While there is plenty to miss about a little privacy at dinnertime it is far healthier to be optimistic. Hong Kong's lack of space forces us to live outside and meet other people. But where does this all end? Micro apartments continue to shrink and co-living is gaining in popularity. Pretty soon we all may need to get comfortable cooking together as well as eating. But few of us miss the feeling of communal student kitchens – or the meals.
Restaurants could be the answer. A few beachside diners already let you turn up with a fresh fish and the chef will cook it for you. Why not rent out some cooking space and sell fresh ingredients too?