Recipes / Global
Dinner is served
Whether you're cooking for an intimate meal or playing host to a lively bunch of friends, the perfect recipe will ensure your table is set for a memorable evening. We've selected three favourites from the Monocle menu, plus some smart starter ideas to prep your guests' palates.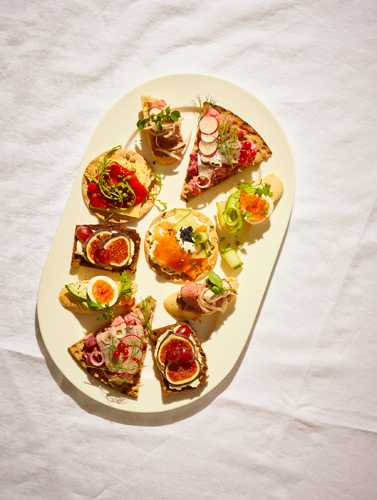 Swedish-style canapés
Time to prepare: 60 minutes
Serve with snaps (an aperitif)
Ingredients:
Stone baked baguette or bread of your choice, thinly sliced
Swedish crispbread
Swedish crackers
Pumpernickel bread
Eggs
Avocado
Dill
Figs
Grapes
Honey
Smoked salmon
Pickled herrings
Asparagus
Pickled onion slices
Spring onions
Capers
Potatoes
Beetroot
Roasted red pepper
Mayonnaise
Cucumber
Cream cheese
Radishes
Parsley
Watercress
Rocket
Chives
Roast beef
Horseradish and crème fraîche sauce
Crème fraîche
Swedish cheese (präst or other mild, hard cheese)
Salmon roe
Lumpfish caviar
Black pepper
Lemon
Smoked salmon, cucumber ribbons, cream cheese, lumpfish caviar, black pepper and chives
1. Arrange couple of slices of smoked salmon and cucumber slices on top of bread – or crackers – and cream cheese.
2. Finish off with caviar, black pepper and chives, with a squeeze of lemon juice.
Figs, pumpernickel, cream cheese, grapes and honey
1. Halve or quarter pumpernickel slices.
2. Spread cream cheese, lay some slices of figs and grapes on top.
3. Finish off with a drizzle of honey.
Potato-and-beetroot salad, sliced spring onions, radishes, dill, red currants and pickled herrings
1. Cook a handful of new potatoes in salted water and cut into quarters.
2. Mix with chopped beetroot (vacuum-packed pre-cooked ones are fine) and add some juice.
3. Mix some mayonnaise; add spring onion.
4. Take crackers or bread, top with potato salad, pickled herrings, sliced radishes and spring onion.
5. Decorate with dill and red currants.
Roast beef, horseradish sauce and crème fraîche, black pepper, watercress and pickled onion
1. Take stone-baked baguette slices and spread some butter on top.
2. Arrange a slice of rare roast beef, top with horseradish sauce and some pickled onions (white onion mixed with red wine vinegar and sugar) or white onion slices.
3. Decorate with small amount of watercress and black pepper.
Asparagus, eggs, avocado, salmon roe and parsley
1. Spread butter on sliced bread or crackers and arrange avocado slices, boiled egg slices and blanched asparagus on top.
2. Garnish with small amount of mayonnaise and salmon roe.
3. Decorate with a sprig of parsley.
Präst, roasted red pepper, capers and rocket
1. Arrange slices of cheese on crispbread
2. Top with red pepper, capers and rocket leaves.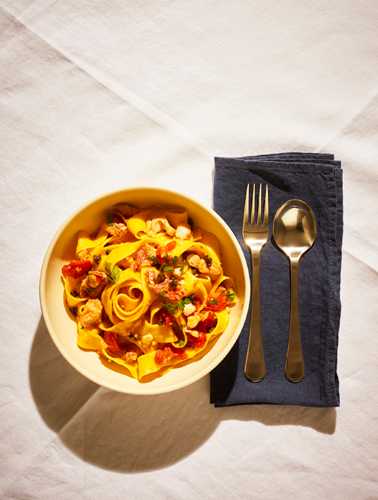 Red mullet pasta
Time to prepare: 60 minutes
Ingredients:
Red mullet sauce
For the base
2 red mullet – ask fishmonger to clean, cut into fillets and remove bones. Keep off-cuts to make stock
2 tsps olive oil
½ small onion, finely chopped
½ carrot, finely chopped
½ celery, finely chopped
1 small bay leaf
50ml white wine
½ tsp black peppercorns
250ml water
For crispy fried caper
50ml vegetable or groundnut oil
2 tbsps capers, drained and dried on a kitchen paper
To finish
50ml fish stock
1 tbsp extra virgin olive oil
2 garlic cloves, peeled and finely sliced
1 shallot, finely chopped
125g ripe cherry vine tomatoes
70ml white wine
4 red mullet fillets
Salt and pepper to season
15g salted butter
250g pappardelle or tagliatelle
1 tsp flatleaf parsley, chopped
Freshly grated zest of lemon (optional)
1. Make fish stock by frying onion, carrots, celery and bayleaf in oil for 5 minutes. Add fish off-cuts and black peppercorns, and fry until they start to whiten; add wine. Stir and evaporate wine for a few minutes; add 250ml water. Bring to boil, then simmer for 30 minutes.
2. Pour stock through a strainer into a container and discard scraps (volume of the liquid should be about 100ml). Transfer stock into a small saucepan and reduce by half. Set aside for later.
3. For crispy capers, heat oil in a small frying pan and cook for 5 minutes until they open up and crisp. Remove and place them on kitchen paper. Set aside.
4. Cut the fish fillet into bite-size pieces.
5. Heat olive oil in a skillet on medium to low heat. Fry garlic for 2 minutes to release aroma. Add shallots, cook 3 to 4 minutes, then add tomatoes.
6. As tomatoes lose shape, lay fish pieces on top, turn up heat and add wine. When bubbling, add stock and cover. Cook for 7 to 10 minutes, medium to low heat. Season.
7. While fish is cooking, bring a large pan of salted water to the boil, add pasta and cook. Drain, reserving some water.
8. Transfer pasta to a large bowl, toss with butter and half the sauce. Add some cooking water to loosen if necessary.
9. Using tongs, serve pasta on warm plates. Top with remaining sauce and sprinkle fried caper, parsley and lemon zest on top. Serve immediately.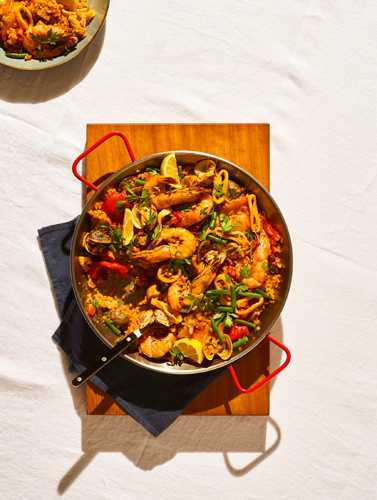 Paella
Time to prepare: 60 minutes
Ingredients:
1 large pinch of saffron
50ml hot water
600ml chicken vv
2 tbsps vegetable oil
2 peppers (red and yellow), cored, deseeded and cut into 2 or 3 chunks
1 medium onion, chopped
3 garlic cloves
100g chorizo, chopped into 1cm cubes
4 chicken thighs, cut into 2cm cubes
1 tbsp sweet paprika 250g paella rice, unwashed
1 small glass of dry white wine
2 medium tomatoes, roughly chopped
150g green beans
8 tiger prawns
150g squid, cut into rings
250g clams
2 tbsps flatleaf parsley, roughly chopped
Lemon wedges to serve
30cm frying pan or paella pan
1. Soak a large pinch of saffron in 50ml of hot water and leave to infuse. Heat up chicken stock in a small pan.
2. Preheat oven to 180c. Smear 1 tbsp oil on pepper pieces and place on a baking tray. Cook for 20 to 30 minutes until lightly charred, turning couple of times, and transfer pieces into a bowl. Cover with clingfilm and leave for 10 minutes. Peel off skin and set aside.
3. Meanwhile, heat remaining oil in large pan and fry the onion, garlic and chorizo for 5 minutes. Add chicken, season lightly and fry until lightly browned then add paprika. Stir lightly then add rice, pour over wine, stir again until all liquid is absorbed. Then add tomatoes and chicken stock and bring to boil.
4. Arrange prawns, squid and clams on top. Once boiled, lower heat and continue to cook, uncovered; don't stir until most stock has been absorbed.
5. While rice is being cooked, blanch the beans in a small pan with hot salted water for 3 minutes; drain and cool with cold water. Cut into 3cm lengths.
6. Once the paella rice is nearly ready, arrange pepper pieces and beans on top. Heat the pan on highest setting for 10 seconds, then move it around to make sure the bottom is evenly heated; turn down heat. This ensures the paella pan is evenly heated, giving the dish a slightly charred, crispy bottom layer. Cover with foil for 10 minutes.
7. Serve with parsley and lemon wedges.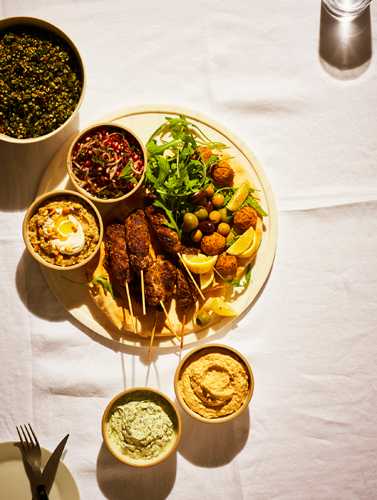 Lebanese mezze
Time to prepare: 150 minutes for all the recipes
Mezze is perfect for casual gatherings and suits a variety of dietary requirements – from vegan or vegetarian to dairy and gluten-free – or religious restrictions. For colour, add vine tomatoes, cucumber and rocket with a dash of olive oil and pomegranate molasses. Don't shy away from shop-bought sides, such as olives, falafel, pickles, halloumi and bread.
Lamb kofta Time to prepare: 50 minutes, plus resting
Ingredients:
1 large onion, finely chopped
20g mint, finely chopped
30g coriander, finely chopped
1 tbsp grated ginger
1 tbsp chilli sauce of your choice
2 tsps ground cumin
2 tsps ground coriander
1½ tsps sweet paprika
½ tsp cayenne pepper
800g minced lamb
12 skewers
2 tsps Maldon salt (for table salt use ½ tsp)
1. Add ingredients to bowl, mix thoroughly, cover and refrigerate for minimum of 1 hour (or overnight if possible).
2. From refrigerated mix, roll 12 sausage-shaped logs; insert skewers. Grill or griddle, turning until cooked and charred.
3. Rest for couple of minutes and serve.
Tabbouleh Time to prepare: 30 minutes
Ingredients:
50g bulgur
Large pinch of salt
160ml water
80g flatleaf parsley, finely chopped
60g mint, finely chopped
1 medium-sized tomato, finely chopped
½ cucumber, deseeded and diced
½ tsp ground all spice 15 to 30ml lemon juice
30ml extra virgin olive oil
1. Place bulgur in pan of salted water. Bring to boil, cover and simmer for 15 minutes. Leave to absorb steam for 10 minutes, cool.
2. Meanwhile, chop vegetables and place in large bowl. Add cooled bulgur, all spice, lemon juice and olive oil.
3. Season and refrigerate until ready to serve.
Baba ganoush Time to prepare: 60 minutes
Ingredients:
3 aubergines
2 tbsps olive oil
3 garlic cloves, peeled and grated
3 tbsps tahini
1 tsp ground cumin
Juice from half a lemon
¼ tsp salt
2 tbsps toasted pinenuts
1. Preheat oven to 180c, pierce aubergine with fork, smear with 2 tbsps oil, place on baking sheet. Cook until they collapse (about 40 minutes). Transfer aubergine to bowl, cover with clingfilm for 10 minutes and remove the skin.
2. Chop aubergines and place in bowl. Add garlic, tahini and cumin, and mix thoroughly. Season with salt and lemon juice. Cool, sprinkle toasted pinenuts on and serve.
Caramelised onion hummus Time to prepare: 40 minutes
Ingredients:
2 large onions, finely sliced
2 tbsps vegetable oil
½ tsp sugar
¼ tsp cumin seeds
1 tub of ready-to-eat hummus, 300g
1 tbsp Greek yoghurt (optional)
Paprika and olive oil (optional)
1. Gently heat 2 tbsps vegetable oil in frying pan; add sliced onions. When steam rises, sprinkle ½ tsp sugar and a few pinches of cumin seeds. Cook until golden.
2. Cool onions slightly then place in food processor and blitz to paste; add hummus. Blitz again until smooth.
3. Transfer mix to bowl, drizzle a dash of olive oil then add a drop of Greek yoghurt and an optional sprinkle of paprika.
Pomegranate salad Time to prepare: 20 minutes
Ingredients:
2 tbsps red wine vinegar
1 teaspoon sugar
¼ white onion, finely sliced
Seeds from 1 pomegranate or 200g ready-to-eat pomegranate seeds
1 tbsp chopped mint
1 tbsp pomegranate molasses
½ tsp sumac (optional)
1. Dissolve sugar in vinegar, add sliced onion and leave to pickle for 15 minutes.
2. Remove onions place in bowl with pomegranate seeds, mint and molasses.
3. Cover and refrigerate until ready to serve.
Tzatziki Time to prepare: 10 minutes
Ingredients:
1 cucumber, grated
150ml full fat Greek yoghurt
¼ tsp salt
1 garlic clove, peeled and grated
1 tbsp lemon juice
Small handful of finely chopped dill and mint
1. Squeeze excess water from cucumber using both hands.
2. In a small bowl add cucumber, yoghurt, salt, grated garlic, lemon juice and herbs.
3. Mix thoroughly and serve. Ideally, leave overnight to mingle flavour (though it can be served straight away).