Briefing / Global
Fashion
Briefing
A Stockholm sportswear emporium, a new Milan flagship for Tod's and pulling on Portuguese socks.
Nordiska Kompaniet, Sweden's leading department store, is working up a sweat. NK Sport opened this month, taking over the entire third floor of the retailer's Stockholm flagship. This high-performance emporium is in fact run independently from the department store; it is overseen by Swedish firm North Retail, which has expertise in licensing brands such as The North Face.
"For the past few years we've worked with The North Face, who have one foot in lifestyle and streetwear and the other in core outdoor," says Marc Nylander, partner at North Retail. "I've seen the amazing products developed on the outdoor side but I believe these don't get the retail space and love they deserve. Most of the top retail experiences are made in the lifestyle segment; we wanted to do it within performance." It's a smart move: urbanites are increasingly interested in getting fit and venturing outdoors. And they want to look good whether they're heading to a spin class or going for a hike. Nylander insists that NK Sport is not part of the "sports fashion-era trend" although his shop, with its minimalist interiors by Stockholm architecture firm Guise, will certainly benefit from that movement.
Offerings include Japanese outdoor maestro Snow Peak, Korean ski expert Black Yak, Danish cycling guru Pas Normal Studios and running gear from District Vision and Nike Running Tech. "We have a buying filter marked on top with 'performance' – everything is performance enhancing," says Nylander. It helps that all the products have a certain stylish swagger too.
nk.se/stockholm/avdelningar/nk-sport
Launched in May by Jérôme Auriac and Alexandre Kourilsky, Larfeuille is reviving the elegant pocket-sized leather goods of the 1950s. Its collection of 11 classic wallets and card holders is made by hand in the brand's Paris workshop; the duo use first-rate materials such as vegetable-tanned French leather and flax yarns. Standout models include the Maquisard, designed to hold a passport, credit cards, a notebook, a comb and pens.
larfeuille.fr
"A lot of people are paying attention to socks these days: they are looking for ones that jump out or that are sleek and go with anything," says Aguiar Guimaraes. Earlier this year Guimaraes and his wife, Veronica da Rosa, co-founded Portuguese sock firm Ojika & Co. The couple had wanted to break into the fashion industry for some time. "We were always talking about what we could put our own stamp on," says Guimaraes. After settling on socks they pooled their savings to make Ojika a reality. They have complementary backgrounds – Da Rosa has worked in fashion for 20 years, Guimaraes was a financial analyst – and both believe that this accessory makes for an ideal entrée into fashion. "With socks there isn't a market full of brands; we picked something that will allow us to grow," says Guimaraes.
"At the moment we are appealing to people who want a sock that's trendy but not too loud," adds Guimaraes, who designs everything himself. There's a pink stripe here, some cheery branding there and varied lengths. The brand sources cotton from Italy and manufactures in Portugal. As for the future? "We intend to do shirts, sweatshirts and so on. Socks are our way in."
ojika.pt
To celebrate the 50th anniversary of Gap, LA brand Atelier & Repairs has put its signature crafty spin on 500 vintage items from the all-American retailer. Denim jackets, jeans, anoraks and sweatshirts have been jazzed up with patches, pockets or the Gap logo stitched on in patterned letters. A promising blueprint for how to breathe new life into old clothes.
atelierandrepairs.com; gap.com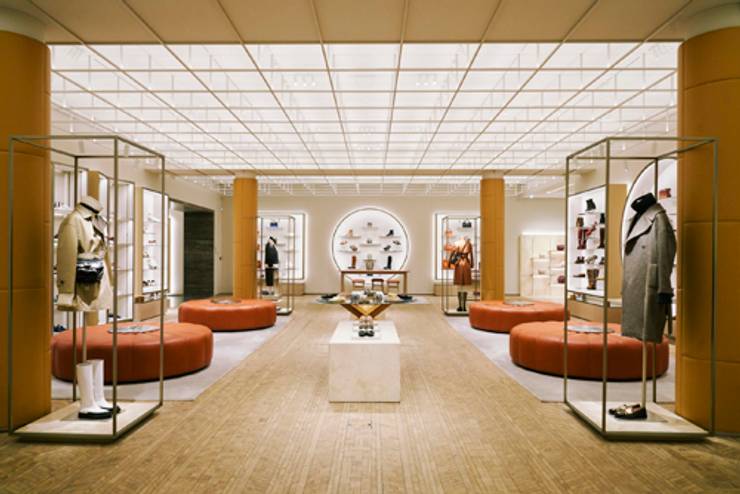 The new Tod's shop in Milan is a supremely confident gesture. Tod's Studios is a vast single-storey space on Via Montenapoleone, the city's main luxury drag. There's plenty to occupy shoppers: a workbench where an artisan personalises products, a private members' club, digital screens and a changing roster of installations and exhibitions. "Just as in the movie studios, where sets are constantly changing, Tod's Studios will change depending on the season, project, capsule or limited-edition product, so there is always something new to see," says Diego Della Valle, CEO of Tod's Group.
The luxury leather-goods maker, founded in 1920 in Italy's Marche region, has been on a retail rampage lately, opening Tod's Library in New York's Hudson Yards and the more intimate Tod's Sloane Apartment in London in the past year. "We can't think like we did six or seven years ago – everything has changed radically," says Della Valle. "On paper, technology has made some things easier, such as the relationship with end customers. There is one thing, however, that technology cannot imitate, and it is the history of the brand and the authenticity of know-how." Such things are best conveyed, perhaps, by a Tod's Studios artisan sewing customised details into a pair of handmade Italian loafers.
tods.com
Eastern promise
By James Chambers
Europe's luxury runway is pointing eastward. By next year greater China will account for more than a third of global luxury spending and will have overtaken the US as the largest fashion market in the world. The €130bn question for business leaders is how to reach these consumers.
One strategy for Chinese companies is to snap up European fashion houses with a view to becoming an eastern version of French luxury conglomerates LVMH or Kering. Why? Because buying established western brands brings instant recognition. "European luxury labels have a strong heritage and long history that is extremely difficult to replicate," says Mariana Kou, a consumer goods analyst at CLSA in Hong Kong. "Each one carries its own story and Chinese consumers appreciate history and tradition."
China is a competitive market and the spoils are not evenly shared. According to McKinsey's latest report: "The vast majority of fashion-industry profit in China is secured by the top 20 per cent of companies." These are the players cutting a dash in 2019.
Shandong Ruyi
Jining, in the northeastern province of Shandong, is home to China's closest thing to LVMH. Shandong Ruyi began in the 1970s as a textile company, supplying fabrics to European fashion labels. After becoming a domestic leader, chairman Qiu Yafu went on a luxury shopping spree. This decade he has bought Gieves & Hawkes, Cerruti 1881, D'Urban, Aquascutum and Swiss powerhouse Bally.
Qiu really turned heads when he picked up French firm SMCP, owner of Sandro, Maje and Claudie Pierlot; a subsequent IPO in Paris raised funds for expansion. smcp's revenue in mainland China is growing by an average of 30 per cent year on year, driven by new shop openings in second-tier cities and greater availability on digital sales channels. However, Qiu's shopping habits have slowed this year after the Chinese government cut the credit cards on free-spending foreign splurging. Time for Qiu to take stock of his bulging wardrobe.
Fosun Fashion
Fosun International has its eyes on Shandong Ruyi and the assets to back up its ambitions: the Shanghai conglomerate has investments across multiple industries estimated to be worth more than €85bn. Its fashion unit was established in 2015 but Fosun Fashion entered the luxury big leagues last year when it added Lanvin to its stakes in Wolford, St John Knits and Caruso. A Paris IPO is rumoured to be on the table to fund further acquisitions.
Fosun's purchase of Lanvin comes at a time when the brand is showing promise. New creative director Bruno Sialelli, formerly of Loewe, impressed at Paris Fashion Week earlier this year. Lanvin can expect a China spike under Fosun but it's not the only one. Earlier this year Fosun launched a consultancy to advise external brands on breaking into the China market.
Lunar Capital Group
Shanghai-based private-equity fund Lunar Capital – co-founded by ex-Goldman Sachs investment banker Derek Sulger – took its first steps into luxury when it acquired I Pinco Pallino, the Italian childrenswear label. As the Chinese economy matures, consumers are paying greater attention to domestic designers and "Made in China" brands. Last year Lunar acquired Shanghai Tang, one of Asia's first luxury fashion labels, which draws heavily on Chinese heritage. Earlier this year Shanghai Tang opened a shop inside the highly regarded UCCA art gallery in Beijing – another recent Lunar investment.