Briefing / Global
Food
&

Drink
Briefing
Two Swiss openings, a recipe from our in-house team and food finds from Japan to France. Tuck in.
Most cafés offer brews made with coffee beans that are grown in sub-tropical climates in the likes of Colombia, Costa Rica or Ethiopia – but lately a new crop of growers are working to get California-grown beans a place at the table. Despite the industry earning close to $102bn (€93bn) annually, no coffee has been grown commercially in the US until now; California farmer Jay Ruskey is in the process of changing all that.
"It's all happened with a little dash of craziness and tonnes of research," he says as he walks us around Good Land Organics, his farm of 17 hectares. He's been producing unique crops in Santa Barbara for about 30 years. A mixture of exotic plants cascade down the mountainside and into the Pacific 200 metres below; dragon-fruit trees, finger-lime bushes and cherimoya abound. But Ruskey believes that coffee will be his next big-ticket item.
"We started Frinj to cultivate a way to work with California's farmers," says Ruskey. "Good Land Organics is the base for our research and planting, then we look to other local farmers to plant our seeds and grow our crops on their land." As we tour the farm he points out rows of budding coffee bushes. "There's a misconception that coffee can't be grown here because the land isn't traditionally hospitable for the delicate process. But we've learned how to produce beans with exceptional flavour," he adds, plucking ripe cherries from a coffee bush.
This is the first commercial attempt to grow coffee in the US outside Hawaii and Ruskey's work is a bellwether for the wider potential. In partnership with local growers, Frinj Coffee now includes 42 farms and more than 57,000 coffee trees across the state; production is expected to double over the coming year. The collective has access to world-renowned agricultural universities and thriving technology hubs, and is just over the hill from where California's wine industry began. "We're taking the history of California's wine-making industry and implementing it into our growing methods," says Ruskey. His science-forward services span production, post-harvest and product marketing. "There's a disconnect that we want to breach. We're not just selling beans – we're selling a story."
frinjcoffee.com
"It's a small island on Japan's Seto Inland Sea with 20 people and no shops," says Ryohei Hayashi of his hometown, Teshima. He is head chef at Tenoshima, a restaurant that he and his wife Sari have opened in Tokyo. The idea was to serve food in a setting that might start conversations about his home; mud from the island has been used in the walls and counters. Hayashi has reimagined regional cooking, applying refined kaiseki techniques to ingredients that have been used for generations; think game meat and fish, and dishes enhanced by soup stock from dried baby sardines.
tenoshima.com
At his new restaurant in the 11th arrondissement, chef Sota Atsumi is eschewing the cheap and cheerful bistronomy trend in favour of a fancier bent. At Maison, food runs to Franco-Nippon dishes such as celeriac pudding with truffles and Madeira sauce, all served on an eight-metre long table.
3 Rue Saint-Hubert
Tale of two cities
ZÜRICH & GENEVA
Since setting up our new HQ in Zürich, our editors have found plenty of culinary delights in long-overlooked Switzerland. This year the 175-year-old Baur au Lac hotel in Zürich has added a fresh touch to its restaurant line-up with Baur's. Hotelier and owner Andrea Kracht commissioned architect Martin Brudnizki to bring his modern interpretation of baroque opulence to the shores of Lake Zürich, with the help of London's Gorgeous Group. Baur's menu is all brasserie-classics with contemporary turns, while the bar has kept its earthy tones and age-old glamour.
Meanwhile, in Geneva, Bombar has freshened up the city's food scene. Marc Popper closed his beloved Café Paradiso and teamed up with restaurateur Florian Le Bouhec of Le Bologne. In a sleek interior on a vibrant corner of Place des Augustins, the two have concocted an inspired menu courtesy of Switzerland and its neighbouring nations. "I used to drive past and always liked the space; when I found out it was available I immediately signed up – but it was a gamble," says Popper. "What I like most about it is that it's a corner shop and the room is basically a big rectangle; you can see the whole bar from wherever you're sitting. It also faces south and the entrance is covered," he adds about the space, which was spruced up by architecture firm Nomos.
And the food? The cod fritters, grilled octopus and hummus, and lamb tortelloni are all winners; traditionalists can plump for black pudding or vitello tonnato. You'll be glad we sent you.
baurs-zurich.ch; bombar.ch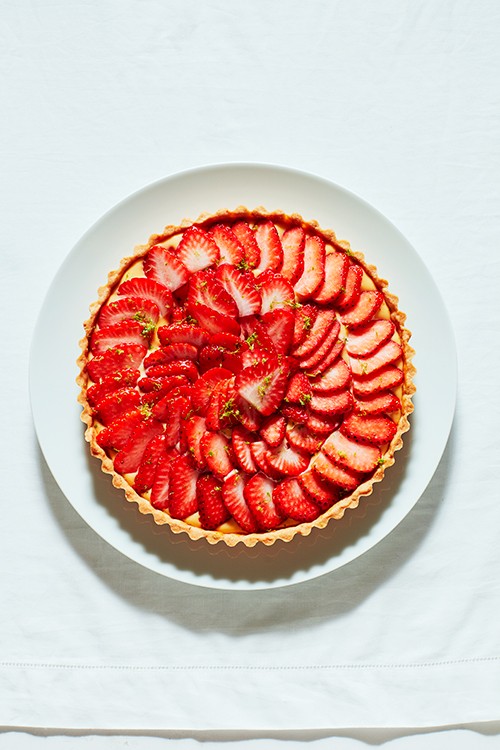 Serves 8
Ingredients
For pastry
275g plain flour
200g butter, room temperature
70g caster sugar
1 egg, lightly beaten
¼ tsp fine sea salt
75g desiccated coconut, finely chopped
For custard
250ml whole milk 1 pod of vanilla beans
3 egg yolks (keep 1 white for pastry)
70g caster sugar
1 tbsp plain flour
1 tbsp corn starch
100ml double cream
400g strawberries, sliced
1 lime, zested
1. For custard, mix yolks and sugar in a bowl, add flour and mix well.

2. Heat milk in a medium-sized pan over medium heat; bring it to just below boiling point.

3. Add 1/3 of warm milk to egg mixture; mix well.

4. Add rest of milk and mix again. Rinse milk pan and pour in mixture through a fine sieve.

5. Cook mixture over medium-low heat and continuously stir with a whisk or spatula (to avoid it sticking to the bottom). Stop once custard is very thick.

6. Decant custard into a flat, shallow container to cool. Cover with clingfilm.

7. For pastry, beat butter with electric beater until white and fluffy; add sugar and mix well. Add beaten egg and beat again.

8. Add flour and salt to butter mixture though fine sieve. Then add coconut. Mix with rubber spatula; try not to overwork it.

9. When dough has come together, divide it in 2. Keep 1 for future use: flatten into disk, wrap in clingfilm and freeze.

10. Roll out dough and place 2.5cm 3 22cm tart tin on top; cut off excess pastry with small knife. Place dough in tin and prick bottom of tart with afork. Wrap with clingfilm and chill in fridge for at least 20 minutes.

11. Preheat oven to 160c (fan). Take tart out of fridge and line with baking parchment; put baking beans inside and bake for 15 minutes. Turn off oven, remove tart and then remove beans and parchment.

12. Beat egg white left over from making custard. Use it to blush bottom and sides of pastry and put back in still-off oven (leave door slightly open) for about 10 minutes.

13. Remove pastry from oven and cool on wire rack.

14. When both custard and tart are cooled, spread custard onto pastry. Slice strawberries and decorate as you see fit. Serve with sprinkle of lime zest.