Architecture / France
Grand scale
Majestic Mas de Tanit rose up on the French Riviera in the 1970s and has been attracting glamorous – and global – holidaymakers and residents ever since. We find out who's who.
"My sight's almost gone but I remember the view so well I still know where everything is," says 93-year-old Pascal Dorio, standing on the balcony of his fourth-floor apartment in the Mas de Tanit complex. "Over there are the mountains," he says, gesturing across the shimmering bay of Golfe-Juan. "The beach is there, the harbour and Antibes is over there."
Pascal and his wife Simone were among the first to buy an apartment when construction finished in 1974, excited to escape life in the Parisian suburbs to their glistening new holiday home. The couple moved in full-time after retiring in 1983.
Mas de Tanit is a perfect example of the holiday developments that sprung up across the South of France at the dawn of mass tourism in the mid-1960s and 1970s. But what sets it apart is its sheer enormity. The complex contains more than 700 apartments spread between 15 blocks, each named after an old Phoenician port on the Mediterranean to commemorate Antibes' (or Antipolis's) history as a stopover for Phoenician traders. Names such as Carthage and Byblos are marked in bright-yellow lettering on burgundy signs and each building's entranceway also has its own colourful mosaic.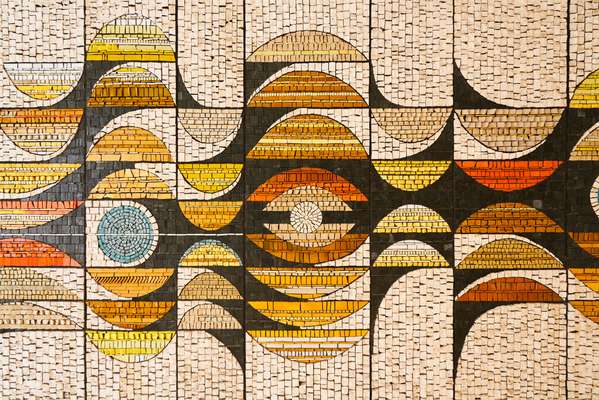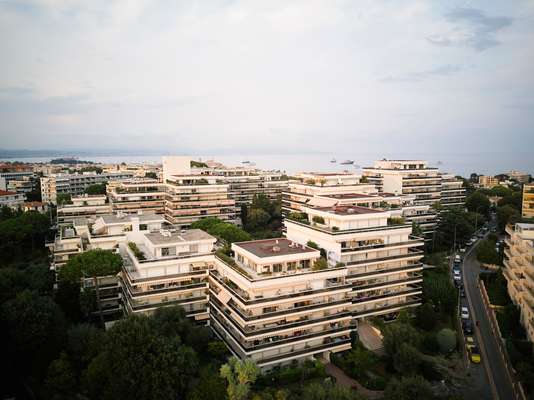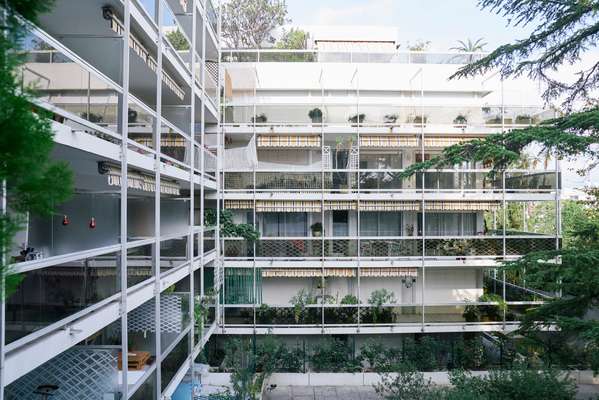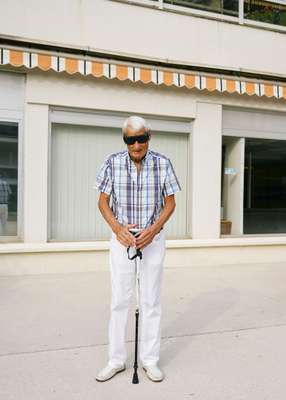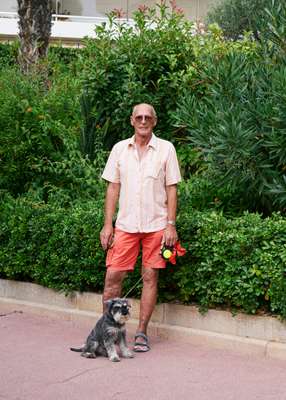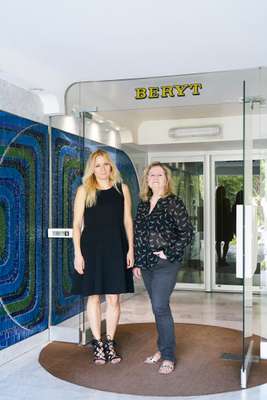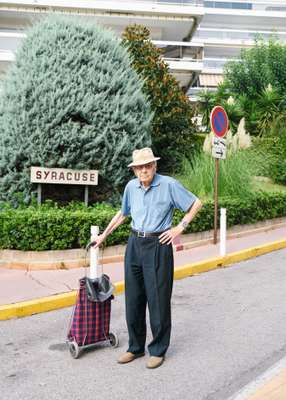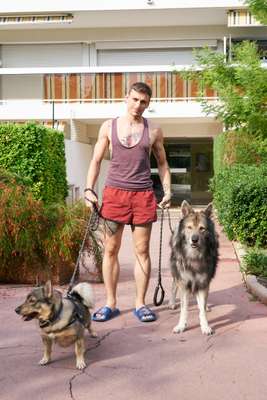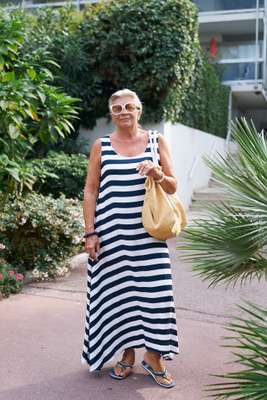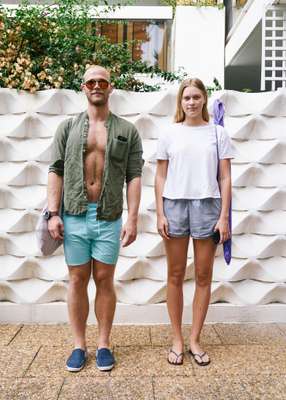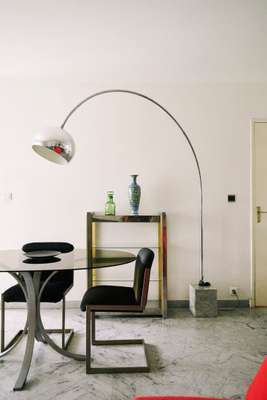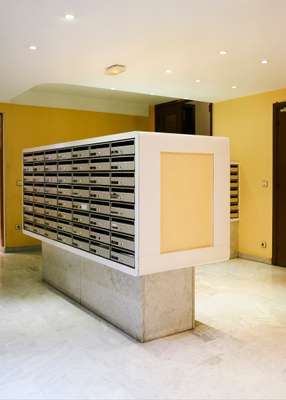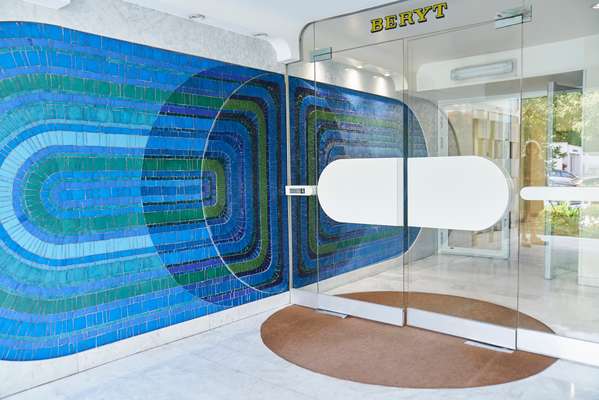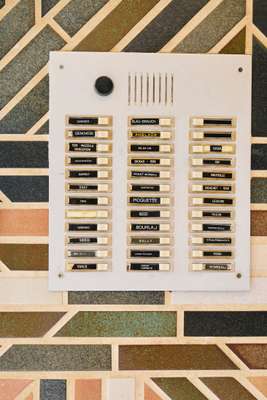 Built across what was once a forested hill between Antibes and Juan-les-Pins, the complex was designed by Parisian architect Roger Robichon and is made up of angular blocks comprising multiple storeys. Yet the complex was supposed to be even bigger: original plans included a bowling alley, cinema and supermarket, as well as four extra floors. Plans were shelved when the complex's neighbours complained it would be too tall. Most of its original residents were wealthy French urbanites and some of the larger flats even included servants' quarters, which have since been turned into studio apartments.
A team of gardeners maintains three hectares of grounds. They tend to planters of hibiscus, petunias and plumbago, as well as pomegranate, olive and palm trees. "The grounds are beautiful," says Huong Gallois who, along with her husband Bernard and their spaniel Gemma, has stayed in Mas de Tanit every summer for the past decade. This time they've been in a penthouse with terraces overlooking Juan-les-Pins. It's the perfect place for mega-yacht spotting. Locals such as Christelle Greco, who runs realtor Agence du Tanit, can tell who's in town by looking at the boats. "Roman Abramovich's is immense," she says. "Mas de Tanit is like a little village. We have a night guard as well as a caretaker in the day. People live well here." An average day for residents involves a morning dip in the pool, a wander along the palm tree-lined boulevard leading to Antibes, perhaps followed by a café au lait by the beach or siesta on their terrace before watching the sunset illuminate the umbrella pine trees.
The buildings are lined with balconies shaded by orange awnings that are almost as sun-worn as the residents beneath them. Mas de Tanit, like much of the French Riviera, is a centre for leather-coloured tans that have been decades in the making. "The average age of residents here is about 60," says Brigitte Calandri, who has been the building's caretaker for the past 32 years. "There are people from all over living here: Ireland, Italy, Germany, Sweden – and still a lot of French."
Today most of the apartments are still holiday homes, with only about 100 lived in all year round. Marie-France and Gilbert Tonnelier bought their apartment in 2002 and have been splitting their time between Antibes and Versailles ever since. "It's perfect for us," says retired teacher Marie-France. "You can get everywhere by foot and we have a boat in the harbour."
Marie-France was first introduced to the complex when her sister bought the flat next door but she was hesitant at first. "It's so huge, we were worried it would be noisy," she says. "But the only noise comes from the children splashing about in the pool and that doesn't bother us." And in true Mediterranean style, the large turquoise pool at the centre of the complex closes at 13.00 and reopens at 15.00, so residents can enjoy their siestas undisturbed.
Buildings on the French Riviera:
From modernist gems to belle époque villas (as well as a few uncategorisable oddities), the French Riviera is a riot of styles. They were all built to cater to the wealthy and glamorous, who have been descending on its shores for centuries.
Villa Eilenroc
Cap d'Antibes
Built in 1867 from plans by Charles Garnier, the architect behind the Paris and Monte Carlo opera houses, this grand belle époque villa once hosted the likes of Greta Garbo and F Scott Fitzgerald.
E-1027
Cap Martin
Completed in 1929, this chunky modernist villa perches above the rocky coastline and was designed by Irish architect Eileen Gray.
Chapelle Du Rosaire
Vence
This chapel was designed in 1948 by Henri Matisse, as a monument to the gratitude he felt towards his nurse Monique Bourgeois.
Bubble Palace
Théoule-sur-Mer
This complex of interconnected terracotta-coloured domes is the former home of designer Pierre Cardin. It was built between 1975 and 1989 by Hungarian architect Antti Lovag.
Musée Jean Cocteau
Menton
Designed by Rudy Ricciotti, this museum holds an extensive collection of Cocteau's graphic illustrations, watercolours and films.