Model-makers / Global
It's a small world
Even in the digital age, texture and tactility still matter in architectural design. Little wonder then that smart firms put their faith in expert modellers to give clients a tiny taste of their big ideas.
Masamichi Katayama is peering through the window of the new Tokyo flagship he has designed for French bag brand L/Uniform. The shop won't open for a few weeks but the lights are on and the window display is impeccable. The only thing stopping Katayama from wandering inside is the shop's size: it is, in fact, a perfect 1:20 scale model created in the basement of his elegant office. No detail has been left out: the flooring, the fixtures, even the bags are replicas of the real thing.
Wonderwall, the influential design studio Katayama founded two decades ago, takes model-making to a whole new level. "We want to incorporate all the details of the building and the architecture. If it's a fashion boutique we ask the brand for all the information about next season's clothes; we create them in miniature and put them on the racks."
A look around the model-making room, which is led by two full-time members of staff, reveals a remarkable assemblage of miniature chairs, tiny trees and meticulously organised drawers of polystyrene and plastic waiting to be fashioned into shrunken buildings. On one table is a beautiful model of a hotel project in the city of Nara, complete with garden and people.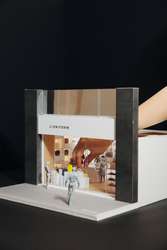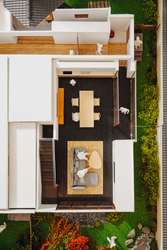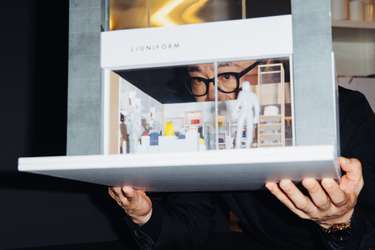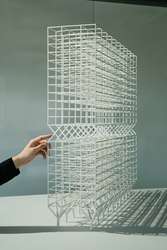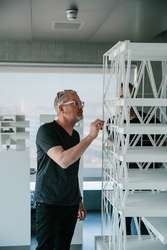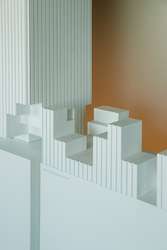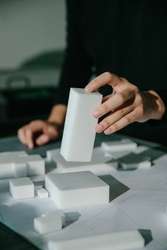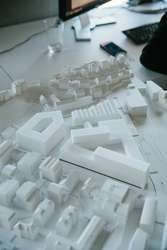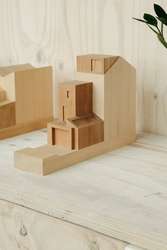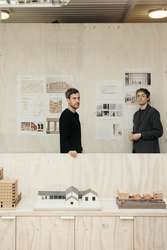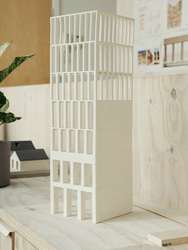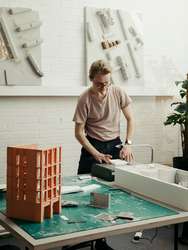 The design process for Wonderwall starts with sketches and plain white models before moving to the detailed stage. Katayama says that having a perfect model helps explain to a client exactly what they will be getting. Mood boards and technical drawings are not always so easy to interpret. "Architects can imagine what a space will look like with just text and some images but clients aren't usually professionals so we want to show them what it's going to be like."
The models help the designers too. "When we're working on a project, we start by imagining the space in our heads and make a model to confirm that our design works in three dimensions; the question is how far we need to go to validate a design.
I feel it's better to have all the details expressed in the model or we can never be certain." One of the model's key functions is to anticipate problems with a design before construction begins. "A lot of people – including us – use computer renderings but with a physical model you can see a project from every angle. It allows us to find the downsides of the space; from one angle it looks perfect; from the other side it might not look so good. Sometimes we make a model over and over, changing the colours and materials until we get it right."
Katayama reckons the studio has made 500 finished models, each with a level of perfectionism that has served it well, in projects ranging from A Bathing Ape and Uniqlo to a vast new residential-and-retail complex for Westbank in Vancouver. A mini replica – and for some small details even a life-size model – can speed up decision-making since the client can gauge the finished project in an instant.
To the lay person the models seem like delightful dollhouses but to Katayama they are a means to an end; a tool to help create a real building or interior. Once the work is done, the model is offered to the client. If they don't want it (most do), the model is tossed away. When Wonderwall held an exhibition, the team created the models afresh and then passed some of them on to Archi-depot, a museum of architectural models in Tokyo.
"We want to test the whole space, like a show home," says Katayama. "Fashion designers can make a toile and graphic designers can print out their work. I wish I could do the same but by using these miniature models we hope we can test everything within this small world."
Miniature buildings from E2a's varied global portfolio are scattered across the shelves and tables of the firm's Zürich office. "Models have become so ever-present here that sometimes our architects forget and treat them like furniture, putting coffee cups on top of them," says Piet Eckert, laughing.
He founded the firm with his brother Wim in 2001 and today, at a time when many designers are going digital in their processes, E2a still champions the analogue methods of cutting, filing and glueing scale models. Most models are first hand-carved into shape from styrofoam in the in-house workroom, before the final sophisticated, laser-cut wooden versions are made.
E2a's models of its architectural proposals are not only scaled-down in size, they're also pared back in form. "Whatever you don't see in the models, we don't see as so important," Piet says, referring to the simplified nature of the pieces, all of which have a sculpted, artful quality.
To emphasise his point Piet outlines the process of designing the new office of Berlin-based newspaper Taz, completed in 2018. E2a's proposal model simply highlights the criss-crossing "net" of a structure. Far from an authentic expression of what would later become an elegant glass, concrete and steel structure, this guiding model expounds the design's essence – particularly the façade, which was cleverly engineered to support the entire building.
E2a applies this same method in zooming in closer on buildings during the design process. Alongside the skeleton model of the Taz façade, for example, we find elegant versions of its freestanding staircases. "These models help us to stay motivated," says Piet. "If we're working on an office building where everything is going to be generic but for the ground floor, then we will have a separate model for the ground floor." In addition, most of E2a's models are painted pure white, further freeing the architect's focus to allow for concentration on form alone.
However, it isn't just the architects at E2a who are drawing inspiration from these beautiful process tools. Building a fine-looking model for a 2008 pitch for the Kunsthaus Zürich, with an asymmetrical, multi-levelled roof, the Eckert brothers came to the realisation that the abstract piece alone was worthy of a more public outing. Since then E2a models have been showcased in six galleries and museums and captured in 50 photographs for a book called Silent Form. "There is an architectural purity to the model even though it does not represent the whole building," says Wim. It's a purity that his brother Piet finds he increasingly appreciates for its own sake: "Some of my favourite models are for projects that have not yet been built."
As students at London's respected Bartlett School of Architecture, Al-Jawad Pike founders Dean Pike and Jessam Al-Jawad were drawn to a Joseph Michael Gandy painting of significant 19th-century architect John Soane's studio. "It is a drawing of all of the models of Soane's projects," says Pike, peering around his architecture firm's east London base, which is similarly laden with scale models. "For us, having all these models in our studio reminds us of what we're doing, what the challenges are and what it is that interests us."
From their Bartlett days studying with professors who were "anti-render" and keen to highlight to students the importance of designing through physical media, the pair went on to work with David Chipperfield Architects in London. Over the course of a decade they practised under a master who has never given up on the centuries-old practice of building scale models to use in the design process and to highlight aspects of a project to clients. It was only natural therefore that when launching their own firm in 2014, Al-Jawad and Pike would continue this tradition.
The firm recently created a setting for a Burberry runway show in London that featured walnut-panelled walls, paper screens and flesh-toned carpets. "A lot of our work is about tone and texture so we are always looking for ways to represent that in a model," says Al-Jawad. "We're always trying to push materiality." This is achieved through using various forms of wood, stone and plaster in models that reflect the intended finish of a final building. "It's easy to just paint a room or apply a dye to a piece of timber," says Pike. "But we are more interested in the idea that the richness and the tone comes from the material itself, so it's important to represent that in the models too."
Models also come in handy in the progression of any given design with a client, adds Al-Jawad. "All clients – and everyone involved in projects – really like interacting with models," he says. "When you put a model in front of them they immediately understand the work – they get into it and they get excited about it." While a computer render can provide a very detailed interpretation of a project, the pair believe that early on in the development phase, a purely digital presentation too often fails to communicate the mood and the atmosphere of a planned physical building. "A model has to be abstracted," says Al-Jawad. "Then people can project onto it what their own vision for the building will be."
Q&A
BERNARD LEE
Kerry Hill Architects
Singapore
Architect Bernard Lee has been working with model-maker Ken Lim at respected Singapore firm Kerry Hill Architects for the past 15 years. Model-making is an important part of the design process here, with detailed, precisely finished scale versions of buildings being used to guide the progress of both the architect and client's vision of a project.
What makes a good model-maker?
When the deadline is tight they will spend nights in the office with very little sleep, thinking through every cut and joint; how the two pieces of cardboard or timber meet. There's a lot of planning and talking before each junction.
How complicated is a modeller's job at Kerry Hill Architects?
There's no laser cutting. It's all done by hand so it has a handcrafted quality. When it comes to shapes, we try to use familiar forms. It's part of our design philosophy; we only use curves and organic forms when it's absolutely necessary for the design.
How about the detailing?
Our founder Kerry believed that the model is a diagram and not just a true representation of the design. It can show the concept very clearly if you actually build it in a very abstract or architectural way, not a decorative way. When done this way, there's no need for decorations, such as cars and people. Sometimes you need trees when they are part of the design concept.
Are models still popular with clients?
During presentations we tend to hide the model until the end because as soon as we bring it out the clients will be totally fixated; walking around it, holding it in their hands.