Supper in... / Global
Join our club
All over the world canny chefs and cooks are rethinking the formula for eating out. From changing restaurant residencies for visiting chefs to opening up farm tables to homes or backyards, such supper clubs offer intimacy, discovery and plenty of new dishes to try. We head to Arles, Rome, New York and London to meet the food folk rethinking the restaurant and the diners hankering for new experiences.
1.
Le Relais du Castelet
Country cooking in Arles
Food has long lured visitors seeking a taste of Provençe to the south of France; those in the know book ahead for a ticket to eat at this rustic chef-run farmhouse in the Camargue.
"People know about us by word of mouth," says self-taught chef Jean-Baptiste Bert as he walks down the olive-tree-lined track leading to Le Relais du Castelet. "When we started hosting dinners here three years ago, we didn't even have a telephone." But Bert did have friends in the hospitality industry, who helped him spread the word across Alpilles, east of Arles in Provence. The result is a true table d'hôtes, where in-the-know food folk mix with chefs and sommeliers on their days off.
Bert and his two-person team have taken all the ambitious ingredients of running a restaurant – daily changing menu, extensive wine list, on-point service – and distilled them into a relaxed, close-knit supper club. Outside on the leafy terrace, front of house manager Sébastien Leclere is setting tables for lunch. "We like putting separate groups together on the communal table," says Leclere. "By the time coffee is served they're usually in the middle of a lively conversation."
The food is rooted in Provençal family cooking, with staples including roasted game and soupe au pistou, all made using wild basil plucked from the 50-hectare site. "A lot of our guests keep coming back because hardly anyone is still cooking these dishes," says Bert, with a hint of pride. Today he is busy preparing baked whole perch rubbed in a salt-and-fennel seed mixture, to be shared at lunch. In the cast-iron casserole on the hob, fennel and radishes from his garden are simmering in an aromatic tomato-infused jus.
Guests arrive to the scent of herbs coming from the kitchen. Leclere brings plates of saucisson and keeps glasses topped up with chilled Luberon rosé. "I wanted to show my friends this hidden spot full of serenity," says Gilles Ozzello, a sommelier who regularly eats at Le Relais du Castelet and has worked with the team on the wine list. The longer people linger, the more laidback it gets. "This is the only non-Michelin-starred place we ate at during our two-week trip," says Dan Smith, a guest from the US. "The genuineness of this place beats them all."
lerelaisducastelet.fr
---
In numbers:
Guests: 16, 1 dog
Wine consumed: 6 bottles, 2 glasses each
Fennel harvested and used: 15
Radishes harvested and used: 30
Average lunch: 2½ hours
Plates broken: 1
The menu:
To start
Whole roasted artichoke with artichoke purée, toasted cumin and coriander seeds
Main course
Oven-cooked pike in croûte en sel with cooked-fennel and radish garnish
Cheese course
Selection from Vincent Vergne in Nîmes
Dessert
Honey-roasted figs with vanilla ice cream and toasted nuts
---
2.
Sobremesa
Outdoors in Brooklyn
This New York supper club signs up guests who are keen to meet new people. It makes the menu, venue and guestlist (for a fee); you roll up your sleeves, learn a recipe and cook.
Samantha Rees' backyard must be the most biodiverse in Crown Heights. "My boyfriend works for Brooklyn Botanic Garden," she says as we admire a tomato. Rees is hosting an iteration of Sobremesa, a series of dinners created and organised by Karen Mordechai's food-and-design firm Sunday Suppers. Rees is assisted in the kitchen by childhood friend Cyrus Hernstadt. While not a professional chef, he has taken classes at Manhattan's Institute of Culinary Education. The series of dinners involves events in 17 cities worldwide. Each is based on a common menu created by the Sunday Suppers team but variation is welcome.
At the Brooklyn chapter the table is decorated with linen from Laine & Alliage and the brand's founder Tania Leipold is in attendance. There's a demonstration in the kitchen of how to make this evening's créme caramel dessert before the 12 guests move outdoors for the first course: a salad of mozzarella, cantaloupe, basil and prosciutto. Kristen, a lawyer, is here with husband Charlie. "In New York you eat and drink out all the time,'' she says. "It's hyper-social but can also be strangely isolating. I've come to value community events like this much more highly."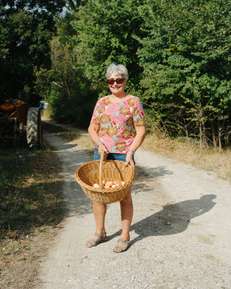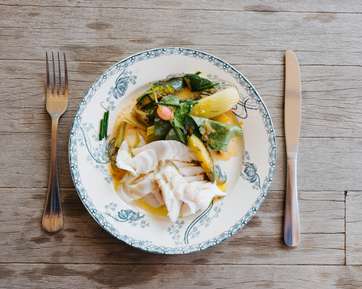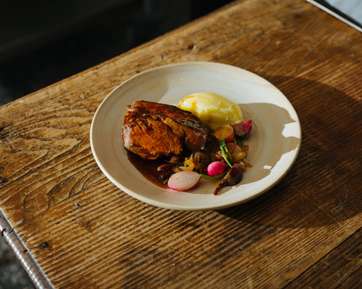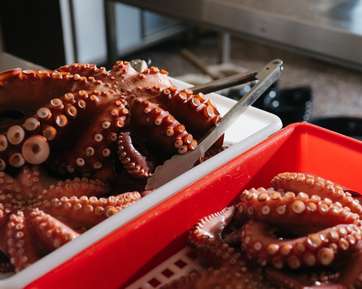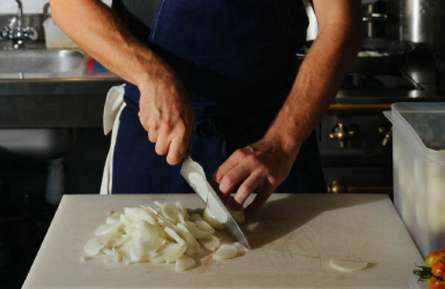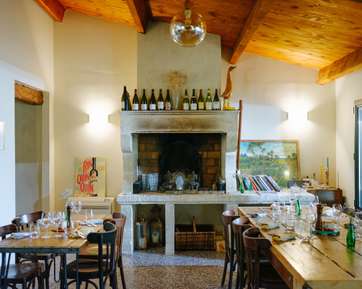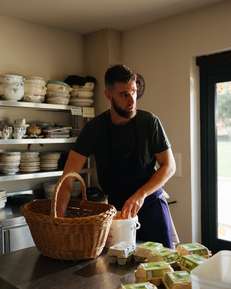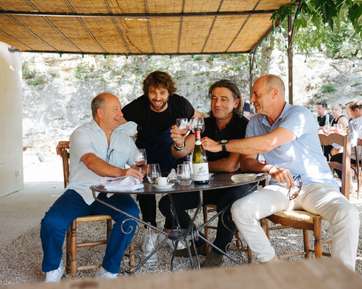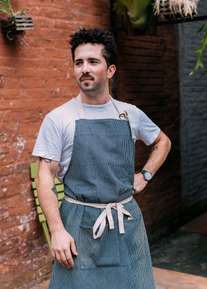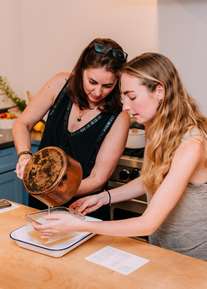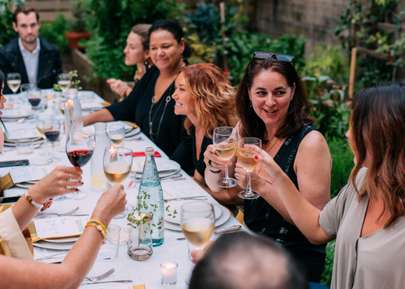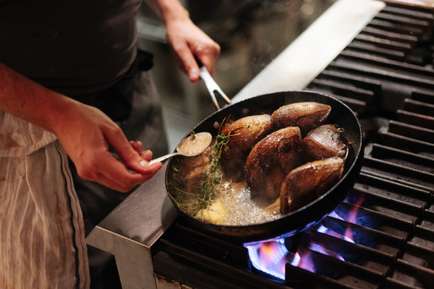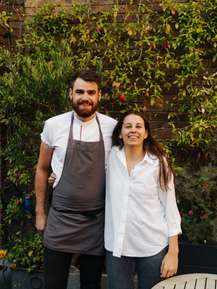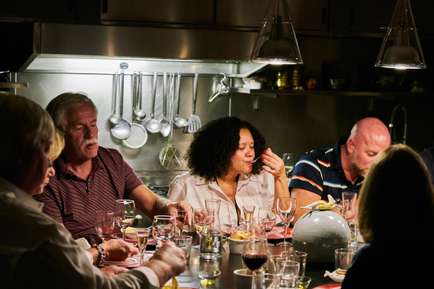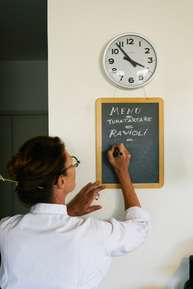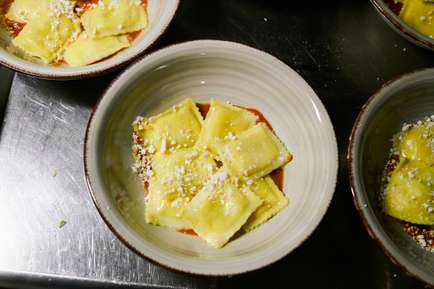 Prospective Sunday Supper hosts apply on the company's website. "We're looking for people who share a love of food, design and celebrating community," says Rees. "We help eliminate the pressure around hosting with a manual that includes recipes, timelines and shopping lists. There's excitement from hosts about bringing a Sobremesa dinner to their city." 
sunday-suppers.com/sobremesa
---
In numbers:
Species of plant in Rees' garden: 70
Varieties of fruit and vegetables from the garden used as ingredients: 8
Bottles of wine served: 8
Cities in which Sobremesa dinners were held this summer: 17
Guests in attendance in Brooklyn: 12
Chefs: 2
---
The menu:
Welcome snack
Whipped aubergine purée; seeded crackers  with crudités
First course
Summer salad of mozzarella, cantaloupe, basil and prosciutto
Second course
Spaghetti and clams in wine, garlic, parsley or spaghetti and roasted cauliflower with lemon and parsley
On the table
Lemon bread
To finish
Créme caramel; espresso
---
3.
Carousel
Low-key in London
How's this for an idea: these guys will build the restaurant and bar, then hand over control of the kitchen to a talented chef from afar. Tonight? A feast from St Petersburg awaits...
Our host Gigi Isola hits a low-hanging metal lampshade four times with a wooden spoon so that it rings out across the restaurant. "Welcome," she says. "For those of you who haven't been here before, we like to challenge ourselves with our food, changing our chefs on an almost weekly basis. This evening we're serving a five-course menu from St Petersburg's Evgeny Vikentev." The Russian chef follows with his own introduction. "We serve modern cuisine at Hamlet 1 Jacks," he tells the dimly lit room in London's Marylebone. "But tonight we're here at Carousel."
We, indeed. Carousel is remarkable not just for its fast-changing line-up of gastronomical wunderkinder but also for its set-up as a shoulder-rubbing ticketed restaurant. Guests pay in advance for a set time and set menu – served on reclaimed-wood tables with off-beat wine. Tonight that stranger is Michelin-starred Tokyo chef Nomura Daisuke.
Daisuke and his group were lured in by the beguiling menu, beginning with a refreshing dandelion soup served with cream, sorrel, cucumber and baby mint. A freshly blowtorched pigeon breast follows, then a pavlova smarting with kaffir lime to finish. "Carousel showcases the city's most interesting and experimental dining," says Daisuke's English companion Susan Ellicott, before admitting she is trying to convince him to consider a residency here. It's one of the few places you'll find a line-up of guests as tipped-off as this. The secret? Word of mouth. "My friend in Moscow knew the chef," says Russian-born Londoner Lyuba Galkina. She and her husband have been supper club attendees for years.
Carousel is more restaurant than pop-up dining room but it's still informal. Founded by four cousins, it's complete with tiles made by one of their mothers and paintings from another's late father. "It's a beautiful space and a roll of the dice every time, with the food and the people you meet," says Greg Lowden, who has dined here five weeks in a row. But it's far from a gamble: "My expectations remain very high," he says. 
carousel-london.com
---
In numbers:
Founded: 2014
Founders: 4
Guests entertained: 20
Courses served: 5
Ingredients used: 76
Pigeons blowtorched: 17
Chefs cooking tonight: 3
Chef number: 153
Cities of origin: 50+
Wines sampled: 4
Wines stored: 70
Cocktails quaffed: 3
Birthdays celebrated: 2
The menu:
To start
Dandelion soup with cream, sorrel, cucumber and baby mint
Main course
Pan-fried pigeon breast
Dessert
Pavlova with kaffir lime
---
4.
Debora of Cuochincasa  
At home in Rome
Those wanting to dine like a Roman can reserve a seat at Debora Tomeucci's dining table. The seasoned host opens up her home and cooks Italian classics from scratch.
Romans have quite the reputation when it comes to hosting memorable dinners. The Banquet of Chestnuts held by the Borgias in the Vatican in 1501, for instance, was attended by the Pope and his cardinals and ended with "50 honest prostitutes" gathering chestnuts from the floor, naked.
Roman dinner parties are (for the most part) more civilised affairs these days, yet romance can still be on the cards for some of the guests who gather around Debora Tomeucci's dining table in her apartment near the Papal residence. "We had a marriage proposal [here] recently," she says. Debora has hosted dinners for up to 12 guests three nights a week for the past six years. "He asked me to hide the ring beforehand. He proposed in front of all the other guests; some were in tears."
This evening Debora and her son Riccardo, who assists with wine and front of house, have a full table. Among the guests are an Italian, one American based in Austria and others from New York and Charlotte, North Carolina. "We did all the tourist things, so we wanted to try something different," says Samantha Holley a Vienna-based wine exporter visiting with her mother, Jennifer, an estate agent from Atlanta.
Debora worked in advertising in New York and Rome before switching to catering 15 years ago – "to change my life", she says. She had been cooking since her teens but enrolled at Le Cordon Bleu in Rome and worked in restaurants around the country. But professional kitchens were not for her. "It was like a jail, an inferno," she says. Instead, inspired by the supper clubs she had visited in New York, she decided to set up in her own apartment in the Trionfale district. Knocking through a wall between kitchen and living room, she installed cupboards and a table topped with the same granite used for headstones in a nearby cemetery: "I thought, 'If it can last there it will last here.'"
Tomeucci's food changes with the seasons and roams freely through her homeland. This evening it's a Mediterranean tuna tartar followed by ricotta and lemon ravioli, a swordfish terrine from Sicily and a dessert made with Amalfi lemons. "I like to tell the stories of the dishes and offer a little advice for foreign diners in Italy," she says. Among her edicts are to never order a cappuccino after 11.30 and to use only a fork to eat spaghetti.
Romans typically dine out after 21.00, but a meal at Debora's begins at 20.00 with "a lot of wine to help diners relax", says Riccardo. "I try to serve wines that are not so well known," he says. "No chianti."
It's important to understand the foibles of different nationalities, the pair explain. Russians often bring their own vodka and take time to warm up; Chinese guests have a strange aversion to risotto. Americans? "Lots of vegetarians," says Debora, with a sigh. Meanwhile, the English are apparently just happy to be eating decent vegetables. "Vegetables that are not boiled to death, you know?"
cuochincasa.com
---
In numbers:
Guests: 12
Cost per person: €75
Ravioli served: 86
Bottles of wine consumed: 7
Amalfi lemons for dessert: 4
The menu:
To start
Tuna tartar with Tropea onions in raspberry vinaigrette
Primo
Seasoned ricotta-and-lemon ravioli with a fresh tomato sauce
Secondo
Swordfish tearrine, aSicilian-style
Dessert
Amalfi lemon cream with nectarine