My last meal / Paris
Kenzo Takada
The Japanese fashion designer, best known for his eponymous label Kenzo, puts his success down to happenstance – but he's being modest. Instead he should claim innovation and a sense of fun as the elements that have made him a Paris icon in his own right.
"I grew up after the Second World War in the town of Himeji. I was always drawn to fashion. I would look at my mother, who wore kimonos; they would take a lot of time to put on in the mornings with the different fabrics and layers.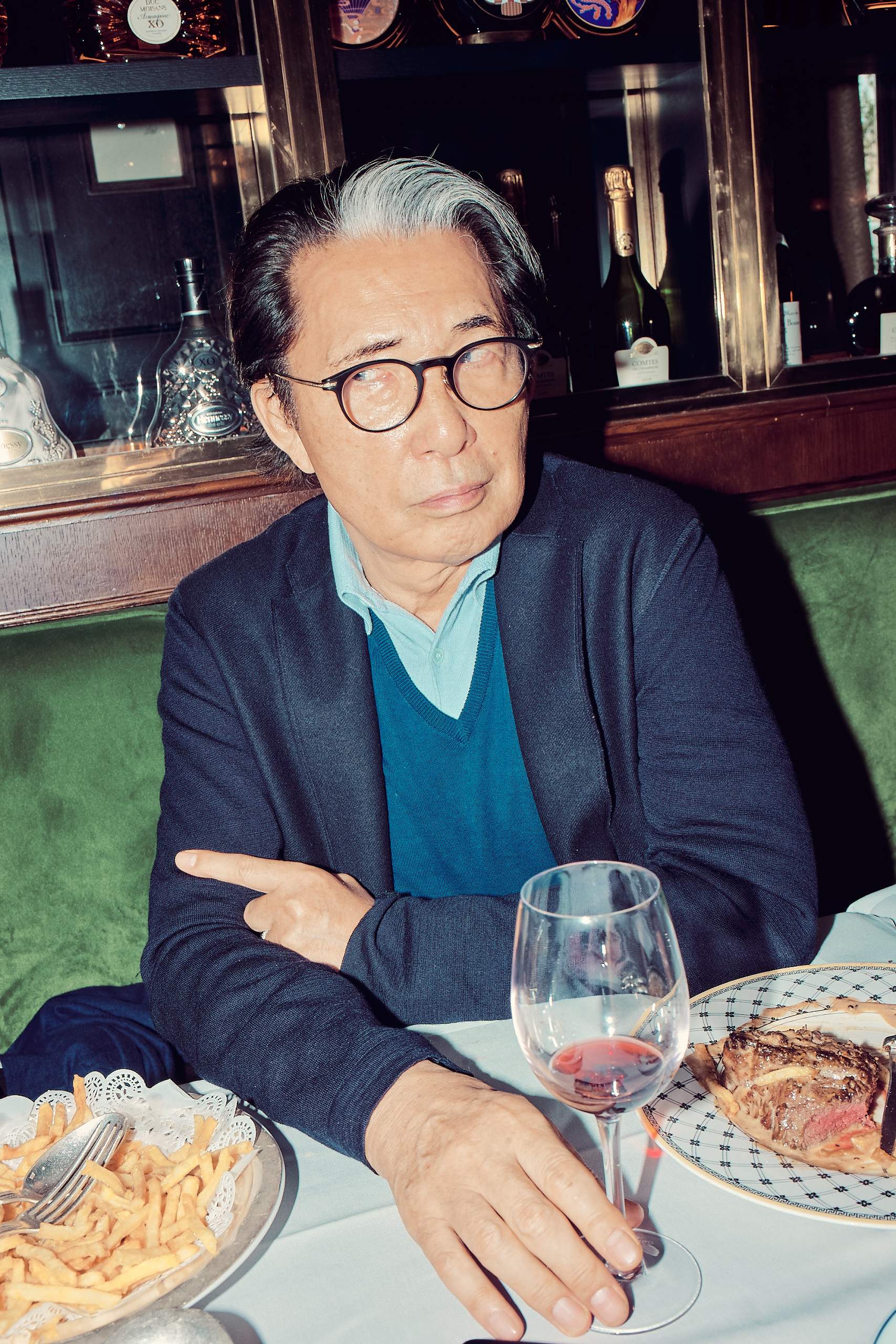 I wanted to go to the Bunka fashion school in Tokyo but my parents didn't want this for me. A man was not supposed to study fashion at the time – this was 1955. To pay for my studies I spent my summer holidays working as a tofu delivery boy and painting houses.
My mother would cook Japanese curry but it was difficult after the war – even rice was only for special occasions. We would usually eat wheat porridge. The first time I tried chocolate and chewing gum was when I was eight years old; it was given to us by American soldiers. My father owned a traditional teahouse – there were geishas there and they wore kimonos too.
I remember watching an American movie – Little Women – at the end of the 1950s. I saw a different life: a European bed and not a tatami mat. It triggered something. I wanted to go to Paris because it was the centre of luxury and fashion. In 1964 my apartment building was due to be demolished to make way for the Olympic Games so my landlord gave me a year's rent as compensation. I used this money to get to Paris. I went by boat, the Cambodia, stopping off in Hong Kong – where I ate fantastically good Chinese food – Saigon, Singapore, Colombo, Djibouti and Alexandria. And then on to Barcelona and Marseille – all in a month. It was a huge culture shock because I had never left Japan before. Everywhere we stopped, I saw that people had their own style, which is so different from today: from Shanghai to New York, everyone now dresses the same.
I arrived at Gare de Lyon on 1 January in 1965. It was completely empty and dark; it was so disappointing. I had imagined Paris like you saw in the movies. But then I saw Notre Dame and I knew that this was Paris. I found a room in Clichy for nine francs per day. I didn't have much money. I bought a small gas cooker and made myself rice, salad – very simple things. I would write to my mother and the letters would take a month to reach Japan.
I went to the Alliance Française to learn French in the mornings and in the afternoons I'd walk around. There was a shop called Louis Féraud that I liked very much. I drew some sketches and showed them to Féraud's wife, who bought five. It was my first success – I couldn't believe it. It changed my life. At that time in Paris, fashion was haute couture; design was very structured and the clothes fitted. There were not so many patterns and colours. I followed that trend and respected the French code but I also tried to add a Japanese touch, a bit of fun and lightness.
My friends in Tokyo opened their own shop so I thought I should do the same. I rented a boutique to launch my brand, Jungle Jap, in Galerie Vivienne in the 2nd arrondissement. I painted the walls and worked on the clothes. I organised a very small fashion show – and one of my dresses made it onto the cover of Elle. It was a very simple pink-and-turquoise chemise dress with a traditional Japanese pattern.
I was always very influenced by travel, nature and, of course, Japan. When I lived there I preferred European style but when I moved to Paris I started to be really interested in Japan and its heritage. And I love parties – the 1970s were big years for me. I'd go to New York to go out; we had a show in Studio 54. The Palace opened in Paris at the end of the 1970s – everybody from the worlds of fashion and the movies went there.
When I was younger I liked to cook and host dinner parties at my place in Bastille. But my partner got sick and I lost the will to cook complicated meals. I still like to make simple things: rice, vegetables and miso soup. Japanese food always reminds me of my childhood. I had a chef, Toyomitsu Nakayama, who opened his own restaurant almost 10 years ago, and I go there often. And, of course, I love Le Voltaire. I love its history, its ambience. I've been coming here since the late 1970s and I always bump into old friends. I eat here twice a month at least. I always have the same meal: crab salad and the beef.
I've had a long career but now, looking back, I think my life is due to chance. I arrived in Paris at just the right time. If I had come two years earlier, or two years later, it might not have happened in the same way."
Profile:
Kenzo Takada was born in 1939, studied and worked in fashion in Tokyo, then left for Paris in 1964. In 1970 he opened his own shop, Jungle Jap, designing four sell-out collections in just 12 months. Takada renamed the company Kenzo in 1984 and in 1993 sold it to the LVmH group, but stayed on until 1999. He received the Legion d'honneur in 2016. "Paris gave me the freedom to create," he has said. "I came for six months and stayed more than 50 years."
Venue:
Paris's Le Voltaire has been serving traditional French dishes to an arty clientele since the end of the 19th century. With magnificent views over the Seine and the Louvre, the intimate bistro excels at staples such as foie gras, sole meunière and steak tartare. The attentive waiters make sure diners feel at home and greet regulars like old friends.    
restaurantlevoltaire.com
To eat:
- Crab salad
- Fillet of beef 
- Strawberry-and-pear sorbet
To drink:
Château Margaux, 2013