Residence / Copenhagen
Labour of love
Once an outlier for the wrong reasons, this home takes pride of place on a leafy street thanks to a couple's tasteful renovation.
"It was the ugly duckling of the street," says Jan Gleie of his family's 1970s Copenhagen home. "The house was dark in the middle and really not appealing from the outside." Located in the leafy neighbourhood of Frederiksberg, in an area dominated by classic 1920s Danish homes, the building remains an outlier. But today, thanks to a smart renovation and extension, its differences are now handsome defining features.
Designed and built in 1976 by Danish architect Johan Christensen, the house was originally a detached, one-storey, Japanese-inspired structure. After living in London, husband and wife Danes Gleie and Barbara Hvidt snapped it up in 2006 when the idea of a Copenhagen home with a garden five minutes from the city became, as Gleie says, "suddenly appealing". "We fell in love with the wooden sliding doors, the garden-level living and the simplicity of the structure," he adds of the couple's first encounter with the building. Even in its previous guise, unmistakably Japanese features such as well-crafted sliding timber doors and a unique sloped roof gave the building a pleasing character.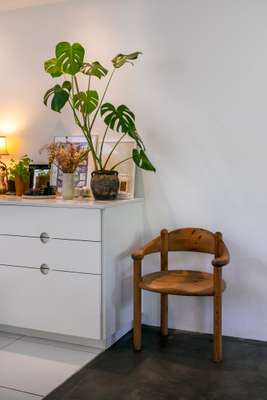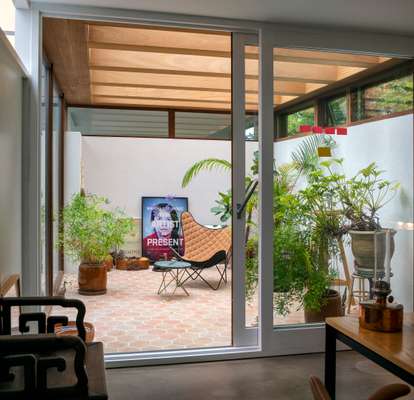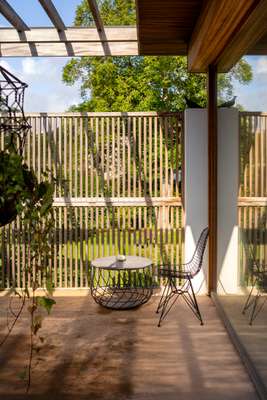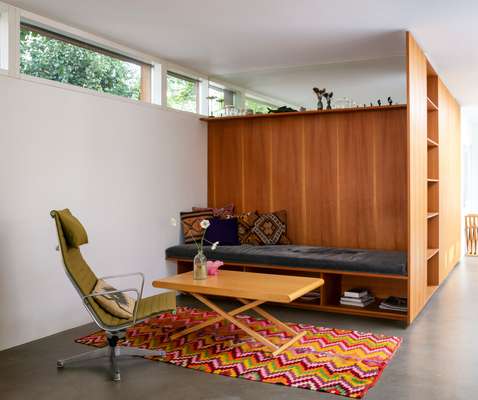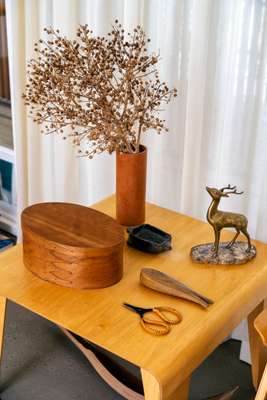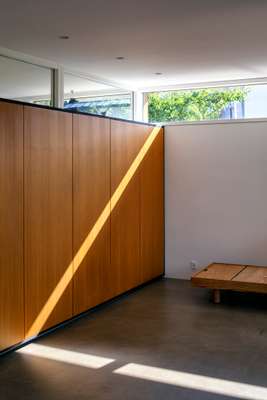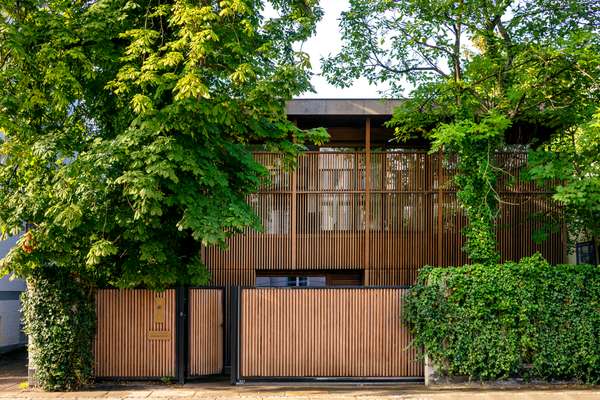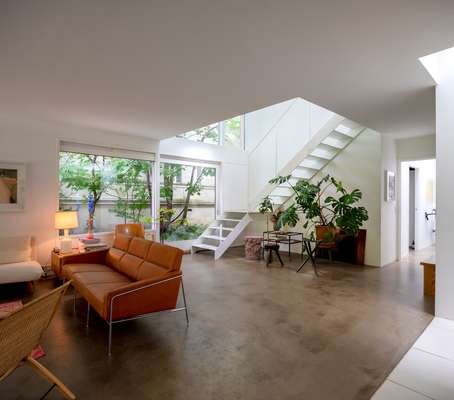 When passing an entrance of slatted timber Japanese koshi screens that leads into the spacious, high-ceilinged two-storey home, it's clear why the place appealed to a couple retreating from space-starved London. The renovation was made easier by keeping it a family affair: Barbara Hvidt's sister, Malene, is the architect behind the project. She worked closely with her clients on the revamp and every detail was meticulously planned. "I first built a two-level house in Lego, copying the downstairs from an original drawing," says Gleie. "On top of it I built an imaginary upstairs."
For this new level Gleie and the architect found inspiration in modern Japanese residential design and the sun-drenched homes of 1950s California. Skylights were added and walls painted white to maximise the incoming sunlight. Old timber support systems were reused and the brick construction was supported by iron beams strong enough to prop up the upstairs unit without taking up too much space.
Retaining the character of the original architecture was also a key factor in amplifying the homeliness of the extension. "We did not use any nails or screws to build the windows and sliding doors," says Gleie, who matched the width and style of the new doors and frames with the originals to ensure cohesion with the existing design. The fittings themselves were crafted by a skilful Danish carpenter using traditional tongue-and-groove joinery – but the Danish architectural touches stop there. For the timber trimmings that define the house, the residents worked with a rich honey-coloured mahogany, rather than the lighter timber favoured by the Scandis. "We love the warmth of the wood," says Gleie.
He credits the renovation's success to the fastidious approach of his sister-in-law's architecture in echoing the character of the original building, while opening the house to nature. He adds that it's the family ties that have enabled the place to feel like home so quickly. "What I absolutely love about the house is that we and Malene built it with our hearts in the right place," he says taking us through the beautiful heirlooms that decorate the home. "This is called 'X chair' and designed by my wife's grandfather [Peter Hvidt]," says Gleie affectionately, showing off the delicate leather-and-timber mid-century classic in the sitting room. At the centre of the home office lives an aged timber desk. The handsome piece was a gift from Barbara's father, also an architect. As we admire the lush garden, Gleie's son Siggi serves us oven-fresh croissants while Gleie pours water into a glass hand-blown by Malene's partner. "We almost don't have anything that doesn't have some kind of story behind it," says Gleie. "Memories live with our surroundings."