Brands / Tokyo
Big in Japan
Japan is known for its wealth of high-quality fashion brands but which is leading the pack? Here are three Tokyo standouts.
Creative director Mizuki Ueda is feeling a little jet-lagged; she has just returned from a trip to London to set up a pop-up shop for her womenswear brand Enföld at Liberty department store. With global expansion on her mind – she's also recently held events in Hong Kong and LA – she is pondering how her Tokyo brand will translate to an international market. "The buyers in London advised me that I might want to think about making some larger sizes," she says.
Enföld launched in 2012 with the aim of offering clothes that worked for women, "rather than trying to dress for someone else," says Ueda. With a small team of designers, she creates four collections – well over 400 pieces – a year. The brand quickly drew attention for its sensible approach to fit and fabric: trousers with a touch of elastic at the back, in crease-free rayons that can be thrown into the washing machine. These are staples that only change a little season to season, but that customers come back to again and again. "The look is elegant but also casual and easy to wear," says Ueda. For winter there are roomy quilted jackets and collarless coats in soft wool with a contrast lining.
Ueda presents the brand in a showroom in Paris; back at home, Enföld has a flagship shop in Tokyo's Marunouchi district – on a street lined with upmarket boutiques – and outlets in a number of department stores. While Japanese shoppers veer towards the main collection, overseas buyers are most interested in the label's smaller Collection line, which has a more complicated cut.
"Their image of Japanese fashion is Sacai and Comme des Garçons – they're expecting a mix of fabrics and unusual cutting," says Ueda. When she's putting together a collection, she thinks about the female staff at her company. "Japanese women are keen to learn about the latest fashion. They don't want to look the same as everyone else but they still want to be on trend."
enfold.jp
---
2.
Comoli
Menswear with longevity
In 2012 Keijiro Komori launched his much-admired menswear brand Comoli in Tokyo. Yet for all the plaudits – the brand is stocked in 90 shops around Japan, plus South Korea, Hong Kong, Taiwan and Los Angeles – he only opened his first dedicated Comoli store, in Tokyo, in September. "The timing just felt right," he says. "The brand has grown organically, bit by bit, and this seemed like a good moment. I always felt that if I was ever to open a shop in Tokyo, this building would be ideal."
The building is Collezione, a concrete complex in Aoyama designed by Tadao Ando in 1989. "Every city has a defining architectural style; for Tokyo I feel it's this plain concrete," says Komori. The shop's interior has largely been left untouched, making it the perfect setting for a brand that celebrates ease and longevity, albeit expressed in some of the best textiles on the market. "When I'm designing, the image I have in mind is clothing that has been worn for 10 years. I feel the same way about the floor in here: I don't want it to look perfect and new," he says.
Komori's own outfit expresses the point well: a current-season jacket and trousers where velour is designed to look comfortably worn. No wonder then that he studies vintage clothes – there's an archive several racks deep in his nearby atelier – and picks his fabrics with care. Every item in the collection has a story: the moleskin for his trousers comes from specialist mill Brisbane Moss in Yorkshire; cashmere sweaters are made by Todd & Duncan, considered the best in the world; and for soft textiles, he goes to his favourite fabric designer, Riccardo Bruni, in Prato, Italy. He takes the best of what each country has to offer and manufactures, where possible, in Japan.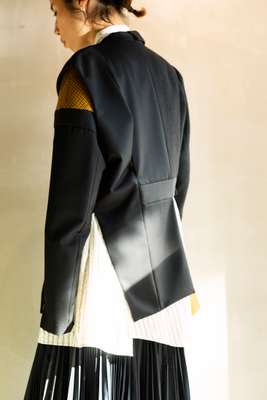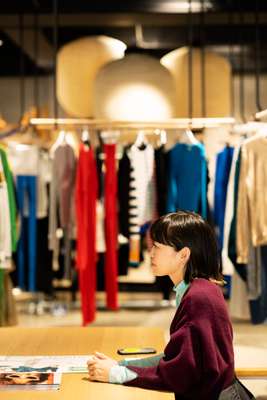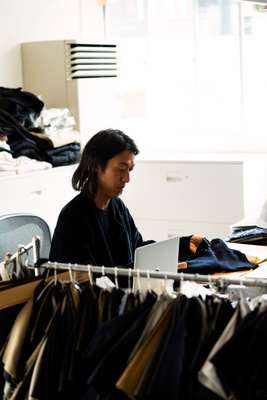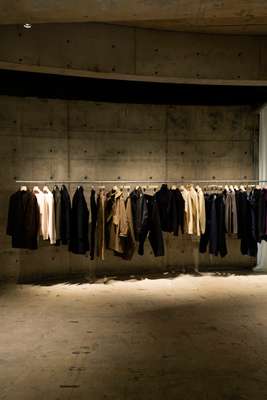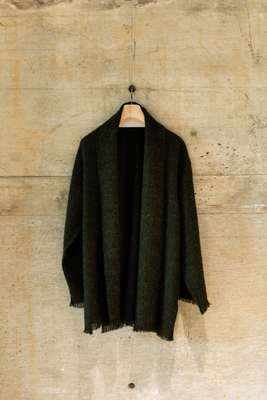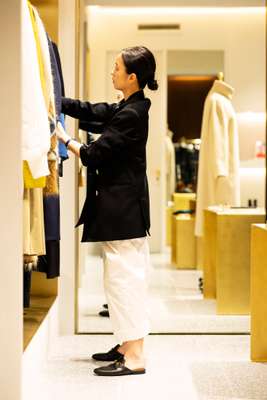 The touch and feel of a Comoli garment are key to understanding what the brand is about. And although Comoli is intended as a menswear brand, and does not have a womenswear line, women have been buying his pieces from the beginning anyway. "Women wear it well – I'm happy if they can find pieces too." Komori simply offers his clothes in three sizes that work for different shapes.
Komori travels to different places for seasonal inspiration: Cuba and LA for summer; Helsinki, Paris and London for winter. He doesn't seek out collaborations but is happy to partner up when a specialist, such as Lavenham, is called for. (Comoli made a quilted jacket with the UK brand for this season.)
Komori, who produces two collections a year, doesn't have much time for the fashion calendar. "I would happily do a collection every other year if I could," he says. Nor does he bother with catwalk presentations and trunk shows. If buyers want to get their hands on his clothes – and plenty do – they have to come to him in Tokyo.
Komori has a singular vision but it works well for him. "I'm not someone who plans five or 10 years ahead," he says. "The brand has evolved slowly. I like this steady pace and don't want to change it."
comoli.jp
---
3.
Loeff
A case for enduring chic
Seasoned fashion designer Rika Suzuki had put in more than a decade as an in-house designer for Japanese powerhouse United Arrows when she presented the company with an idea for a new label. It would be a womenswear brand for older ladies who wanted to be chic without being overdressed, fashionable without looking too young and comfortable without being condemned to shapeless tents.
Suzuki felt the market was being overlooked by the Japanese fashion industry. "I saw women in Paris and New York who were stylish and comfortable but I felt that women here – women like me – were being ignored." United Arrows, which has a portfolio of a dozen brands, gave her the green light.
The result is Loeff, a modern brand that reflects the designer's no-nonsense personal style. Loeff –pronounced Lo-eff – offers well-cut clothes in great fabrics that straddle the line between smart and casual, and can be worn day or night.
Women will smile at the thoughtful touches: a silk blouse that doesn't demand dry cleaning; cotton trousers that are beautifully cut to be loose without looking sloppy; and trouser waistbands with two firmly sewn buttons and a well-hidden zip, which starts below the waistline to avoid the usual downward slide of most fasteners.
The core Loeff colour palette is white and navy. Suzuki experimented with Japanese factories for two years to get the pure white she craved. Menswear is a strong influence too. A navy wool blazer is sized for women but made in a Japanese factory that specialises in men's suits. There is a thick chambray Inverness coat with cape-like shoulders, a practical cotton boiler suit and a long Barbour waxed jacket that is available in men's sizes. "I feel I can put more of myself into this; I can design what I want to wear. And I've discovered that many women think like I do."
Suzuki has a finely tuned fashion outlook. She doesn't like puffa jackets so she has made a quilted shirt jacket instead. She doesn't do skirts so there aren't any of those either. She likes easy footwear so the only shoe is a JM Weston loafer. For anyone on the same page sartorially, it's a terrific line-up.
Loeff, in its first season, is already sold in United Arrows shops around Tokyo and Suzuki hopes it will go overseas. It's also launching a menswear line for spring/summer 2020. "This brand is basically the realisation of everything I've been dreaming about since I was at elementary school."
---
Q&A
Keiji Kaneko
Director, L'Échoppe
When Japanese fashion company Baycrew's wanted to open a new multi-brand shop – known in Japan as a "select shop" – they called on Keiji Kaneko, a buyer renowned in the fashion business for his meticulous eye and ability to anticipate and shape trends. "Select shops have been around for ages but there was a feeling that they'd lost their edge and were all starting to look the same," he says. L'Échoppe in Tokyo's Aoyama neighbourhood is Kaneko's antidote to that monotony, a mostly menswear shop with about 50 labels, including exclusives by Japanese brands such as Auralee, a L'Échoppe line and a sprinkling of vintage items. Kaneko works with brands and tweaks products to his taste: a Mackintosh coat has been given more width and a wool top layer; Outdoor Products rucksacks come in a bigger size than usual; and traditional Guernsey sweaters have a roomier silhouette. L'Échoppe has become an essential stop for fashionable Tokyo shoppers.
How have the tastes and interests of Japanese shoppers changed?
The oversized trend has calmed down and seems to have settled at wearing things just a tad too big. Basic sizes are now one size bigger than they used to be. People are drawn to simple-looking items that have an interesting backstory or something special in their production. Rather than buying one standout piece, shoppers want each individual item to be high quality. My favourite Japanese brand – and one my industry colleagues always buy – is Niceness. The people you see in Aoyama are all super chic.
What do you see for the future of Japanese fashion?
I think we're seeing the decline of the mass market. Right now supply exceeds demand. I notice that as the population ages, there is a growing trend towards wanting to wear quality items for a long time; Japanese brands with long histories and small-scale manufacturers who take great care in crafting every product are popular.
How do you encourage people to come into the shop when they  can buy clothes online?
I make a point of carrying products that really make sense when you touch them or hear their story from one of the shop staff. I also stock one-of-a-kind vintage items purchased on overseas trips that cannot be found online; I do my best to create the atmosphere of a treasure hunt. Emotional experiences can only be had at bricks-and-mortar shops.