Dining / Shikoku
Bowled over
Kagawa is a prefecture so enamoured with Sanuki udon noodles that the delicacy is both tourist attraction and TV star. We tuck in.
The woman is lost. She's heard about the old grocery shop in Kagawa prefecture where a fifth-generation udon maker works out of a backroom and the queue outside forms before 09.00. But there's no queue. Everyone has gone inside to escape the rain. The owners of Suzaki Shokuryohinten, in rural Mitoyo, didn't bother with a sign that would have helped the woman who's come in search of breakfast.
We're deep in udon country, on Japan's southwestern island of Shikoku, halfway into a 300km road trip that involves gorging ourselves on the regional staple. Here, ¥200 (€1.70) buys you a helping of thick, white, handmade noodles to tide you over for a few hours. But we don't have time to wait until we're hungry. We've only 48 hours to eat at 15 udon shops in dense urban neighbourhoods and mountainous bamboo forests that might reveal something about the region's noodle culture. Luckily, 15 minutes is enough for a leisurely meal.
Suzaki Shokuryohinten is what locals refer to as a serufu (self-service). The generic term applies to any neighbourhood noodle factory or restaurant chain where the only rule is that you're on your own. You can have your noodles cold or heat them up in a communal pot. You might crack a soft-boiled or raw egg on top and then dress it all up with dashi-shoyu sauce, shredded ginger, chopped green onions, chilli powder or tempura crumbs. Meat croquettes, vegetable tempura and deep-fried chikuwa (fish cakes) are among the extras for diners with bigger appetites. The possibilities are endless. At Suzaki, customers park themselves wherever they can, on benches outside or stools in the grocery-shop aisle between the snacks and refrigerated drinks.
In Kagawa, Sanuki udon is soul food (Sanuki is the ancient provincial name). It's cheap, fast and you don't need a lot of fancy flavouring. There's no elegant or proper way to eat udon: slurping noisily and cutting the noodles with your teeth is the norm. Aficionados talk about nodo-goshi, the sensation of the noodles as they slither down your throat – but let's leave that to the more experienced eaters.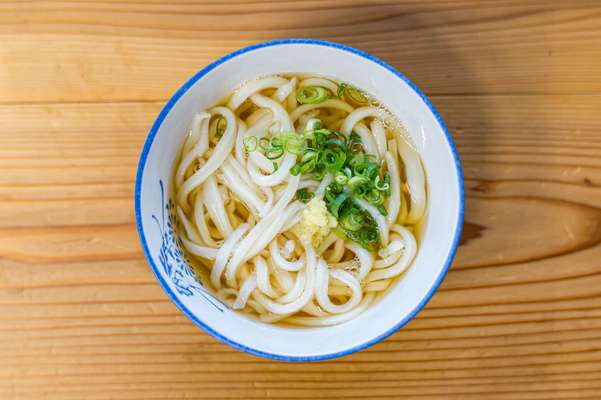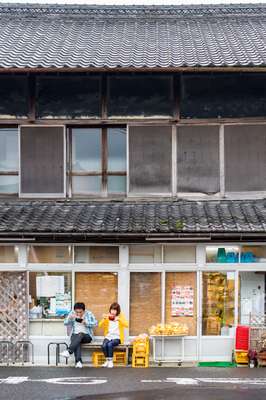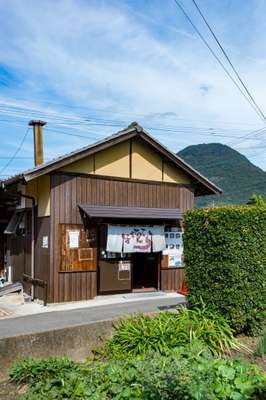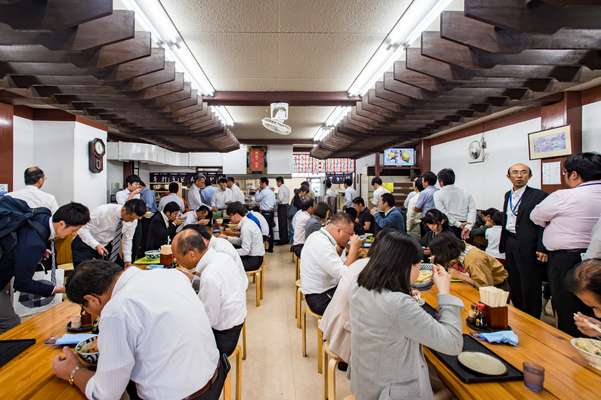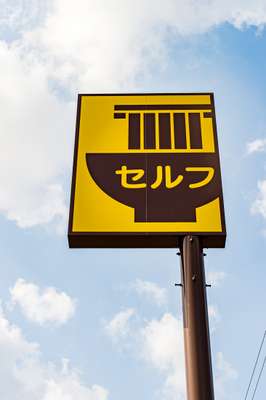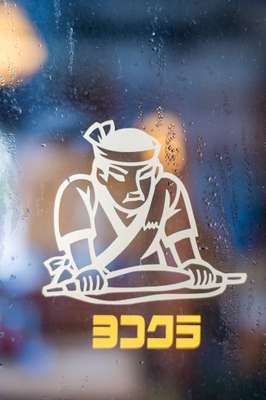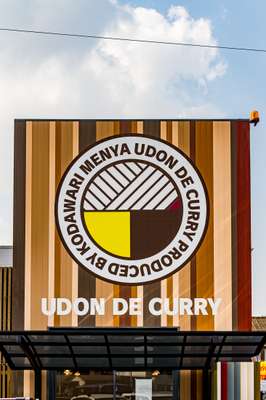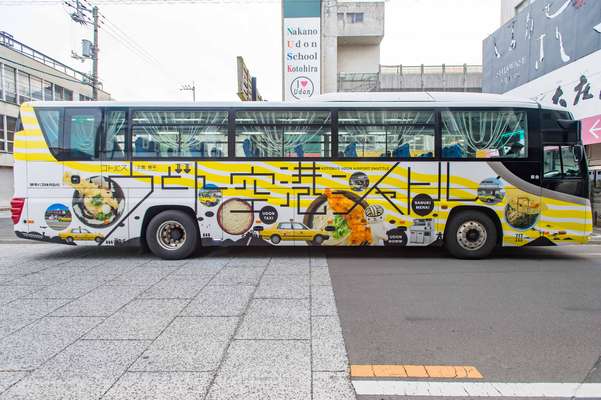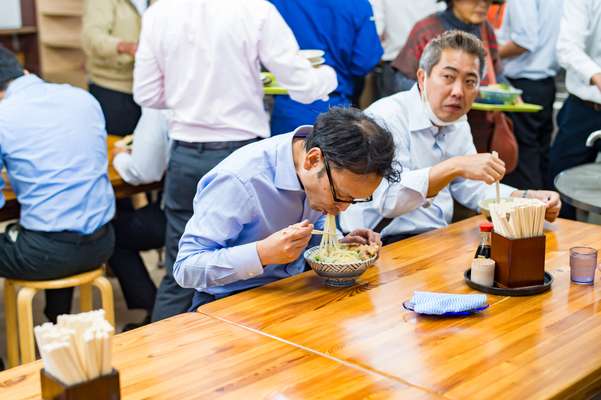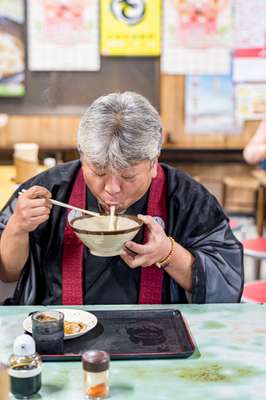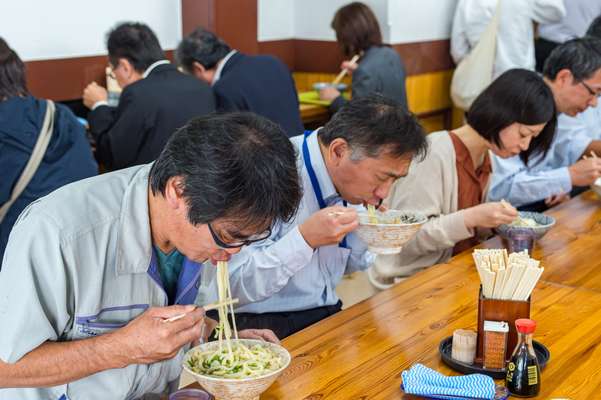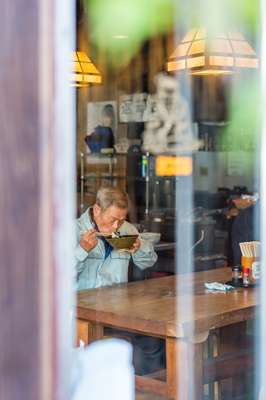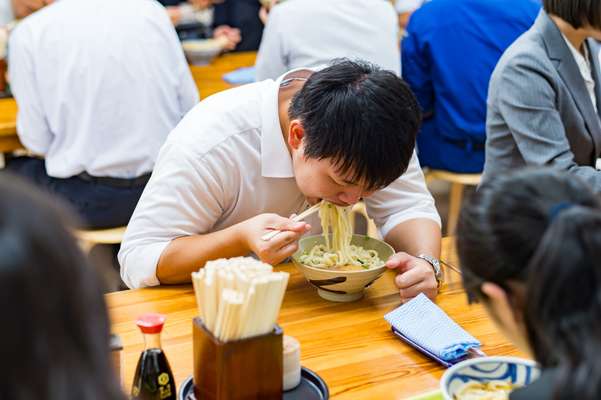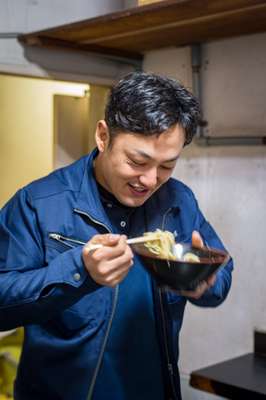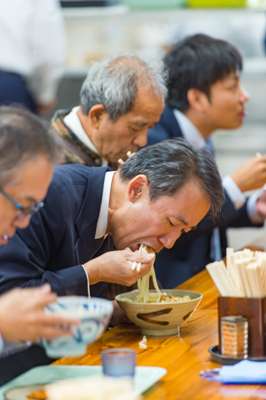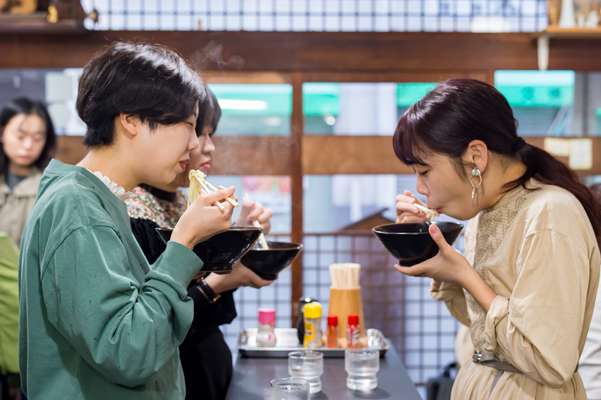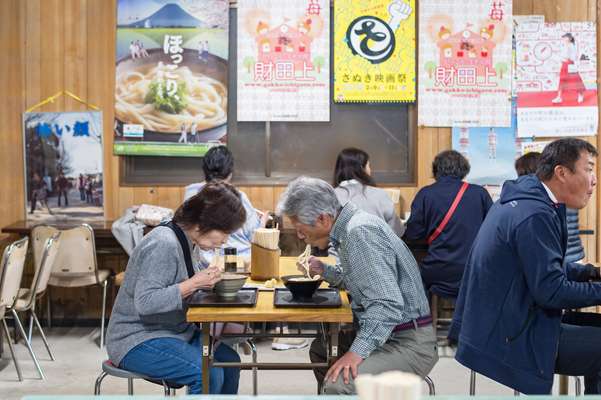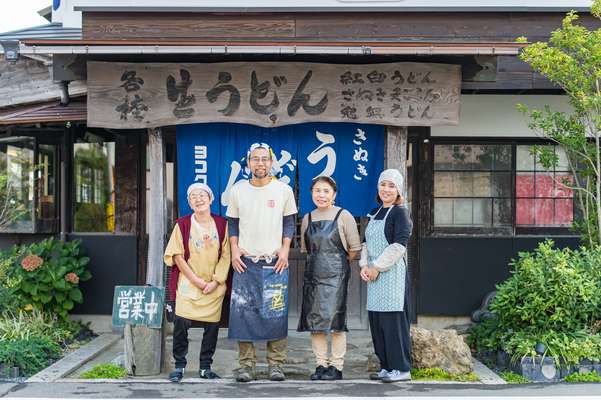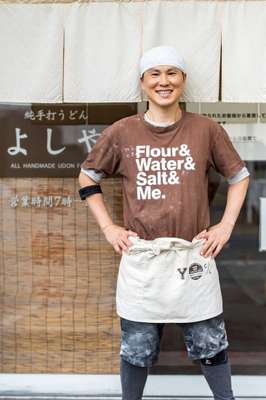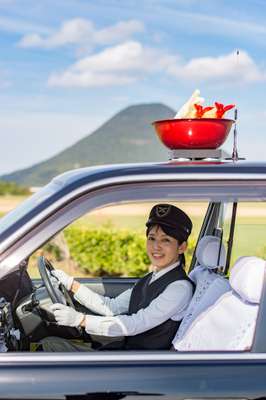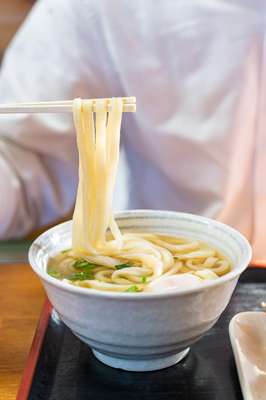 Records of regional udon-making go back 300 years but the noodles probably came from China a lot earlier. Kagawa's noodles, made from flour, water and salt, are an expression of the climate and soil. Dry and sunny, the region is ill suited to rice but ideal for wheat. Salt producers dot the coastline and the fishing fleets of nearby Ibukijima island catch the baby sardines that are dried for broth.
To get the springy-firm texture – koshi – that Sanuki udon is famous for, noodle makers work long shifts. "We make dough the night before so it can rest for hours," says Mitoe Miyagawa, second-generation owner of Miyagawa Seimenjo in Zentsuji city. In the morning, while she and her husband Masaru make broth, they pack the dough into balls, stomp them flat, roll them thin and cut them into noodles. Their two daughters are in charge of boiling and cold-rinsing.
Miyagawa Seimenjo, which opened in 1954, fills big orders when someone dies. "In Kagawa we eat udon at Buddhist funerals," she says. "Guests arrive, clasp their hands at the altar and eat udon. Then the ceremony begins. Afterwards they leave with a gift bag of udon." Udon is also eaten at festive occasions, Miyagawa says. Locals will christen a newly bought bathtub by having a bowl of udon during the inaugural dip.
Udon works as a meal or a snack. Shops open at sunrise for early risers and keep their doors open for the late-night crowd. Even in remote areas, tiny family-run operations that still boil noodles over wood-burning fires attract lunchtime crowds. Kagawa's roughly 700 udon shops outnumber its convenience stores; no other prefecture has more noodle shops per capita. Kagawa, Japan's smallest prefecture, accounts for a fifth of the udon output nationwide. At Yoshiya, in Marugame city, Yoshitaka Yamashita is the rare chef who makes his udon without machines and in plain view of customers. "My hope is for young people in Kagawa to see this firsthand and aspire to become udon makers, the way kids want to be a footballer in the UK or a baseball player in the US," says Yamashita.
Yoshiya's fans come from all over the country. "We drove three-and-a-half hours from Osaka this morning," says Takeshi Ushio, who is wearing an udon T-shirt, just like his five friends. "This is the first of six shops we'll visit today. I do this twice a month."
The noodle is so ubiquitous here that Kagawa has branded itself the Udon prefecture. Taxi and bus operators lead udon tours, udon schools host seminars and udon mascots are local stars. But the starch-heavy diet has a dark side: the prefecture has one of Japan's highest diabetes rates.
"I had to cut back on udon for dietary reasons," says Shuichi Ono, an executive producer at Nishinippon Broadcasting in Takamatsu. "But there was a time when I ate it every day, sometimes for all three meals." Two decades ago, with Sanuki udon's popularity rising, Ono created Tokusen Udon Henro (Special Udon Pilgrimage), a weekly five-minute TV programme featuring the region's hidden gems. He dropped the series after five years, figuring the hype would soon die out, but restarted it when he saw he'd been wrong. It now has some of the broadcaster's highest ratings. "Sanuki udon's appeal isn't just about flavour: it's about the journey, the enjoyment of going to unique shops in weird places," he says.
His hope is that the show will encourage visitors to seek out unheralded shops rather than the ones with the longest queues. He's torn between wanting to promote the region's food and wondering whether he's just making it harder for Kagawa residents to grab a quick meal at their local favourites. "We had no idea that the udon boom would last this long."
---
know the menu
Wheat from the chaff
Kagawa's reputation for udon is well founded but it's not the only noodle to get your noodle around when you're in Japan. Our spotter's guide reveals the key facets of the five most popular.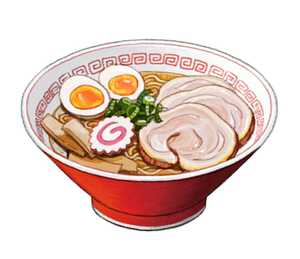 1.
Ramen
Perhaps the most prevalent, these noodles are beloved with broth. The wavy wheat-based creations are often yellow in hue.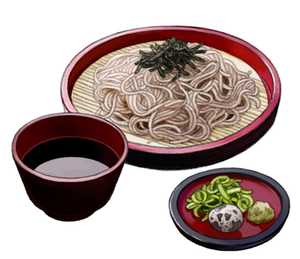 2.
Soba
These buckwheat beauties are often eaten on New Year's Eve but can be found year-round, served cold or in a broth.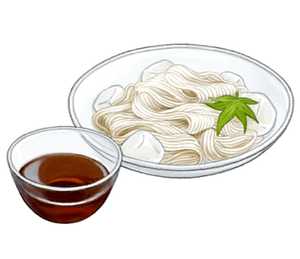 3.
Somen
The skinniest specimen on our must-see list, these white, wheat-flour creations are summer specialities often served cold.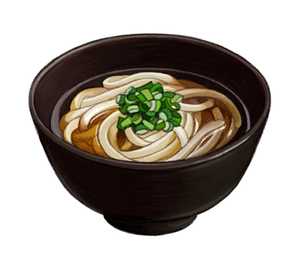 4.
Udon
Kagawa's speciality: these thick, white and wheat-based gems are made of flour, water and salt.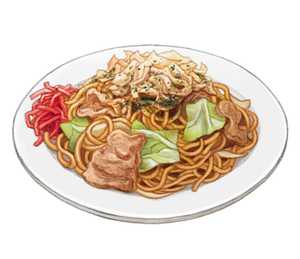 5.
Yakisoba
Not to be confused with their soba cousin, these wheat-flour noodles are often stir-fried and always delicious.