Cosy corner / Global
Choux of a kind
Expat baker Morihide Yoshida believes the success of his Paris patisserie reflects the common culinary bond shared by Japan and France.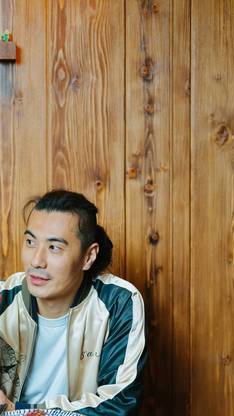 "Coming here makes me miss Japan," says Paris-based patissier Morihide Yoshida, seated in the wood-panelled dining room of Abri Soba. In front of him are a bowl of buckwheat noodles in steaming sesame broth and a glass of white wine. By the time he starts tucking in, several waiters have come over to his table to greet him warmly in Japanese. He is a regular. "This is a very precious moment," he says. "It feeds me with energy after a long day in the pastry kitchen."
Yoshida relocated to Paris from Japan in 2010 and launched his celebrated patisserie Mori Yoshida three years later. At his sleek boutique in the seventh arrondissement, glass counters are filled with the crème de la crème of classic French baking, from flaky croissants and towering vanilla flans to chocolate-praline bûches and tropical-fruit babas. But matcha, yuzu and other Japanese ingredients do not typically feature on his menu.
"French customers expect me to inject a Japanese twist into my pastries but that's not what brought me to Paris," he says. "I came here to work with fine French ingredients that I didn't have access to in Japan." Yet his cultural background shines through in the meticulousness of his creations, prepared and baked with the millimetre precision of a Japanese craftsman.
Though born into a dynasty of bakers, Yoshida diverged from his relatives' footsteps. The family bakery had been churning out red-bean dorayaki pancakes and mochi balls for decades but he decided early in his career to tap into Japan's appetite for French baking, undertaking a degree in haute pâtisserie at the Nippon Kashi Senmon Gakko school instead. He started his career at Park Hyatt Tokyo before running a French patisserie in Shizuoka. "The Japanese love all things French, especially the romanticism of Paris," he says. "French culture is exotic to us yet we share values of beauty and care not only in cooking but in architecture and fashion." This November, Yoshida opened a second shop in Tokyo's Shibuya district, joining a crop of Japanese chefs who are winning fame at home having made a name for themselves abroad.
Yoshida believes Japan and France have long held a mutual fascination for one another, which has helped his image in both nations. Under Japanophile president Jacques Chirac, Franco-Japanese relations blossomed, leading to trade and cultural exchange initiatives. Any points on which the nations don't find common ground? "Fruit," says Yoshida. "The Japanese are obsessed with hybrid and rare varieties that are desserts in themselves, whereas the French keep it natural, letting seasonal fruits shine in their baked goods. In most other things, however, we complement each other."
The  CV
1977 Born in Shizuoka, Japan
2000 Works as patissier at Park Hyatt in Tokyo
2013 Starts patisserie Mori Yoshida in Paris's seventh arrondissement
2018 & 2019 Wins best professional patissier award in a TV show on French channel M6
2019 Opens a second outpost of patisserie Mori Yoshida in Shibuya, Tokyo